Last Updated on March 8, 2022
Who Is Sandra Bullock?
Sandra Annette Bullock is an American-German actress and film producer who has been in the industry since 1987.

Bullock has appeared in scores of commercially successful movies and has been ranked twice as the highest-paid actress on the planet (2010 and 2014).
Quick Facts
| | |
| --- | --- |
| Full Name: | Sandra Annette Bullock |
| Popular Name: | Sandra Bullock |
| Gender: | Female |
| Birth Date: | July 26, 1964 |
| Age: | 57 years |
| Parents: | John W. Bullock and Helga Mathilde Meyer |
| Siblings: | Gesine Bullock-Prado |
| Birth Place: | Arlington, Virginia |
| Nationality: | American-German |
| Ethnicity: | White and German |
| Education: | Washington-Lee High School and East Carolina University (ECU) in Greenville, North Carolina |
| Marital Status: | Divorced. Previously married to Jesse G. James (from 2005 to 2010) |
| Sexual Orientation: | Straight |
| Wife/Spouse: | N/A |
| Children: | 2, adopted |
| Dating: | N/A |
| Net Worth: | USD 200 million (as of August 1, 2021) |
| Source of Wealth: | Acting, Film Production, and Other Ventures |
| Height: | 5′ 7″ (1.71 m) |
| Weight: | 49 kg; In pounds: 110 lbs |
Early Life and Career Information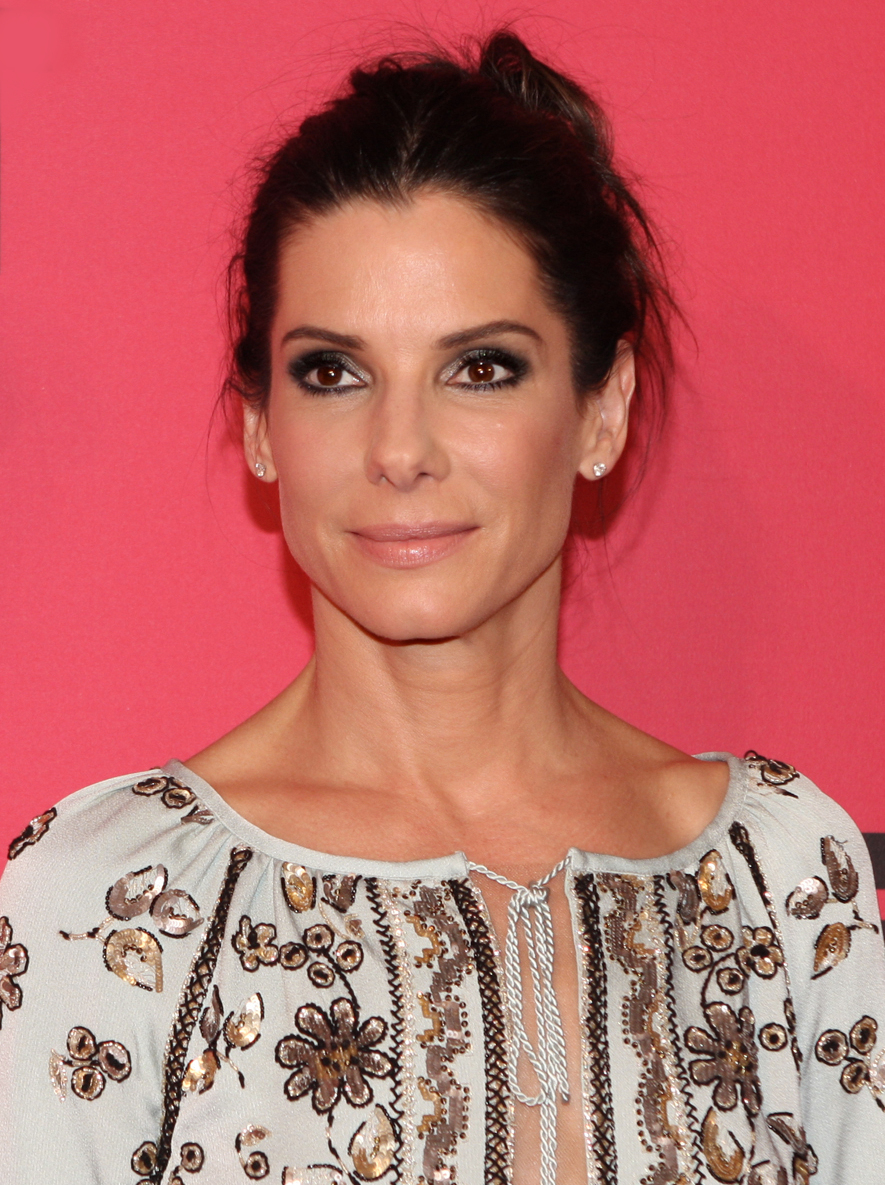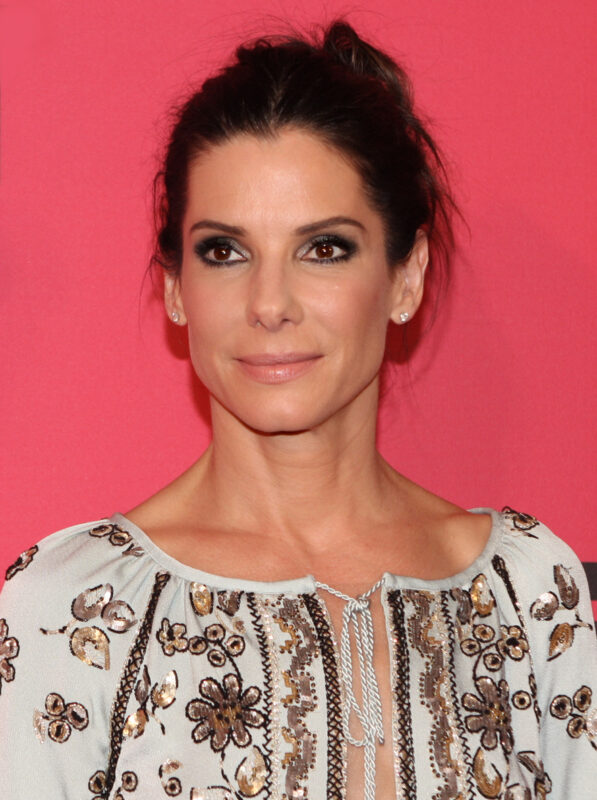 Sandra Bullock was born on July 26, 1964, in Arlington, Virginia, to John W. Bullock and Helga Mathilde Meyer. His father was an Army employee who also dabbled as a voice coach, whereas his mother was a voice teacher and opera singer.

Bullock made her film debut in 1987's thriller, Hangmen. She appeared in several small roles over the next few years, including 1993's Demolition Man. Her breakout role came in 1994's action thriller, Speed. Following the remarkable success of Speed, Bullock went on to establish herself as one of the most promising actresses of the early 90s.

The following are some of the movies that Sandra Bullock has starred in over the years:

• While You Were Sleeping (1995)
• Hope Floats (1998),
• The Net (1995),
• A Time to Kill (1996),
• Practical Magic (1998)
• Miss Congeniality (2000),
• Two Weeks' Notice (2002),
• The Lake House (2006)
• The Proposal (2009),
• The Heat (2013),
• Ocean's 8 (2018),
• Crash (2004),
• Premonition (2007),
• Bird Box (2018),
• The Blind Side (2009), and
• Gravity (2013),

Sandra Bullock's career in the film industry also includes production, mostly through her film production company, Fortis Films.
Sandra Bullock's Net Worth
As of August 1, 2021, Sandra Bullock had a net worth of $200 million. Bullock has earned a huge portion of her wealth from her various big-screen endeavors, which include acting as well as film and television production. Sandra has also earned hefty paychecks from her other entrepreneurial ventures.
1. Sandra Bullock's Earnings from the Film Industry
Sandra Bullock is one of the highest-earning actresses of all time. She earned at least $150 million in movie salary alone between 1994 and 2009. From 2009 to 2019, Bullock made another $120 million.

One of Sandra Bullock's most commercially successful movies is Gravity, where the actress reportedly pocketed $20 million plus an additional 15% of the film's gross box office. Her deal with Gravity also included 15% of all merchandise sales, DVD sales, and TV deals related to the film.
As of the time of writing, Gravity has grossed more than $723 million worldwide and Bullock has earned upwards of $70 million from the movie alone. Bullock's Gravity earnings are considered one of the largest movie paychecks for a single acting role in the history of Hollywood.

In addition to Gravity, the following are other notable movie salaries that Sandra Bullock has earned over the years:

• The Net – She earned $250,000
• Speed – Earned $500,000, and $10.5 million for the movie's sequel, Speed 2: Cruise Control
• While You Were Sleeping – Earned $1.2 million
• A Time To Kill – Earned $8 million
• Minions – Earned $10 million
• The Heat – Earned $10 million
• In Love and War – Earned $10.5 million
• Hope Floats – Earned $11 million
• 28 Days – Earned $12.5 million
• Murder by Numbers – Earned $15 million
• Miss Congeniality 2: Armed & Fabulous – Earned $17.5 million
• The Blind Side – Earned $20 million

Sandra Bullock is also a proud owner of the Fortis Films production company. Through Fortis Films, Bullock produced 2005's Miss Congeniality 2: Armed and Fabulous, 2009's All About Steve movie and the television sitcom George Lopex. She reportedly earned $10 million from George Lopex after winning a syndication deal.
2. Sandra Bullock's Real Estate Portfolio
Sandra Bullock has a real estate portfolio that's estimated to be roughly $60 million. Her primary residence is an imposing mansion in Beverly Hills, which she purchased in 2011 for $16.2 million.

Besides her primary residence, Sandra Bullock has flipped numerous real estate properties over the years. In 2011, Bullock purchased a house located above the Sunset Strip, Los Angeles, for $1.5 million, and sold it in 2018 for $2.9 million. In 2019, she listed a 3-acre property located on an island in Georgia at a cost of $6.5 million. She acquired the property in several transactions between 2001 and 2002 for $4.5 million.

The following are other real estate properties associated with Sandra Bullock:

• A dozen properties in Austin, Texas
• Two units in a luxury tower located near her primary residence
• A 5-acre retreat located in Jackson Hole, Wyoming
• A townhouse in Manhattan which she purchased for $4 million
• A $3 million Victorian-style home in New Orleans
Lessons from Sandra Bullock
1. Be yourself

In many of her films, Sandra Bullock comes across as a friendly and unpretentious woman. As it turns out, Bullock is just as easygoing in real life as she is in her movies.

2. Be consistent and love what you do

Talents may propel you to the limelight, but it takes consistency and passion to stay there. Thanks to her consistency, Bullock has managed to stay in the industry for more than three decades.

3. Give cheerfully

Bullock doesn't just earn big bucks, she is also a big-hearted philanthropist. She has donated to various humanitarian causes, mostly through the American Red Cross.
Famous Quotes by Sandra Bullock
"Does age matter? Time doesn't matter."
"Everyone told me to pass on Speed because it was a 'bus movie."
"I've been trying to find the word that says what I need to be in life."
"Brave' is the only word. It's the only thing that I ask myself to be."
"I'm a true believer in karma. You get what you give, whether it's bad or good."
"There's no race, no religion, no class system, no color – nothing – no sexual orientation, that makes us better than anyone else. We're all deserving of love."
Wrap Up
Sandra Bullock is one of the most talented actresses in Hollywood. Those talents have translated to a $200 million net worth over the years.