Last Updated on August 6, 2021
Who Is Scott Disick?
Scott Disick is an American media personality, socialite, model, actor, television producer, singer, and entrepreneur.

As an actor and television personality, Scott is best known for making numerous appearances on the reality television show Keeping Up with the Kardashians, as well as its spin-offs. Thanks to the incredible fame he earned courtesy of the Keeping Up with the Kardashians reality series, Disick went on to release a house-flipping show known as Flip It Like Disick in 2019. The show is aired on E! Network, with Scott as the leading star as well as executive producer.

In addition to his decorated television career, Scott Disick has also launched numerous successful business ventures, including a clothing brand known as Talentless. Disick has also invested in nightclubs as well as scores of vitamin companies.
Quick Facts
| | |
| --- | --- |
| Full Name: | Scott Disick |
| Popular Name: | Scott Disick |
| Gender: | Male |
| Birth Date: | May 26, 1983 |
| Age: | 38 years |
| Parents: | Jeffrey Disick and Bonnie Disick |
| Siblings: | None |
| Birth Place: | Eastport, New York |
| Nationality: | American |
| Ethnicity: | Ashkenazi Jewish and German |
| Education: | The Ross School |
| Marital Status: | Unmarried but has been in serious relationships, including with KUWTK star Kourtney Kardashian (2006 – 2015) and model Sofia Richie (2017 – 2020) |
| Sexual Orientation: | Straight |
| Wife/Spouse: | N/A |
| Children: | Mason Dash Disick, Penelope Scotland Disick, and Reign Aston Disick (all from his relationship with Kourtney Kardashian) |
| Dating: | N/A |
| Net Worth: | USD 45 million (as of January 1, 2021) |
| Source of Wealth: | Acting, Modeling, Television Production, Singing, and Other Ventures |
| Height: | 5′ 10″ (1.80 m) |
| Weight: | 78 kg; In pounds: 171 lbs. |
Early Life and Career Information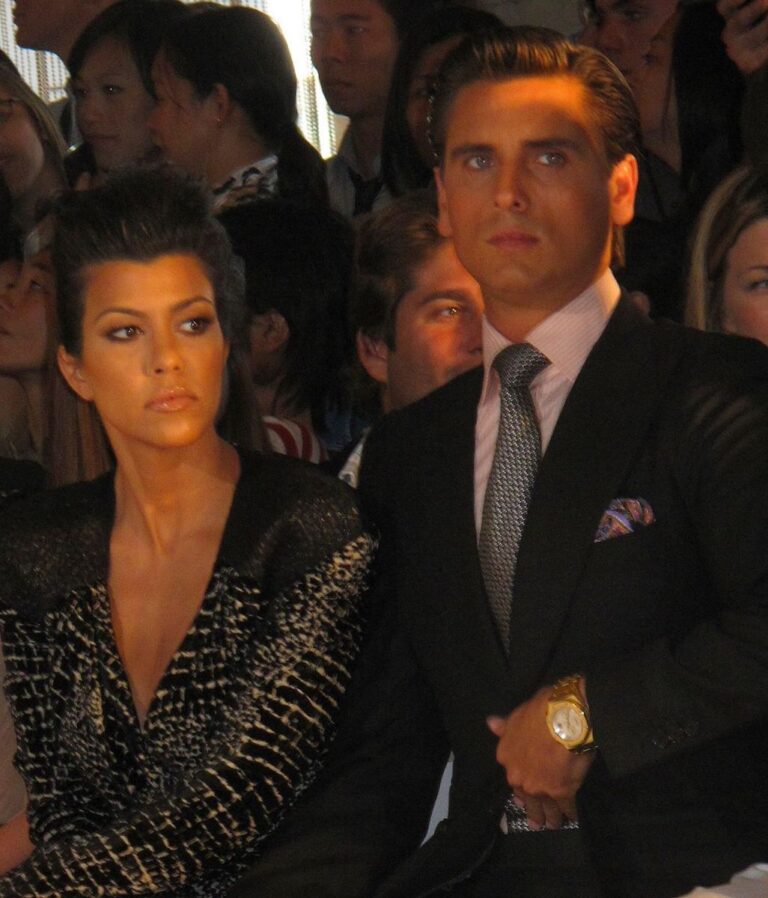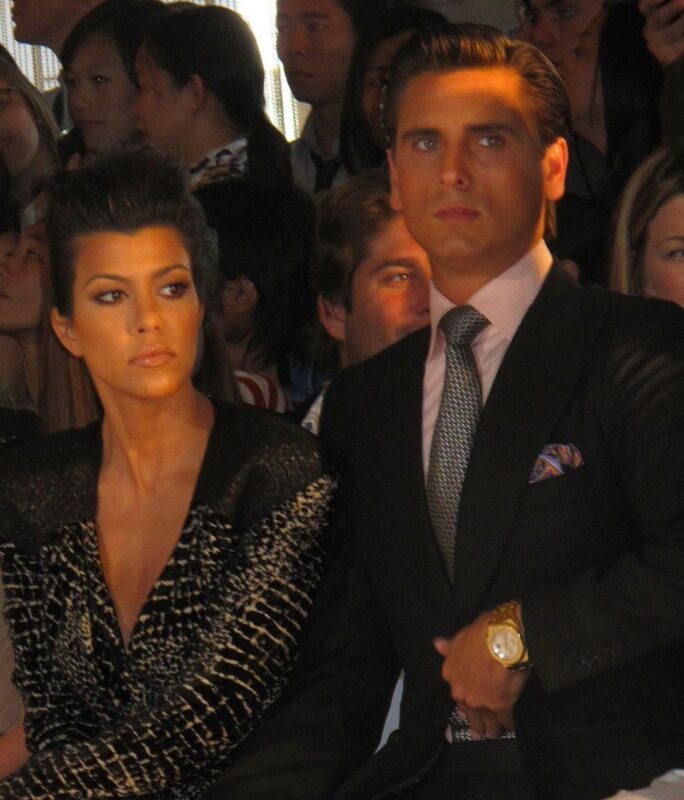 Scott Disick was born on May 26, 1983, in Eastport, New York, to Jeffrey Disick and Bonnie Disick. Disick attended The Ross School but didn't graduate. Instead, he chose to focus on his modeling passions. As a teenager, he appeared as a book cover model for the Heartland novel series.

In 2007, Scott Disick began appearing on the reality television series Keeping Up with the Kardashians alongside the Kardashians family, including her ex-partner Kourtney Kardashian. In 2009, Disick starred alongside Kourtney and her sister Kim Kardashian in the KUWTK spin-off Kourtney and Kim Take Miami.
From 2011 to 2012, he starred alongside Kourtney and Kim in another KUWTK spin-off, Kourtney and Kim Take New York. And from 2014 to 2015, Disick would star alongside Kourtney and Khloe Kardashian in yet another KUWTK spin-off – Kourtney and Khloe Take The Hamptons.

In addition to appearing on Keeping Up with the Kardashians and its spin-offs, Scott Disick has appeared in several other television shows. He was a judge on Miss Universe 2012. The same year, Disick featured on an episode of the television show Punk'd. In 2013, he launched his own web series known as Lord Disick: Lifestyles of a Lord, a spin-off of the Kourtney and Kim Take Miami reality show.

Over the next few years, Scott Disick appeared in several reality shows, including Kingin' with Tyga, I Am Cait, Rob & Chyna, Wild 'n Out, and Kocktails with Khloe.

In 2015, Disick started developing real estate properties. And in 2019, he launched his own reality show titled Flip It Like Disick, where he shares insights on his real estate and design endeavors.

Disick has also dabbled in the music industry over the years. He is best known for appearing in music videos. He appeared on the video of the 2014 track 'Wake Up In It' by Mally Mall and Tyga ft. French Montana, Sean Kingston, and Pusha T. The following year, Disick appeared in 'Picture Me Rollin' by Chris Brown.
Scott Disick's Net Worth
Scott Disick received widespread recognition following his appearance on the Keeping Up with the Kardashians show. And it's safe to imagine that his first major paychecks came courtesy of the show.

As of January 1, 2021, Disick had a net worth of $45 million. That's roughly the same net worth as her ex-partner and co-star in the KUWTK reality show, Kourtney Kardashian.

But while he owes his popularity to reality television shows, the vast majority of Scott Disick's wealth actually comes from his endeavors outside the television industry.

Disick is renowned for his high-profile nightclub appearances. Some of the notable clubs he has appeared in include Harrah's in Atlantic City, 1OAK in Las Vegas, and LEX Nightclub in Reno. He reportedly receives as much as $80,000 for a single club appearance. Disick has also made club appearances outside the country, particularly in Canada and the United Kingdom, earning a whopping $250,000 for his UK appearances.

Investments in the fashion industry is another major income earner for Scott Disick. In 2018, Disick launched his own clothing line known as Talentless. The line mostly deals in t-shirts, sweatpants, and sweatshirts. 3% of every sale goes towards supporting the nonprofit organization Fuck Cancer.

Other business endeavors associated with Scott Disick include:
• Investment in the vitamin industry, including in companies like Rejuvacare, QuickTrim, and Monte Carlo Perpetual Tan
• Ad sponsorship through his social media accounts, where he reportedly makes up to $15,000 per Instagram post
• Flipping real estate properties
Lessons from Scott Disick
1. Know your worth

Scott Disick was considered as a contestant for the 22nd season of Dancing with the Stars. However, he declined the offer as the show's promoters couldn't match his $500,000 asking fee.

2. Prove your critics wrong

There's a popular notion that many people who appeared in reality television shows 10 – 15 years ago didn't actually have any talents. To disprove this notion, Disick went ahead to launch the clothing line Talentless to prove that he has everything it takes to steer his life to success.

3. Accept your flaws

Scott Disick is infamous for many things, including his alcohol addiction and arrogance. But he doesn't shy away from accepting his flaws. He once said, 'My arrogance kills people.'
Famous Quotes by Scott Disick
"By no means do I want to be responsible when I'm actually so-called 'working."
"I never thought I'd be in a family that has more people than a small country."
"People who say 'real men don't wear pink' obviously don't know any real men."
"You don't respect my religion, I don't respect your outfit. You have no back and you look like a bumblebee."
"You know, I've realized that I'm probably just perfect and it's everybody else around me that's got issues."
Conclusion
Scott Disick comes across as a determined go-getter who knows what he wants and goes for it. Which explains why over the years, he has successfully reinvented himself from a reality television star to a real estate mogul.