Last Updated on January 24, 2023
What Is Screen Sharing?
Screen sharing, also known as desktop sharing, refers to the process of sharing the contents of your desktop with another device or multiple devices. With screen sharing, you have full control over what other people can access on your PC. You can either choose to share your entire window or specific elements in your computer.
The concept of screen sharing was developed to help facilitate quick collaboration and meetings between remote workers. Indeed, many people who didn't appreciate this concept before must have since realized its significance in the wake of the COVID-19 pandemic.
In addition to facilitating effective collaboration among coworkers, screen sharing can also help to communicate with remote clients. Plus, it makes it incredibly easy for IT staffers to offer technical support remotely. By sharing an error notification on your computer with an IT staffer, they can diagnose the problem and possibly suggest a solution without necessarily traveling to your location.
Because screen sharing is such a serious business, you deserve a software than can make the experience fun and hassle-free. This post shall explore the top ten screen sharing apps worth checking out in 2020, but first things first.
Features of a Great Screen Sharing Software
The most fundamental feature that any great screen sharing app must have is ease of access. That's to mean that if possible, users should be able to access the software on the web without necessarily having to download and install it.
Other features you should consider before choosing the best screen sharing tool include:
• Wider compatibility: The software should be able to work across multiple operating systems, including web, windows, Android, iPhone, macOS, etc.
• Integration: In addition to compatibility with numerous operating systems, a screen sharing software should also integrate with third-party applications.
• Collaboration features: A great screen sharing tool should have collaboration features like presenter-switching, joint annotation, collaborative document editing, and co-browsing.
• Support features: Lastly, a screen sharing app should come with support features, especially if you're using the software to offer technical support to your clients.
10 Best Screen Sharing Tools
Compatibility: Web, Windows, Android, iOS, macOS, and Chrome
Pricing: Free for 40 minutes per day. Paid plans start at $15/month (if billed annually)
Screenleap is a reliable and user-friendly screen sharing app that doesn't require any download and install as it works perfectly on the web. The app comes with a permanent URL that participants can use to join any sharing session. The best thing about this link is that it only works when you're actively sharing. Otherwise, it will prompt other users to wait.
In addition to its shareable link, collaborators on Screenleap can also join webinars by entering a 6-digit code on the app's homepage. The only major drawbacks to Screenleap is that it doesn't support video conferencing and annotations.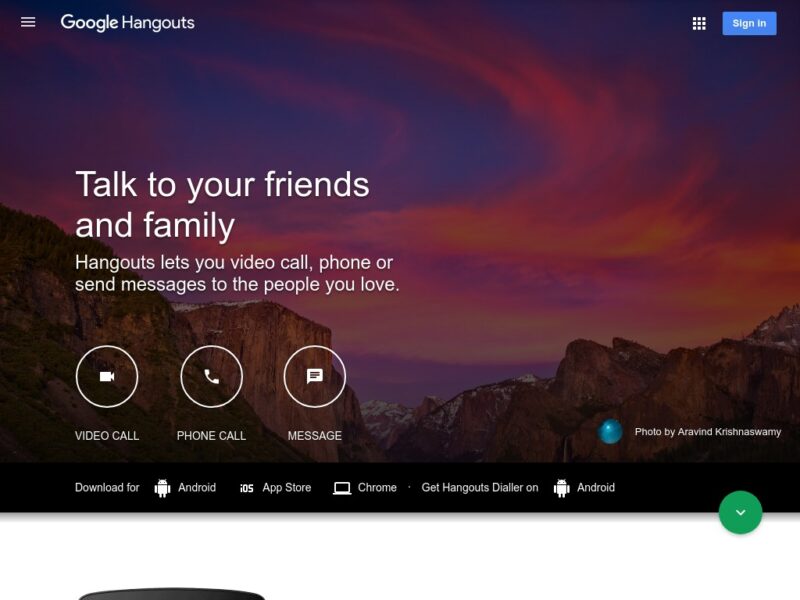 Compatibility: Windows, Chrome, macOS, and Linux
Pricing: Free
If you're looking for one of the most efficient sharing software but are a bit strapped for cash, you might want to look in the direction of Google Hangouts. The app is absolutely free to use and there are no paid plans. You may only be charged when making calls to a landline or mobile number.
As a screen sharing tool, Google Hangouts allows you to chat or video-call up to 25 participants at the same time. Features like the ability to wear a fake hat on your head or incorporate a sound effect make for more interactive sessions. However, the one glaring downside with Google Hangouts is that you cannot record meetings unless you sync it with third-party services.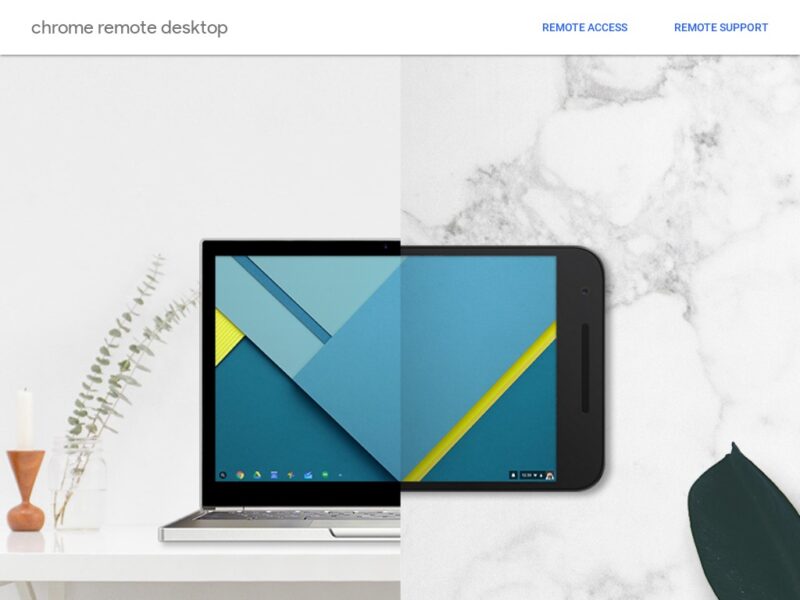 Compatibility: Windows, Android, iOS, macOS, Linux, and Chromebook
Pricing: Free
As the name suggests, this is a Google Chrome extension that offers support services, such as screen sharing and remote desktop. Chrome Remote Desktop is one of the most compatible free screen sharing apps on this list. You can operate it on any device that supports Google Chrome. It's also completely free to use.
But considering that Chrome Remote Desktop is primarily a Google Chrome support app, it's a bit limited in terms of the number of screen sharing features it offers. Therefore, it's mostly ideal as an in-house screen sharing software.
Compatibility: Windows, Android, iOS, and macOS
Pricing: Free for one participant for VoIP and phone conferencing. Paid plans start at $14/month
Mikogo prides itself on its ability to offer a wide array of services, ranging from screen sharing to remote desktop, voice conferencing, etc. Another notable drawcard to Mikogo is that participants do not need to download or install any plug-ins.
However, Mikogo's free plan is quite limiting and appears to be ingeniously designed to make users upgrade to the paid plans. Fortunately, there are plenty of premium services to enjoy by upgrading, including a higher number of participants. Plus, the paid tiers come with a 14-day trial period, allowing you to sample Mikogo's services and determine their suitability for your screen sharing needs before subscribing.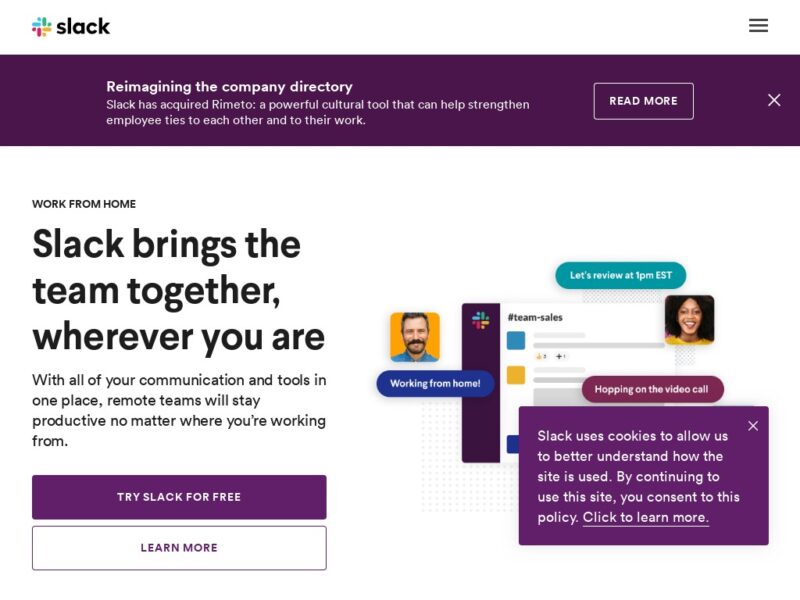 Compatibility: Windows, Android, iOS, macOS, and Linux
Pricing: $6.67/user/month (if billed annually)
Slack is a household name as far as propriety business communication apps are concerned. So, it comes as no surprise that it also offers high-end screen sharing services. The software allows you to host your screen sharing sessions either privately or keep them open for any member of a channel to join. Open sessions allow participants to leave at their own pleasure.
Notable features of this screen sharing tool include collaborative annotation, host switching, and the ability for individual participants to use their own cursors on one screen. Another great thing about Slack is that if you've already subscribed for its other services, you won't need to pay an additional fee to enjoy its screen sharing features. What's more – Slack archives all your sessions for future reference.
Compatibility: Windows, Android, iOS, macOS, and Linux
Pricing: Free for up to 100 viewers with a 40-minute limit on group collaborations. Paid plans start at $14.99/host/month.
Zoom is undeniably one of the best screen sharing apps for group collaborations. Its free tier alone supports up to 100 viewers and comes with plenty of screen sharing features, such as local recording.
Zoom is also popular for its crystal clear audio and video quality. The app adjusts the quality of transmissions depending on bandwidth, making it an excellent choice if you're sharing your screen from an area with spotty internet.
Compatibility: Windows, Android, iOS, macOS, and Linux
Pricing: Free for personal use. Paid plans start at $49/month (if billed annually)
TeamViewer is designed for technical IT staffers, which speaks to its effectiveness as a screen sharing app. While sharing your screen using this software, you can nominate a presenter from your team and allow other participants to mark up the broadcast using the app's annotation tools. Ordinarily, you'd need to enable screen sharing on TeamViewer using a PIN code. However, the tool also lets regular users create groups within the app, which allow for one-click access.
Besides screen sharing, other notable features of TeamViewer include file transfer, video conferencing, and online presentations. The provision of cloud storage allows you to organize and store your screen sharing sessions for future reference.
Compatibility: Windows, Web, Android, and iOS
Pricing: Free
Skype is probably the most available screen sharing app on this list, and is what many virtual collaborators start with before checking out other services. Another notable benefit of using Skype for screen sharing is that it's completely free, unless you want to call a mobile phone or landline number. Of course, you can enjoy free landline and mobile calls if you've already purchased the Office 365 bundle.
To share your screen with someone else on Skype, you'll need to initiate a videoconference. After that, you can select the Share Screen icon that's located at the bottom of the screen. Though Skype offers only a handful of screen sharing features, you get high-quality audios and videos.
Compatibility: Windows, Android, iOS, and macOS
Pricing: Free for up to 3 participants. Paid plans start at $10/user/month, with the provision of a 14-day free trial on the paid packages.
Join.me lets you share your screen automatically by creating a meeting room and inviting other participants. The app's screen is clean and clutterless, with the images of the meeting attendees displayed using small bubbles on the screen.
Screen annotation features are available, as well as an ability to switch whose screen you want to be highlighted. Other features you'll enjoy with the paid plans include a higher number of participants per meeting, webcam streams, and cloud storage.
Compatibility: Web
Pricing: $15/user/month (if billed annually)
Upscope may not be compatible with multiple operating systems, but the fact that it's web-based and can exist inside your SaaS apps make it reasonably accessible. Designed primarily for client engagement, Upscope allows your customers to request support and virtual sessions with you.
As a screen sharing app, Upscope is remarkably easy to use. Customers can request screen sharing services by clicking from inside your app via any of Upscope's integrations with services like Drift, Interco, and Zendesk.
Upscope is, however, recommended for experienced users. That's because it works by sharing CSS, HTML, and JavaScript between the client and the participants' browsers, as opposed to sharing compressed image files.
Conclusion
Screen sharing remains one of the most innovative technologies in the IT industry. However, having a successful screen sharing experience largely depends on the app that you choose. The above-reviewed products will give you a head start in your search for a suitable screen sharing software.