Last Updated on March 8, 2022
Search Engine Optimization, or SEO, refers to the process of influencing the quantity and quality of web traffic to a website by enhancing the visibility of that site on search engines. SEO is one of the most efficient and widely-utilized digital marketing techniques.
The end goal of SEO isn't only to drive traffic to your website, but also to help convert that traffic into potential leads. To make that happen, SEO utilizes numerous techniques, including keyword optimization, link management, to mention but a few.
But monitoring the SEO performance of your website isn't a walk in the park. It's a technically intensive process that seeks to harmonize various aspects of the site to ensure it ranks as high up on SERPs as possible. That's where an SEO tool comes in.
An SEO tool refers to a desktop or web-based program that you can use to make your website discoverable and crawlable by search engines. Now, it's important to emphasize that an SEO tool doesn't expressly guarantee higher rankings on Search Engine Result Pages (SERPs).
The tool is more like an SEO performance monitor that investigates how well or badly your website SEO is doing, in a bid to help you take the necessary remedial actions.
How to Choose the Best SEO Tool
There are numerous factors that go into choosing the best SEO tool. But most importantly, it comes down to the needs and requirements of your company.
The following are some of the top features that an SEO tool should have:
1. User-friendly Interface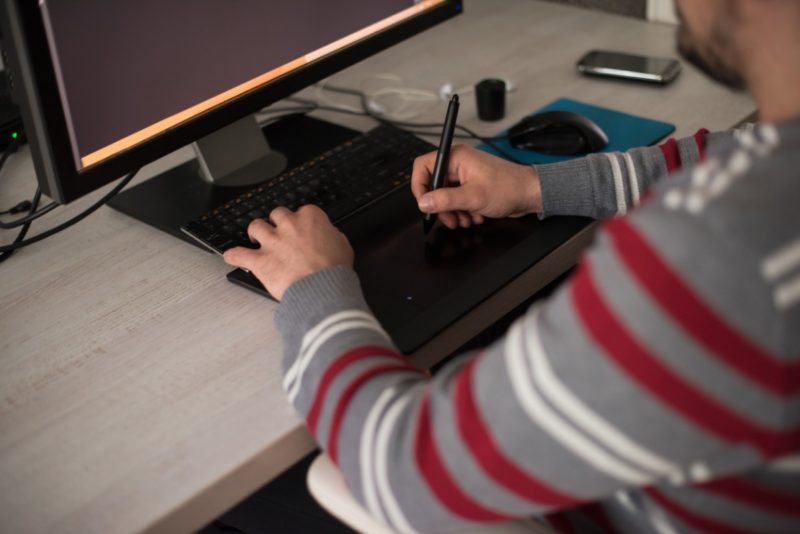 Like most digital marketing techniques, SEO can be a bit complicated, especially for startup companies and new websites. Therefore, it's only logical that the tool you select be incredibly user-friendly.
As you're new to SEO, you can expect some challenges navigating through the program. However, it shouldn't feel as though the tool was designed exclusively to lock you out.
A user-friendly SEO tool must have a clear layout that eases navigation through the program, which is useful in helping you learn the ropes much faster. The tool should also come with highly responsive and super friendly customer support who are ever ready to address your queries. On the same breath, the program should include a help center or knowledge base where you can find answers to some of the industry's frequently asked questions.
Most importantly, the tool should be able to track the SEO performance of your website and provide clear and actionable recommendations.
Before choosing an SEO tool, ensure it comes with a reasonable free trial period. That will help you to accurately determine the suitability of the program for your needs before fully committing to it.
2. Compatibility with Target Search Engines
Another crucial factor to consider when choosing SEO tools is the search engines and markets that you wish to target. An SEO tool will function optimally in the language and search engine that it was developed in.
For instance, a program designed for the UK market will not be very efficient if used in a French market. Remember that English-based search engines, such as Google, aren't popular everywhere around the world.
When you're targeting, say, a Chinese market, you'd need an SEO program that's compatible with Baidu. The same would apply if you're seeking to penetrate the Russian or Korean markets that have Yandex and Naver as their most popular search engines, respectively.
3. Efficient Monitoring of Your Website's SEO Performance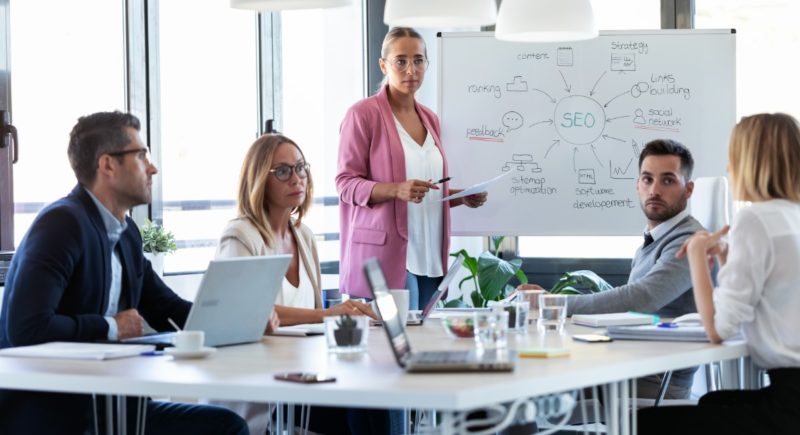 Most SEO tools are designed to track the performance of your website by flagging non-performing keywords.
To make that happen, the programs find and compare the viability of your keywords based on the following parameters:
• Search Volume – The number of searches related to your keywords.
• Ranking – The position of your website on SERPs.
• Technical SEO Crawler – Here, the tool should be able to provide critical data on keyword density, on-page SEO, etc. The program should also recognize any potential errors, such as missing H1 tags, broken links, keyword stuffing, duplicate content, etc.
• Competitor Analysis – How your competitor websites are performing.
• Movement – Movement implies the number of positions (if any) that you've gained or lost on SERPs.
• Ranking Table – The ability to track other pages that outrank you, not necessarily those of your competitors.
• Integration Options – The tool should integrate and share data seamlessly with other systems, such as webmaster tools, paid advertising, and web tracking.
4. Mobile Compatibility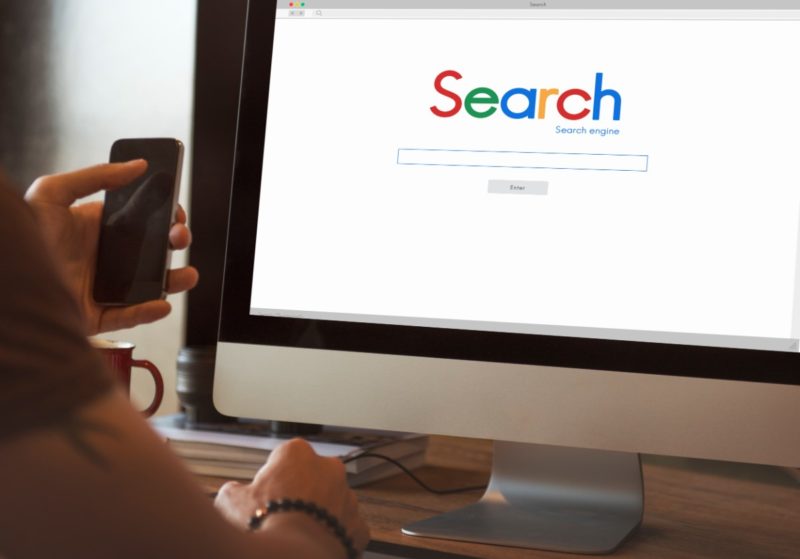 The mobile phone web traffic statistics suggest that in 2018, mobile phone users generated more than 52% of all website traffic worldwide. In the same year, Facebook reported that mobile ads accounted for a whopping 92% of its advertising revenue.
In light of these statistics, it's imperative that you choose an SEO tool that's able to determine the mobile-friendliness of your website.
Some of the aspects the program should track include the;
• Touchscreen readiness of your website – How easy it is to click one link or button at a time.
• Speed – How fast your web pages load on mobile devices.
• Mobile browser compatibility – The possibility of your website using web technologies that aren't compatible with mobile browsers. Examples of these technologies include Silverlight and Flash.
• Mobile perspective: The page ratios of your website on mobile device screens, relative to desktop screen width.
Other Considerations
Besides the above factors, you should also compare the cost of an SEO tool against others with similar features. Most SEO tools allow you to enjoy extra features when you subscribe to the enterprise versions. However, the cost doesn't have to be inhibitive.
Also, you may want to choose a program that comes with additional resources, such as video tutorials and in-house trainings.
Top 15 SEO Tools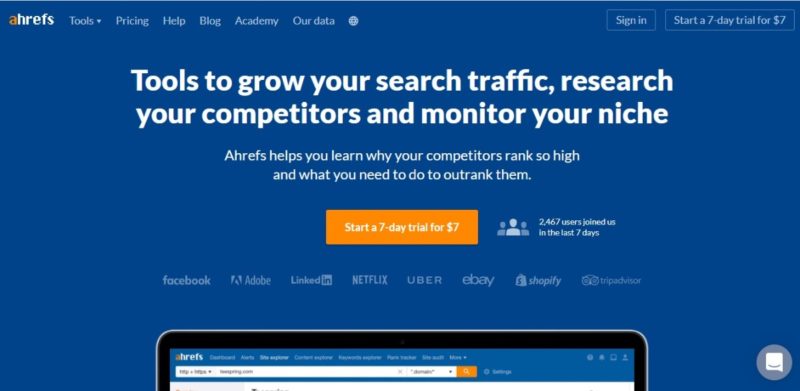 Ahrefs tracks the SEO performance of your website based on various parameters, such as rank ranking, SEO audit, competitor research, and viral content research. It then highlights the areas that require improvements.
The SEO tool carefully analyzes the performance of your competitor sites and through its huge database of backlinks, it suggests the links that you could use to gain an edge over your fiercest competitors.
Through Ahrefs, you can easily establish the most linked to content on your niche. That way, you'll be able to play around with the keywords and content on your web pages to ensure you also garner substantial traffic.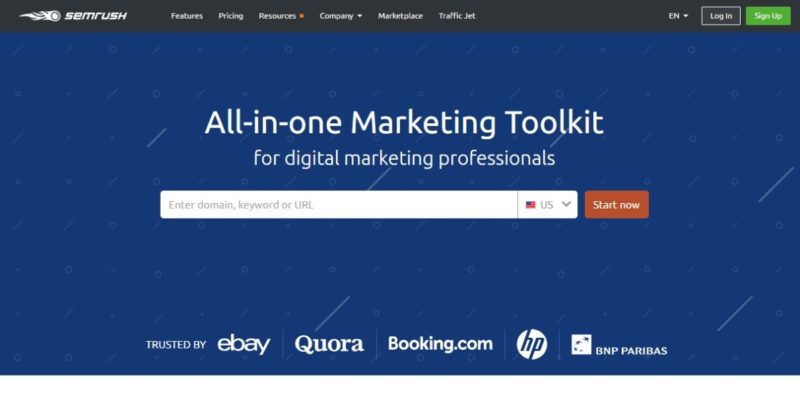 SEMRush not only tracks the SEO performance of your website and highlights changes, but it also suggests new ranking opportunities.
The tool implements a Domain vs Domain feature that allows you to compare how your own site is faring relative to those of your competitors. Another resourceful feature is the On-Page SEO Checker, through which you can monitor your website rankings while also acting upon the top recommendations.
SEMRush is remarkably user-friendly too. It implements an intuitive dashboard from where you can view your best performing articles, along with their most relevant keywords.
The most outstanding benefit of using Search Console by Google is that it comes free of charge, as long as you have a website.
The program allows you to assess how your website is faring, after which it reports on the presence of your site on Google SERPs. Using Search Console by Google is as easy as ABC.
All you have to do is to get your website verified by incorporating some special code to the site. Alternatively, you can verify your website through Google Analytics. After verifying your website, you can easily submit your sitemap to Google for immediate indexing.
Another major selling point of this SEO tool is that since it's free, you actually don't need an account to check how Google ranks your website on SERPs.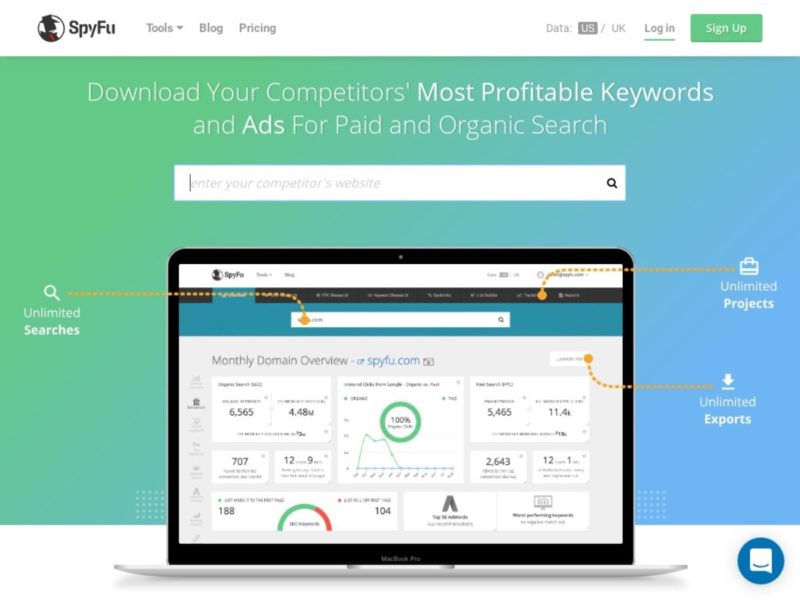 SpyFu offers interactive reporting and reliable customer support, two of the most crucial beginner-friendly features that an SEO tool should have.
The tool can track backlinks to your website, enabling you to capitalize on those traffic for the growth of your brand. SpyFu is also famous for its ability to track the keyword performance of your website across multiple data points, before offering unlimited and accurate search results.
The software boasts a good UI design and along with its budget-friendly plans, it's one of the top SEO tools that experts recommend for both startups and advanced SEO practitioners.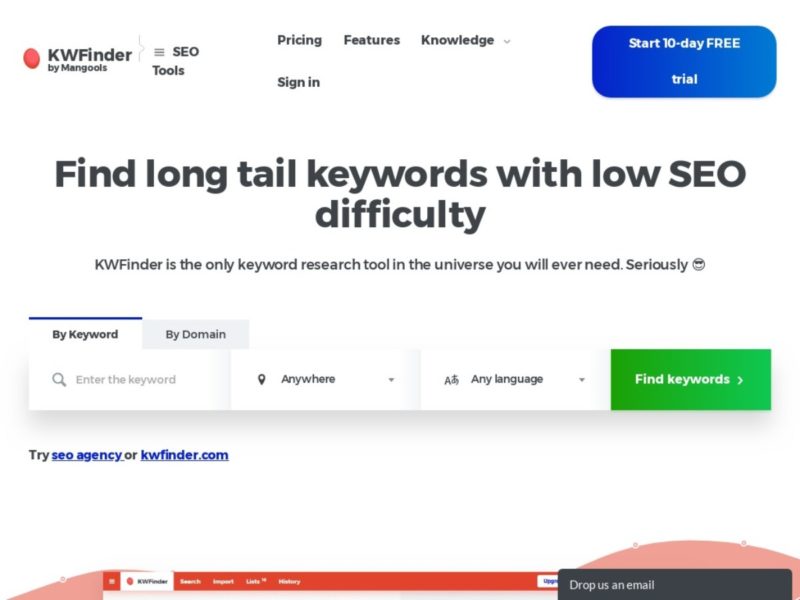 KWFinder does exactly what its name implies. This SEO tool helps you to find the long-tail keywords that your competitors don't already use.
When suggesting these keywords, the tool gives due consideration to various factors, such as the relevance of the keywords to your brand and how geo-specific the keywords are. That enables search engines to rank your site higher on SERPs for local web searches.
Besides suggesting keywords with lower levels of competition, KWFinder also runs an analysis report on all of your backlinks. The software comes with a Rank Tracker that makes it easy to track your ranking based on certain crucial metrics.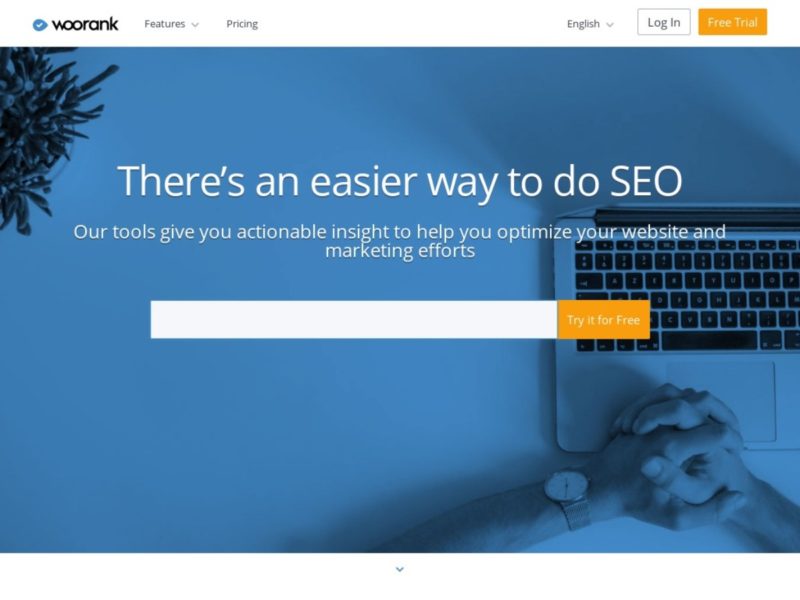 Woorank is one of the most flexible SEO management tools out there, offering its clients both free and paid options.
The tool allows you to plug in your competitor sites to learn more about the keywords they're using to rank higher than you on SERPs. After helping you to identify those high-ranking keywords, the program offers suggestions on the tweaks you can make on each keyword to gain an edge over your competitors.
Woorank will also enlighten you on the essential things that your website is lacking, the same which affects its SEO performance. For instance, it detects duplicate content, security issues, downtime, etc., then offers guidelines on how to fix these issues.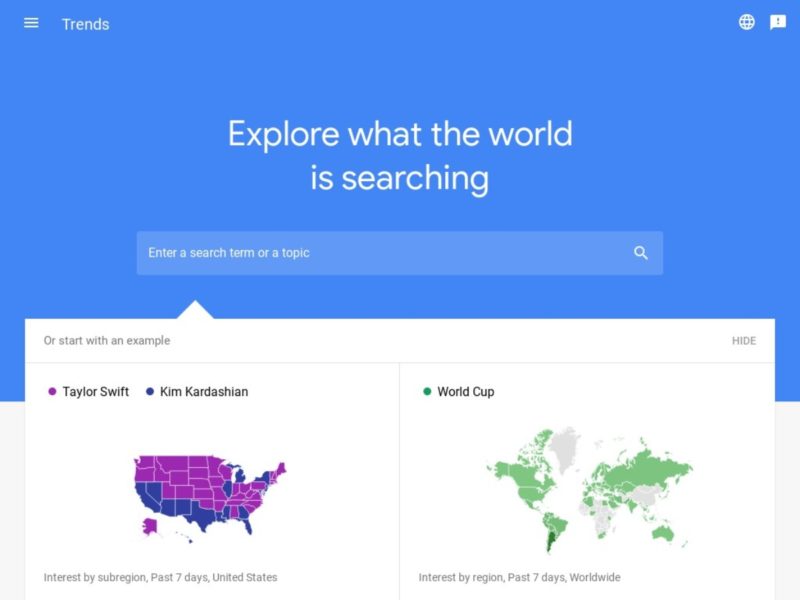 All products by Google are famous for their high efficiency, and Google Trends SEO program is no different.
Though Google Trends is one of the oldest SEO performance monitoring tools, the program has largely been underutilized. As a keyword performance assessment tool, Google Trends enables you to uncover crucial information around a keyword.
Examples include the top and rising queries, the geographical locations where most of the searches related to that keyword emanate, and other specific data that helps to determine the viability of the keywords.
Using Google Trends lets you always stay in the loop on all the previous and emerging trends in your industry.
Unlike most SEO tools that take care of your site's off-page SEO, YoastSEO focuses on the on-page SEO of your website.
First, the tool seeks to enhance the visibility of your website on search engines by ensuring that your primary keywords are carefully integrated into your web titles and descriptions. And while at it, YoastSEO also ensures that those keywords are within the recommended character lengths.
Another way the tool improves your on-site SEO is through the prevention of duplicate content as well as allowing you to connect your website with your social media platforms.
Overall, YoastSEO collects and analyzes all the crucial information that Google and other search engines can use in creating a Knowledge Graph.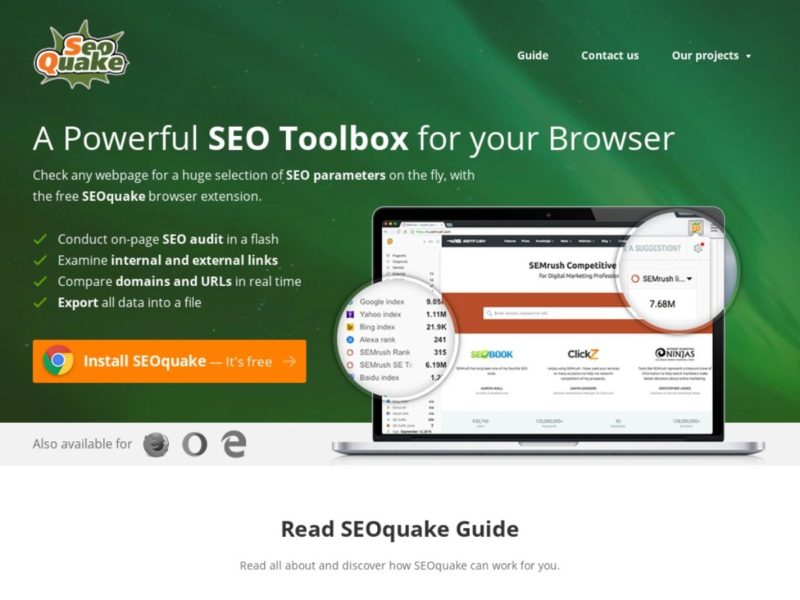 SEOQuake is a Chrome extension software that tracks the SEO performance of your website by providing detailed on-page site audits.
The tool examines the quality and relevance of both your internal and external links. It then compares these links against those of your competitors.
Like most SEO software out there, SEOQuake implements a keyword analysis tool that assesses the relevance and distribution of your keywords on your web titles, descriptions, content pages, and links.
The program boasts an easy-to-use and interactive dashboard, making it another top beginner-friendly SEO tools. What's more – SEOQuake comes an export feature that lets you download and share data among key members of your team.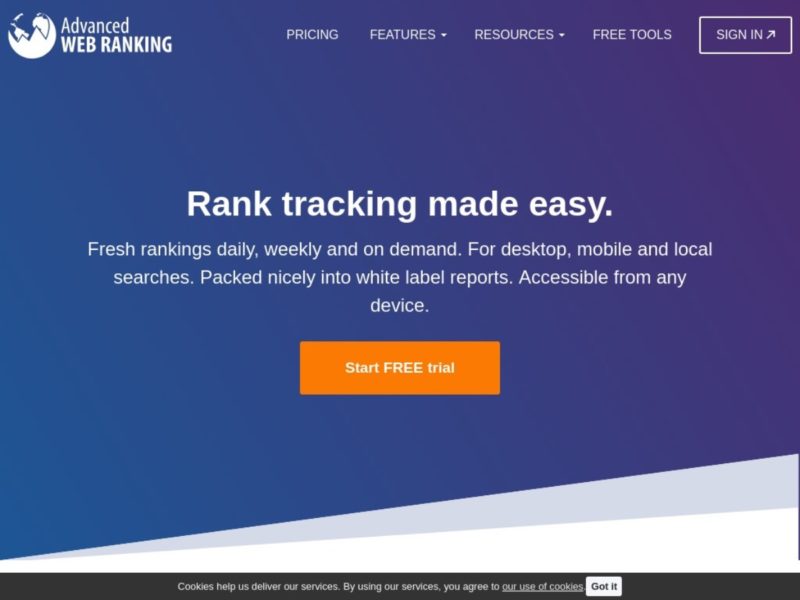 What's so special about AWR Cloud that it's favored by more than 24,000 leading brands around the world?
First, AWR Cloud accurately tracks your rank across several search engines. Secondly, if you're looking for an SEO tool that manages multiple projects while also accommodating an unlimited number of users, then look no further than AWR Cloud. The tool provides localized ranking results, making it ideal for Small and Medium Businesses (SMBs).
AWR Cloud also integrates Google Search Console, which improves the efficiency with which it tracks the performance of your website on various search engines.
Lastly, this program utilizes a Whitelabel feature that lets you hide the presence of AWR on your reports, which is invaluable in enhancing your own brand image.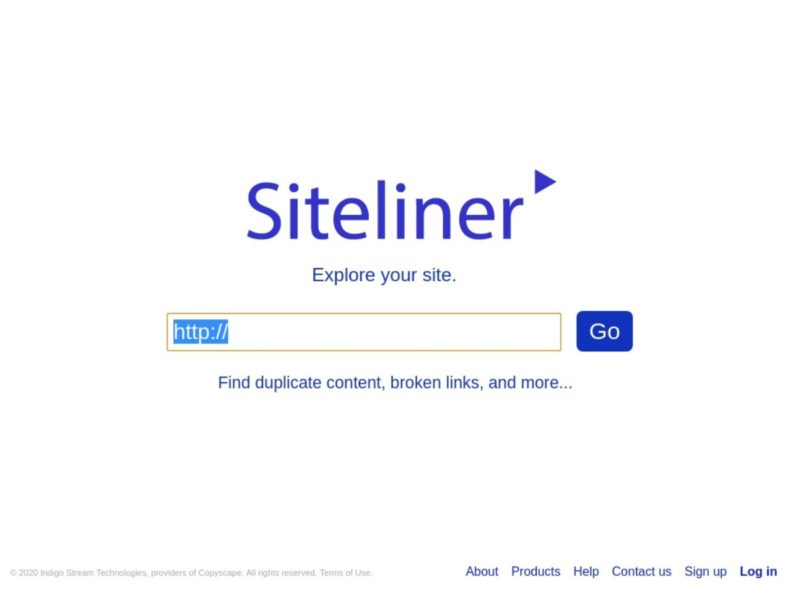 Siteliner is mostly effective at finding duplicate content on your website. As you may already know, search engines place so much premium on unique content, and your website could easily get flagged for gross content duplication.
Besides detecting duplicate content on your site, Siteliner also highlights broken links and other issues that could affect your rankings on search engine result pages.
To improve the on-page SEO of your website, Siteliner suggests the number of internal links that you can use for every web page, as well as the average size and load speed of each page.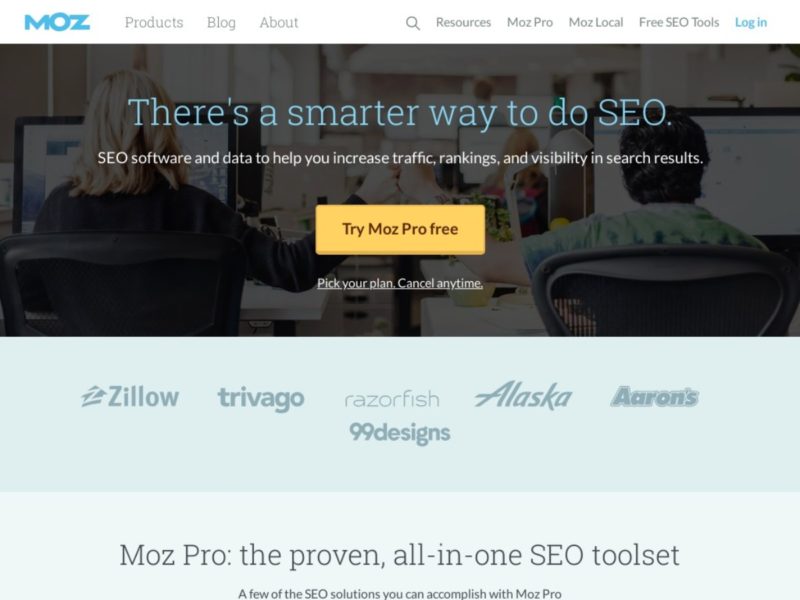 As an SEO performance tool, Moz offers two products, namely; Moz Pro and Moz Local. Moz Pro comes with a cocktail of benefits, including site audits, link building, and on-page SEO.
Through this tool, you can learn about how difficult your keywords score, along with other factors that affect the search volume that your keywords receive every month. The tool is also efficient at crawling and auditing your website, as well as locating link building opportunities.
On the other hand, Moz Local allows you to list your business on popular business directories, ensuring the consistency of the content published in each directory.
While Moz Pro is the better product of these two SEO tools, you can use the two programs to enhance the visibility of your website.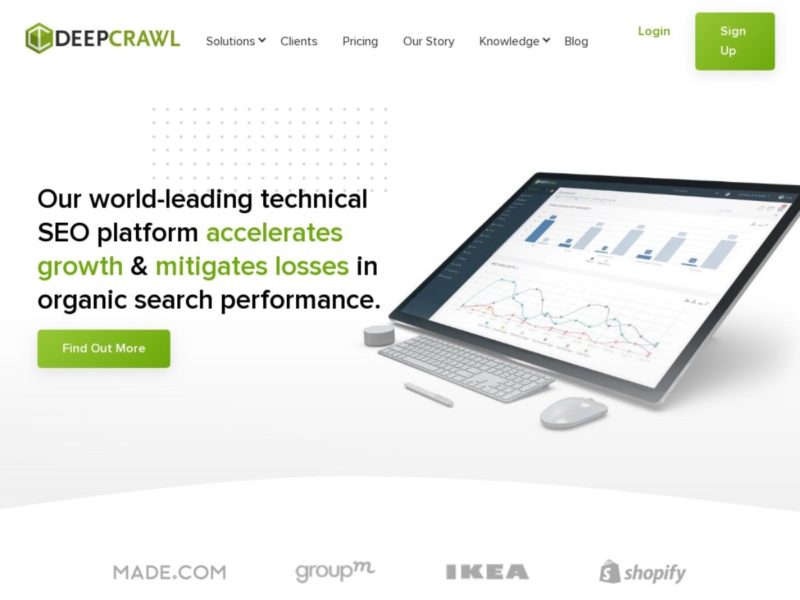 As the name suggests, DeepCrawl offers in-depth web crawling services, enabling you to assess your site's performance across various data points, such as content relevance, keyword optimization, and link building.
Though the tool doesn't research your keywords or monitor your positioning, it crawls your website and highlights some of the areas for improvement. DeepCrawl lets you track backlinks to your site by investigating the strength of the websites where these links are coming from.
The tool also integrates Google Search Console and Google Analytics, which further enhances its ability to crawl your website. Lastly, the interface is intuitive and user-friendly, just the way beginners would love it.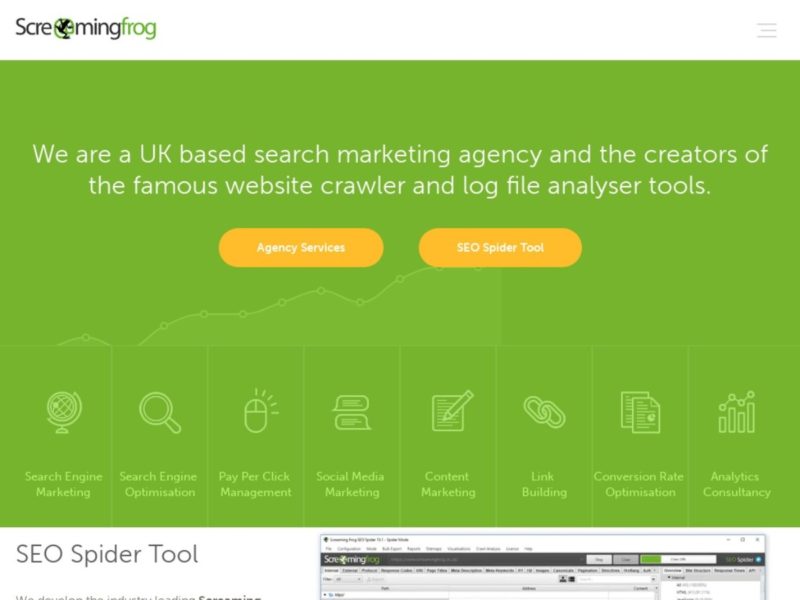 Screaming Frog is mostly recommended for technical SEO. Unlike some SEO tools that are exclusively available on Linux OSs, Screaming Frog is also compatible with Windows and Mac.
Another notable drawing card of Screaming Frog is its ability to track the performance of sites and report issues in real-time. The tool crawls your website for irrelevant keywords, broken links, and other issues that might prevent your site from achieving higher rankings on search engines.
Through Screaming Frog, you can even view the links that are blocked by your website's robots.txt, to ensure you are not blocking potentially resourceful URLs. And when it comes to link crawling, the tool can crawl HTML, CSS, and JavaScript programming languages.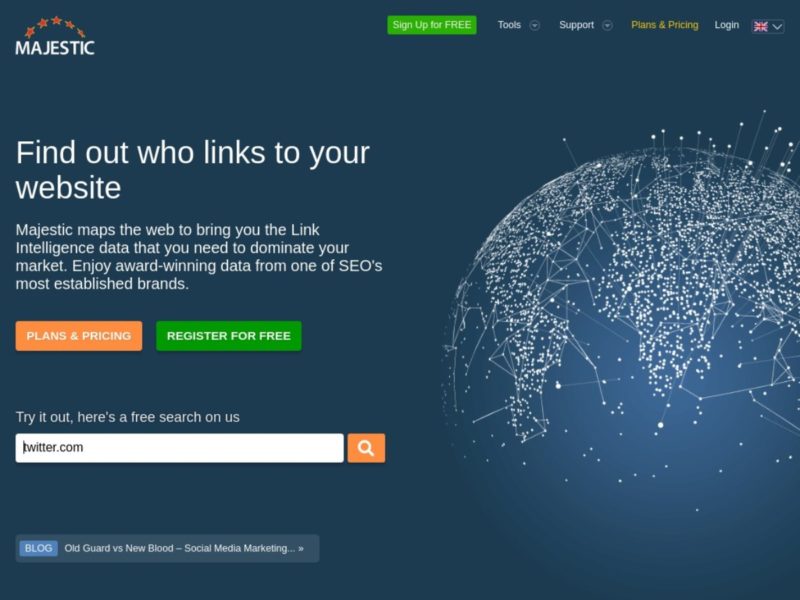 Majestic is famous for its ability to analyze websites and offer detailed metrics, such as Link Profile, Trust Flow, and Citation Flow.
The SEO tool is especially popular among clients who are more concerned about getting backlinks. It analyses domains to determine how useful they are for your SEO campaigns. The software has a huge link database that it continually strives to perfect through routine updates.
Majestic also comes with a lean dashboard where you can view all your backlinks, track new and lost links, as well as get a deep insight into the reputation of the pages where your backlinks are coming from.
Wrap Up
And there goes our comprehensive guide on the best SEO tools ever designed. As we mentioned earlier, the choice of one program over another basically comes down to the specific SEO needs of your company.