Last Updated on March 3, 2023
Who Is Shane Dawson?
Shane Lee Yaw, professionally known as Shane Dawson, is an American YouTuber, actor, film producer, musician, and writer. Dawson was among the first YouTube celebrities and to date, the platform has remained his greatest employer.

When he started out on YouTube, Shane's videos mostly consisted of sketch comedy, where he would either play original characters or impersonate celebrities. However, some of his original sketch comedy videos received backlash for their offensive content.

To save his career and ensure that his content appeals to people from all walks of life, Dawson decided to venture into other YouTube genres, such as docuseries, beauty, vlogging, and comedy music. He is now popular for his conspiracy videos and documentary-style exposé.

As of the time of writing, Shane Dawson has three YouTube channels, namely:

• Shane with 21.7 million subscribers and 4.4 billion views,
• ShaneDawsonTV with 8.29 million subscribers and 100.6 million views, and
• ShaneGlossin with 3.52 million subscribers and 62.1 million views
Quick Facts
| | |
| --- | --- |
| Full Name: | Shane Lee Yaw |
| Popular Name: | Shane Dawson |
| Gender: | Male |
| Birth Date: | July 19, 1988 |
| Age: | 34 years |
| Parents: | Kyle Yaw Jr. and Teresa Yaw |
| Siblings: | Jerid Yaw and Jacob Yaw |
| Birth Place: | Long Beach, California |
| Nationality: | American |
| Ethnicity: | English, Swedish, Welsh, Irish, German, and Dutch |
| Education: | Lakewood High School |
| Marital Status: | Unmarried, but engaged to fiancé Ryland Adams. He dated fellow YouTuber Lisa Schwartz from 2011 to 2015 |
| Sexual Orientation: | Bisexual |
| Wife/Spouse: | N/A |
| Children: | None |
| Dating: | N/A |
| Net Worth: | USD 12 million  |
| Source of Wealth: | YouTubing, Acting, Film Production, Singing, Writing, Endorsement Deals, and Other Ventures |
| Height: | 6′ 0″ (1.83 m) |
| Weight: | 79 kg; In pounds: 173.8 lbs. |
Early Life and Career Information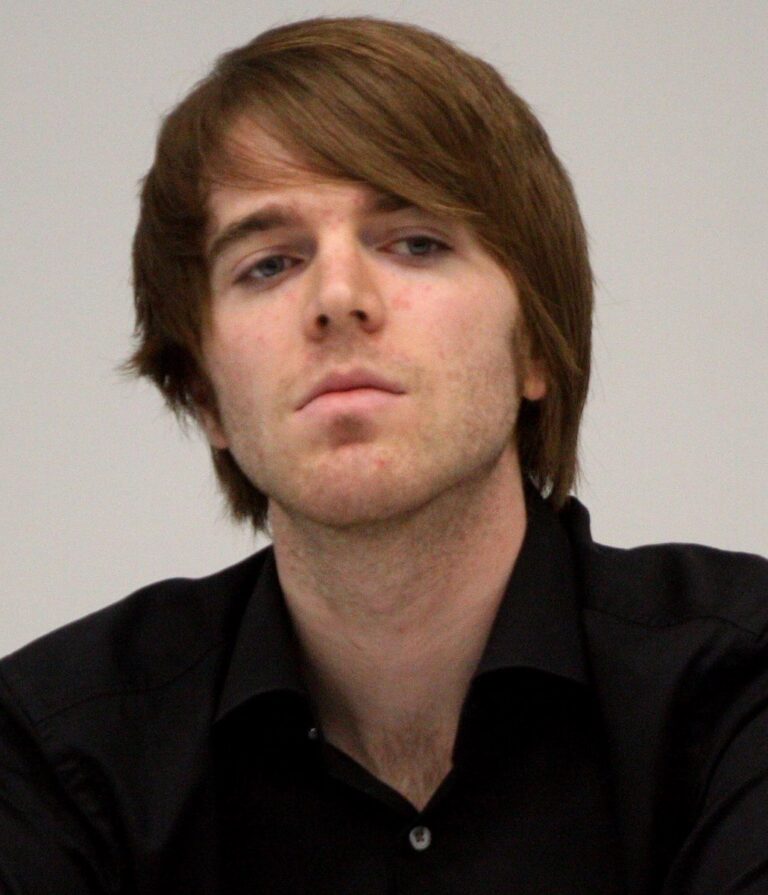 Shane Dawson was born on July 19, 1988, in Long Beach, California, to Kyle Yaw Jr. and Teresa Yaw. As a young kid, Dawson was frequently bullied at school for being overweight. At home, he had to contend with constant beating from his alcoholic father. Shane's father eventually abandoned the family and Dawson, along with his two elder brothers, were raised by a single mom.

Shane Dawson became interested in making videos during his years in high school, where he would mostly submit school projects in videos. In 2018, he launched his own YouTube channel, known as ShaneDawsonTV. At the time, Dawson majored in comedic videos. He uploaded a new video each week to remain relevant on the platform.

In addition to YouTubing, Shane Dawson has also carved out himself a career as a musician, actor, film producer, and author. In 2012, he released his most successful music project so far, a single titled SUPERLUV! The song became a hit on iTunes, reaching 28 on the US iTunes Pop Chart. SUPERLUV also achieved positions 16 and 163 on the UK Indie Chart and UK Singles Chart, respectively.

As far as writing goes, Shane Dawson has published two New York Times bestsellers so far. They include I Hate Myself and It Gets Worse.
Shane Dawnson's Net Worth
As of 2023, Shane Dawson had a net worth of $12 million. As you may have guessed by now, Dawson has earned much of his wealth from his YouTube channel. His YouTube earnings comprise both commissions from monetized views as well as sponsored ads on the channel.

Shane's YouTube channel garners at least 500,000 views every day. Considering that YouTube's ad rate is between $2 and $5 per 1000 monetized views that a video receives, Dawnson's 500,000 views per day translate to a daily income of roughly $1,500. So, in a typical year, Shane's YouTube salary is roughly $540,000, which places him among the highest-earning YouTubers on the planet.

But Shane doesn't credit his entire net worth to his YouTube channel. He also earns significantly from other endeavors, such as acting, film production, singing, writing, and other entrepreneurial ventures.

In 2019, Shane Dawson partnered with makeup artist Jeffree Star to create a collection of cosmetics. The collection includes six liquid lipstick colors as well as an eye shadow. According to an October 2019 YouTube video, the duo would earn $35 million in the event they sell out their eye-shadow. Shane's cut would be a whopping $10 million of that amount.
Life Lessons from Shane Dawson
1. Strive to be unique

Shane Dawson has treated his fans to tons of unique and creative videos since he became a mainstream YouTuber. The fact that he focuses on the rare subgenre of 'conspiracy' makes his videos all the more worth watching.

2. Apologize for your mistakes

During the earlier years of his career, Dawson received heavy criticism for his racially-motivated YouTube videos. He has since apologized and accepted that he was ignorant then.

3. Collaboration is a key ingredient for success

Shane Dawson has successfully collaborated with numerous YouTubers throughout his career. An example of such collaboration is his partnership with makeup artist Jeffree Star.
Famous Quotes by Shane Dawson
"Don't kill yourself, kill the part of you that you don't like."
"I've wanted to make movies ever since I was a kid. I knew that was my goal."
"It's fun to act, but for me, it's more fun to actually create the character and act it out knowing that I know everything about this character. That's more fun to me than just reading lines."
"The Internet gave a place like, 'Oh, I'll do whatever I want now. Nobody's going to see it anyways.' Oddly enough, people started watching and I got more confident, comfortable with it."
"You'll never know where life is gonna take you. Youll never knows where your life is gonna go. But you'll never be able to find out."
Wrap Up
Shane Dawson may not rank among the top ten most popular YouTubers today. However, he has achieved incredible success in an industry where many people never get so far.