Working from home is different than working at the office. It's not just the environment that's different – your home may be filled with all kinds of distractions such as TV shows, chores, pets, and kids, which could hinder productivity.
You don't have to go back to your workplace to regain efficiency. With minor changes, along with the right home office equipment, you can reduce pain, lessen distractions, and feel more comfortable.
Better Productivity Begins with Better Tools
You wouldn't use a spoon to dig a tunnel.
Hence, you should be using the right tools and equipment if you want to reduce stress while working at home. This can be tricky, especially if your company only provided a laptop and nothing else. But with more and more people shifting to remote work, it's crucial to have good home office products to help you perform better.
And one of the first things you should invest in is a high-quality ergonomic office chair.
Since it's unavoidable for many of us to sit for long periods of time, practicing the right posture will help in reducing back and neck pain. Slouching strains your spinal discs and overstretches the spinal ligaments. A high-quality ergonomic office chair will help align your body and improve posture.
Unlike traditional chairs, ergonomic chairs are adjustable and have all kinds of features, such as lumbar support, headrests, and breathable materials. They're user-friendly and were built specifically for modern utility.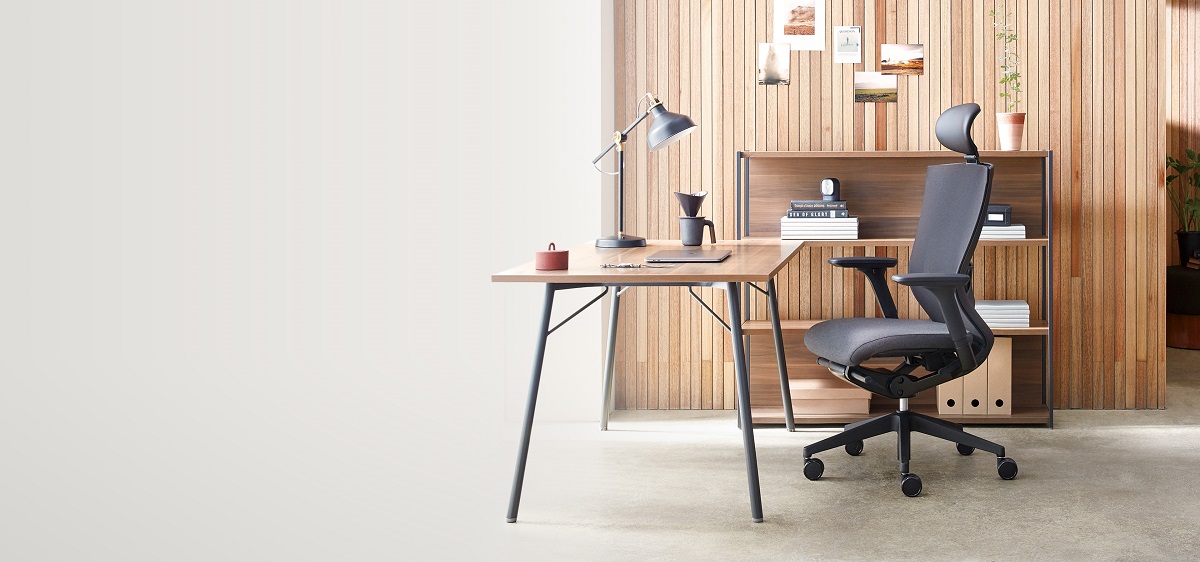 While it's tempting to work in bed with your laptop – don't. Working in odd positions will just strain your back and that pain could eventually travel downwards to your legs.
Sitting with a desk encourages the correct posture recommended by health experts: eyes level with the screen, wrists parallel to your elbows, elbows at a relaxed 90-degree angle, buttocks firmly against the back of the chair, and feet flat on the ground.
Without the chronic back and neck pain you usually experience because of slouching or working away from flat surfaces, the more you can focus on the job at hand.
How To Choose an Ergonomic Office Chair
Not all office chairs are created equal. While there are tons of products to choose from, you should consider two main elements before buying anything.
The first are your personal preferences and working habits. Do you slouch when sitting? As much as possible, avoid doing so as this can cause back pain in the long run. Do you lean close to the monitor when typing or reading online? Then you probably need to buy a table along with an ergonomic office chair. Experts suggest that your monitor be at eye level and your elbows should be parallel to your spine.
The second aspect to look into is features. There are six key things to consider for an ergonomic chair, including:
adjustable seat height so both feet can lay flat on the floor;
lumbar support with inward curve to assist your back, so you stay supported in any position whether you're working or taking a quick break;
adjustable armrests so arms, shoulders, and wrists remain relaxed so you can focus on typing even for long periods of time;
ability to swivel so there is less strain on the body, making activities more enjoyable and creates a flexible, productive atmosphere throughout your shift;
durable but soft materials like mesh for good ventilation as well as comfortable seating experience; and
reclining ability so you can tilt comfortably at appropriate angles.
The SIDIZ T50 and T80 models check out all these boxes.
The T50 offers an S-curved backrest plus 2-way adjustable lumbar support to ease stress on your spine. There are 5 different tilting angles to select from, as well as 3-way adaptable armrest so your shoulders and wrists can be positioned in any way you like.
The T50 also has an adjustable seat so you don't need to keep shifting around. The mesh back ensures proper ventilation to help regulate body heat. It's definitely a great ergonomic office chair for remote workers, gamers, writers, or anyone who needs optimal comfort while sitting for more than 15 hours a day. It can also forward-tilt to stay in focus while working.
If you're looking for something more luxurious, the T80 model was co-designed with ITO design studio in Germany.
Together with SIDIZ technology, it has all your favorite features from the T50 but with more ways to customize for better user experience. The T80 has ergonomic features such as a multi-limited tilting system that allows users to set five different tilting angles, adjustable seat depth, armrest, headrest, and tilting tension lever.
Both chairs come at affordable prices that won't break the bank. They're also produced using the strict standards of BIFMA (Business and Institutional Furniture Manufacturer's Association). Not only will you own a gorgeous ergonomic chair, you'll also have something that's safe, reliable, and used by millions of others worldwide.
Improve Productivity with Other WFH Essentials
According to the latest data, more than 40 percent in the U.S. are shifting to remote work five days a week. This means zero commutes, more Zoom calls, and possible longer hours. How you approach your job at home will be vastly different than how you normally deal with it at the office.
Investing in home office equipment can help a great deal in this area. Never underestimate how small changes can make a big impact on productivity and efficiency. A reliable headset for instance, will block out distractions so you can focus on meetings. An ergonomic chair on the other hand, will support your back so you feel relaxed even during overtime.
No need to spend thousands of dollars! Just mark your calendar for the upcoming Amazon Prime Day 2021 on June 21 and 22 to catch the best deals on gadgets and home office equipment. SIDIZ will be participating in this event – so better add your favorite T50 or deluxe T80 model to your cart now while supplies last. You don't want to miss one of the biggest and most exclusive sales of the year!
SIDIZ has been manufacturing top-of-the-line home office products since 1994. As a leading seating brand in South Korea, they offer comfortable, durable ergonomic chairs that are also used by well-known global brands such as Toyota, IBM, GE, Samsung, and Manchester United.
SIDIZ has won several major design awards and continue to collaborate with design experts to bring the highest quality products to customers around the world. One of their bestsellers, the T50 model, has been a crowd favorite since 2019 thanks to famous gamers and streamers who vouch for its excellent features.
SIDIZ chairs are not just functional, they're beautiful, too. The sleek, minimalist design works well for almost any interior. They look clean and won't block any of your decor. The T80 model is a fine example of practicality that's easy on the eyes. Put one in your home office, living area, or bedroom so you can work anywhere around your home in utmost comfort.
Make your work-from-home experience more fun, comfortable, and productive. Try SIDIZ home office products and see the difference in your performance.