Last Updated on January 24, 2023
One of the most spectacular collections of ancient artefacts belongs to Bulgarian philanthropist Vasil Bojkov. A lot of attention has been paid to it recently not only by Bulgarian historians, collectors, curators, culture lovers and media, but also by audiences from all around the world.
It consists of over 3000 pieces, all of which tell different stories of ancient times, touching on culture, politics, ways of living, belief systems, and more. The bronze, silver and gold pieces that make up the collection date back from to the 8th century BC to the 6th century AD. Imagine all the myriad meanings and representations that surround the shapes and imagery of each artefact.
Symbols deeply incorporated within ancient legends and myths unravel, as we explore the fascinating Vassil Bojkov Collection in greater detail. Many of the artefacts contain illustrations and paintings of heroes that reveal different interpretations of hugely significant historical events.
One heroes name that is frequently associated with artefacts from Bojkov's collection is that of Dionysus. The depiction of Dionysus takes a lot of forms. We see his face, figure, or a slight detail that hints towards the God of wine, on various pieces – from silver kantharoi to large calyx kraters.
A piece from the Vassil Bojkov collection that deserves our attention is a silver kantharos with Dionysus masks that garnish its handles. This vase lacks the tall pedestal foot that this type of vessel would usually be fitted with. It's a low-based kantharos, that is often referred to as karkhesion.
The ring base, the strap handles that extend above and smoothly descend vertically in order to join the rim, and the cross bars were all crafted separately. They are joined to the body in a way that speaks volumes of the dedication and precision of the work put into this piece.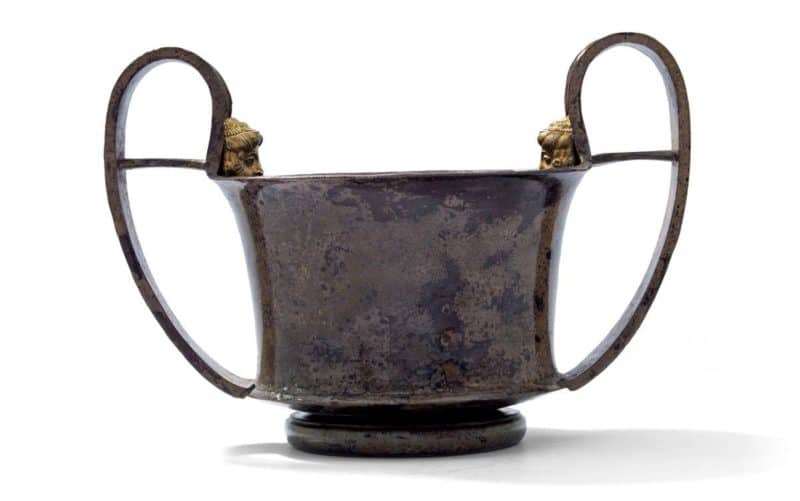 Silver Karkhesion with Dionysus
Although the overall look appears to be rather plain, there are two gilt masks of a bearded man. The represented figure is accepted to be that of Dionysus. What gives him away is the fact that the male figure is wearing a mitra – the typical Dionysian diadem (crown). According to Diodorus of Sicily, a Greek historian, Dionysus invented the object to relieve the headaches that he regularly suffered from… After all, he was the God of wine, wasn't he?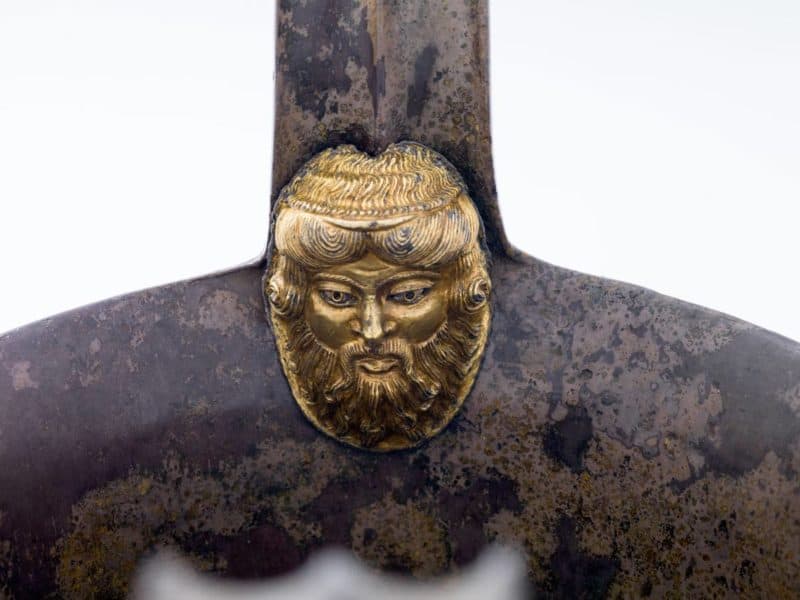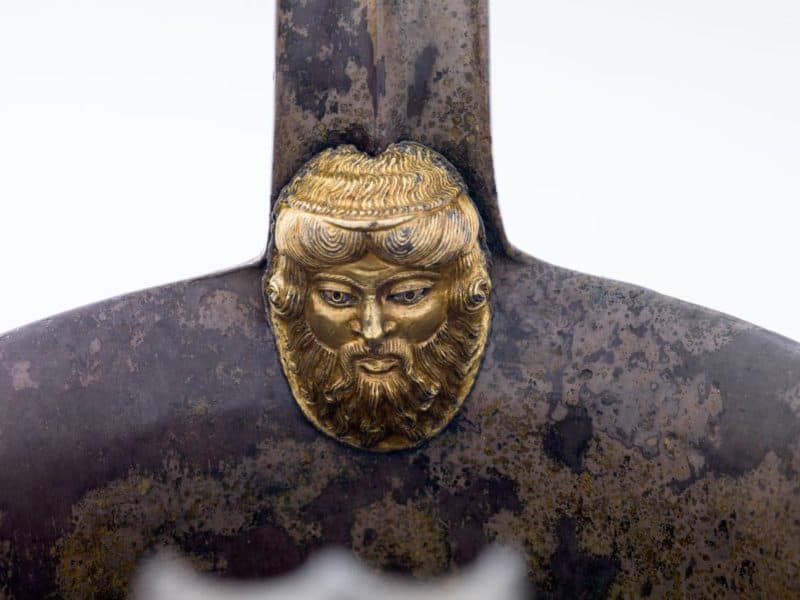 Karkhesion with Dionysus' face
Probing deeper, the exquisitely detailed work on the karkhesion in question is visible on those tiny masks. If we look closely, we can see that Dionysus' hair is illustrated with two tiers of radial waving lines, while above the forehead there are two forelocks that are turned back and firmly held by a thin diadem. His beard, hatched mustache, and even the arcs of his eyebrows are depicted in a similar style, again with wavy lines. What is truly astonishing, is that the eyes of the masks are filled with glass enamel – white for the eyeballs and black for the irises, separated by a ring of gold wire.
This particular shape of a kantharos is well known in Attic and Boeotian pottery. It is more typically seen in black glaze than in red-figure fabrics, with the rarest being in metal. The Vassil Bojkov karkhesion dates back to 460-450 BC.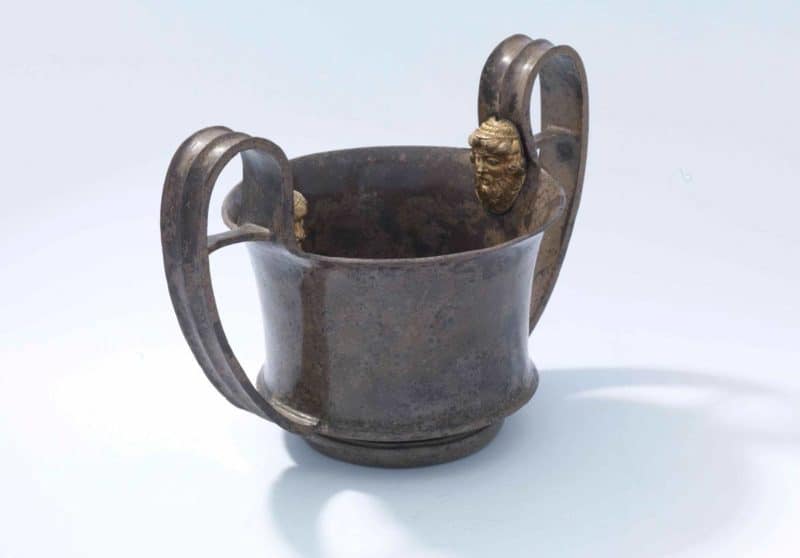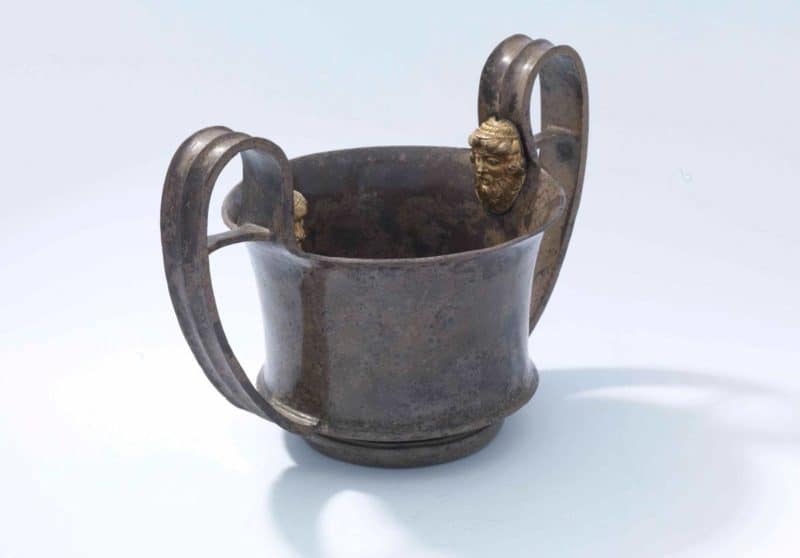 Karkhesion Dionysus
Finally, it is worth pointing out that there are different cult images of the ancient God, that depict him in different forms. For instance, one of the earliest cult images of Dionysus portrays him as a mature male, with a beard and wearing a robe. Images from later years show him in a more provocative way – a naked or half-naked androgynous young man who has no beard but draws in a certain curiosity.