Last Updated on January 25, 2022
People have completely changed the ways in which they buy, listen to, and interact with music over the last few years. MP3 players and CD players are not completely outdated and now cloud services like Spotify, Apple Music and Google Music have made the music industry fluid, allowing people to listen to and share their favorite artists while supporting them with the click of a few buttons.
Arguably the fastest growing music platform is Spotify, a service which lets you listen to all of your favorite artists, and for each received, the artist receives some money (it works out at about $1 per 300 listens). For anybody looking to get their music or podcast noticed, Spotify is one of the best ways to do so, especially seeing as the platform has 350,000,000 active monthly users.
Unless you are Kanye West or Beyonce, it can be difficult to get noticed on Spotify and get your name out there, that is where Spotify promotion services can come in handy.  This article looks to provide you with 6 of the top-rated promotion services that you can use to help promote your work and build your name on Spotify, gaining subscribers and monthly listeners. 
What is a Spotify Promotion Service?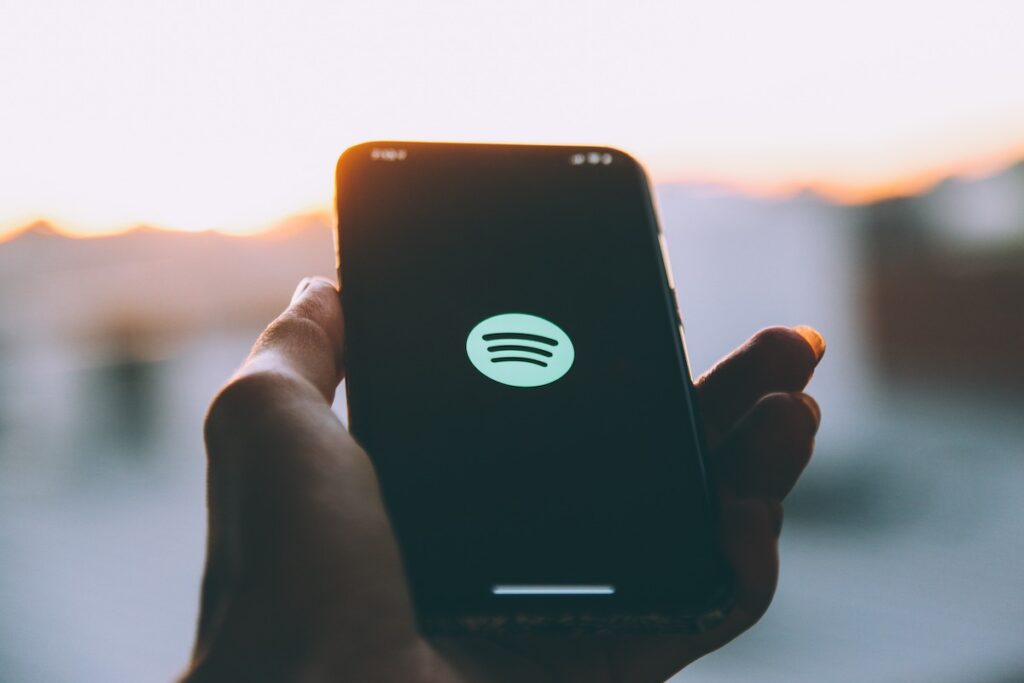 A Spotify promotion service is a tool that allows you to gain real interactions and plays on your Spotify content for a fee. The followers or users are organically shown your profile through the Spotify network. The beauty of each of the services listed below is that they are all safe and secure to use.
Often, if you use a service that just gives you fake or dead accounts, you run the risk of being banned from Spotify or can potentially put your account details at risk. Security is key and through real and organic engagement, each of the below services can help you to achieve just that. The goal of a promotion service is simple, give the buyer greater engagement through subscribers and listeners, thereby increasing your footprint on the Spotify platform and becoming more likely to get noticed. 
The List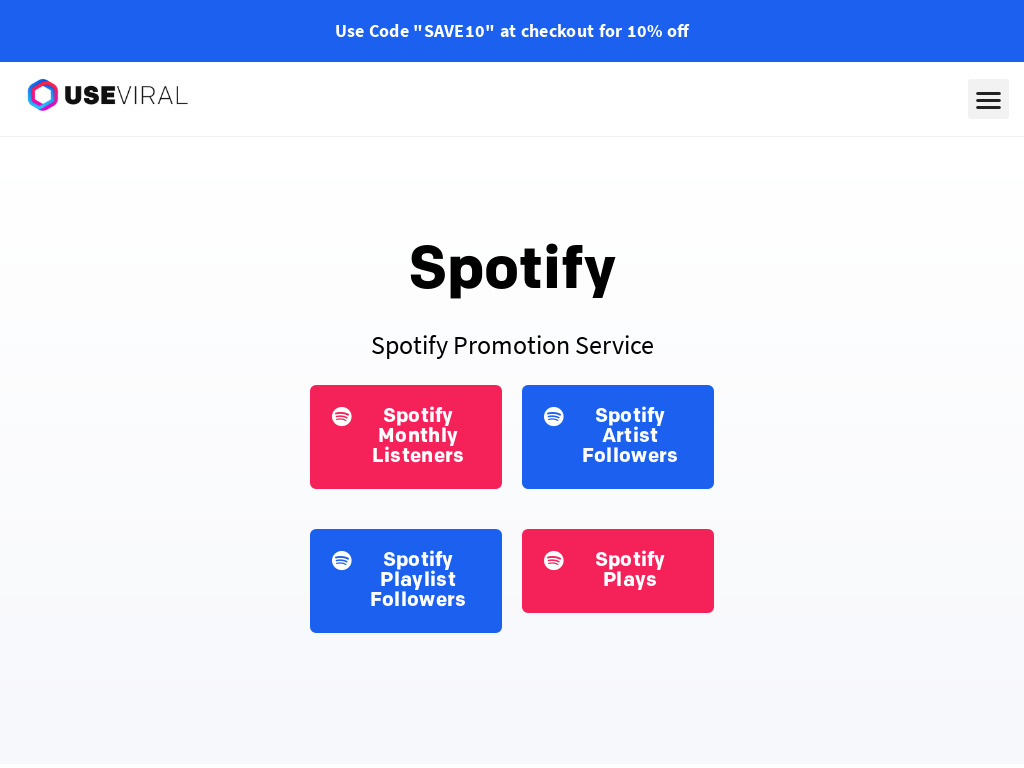 One of the oldest and most reliable promotion services for Spotify is UseViral. They specialize in providing you with listeners, followers or playlist followers and do so for a competitive price. It provides its followers gradually so as not to arouse any suspicion on your account and provides you with 24/7 support should you need it.
The website is easy to follow and offers plenty of tips and information on how to grow your account and why using their services is the best way to do so. They write of how they promote you in such a way that you become more popular in the "Spotify algorithm" and thus, gain more interaction and traffic organically as a result. UseViral saves you time, gives you the initial boost that you might need and lets you grow your brand.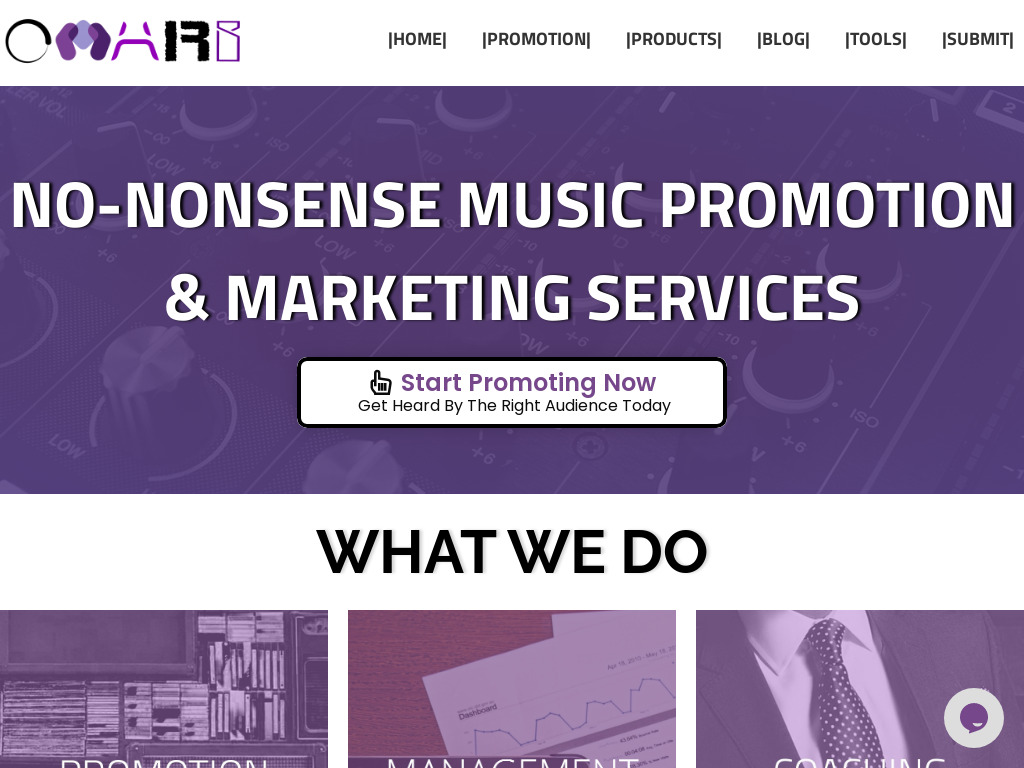 Speaking of brands, what better way to help promote your brand by taking advantage of another brand itself. Omarimc.com is an industry leading promotional tool used by artists who are looking to take the promotion of their music to the next level.
It is run by Nathanial Omari Moore, who is a renowned music producer in the United States, with over 6,000,000 instrumentals to his name and the author of the e-book "The Unconventional 6-Figure Music Business" his agency helps to take artists and make them into superstars. His own work has over 40,000,000 followers spread across Spotify, YouTube, and Instagram, so you can rest assured that he is the real deal and will help to grow your client base with ease.
His CV precedes itself, his agency has helped some of the biggest music companies in the world, like Spinnin Records, Slip N Slide Records and Warner Music to name but a few. The promotion is natural and organic and is Spotify compliant, so it is completely secure. Prices range greatly but start at $77 for placement in 50,000 playlists and range up to $1,800 for placement in 1,500,000 playlists *per song.
The pros are plentiful, you will amass a massive fan base from Omari's bank of followers and fans, as well as receive live chat support and if you need 3 songs promoted, you will even receive a discount. One of the leading options on the market and a brilliant way to promote yourself on the Spotify platform. 
Another trusted and verified site that will help you to organically grow your Spotify brand is Subpals. Founded in 2012, it also branches out and offers followers for Instagram, YouTube, and Facebook. In terms of buying Spotify followers to help with promotion on Subpals, the process could not be any easier.
The Spotify packages themselves have no free plans, so you will have to pay, but the following that you receive is organic and from actual human listeners and not bots. The pricing system is well structured and transparent which makes buying followers or plays super easy to do, it is an established website and it completely secure, the only con is its lack of free Spotify promotion services, but you do get your money's worth with Subpals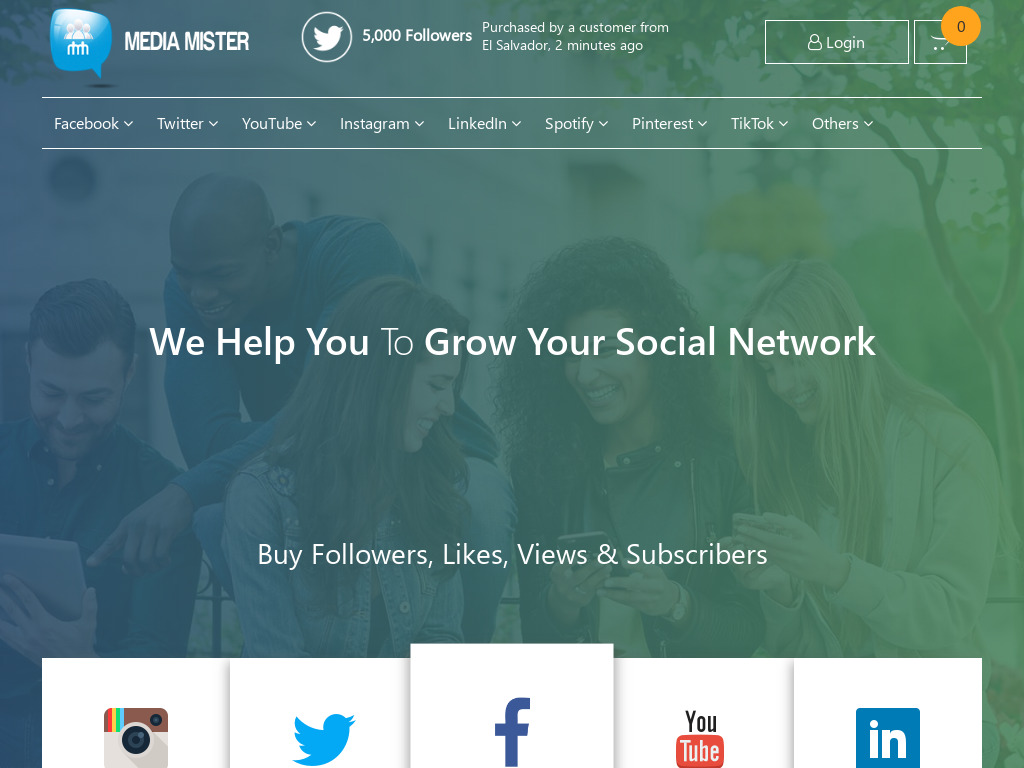 With over 50,000 happy customers and through the accepting of various payment forms including PayPal, Bitcoin and Ethereum, it should be no surprise to see MediaMister on the list. All you need to do is select "buy Spotify followers", add in your URL and make your payment, the service will take care of the rest.
The service promotes you to real human accounts and is completely secure. They offer a 100% money-back guarantee, which is a real show of competence and they offer 24/7 support. There is a retention warranty as well, so you do not need to fear that your followers will all be gone instantly, anyone that unfollows will be replaced by a new follower. Repeat orders give a 10% discount, which is a bonus considering the fact that they have no free plan packages.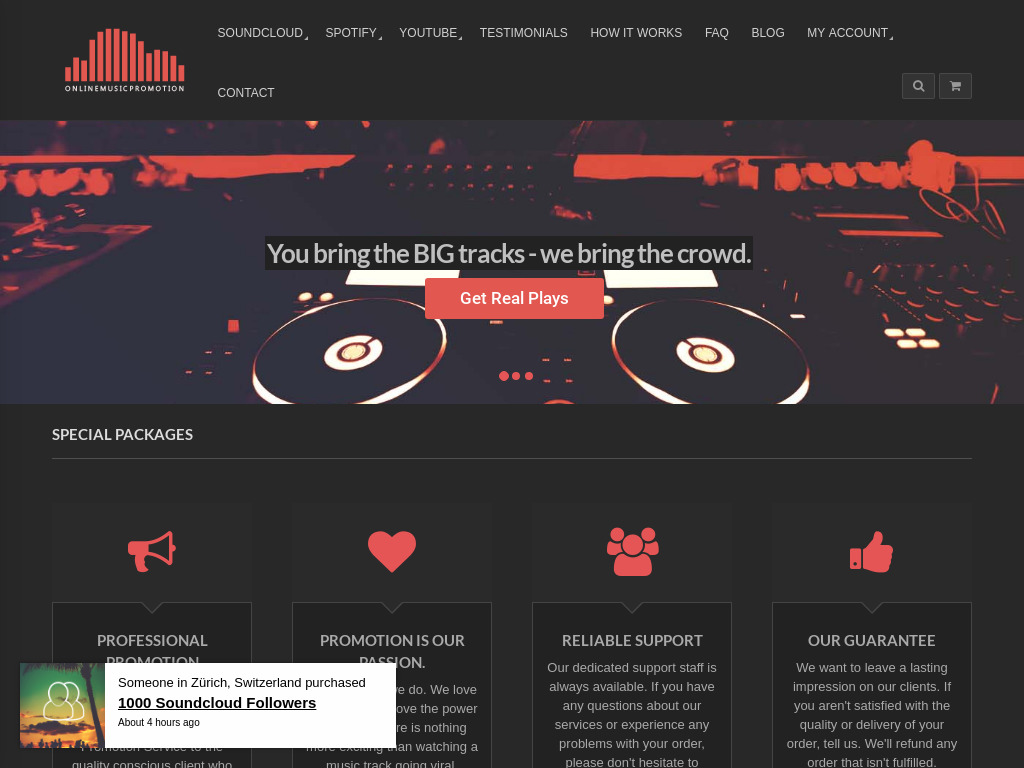 One of the best and most trusted services on the internet for gaining Spotify plays is OnlineMusicPromotion.net. Their only form of promotion is through plays, which does limit their services, but is still a valuable form of promotion considering the fact that plays can make you money and boost your visibility within the platform.
They offer a money back guarantee and around the clock customer service as well and is one of the leading promotion tools due to its good price points. Starting at $20 for 5,000 plays and ranging up to $999 for 500,000 plays, you will find yourself moving up leader boards in no time! Delivery time is about 3-12 hours, and the service is fantastic. If you want a professional service that gives thousands of plays at a good price, then look no further than OnlineMusicPromotion and their offerings.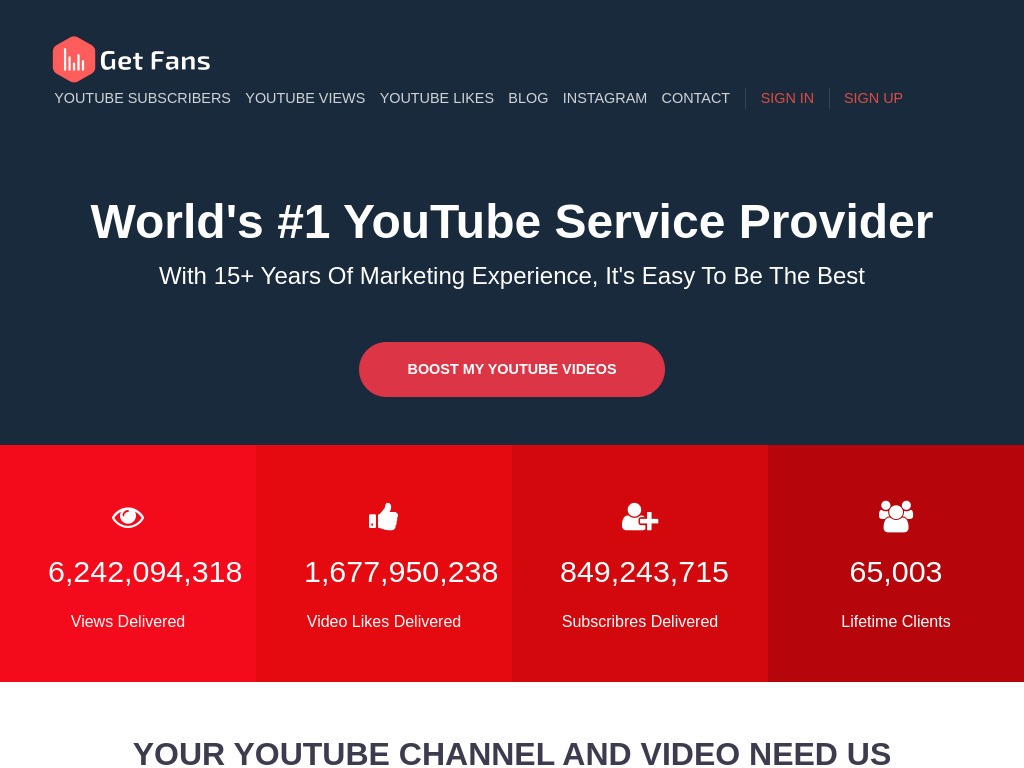 Last but by no means least is Getfans.io. An algorithm created by music producers in the US to efficiently promote Spotify content as easy as possible, Getfans.io is a leading platform that is trusted by a host of Spotify users. They utilize real accounts and get real plays to ensure that your rankings are optimized and the website itself is super easy to use. You will have thousands of plays in minutes.
They have a quality support system, offer money-back guarantees, and offer instant delivery. The only con is that their pricing for Spotify promotion is not readily available but seeing as everyone will likely be looking to achieve different things through their promotion, it means that they can offer you a more bespoke price.