If you are suspicious of someone's behavior, you can easily know the truth by spying on them. It could be a spouse with fishy habits, a vulnerable child, or a seemingly untrustworthy employee. As they say, the truth will set you free.
The act of spying on someone must be a properly calculated move because you don't want to be caught. Anything that raises suspicion could land you in trouble if you get caught by the person you are tracking.
Security is an important factor when choosing spy apps. Unfortunately, many of the available spy apps are questionable when it comes to security. The best app does not compromise the security of the other person.
You are probably reading this because you are sick and tired of being worried about someone's behavior all the time. Luckily, we have a simple solution to your problem. You only need to choose one of the two apps described here.
Step 1: Spyic – The best spy app with powerful phone monitoring features
Spyic is the most powerful phone spy app you will find on the market today. This app allows you to spy on someone's phone without touching it. Today, millions of people use the app to spy on other people across the world.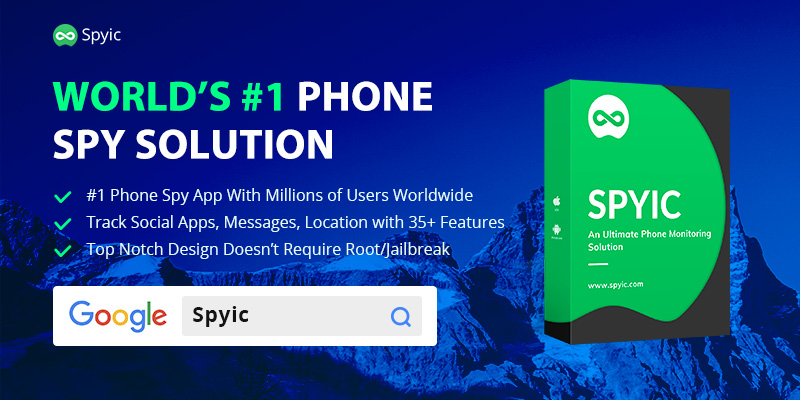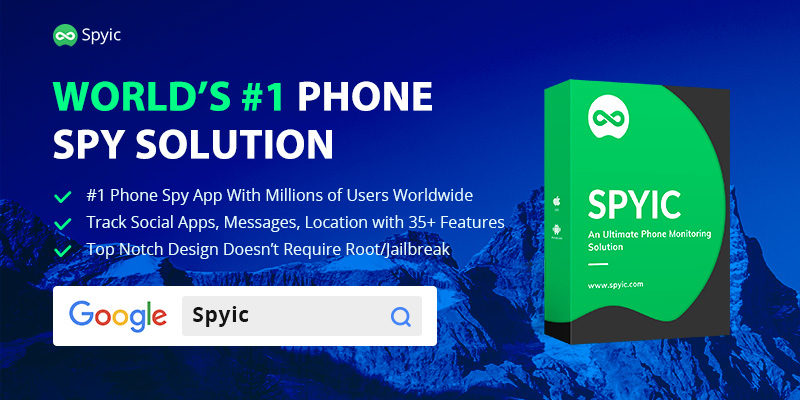 The success of Spyic is attributed to the marvelous works of an experienced team of IT experts. Thanks to the experts, users of the app enjoy a wide range of amazing features including SMS and location trackers.
Advantages of using Spyic
Spy without being detected
To avoid being busted by your target, the recommended option is the hidden spy app Android free by Spyic. Once the app is installed on the target device, it hides the icon so you can spy without being noticed.
The Spyic Android app works in Stealth Mode, so the target user will never know what is happening. Also, you don't need to touch the phone again after installing the app.
Additionally, no rooting or jailbreaking is required. When you root an Android phone or jailbreak an iPhone, you compromise the security of the device. You don't want this to happen, especially when dealing with kids.
Track the target user's location
One of the best ways to find out what someone has been doing lately is to track their location. Spyic makes this possible and users can even create a virtual fence using the Geo-fence feature.
Location tracking with Spyic involves using data from Wi-Fi, GPS, and SIM card trackers. This ensures that the information you get from the app is accurate. The best part is that you can track some in real-time.
Read all messages
Spyic gives you access to all kinds of messages including sent, received, and deleted messages. You can view someone's text, WhatsApp, Facebook, Skype, Instagram, and Snapchat messages without touching their phone.
As you can see, Spyic leaves no room for the person you are tracking to cheat using messages. If you know their favorite texting channel, just go direct to the relevant tab on the dashboard to catch them.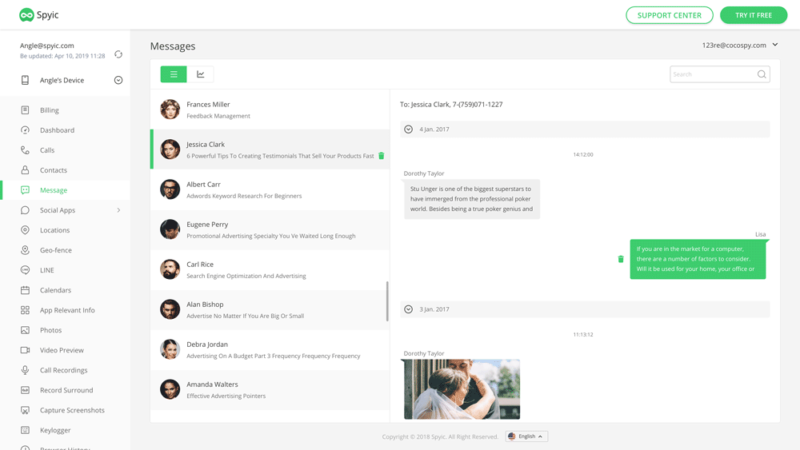 Check contacts and call logs remotely
Users of Spyic can check through the target user's contact list and call logs to earmark suspicious individuals. Call logs offer additional details including phone numbers, call duration, and time.
Once you find suspicious calls or contact names on your target's phone, you can use this information to track messages. You can even find their social media profiles using their contact information.
View browser history
One way to know someone's motives is to look at their browser history. Spyic has a feature that allows users to view all visited websites, brief site descriptions, and visit frequency.
You know what it means if your spouse has been visiting dating sites frequently. If you are tracking your kids, their surfing activity will tell you what they have been doing online. You can use this information to advise them.
Record and read keystrokes
The Spyic Android Keylogger is a powerful feature for recording and reading keystrokes. You can use it to find login information and monitor your target's social network activity.
With the amazing Keyogger feature, you can retrieve someone's usernames, passwords, and searches. Cool, right?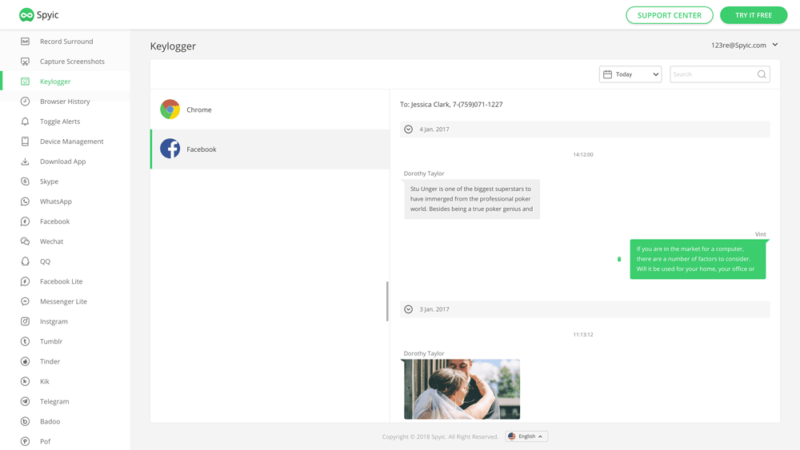 Spyic is cheap
You will come across all kinds of phone spy apps on the internet. Unfortunately, many of them are very expensive and don't even offer what they claim to offer.
The good thing about Spyic when it comes to pricing is that it is affordable. Once you create an account, you can choose a subscription plan that suits your needs. You will get high-quality services at a cheap price.
Excellent customer service
If you have any questions regarding the Spyic app, don't worry because there is a reliable customer support team. You can get in touch with one of the company's customer support agents during the day or night.
How to set up Spyic
Go to Spyic.com and create your account.
After filling in the necessary details, download the Android app. You only need to access the target device once to install the app.
If you are targeting an iPhone user, you will be asked to provide their iCloud credentials and that's all!
Hit 'Start' to start tracking. You will be taken to the Spyic dashboard.
There you go! Now you know the best app to use if you want to spy on someone's phone without touching it. Spyic comes with everything you need to keep tabs on your kids, your significant other, or employees.
Many spy apps promise to help you spy on other people's phones without being detected. However, they will let you down in many ways. Spyic works perfectly, so there is nothing to worry about.
With Spyic, you can collect the information you need to keep your kids safe. Your target won't even know what is happening! You might also save yourself from a relationship that is going nowhere after finding the truth.
Don't wait! Use Spyic today to monitor other people's phones invisibly.