Ireland, the second-largest island of the British Isles, lying in the west of Great Britain, is famous for its rich history, culture, and stories. The Island of Ireland hosts two different countries. One is the sovereign nation, the Republic of Ireland, with its capital in Dublin, and the second is Northern Ireland which is part of the United Kingdom.
The famous epithet "Emerald Isle" originates from the abundant rain responsible for the country's prevalent grasslands, which creates a brilliant green-hued landscape.
Ireland is renowned for its rich myths, from giants and tiny gold-loving leprechauns to witches and tragic lovers. The Irish are well known for the prominent celebration of St. Patrick's Day, which takes place on March 17 each year.
The feast day of St. Patrick can be traced back to Ireland's Patron Saint Patrick, originally called "Padrág," who was kidnapped and carried to Ireland by raiders when he was 16. Away from his Christian family, Padrág, who was forced to tend to sheep, became lonely and began to pray ceaselessly.
When he was 20, he escaped from his captors, returned home to Great Britain, where he had come from, and reunited with his family. He began to study to become a priest and later returned to Ireland after many years, where he worked for 40 years, converting the Irish to Christianity. It is often said that by converting the Irish, he drove the snakes from the island.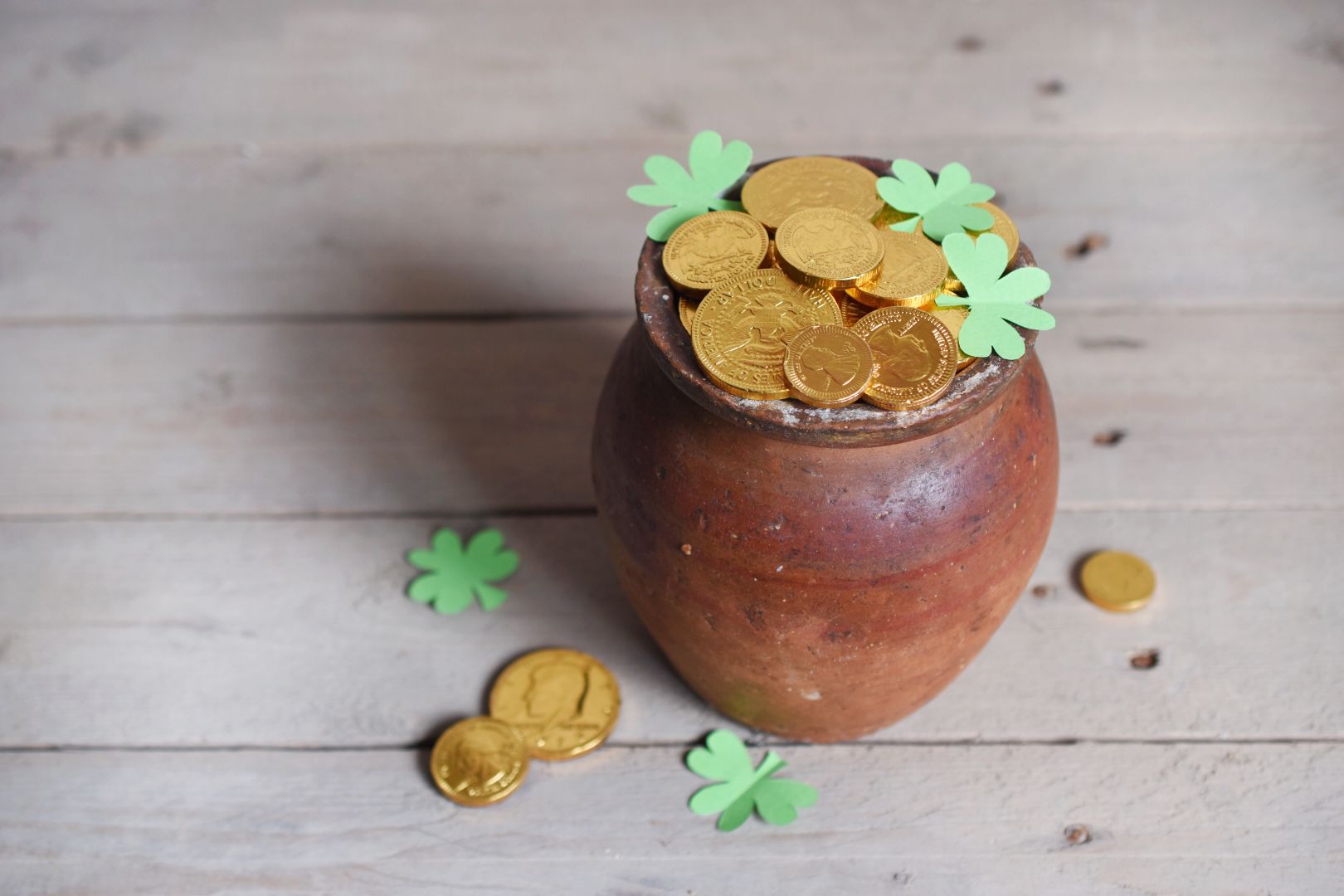 To date, St. Patrick's Day is celebrated worldwide by those with Irish heritage, during which they wear green beards and shamrocks.
We have compiled below an extensive list of wonderful puns and jokes you can share during St. Patrick's Day. Let's begin!
Heard of the musician showing off his talent on St. Patrick's Day? He was playing the brag-pipe.
Do you know why people wear shamrocks on St Patrick Day? Regular rocks are too heavy.
Have you ever seen a fake Irish stone? It's a shamrock.
What would one shamrock say to the other? Look cl-over there.
Heard about the Irish stunt double of Dwayne Johnson? They call him the "Sham Rock."
What is the favorite music genre of Irish people? "Sham rock" and roll!
Heard about St. Patrick driving all the slithering snakes out of Ireland? He couldn't fly them out as the airplanes were not invented yet.
Heard about the jealous leprechaun? It turned green due to envy.
Heard of the leprechaun playing video games? He lost the game, so it said game clover.
How can a leprechaun tell if a potato is not the Irish potato from Ireland? When it is a French fry.
Heard about the magical spell of the leprechaun witches? They cast lucky charms.
Heard about the leprechaun who is really into green living? People call him the wee-cycler.
Heard about the leprechaun who became a florist? He has green fingers.
Why can't you borrow money from a leprechaun? They are always short of it.
Heard about the leprechaun's love story? It was about a four-leaved c-lover.
What did the four-leaf clover say to the leprechaun? I be-leaf in you.
What do you call a bad leprechaun dancer's move? A jig mistake.
What would you say to a very smart leprechaun? You are really clover!
How is St. Patrick Day good for global warming? People go green on March 17.
Do you know why frogs love St. Patrick's Day? Because they are already wearing green.
Why did the leprechaun jump on the rainbow? "To get to the other side."
Ever tried ironing a four-leaf clover? You might end up pressing your luck.
What did St Patrick say while driving all the serpents out of Ireland? "Everyone got seat belts on back there?"
What would a leprechaun call a happy man wearing green? Jolly green giant.
Heard of the long-legged Irish spider? They call him paddy long legs.
What would you call an Irish outdoor space? Paddy'O.
What is a leprechaun's favorite fantasy film? "Green lantern."
Why are Irish leprechaun's not a big fan of morning runs? They would rather jig than jog.
Heard about the leprechaun who got the secretary job? They say he was great at shorthand.
Why did the leprechaun cross the road? Because it turned green.
Heard about the Irish leprechaun who won the race and got the gold medal? They say he took a shortcut.
What if you get if you celebrate Christmas and St. Patrick's Day together? You get St. O' Claus.
They say shamrocks are rare, but where would you easily find one? In the dictionary.
What would you get if you cross an Irish jig with McDonald's? A shamrock shake.
Why did the leprechaun go outside? To sit on his paddy-o
What type of bow cannot be tied? A rainbow
What's a leprechaun's favorite cereal? Lucky Charms
Why did St. Patrick drive all the snakes out of Ireland? It was too far to walk
What's the best position for leprechauns to play on a baseball team? Shortstop
What do you call a leprechaun with a sore throat? A streprechaun
What instrument does a showoff play on St. Patrick's Day? Brag-pipes
When is an Irish Potato not an Irish Potato? When it's a French fry
Knock, knock. Who's there? Erin. Erin who? Erin as fast as I could, but I couldn't catch the leprechaun.
How does a leprechaun work out? By pushing his luck
What's long and green and only shows up once a year? The St. Patrick's Day parade
What does a leprechaun call a man wearing green? A green giant.
We're sure by now you'd be Dublin with laughter. Be sure to share these jokes with as many people as possible and spread the joy!