Finding tattoo ideas can be challenging first because tattoos are permanent, and secondly because these pieces of art are used to express somebody's personality and stage in life. They are also inspirational and motivating. The ink drawing on your skin will be a way to remind yourself where you have come from or your ambitions and goals in life.
There are many tattoo ideas to choose from. You can choose to get small flowers or different types of animals that match your personality. You can also select tattoos of different colors and let them be drawn in different parts of your body. Some of the common tattoo ideas are;
Pet Tattoo Ideas
How much do you like your pet? You can have its name inked on your hand or thigh to remember them forever. You can also get your pet's face tattooed on your body. Whether it's a cat or a big dog, the artist will make it fit the size you want. Even when your pet dies, you will have them on your hand forever. 
Flower Tattoos For Women
Women like flowers, and it is not surprising that most of them choose flowers for tattoos. The tattoo idea is girly and perfect, and it looks pretty on a girl. You can add the color of your choice to make the tattoo pop more. Some flower choices you can get are rose flowers, sunflowers and lotuses. 
Finger Female Tattoo
If you are looking for hand tattoo ideas, you can get small flowers on your fingers. However, although people choose the fingers because they seem less painful, tattoos on these body parts are more painful than on the thighs and arms. Only small flowers can fit on the fingers, and they look great. 
Butterfly Tattoo
Butterflies are associated with beauty and being delicate, which is a major personality of many women. Having a butterfly on your arm or thigh looks pretty. You can also ask your artist to use different ink shades to color the butterfly and make it as beautiful as possible. 
Fan art
What influences you to be who you are? This could be a movie you watched or a book you read. If you still have the imprints in your head, you can bring them out with a tattoo. Looking at the beautiful piece of art every day will always remind you why you are who you are. Besides, it also helps you find yourself whenever you get lost in something. 
Dream Catcher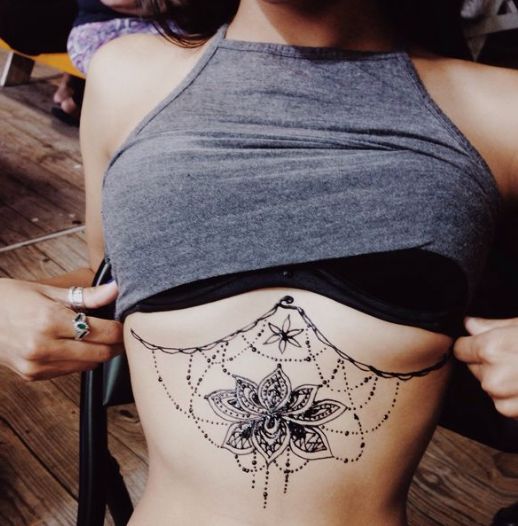 Getting a dream catcher never goes wrong because they always look beautiful, fun and inspiring. You can also ask your artist to add color to make the tattoo pop motor. One good thing with a dream catcher is that they are customizable to fit the wearer's design. 
Words
Do you have a word of the year? Or a mantra? You can have these words tattooed on the part of your body that you see daily. You will easily remember your word of the year when showering, if it's on the arm or every time you look at your thigh. The words can be as small or large as you prefer them. 
Animals Tattoos ideas
Which is your favorite animal, and what does it mean? If you want to be fierce as the lion, you can have a lion's face tattooed on your forearm. Ensure you get an expert artist to bring out the best image of the animal. You can also add colors to the tattoo to make it visible. 
Quotes
You have read so many quotes, but you must have the best. Quotes motivate us to do the best we can, and they are also very inspiring. If you want to constantly remind yourself to work hard through a quote, tattoo it on your arm. 
Art
Art is beautiful and has meaning. Artists use art to express their emotions and feelings and tell the world about their personalities. Inking your art on your body shows how bold and determined you are, and it is also personal and unique. It is one of the best tattoo ideas worth trying this year.