Last Updated on January 18, 2022
First used in Prehistoric art, terracotta's use in architecture is more recent – but even so, it is still centuries-old. Its use as wall panels and other elements first happened in Asia, but apart from a brief burst in the late 19th and early 20th centuries, it has not enjoyed as much popularity in the western world.
However, that is beginning to change. As people and the architects and designers they commission look for materials that are durable, sustainable, and aligned with green principles, terracotta's star is rising once again. As the following buildings demonstrate, it is a versatile material with a long lifespan that can help to protect buildings from the elements.
Reasons To Choose Terracotta
Before we look at buildings in which the use of architectural terracotta features prominently, we will consider some of the reasons it is an excellent choice. The reasons include the environment, general and thermal performance, and maintenance.
Terracotta is a clay-based ceramic, which means it is essentially a mix of clay and water that is fired in a kiln. It may be glazed, or it may be left unglazed. Either way, chemicals are not added to the product, which is durable and strong when manufactured correctly. This also means that it has a low impact on the environment, and it can be recycled.
For a product that has changed little over thousands of years other than for modernizing some aspects of the manufacturing process, it is surprisingly long-lasting. Even with a minimum of maintenance, terracotta cladding can last for 100 years or more, with its colors as fresh and vibrant as the day it was made.
Using terracotta as a rainscreen or for shading can improve a building's thermal performance, thereby making it more energy-efficient. This also means that it costs less money to cool or to heat the building.
Architectural terracotta requires little by way of maintenance. Although dust and grime will accumulate over time, a single power wash once a decade usually is enough to restore the building's façade to its former glory.
The Flatiron Building, New York City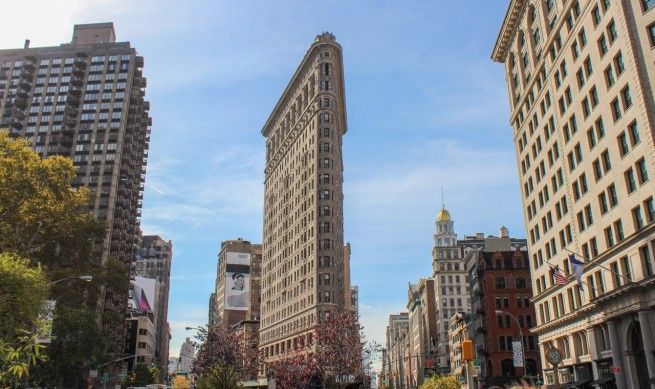 New York City's Flatiron Building, which was completed in 1902, is a fine historical example of the use of architectural terracotta; both of its flexibility in terms of design, and its durability. The famous triangular steel-framed building rises 22 stories above Manhattan's Fifth Avenue.
Construction began in June 1901, and it proceeded rapidly. Special care had been taken when pre-cutting the steel frame, and because there were almost no adjustments to be made, the frame rose by a floor every week, which led to its completion in February 1902. Half of the building was covered with terracotta tiles by May that year, and in June, it was announced that construction had been completed.
The so-called cowcatcher retail space and the penthouse were added following the building's construction. The Flatiron Building was declared a national historical landmark in 1989.
Albion District Library, Toronto
Built to replace the previous facility which had been constructed around 1973, Toronto's new Albion District Library opened in 2017. To say that response of the community to the new library designed by Perkins + Will has been positive is an understatement. Usage increased by 65%, and the facility now welcomes as many as 82,000 visitors every year.
The surrounding area is characterized by an abundance of asphalt and concrete, which is one of the reasons the architects decided to wrap the new building with a screen of terracotta baguettes that had been glazed in bright, attractive colors. The colorful baguettes are supported by unglazed bars separated by isolation boards.
While the screen certainly provides shading from direct sunlight, it also disguises what could have been an unattractive solid wall. This helped reduce the library's energy use by 40%, making it an eco-friendly and sustainable architectural option too.
The Nembro Library, Italy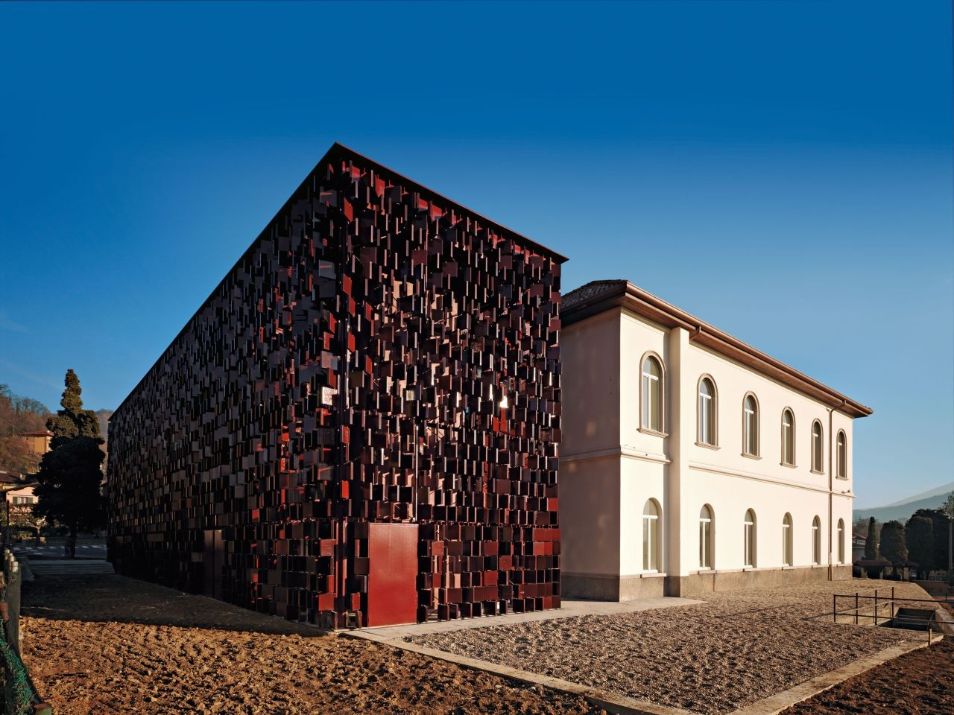 The sunscreen of the Nembro library in the Bergamo province of Italy's Lombardy region offers another impressive example of architectural terracotta. The City Council approached Archea Associati to help it salvage a former school building. Built in 1875, it had not been used in years, so the council wanted to convert it into a library.
While the original building was restored, the architects designed a new building to sit alongside the original. The two buildings are connected via a basement. A feature of the new building, which has large windows, is the three-story sunscreen.
The metal frame of the screen resembles shelving and suspended between those shelves are terracotta "books" that can move. This offers shade while also allowing light into the library.
Fuzhou Strait Culture and Art Centre, Fuzhou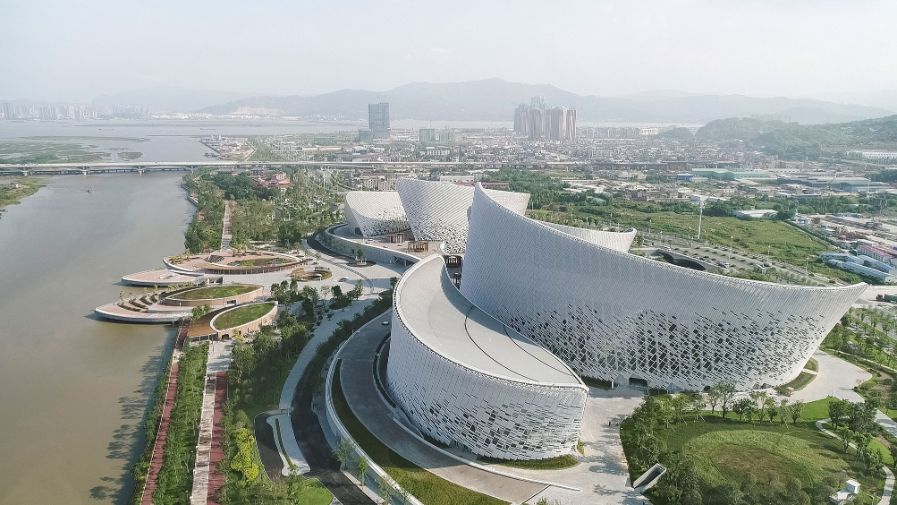 Located in the Mawei New District of the Chinese city of Fuzhou, the Fuzhou Strait Culture and Art Centre was designed by PES-Architects' Pekka Salminen. Completed in 2018, the center includes five main buildings linked by a Cultural Concourse and a terrace.
The shape of the center makes it one of the most beautiful buildings globally and was inspired by the five-petalled jasmine flower, which is the official flower of the city. Each main building forms one of the petals of the flower, and they include a theatre hall, a concert hall, an opera house, a film and a TV center, and an art museum.
The façade of each building is clad with white glazed terracotta panels, and the buildings also feature sunscreens of glazed terracotta baguette louvers.
National Fitness Centre, Zhoushan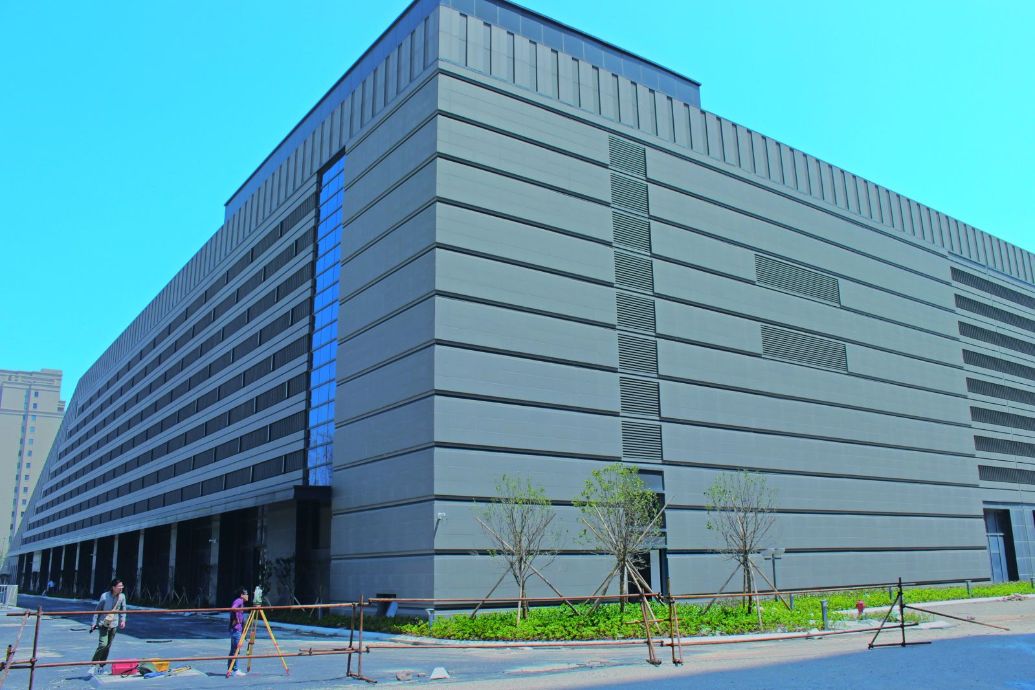 Designed by the Meihua Construction Group and completed in 2016, the National Fitness Centre in Zhoushan, China, is a mixed-use building that has become a new landmark for the city. It includes a stadium that hosts various sports events, as well as spaces for fitness, exhibitions, entertainment, and retail.
The goal of the center is not only to promote fitness but also to encourage visitors to embrace a low-carbon lifestyle. The exterior of the center features a wide range of terracotta products. The rainscreen incorporates horizontal and vertical panels, while the sides of the building are clad with flat and with grooved panels.
Terracotta baguettes and louvers have also been used in other parts of the design to achieve an effect that is both visually striking and that offers great shading as well as ventilation.