Last Updated on January 24, 2023
Text-to-speech is a technology that converts written text (and sometimes also graphic patterns and designs) into a voice. Text-to-speech technology is quite useful for children that struggle with reading and can go a long way in improving their reading and listening skills.
Adults, especially those who love to multitask, can also benefit immensely from the text-to-speech technology. You can seamlessly listen to a piece of writing on your device while doing something else. For instance, text-to-speech technology allows you to listen to your emails or read your text messages while doing your laundry.
But to enjoy this revolutionary technology, you'll need a reliable tool. Text-to-speech tools come in various shapes and forms.
We have built-in text-to-speech tools where a device, such as a desktop, laptop, or smartphone, comes with the software already built into its system. There are also web-based text-to-speech tools that are incorporated on websites. Lastly, we have text-to-speech apps that you can download and install on your device for use on the go.
Ten of those apps shall be the focus of this article, so read on as we highlight the best text-to-speech apps ever designed.
1. Text to Speech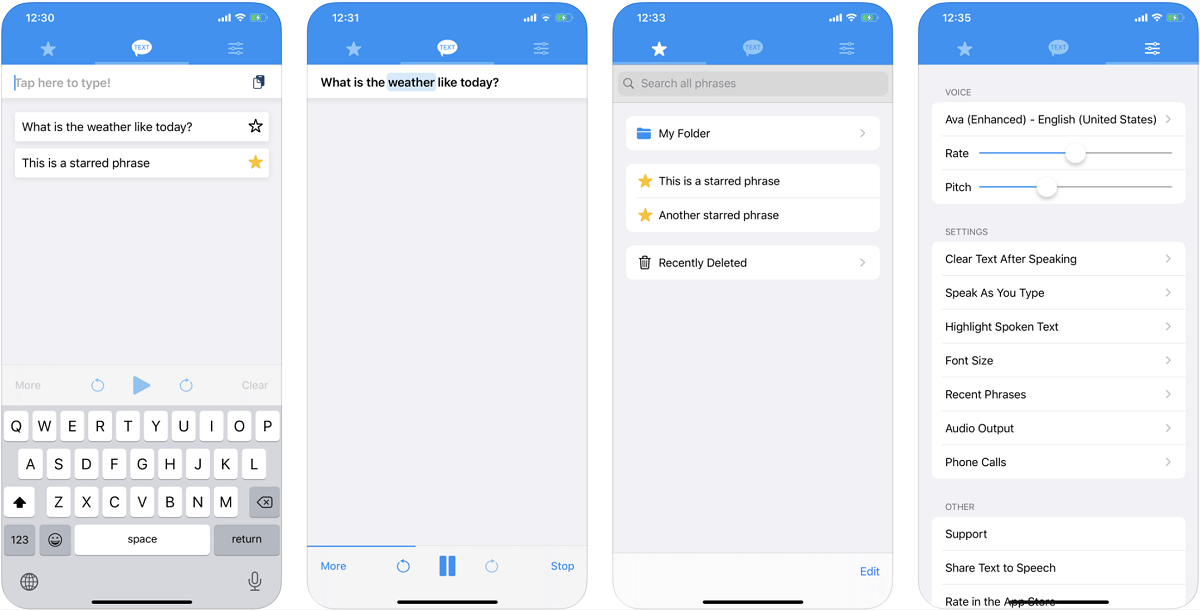 Also known as TTS, Text to Speech is one of the most reliable software for converting text files into audio file formats. The tool is incredibly easy to use. After downloading and installing it on your device, you simply enter the text you wish to read aloud, and TTS converts it into an audio file in a matter of minutes.
The integration of an auto-expanding text field makes it possible to enter unlimited texts for quick conversion into speech. TTS supports over 30 different voices and languages. Also, the tool allows users to adjust the pitch and rate of the voice. And after converting your text to voice, you can readily share the file with your family and friends.
2. iSpeech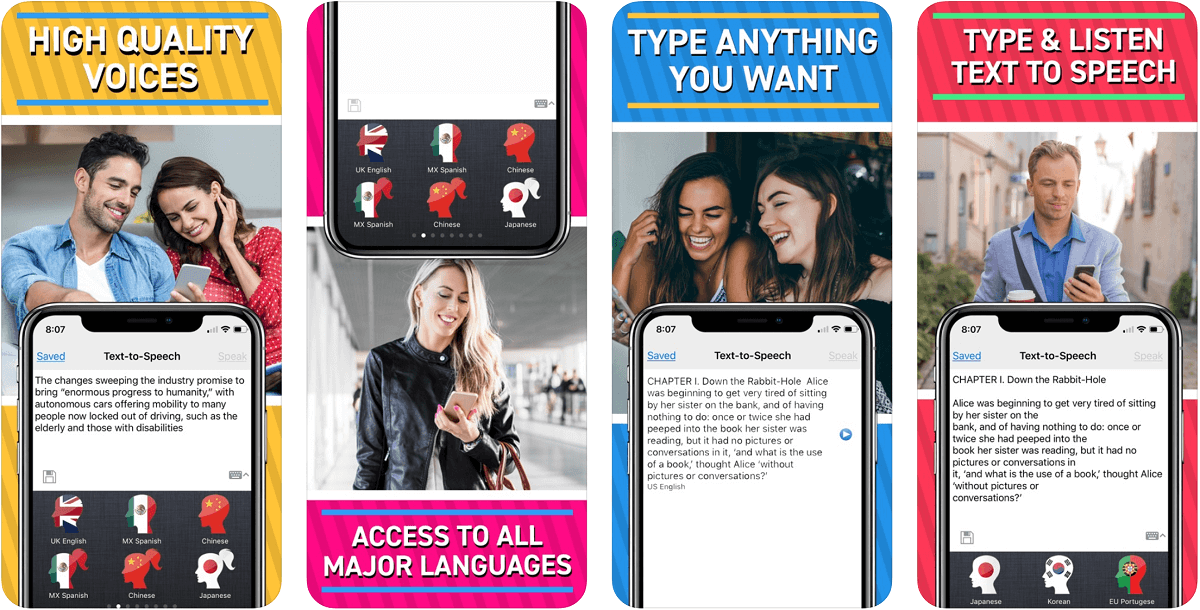 The second text-to-speech app on our list also supports several major languages. That allows you to upload your text in any of the supported languages and have the text converted into a language of your choice.
Besides uploading your text files, the app also has a text field where you can directly type in the text you wish to convert. After typing in the text, you apply the tool's convert option and allow for a few minutes for your audio file to be ready. The best part is that with iSpeech, you can also convert your voice files back to text.
3. Google Translate
When it comes to reliability, compatibility, and user-friendliness, Google Translate ranks high above most text-to-speech apps. With Google Translate, you can convert your text files into audio files in any language. The app uses powerful algorithms that can quickly crawl eBooks, webpages, and other documents and immediately tell which language the text appears in. It then lets you choose the language you want the text to be converted to, and the conversion speed is super fast.
And besides translating written text, you can also use Google Translate to convert foreign graphics into audios. All you need to do is click on the image or pattern using a 3D camera app, and allow Google Translate to do the rest.
4. Talk Free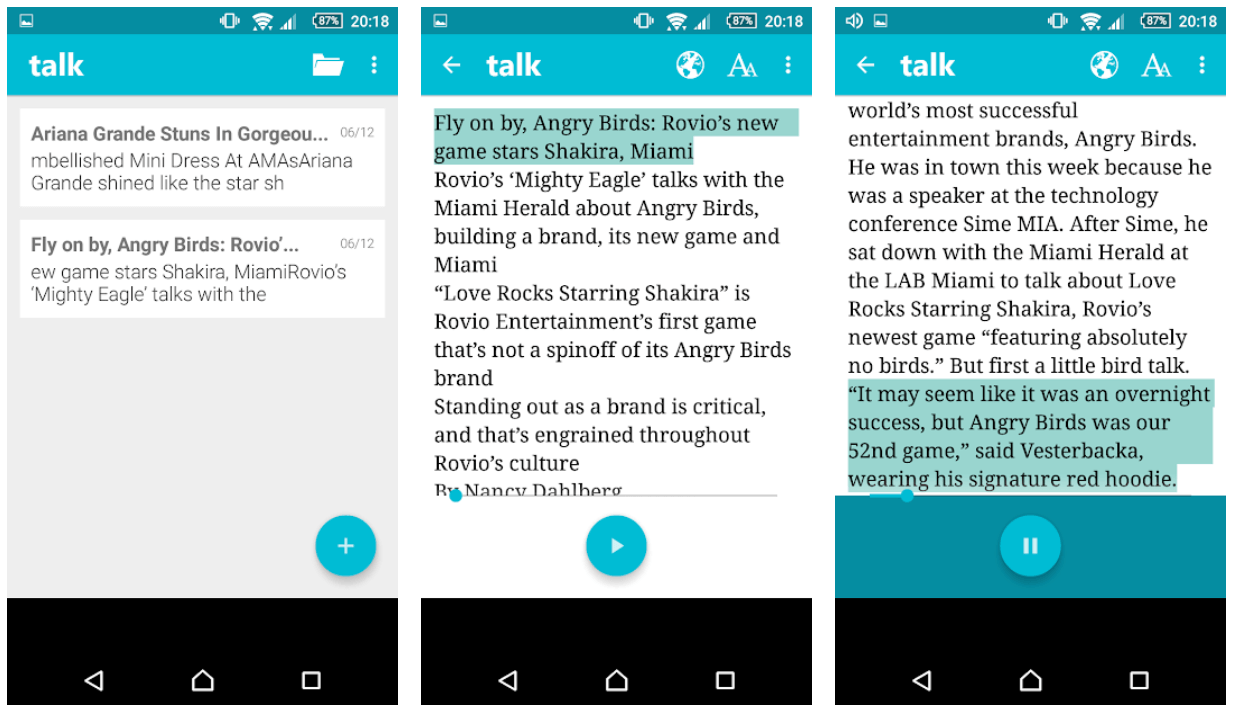 Like most text-to-speech apps, Talk Free prides itself in its ability to convert text files into voice files in numerous languages. You can use the app to either import text or directly read web pages. Then, you can save the converted file in .WAV file format for offline sharing.
However, note that Talk Free utilizes a built-in text-to-speech engine. So, to work efficiently, the app must be duly installed and enabled. Also, the fact that this app uses a built-in text-to-speech engine means that adjusting the voice or pitch of your voice files requires changing the settings of the engine.
5. Voice Aloud Reader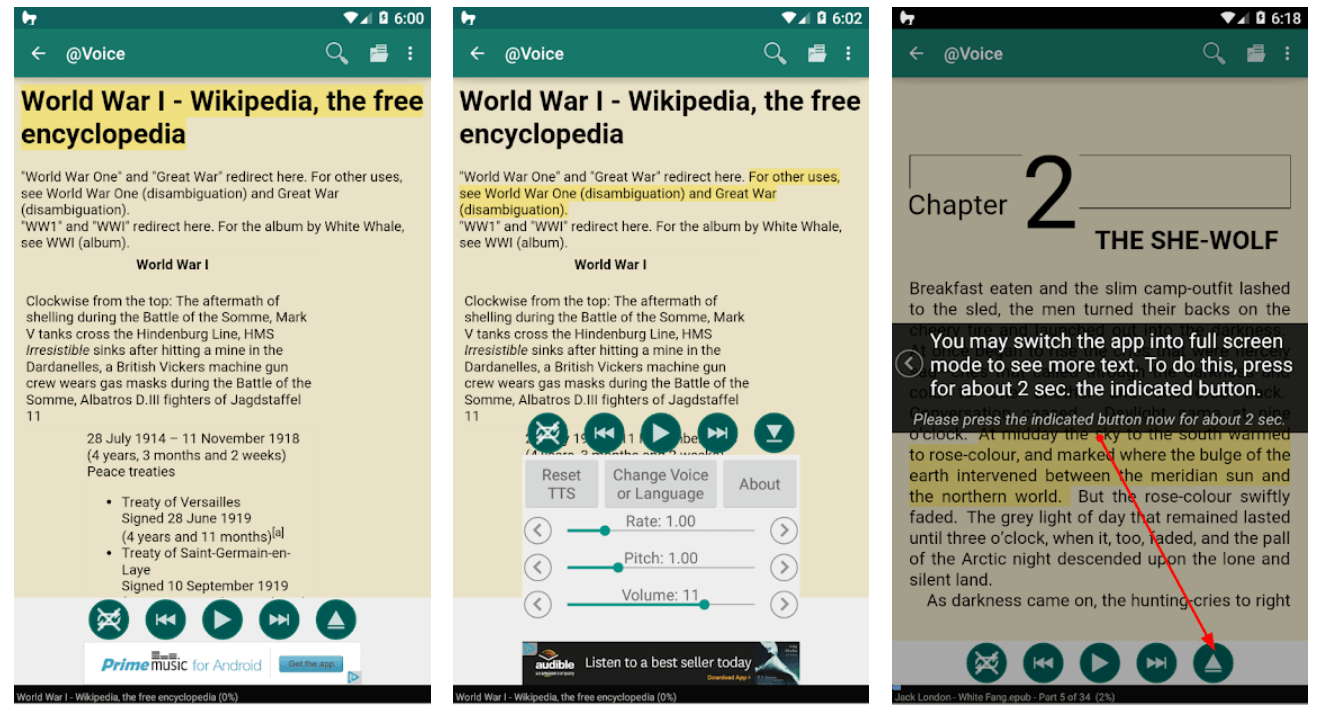 Voice Aloud Reader can convert all manner of text files into voice files, ranging from documents, eBooks, HTML, to mention but a few. The app is incredibly user-friendly.
Uploading your text on the Voice Aloud Reader is as easy as hitting the "Share" button. That eliminates the need for menus, ads, and unnecessary features that would otherwise make the app's interface difficult to navigate. Another thing to love about this app is that it filters web pages and text files for garbage, fluff, and incoherent characters.
6. Speech Central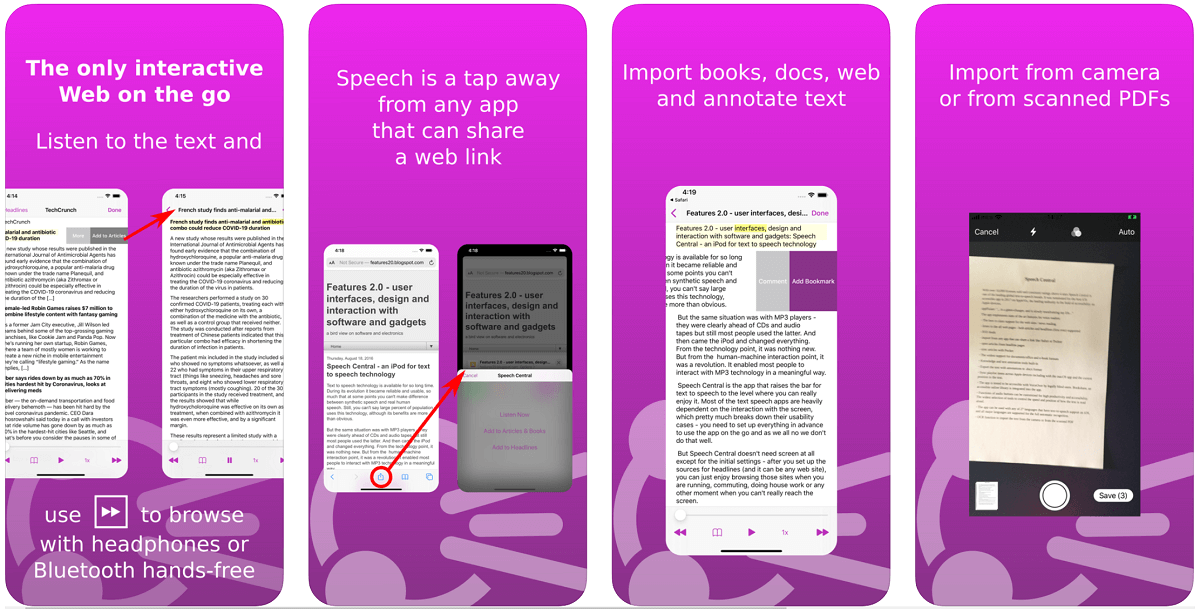 Speech Central comes with numerous options as far as importing your text to the app is concerned. You can quickly import text in Word Document or PDF files. You can also type the text directly onto the app's text field and listen to it on the go, or use the app to convert text from web pages.
And after converting your texts, you can share the audio files free of charge. The only major drawback with Speech Central is that it's only available for iPhone users.
7. Pocket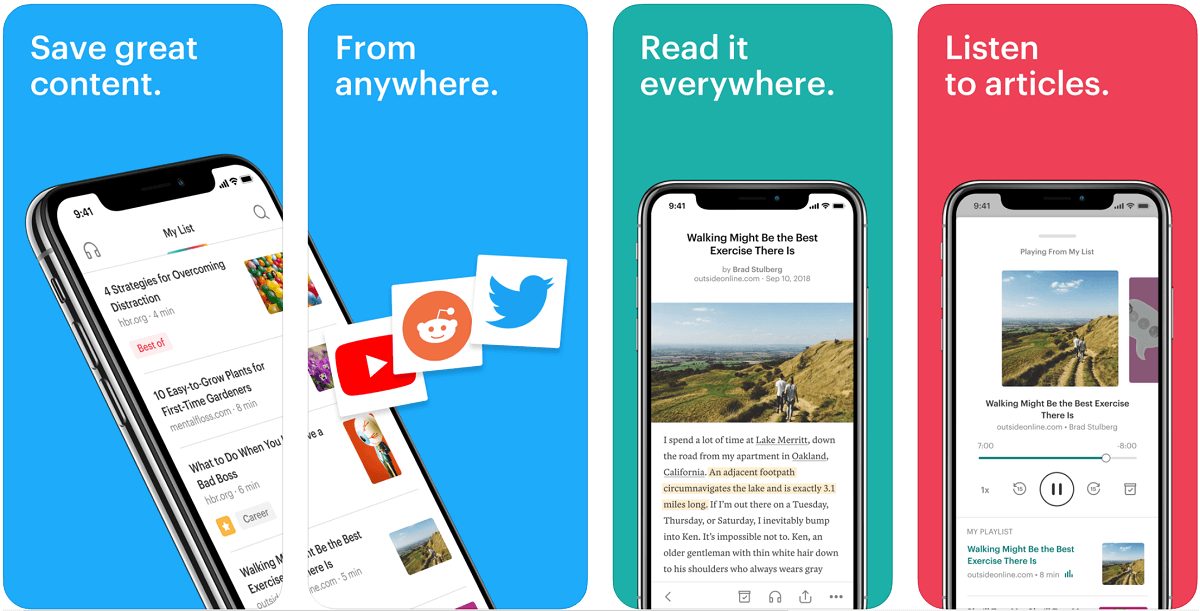 Pocket does a lot more than just helping you to convert text into audio files. The app allows users to save tons of articles and stories for future reading. Sharing articles and other text files on the app is also easy. You upload the file the same way you would with any TTS app.
As soon as the text appears on Pocket, you tap on it to open the text for reading. And if you want to go ahead and convert it into an audio file, you simply select the headphone icon located at the top. The best part is that you can even read the text while also listening in to the audio. All you have to do is to tap on the back button on your device.
8. Narrator's Voice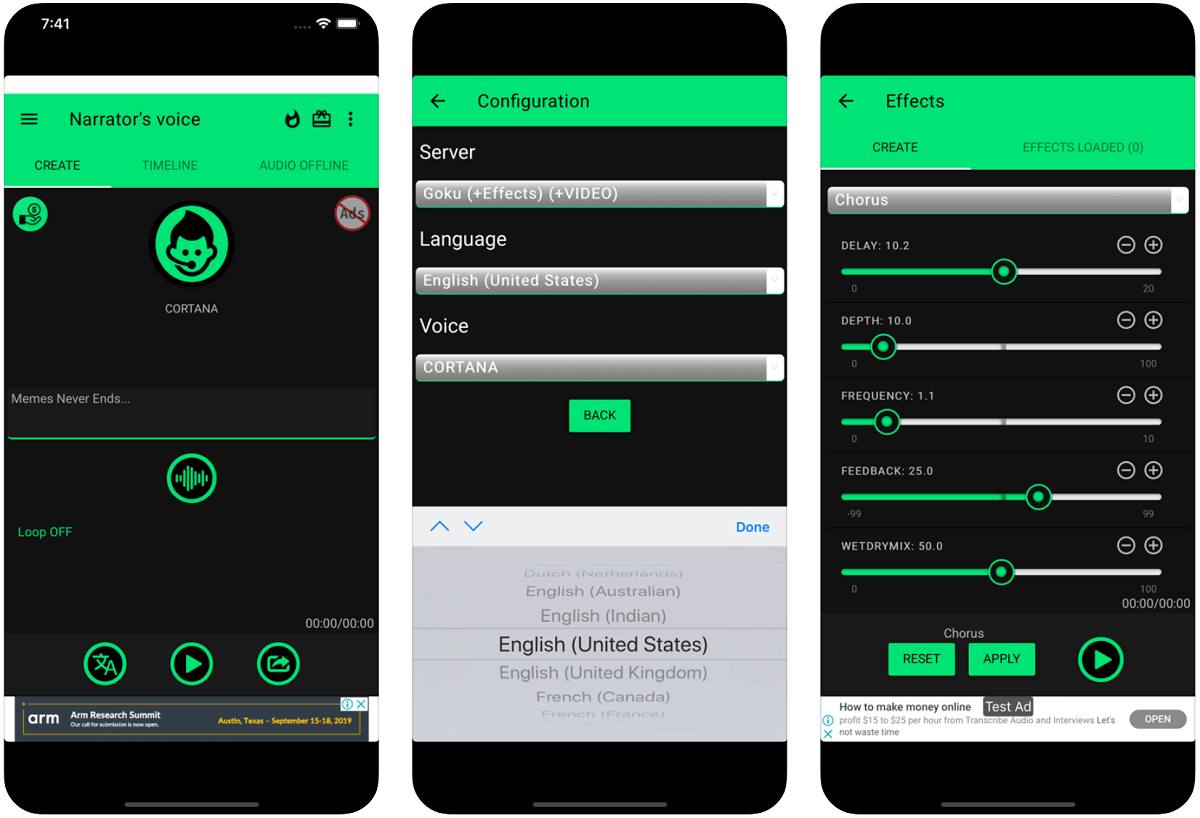 Narrator's Voice supports different languages, allowing you to convert your text into a language of your choice. But that's not the only thing to love about this app. The app also allows users to add different voice effects to their audio files. Some of the sound effects that you can apply include Echo, Gargle, Speed (to speed up or slow down the voice), Flanger, Compressor, and Chorus.
Narrator's Voice comes with a share button that you can click to share the converted audio file automatically and in different formats. The share button also allows you to convert the audio into a video, export it to your timeline, or simply save it on your device.
9. Full Reader
Full Reader is only available on Android, which may be a huge inconvenience for iPhone users, but the app has plenty of other redeeming features. Full Reader allows you to convert your texts into audios in different languages. It's designed with algorithms that can read different kinds of document files. Some of the documents the app can read include .pdf to .doc, .docx, .rtf, .oxps, .htm, .ePub, .MP3, etc.
Full Reader also implements a unique tool that you can use to scan your device memory and locate all the files the app supports. That saves you a lot of time, as you can then convert your text files into supported file formats before importing them to the app.
10. T2S: Text to Voice
T2S: Text to Voice not only allows you to convert your texts into audio files. It also lets you export the converted file for immediate use. When converting your text to speech, T2S makes it possible to add various sound effects to the file, including adjusting the audio pitch, speech rate, and phrase segmentation mode.
The Copy to Speak feature allows users to copy a text from another app and convert it to speech instantly. There's also a Type Speak tool where T2S converts your text to speech as you type. The app uses powerful Google Text-to-Speech engines as its main API. However, there's an option of changing that.
Final Word
When looking for the best speech-to-text app, insist on one that supports numerous languages, is user-friendly, fast, and allows you to add sound effects to your converted files. Better yet, you can simply download any of the text-to-speech apps that we've reviewed here.