Last Updated on January 24, 2022
Unfortunately for some, accessibility to natural light in their workplace is as elusive as negotiating a meaningful raise with a curmudgeonly superior or achieving your desired weight on your very first try.
Unlike decades past, a great deal is now known about the benefits that natural light can have on morale, employee productivity, and on the physical space itself, but there is one question that remains: how can a manager or business owner capitalize on this knowledge?
The answer could be as simple as installing the right commercial blinds and shades in your workspace.
What are the Benefits of Natural Light for Architects and Interior Designers?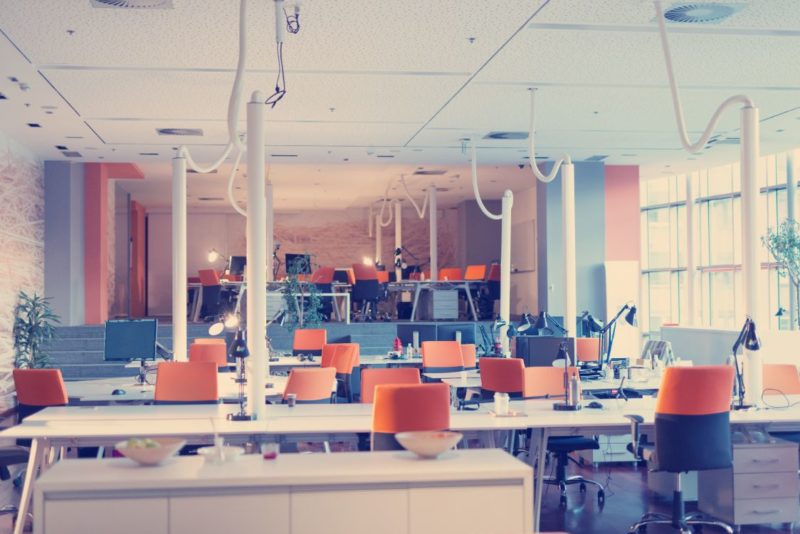 Most people know that humans rely on the sun as their primary source of vitamin D. When we lack it, we tend to feel tired, we get sick more often, and we can begin to feel depressed. In acute cases, a vitamin D deficiency can lead to some pretty serious physical conditions as well.
Ensuring your workspace has ample natural light can mitigate any potential adverse health effects associated with low vitamin D — but this is far from the only benefit to making sure the sun's rays permeate your office. So, what else can you do with natural light?
Conserve energy/lower heating and cooling costs. Having the ability to increase or decrease the amount of sunlight is permitted to enter the space at the push of a button is an easy and efficient way to reduce the cost of maintaining a comfortable work environment. Insufficient sunlight in the winter means that you'll need to rely more heavily on artificial heat. Alternately, too much sunlight in the summer means the air conditioner will need to work overtime. The point is, with proper planning, natural light can help maintain the desired temperature while reducing HVAC costs.
Natural light brings out a room's color and make the space look and feel bigger.
Natural light warms the air, which helps to promote airflow which in turn keeps the air fresh and reduces the likelihood of mold taking root in hard to reach spaces.
Generally speaking, having more natural light and less artificial light makes a room much more inviting and comfortable.
In terms of design, natural light remains a principal trend. Companies who embrace this trend are viewed as high energy and existing firms.
Why Do Smart Natural Light Designs Include Motorized Window Treatments?
It only makes sense that if you and your company have embraced the benefits of natural light, the inclusion of motorized window treatments is a foregone conclusion — unless you want to physically adjust the height of the shades repeatedly throughout the day in order to address the changing weather conditions.
The idea is to make the best use of natural light — and that actually means less human intervention. Many products can be integrated to use sensors that monitor internal and external conditions and raise/lower the window treatments accordingly, thereby optimizing the amount of natural light that is available at any given time.
Motorized Commercial Window Applications are Designed for a Number of Applications
While motorized commercial window shades arguably have the greatest impact at a corporate level, this smart technology can be beneficial just about anywhere.
In fact, the benefits explored above are not exclusive to office buildings; the health benefits, environmental impact, cost savings, and design aesthetic can be applied equally in the following locations:
Hospitals
Schools
Retail Spaces
Hospitality (Hotels, Restaurants, etc.)
In short, motorized window shades represent an excellent method by which to keep your employees happy, healthy, and more productive, but they can also help your workspace to look better,  to be more environmentally friendly, and more cost-effective.
Now, who can ask for more than that out of a once ubiquitous office staple such as window shades?
If you'd like to know more, check out Elite Pro Shading's various window treatment options or reach out to a qualified sales representative to help find the one that is best suited for your space.