Are revenues from your ecommerce shop yielding profitable returns, at the very least? If you answered "No," then perhaps your WordPress website lacks the features and user experience that might inspire visitors to take out their wallets.
Given how fierce competition has become in the ecommerce space, you can't afford to have a lackluster site. And there's too much advice going around on the top ecommerce blogs, which can make it hard to know what to do. The good news is, addressing this issue isn't going to be as difficult as you might think.
By integrating the right WordPress plugins into your website, those that are designed to make your ecommerce store easier to manage and increase its conversions, you'll be far better equipped to drive more sales for your business.
In this guide, we're going to check out a few WordPress ecommerce plugins that will take your store, and your sales, to the next level.
1. BigCommerce for WordPress
The more products you have on your store, the bigger your chances are of generating more sales. After all, when you offer variety and highly relevant recommendations to your audience, there's a good chance they'll take action on your offers.
The tricky part is when you start scaling your operations.
The logistics have the potential to become a total nightmare. Scaling requires you to order more products from third-party suppliers. And for every product that you'll export, you'll need to maintain optimized and fresh content about the product listings, pricing, and keep track of their availability to make sure your product inventory is up-to-date.
As you can probably imagine, doing all of these tasks manually is going to take so much of your time — time that you ought to be using to grow your business. The good news is, there are ecommerce Wordpress plugins like BigCommerce that can make the whole process easier to pull off.
With this plugin, you can aggregate product information from your ecommerce back end to your content-rich store site. You can even search your account's products based on their price, reviews, the best sellers, etc., and set your WordPress site to surface only the ones that you like.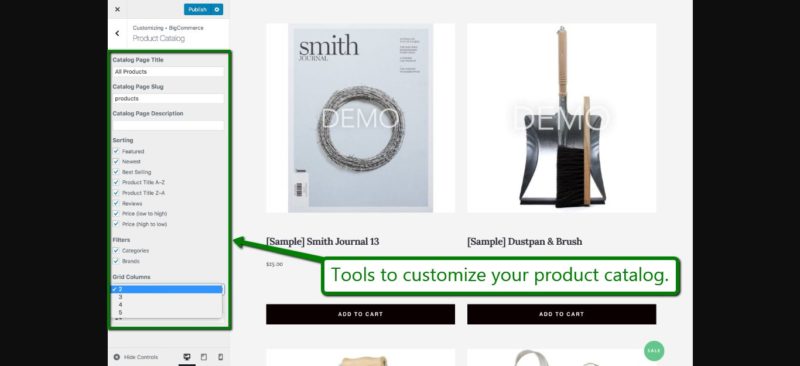 These are just some of the many features that BigCommerce wields that can make the process of scaling your ecommerce store more efficient.
2. Popups by OptinMonster
Popups are excellent for getting your visitors to stay longer on your website, giving you more opportunities to convince them to buy your products, or at least subscribe to your email list.
After all, getting your site visitors to sign up for your email list allows you to nurture your relationship with them and market to them later.
With the Popups by OptinMonster plugin, you can generate more leads, increase your conversions, and ultimately, your sales.
You can use the plugin's drag-and-drop popup builder, without the need for any coding knowledge, to create stunning opt-in forms that will help you convert your visitors into subscribers and buyers.
You can also choose from a selection of opt-in templates to create your different kinds of campaigns such as your sidebar forms, exit-intent popups, floating header or footer bars, etc.
Aside from letting you create your lead generation campaigns through opt-in forms, the popup plugin also integrates with OptinMonster's segmentation and targeting engine. This helps you strategically show your popup offers to your target audience at the right time to boost your conversions and sales.
3. Google Analytics Dashboard Plugin for WordPress by MonsterInsights
The value that Google Analytics can bring to your ecommerce business is far-reaching. It tells you about your traffic sources, the demographics of your traffic and their on-site behavior. — all of which can help you make better data-driven decisions.
The downside is, "properly" setting up GA in your ecommerce site can be complicated — especially if you aren't so familiar with its setup process. If you want to add powerful features (e.g., ecommerce, events tracking, etc.), it could take you days or weeks to set up. Some website owners even hire developers to do it.
That's why WordPress ecommerce website owners love the Google Analytics Dashboard Plugin for WordPress by MonsterInsights. The plugin allows merchants to integrate Google Analytics into their website properly, in less than 15 minutes. It also gives its users access to advanced Google Analytics features within just a few clicks.
And if that isn't enough, the plugin has its own Google Analytics dashboard, which allows you to see the analytics reports from inside your WordPress website's back end.
Here are some of the Google Analytics reports that you can get from the plugin.
Behavior ReportWith the behavior report, you can see how users find your website, who referred them, the elements they clicked on your site, the keywords they used, and more. These stats help you identify the areas in your marketing campaigns you need to improve.
Ecommerce ReportThis shows your crucial online store stats, such as your conversion rate, top referral sources, average order value, revenue, and more from a single dashboard.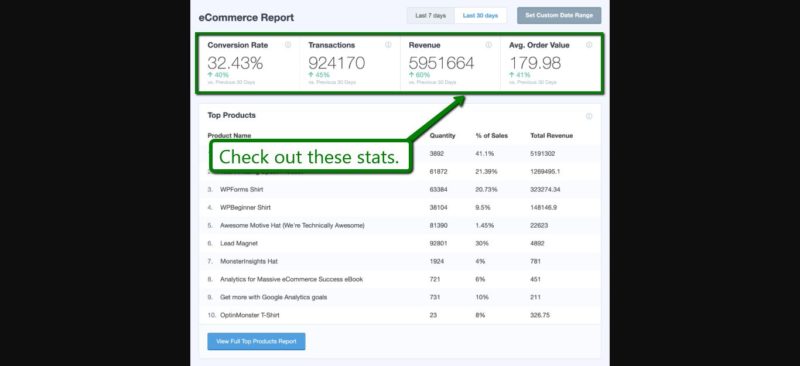 Audience ReportThis report helps you understand your site visitors better by showing you insights about the interests of your audience, the kind of devices they are using, their gender, age, and more.
When you understand your audience, you can better tailor your content and web design according to their preferences and needs.
4. Jetpack
Your potential customers want to know that you can keep the personal information they share with you safe and that they can trust you with their hard-earned money.
That's why it's so important to maintain a high standard of website security. If you don't come off as trustworthy, you'll essentially block your own sales efforts.
By integrating the Jetpack plugin to your ecommerce website, you can gain access to a suite of security features and tools to guard you against unauthorized logins and brute-force attacks.
To give you a better idea of what the plugin can do for your website security-wise, here are some of its features:
Jetpack keeps a record of all the changes on your website to make troubleshooting easier.
The plugin offers code and malware scanning for your website, plus automated threat resolution.
It adds downtime monitoring and spam filtering features to your site.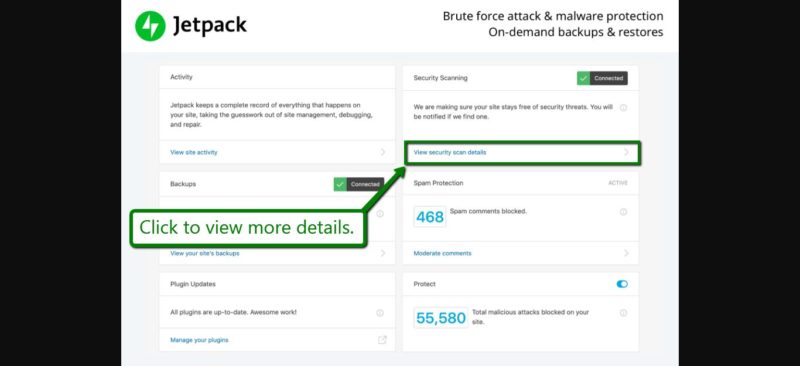 The plugin provides extra secure login, including an optional two-factor authentication.
It back-ups your entire website in real-time or on a daily basis.
Your website can also benefit from getting an SSL certificate on top of all the security features that the plugin can provide because when people see HTTPS instead of HTTP in their browser address bars, they'll be far more at ease about buying from you.
Remember that trust is essential to building relationships with your potential customers, so keeping your site secure with the Jetpack plugin can only help foster that trust, and increase your ecommerce sales.
Final Thoughts
Although there isn't a perfect set of WordPress plugins that will magically turn your ecommerce sales from a thousand to a million overnight, the above selections will point you in the right direction.