Last Updated on January 24, 2023
Parents will tell you that there is nothing as wonderful as seeing children playing. Their imagination, creativity, and bravery are all part of learning and developing their minds. However, while playing alone is good, playing with others adds even more benefits. Here is how play can encourage positive relationships. Some say it is a happy talent to know how to play. Only a child or group of children reminds everyone that playtime is essential for their overall development. It is like a chore in their daily lives.  
Children need the freedom to express which comes through playing only. Play encourages a variety of skills which we will discuss in this article in detail. Children learn while playing. They learn how to learn in playtime. Play gives children a chance to be free and creative while playing with others. Play always comes naturally to children, as it is usually of their own choice. Play helps in making memories. It makes children mentally and socially aware. Childhood is the most important time of everyone's life.  
Hence it should be enjoyed fully. By letting children play, it opens the door of imagination. Adults believe that children need activities like sports, theatre, arts, etc. but honestly, all they need is playtime. It is believed that a child must get at least 30 minutes to one hour of playtime every day. It plays a vital role in the mental development of a child.  
For a parent, it is important to know that their child is safe while having fun during playtime. Many organizations provide fun play activities for kids while keeping them safe. The educational institutes are also using fun and playful techniques to make the students understand in a better way. Play has become essential not just in children's lives, but also in parents' life.  
Play Encourages New Skills
Regardless of the toy they play with, children learn to create their own scenarios around their toys. If you were to buy Audi kids cars for your children, they would likely imitate what you do when you are driving. 
Puzzles and matching symbols will help to develop your child's problem-solving skills and also create an association between the things around them and how to describe them. 
It is important to allow your child to use their imagination and allow it to develop. You can also ask them to talk about what they are imagining so you get an insight into their cognitive development. 
Building Social Skills
Playing with others has the huge benefit of helping children with their social skills. This can range from simply saying hello to sharing toys and playing together. 
The playground is a complex social network where children learn how to interact with each other and deal with different emotions. They will also encounter children with different personalities which will allow them to see the differences in people and how to interact with them. 
Playing on playground equipment is also beneficial. Swings help to develop spatial awareness and gravity, while play boards such as matching the squares help them to identify shapes and colors. 
Playing alone also has many benefits for children. It teaches them independence and the ability to create worlds in their mind without outside influence. 
It is a good idea to try to mix both types of play as much as possible. 
Play With Parents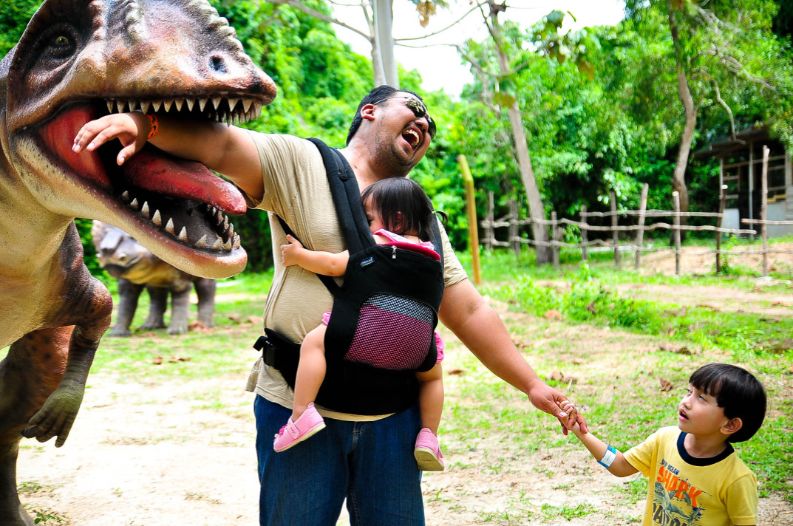 Playing with your children is an important part of building your relationship. It allows you to help your child understand new things, while they get to involve you in their games and imagination. 
Another part of playing as a family is developing the winning and losing part of the play. Games that have a winner and a loser are important for children so they can develop the emotions that go along with it. 
Computer Games and Online Learning
There is no doubt that playing outside with friends is a fundamental part of growing up and learning. However, there is also a place for online learning. 
The amount of online learning or computer games your child plays depends on their situation. Learning new puzzles or word games on a computer can help them develop basic IT skills that will be useful as they grow up. 
It is also a good way to start with the idea of being safe online and introducing rules that will keep them safe. 
Final Thoughts 
The play has a pivotal role in a child's development. The way they play and those they play with will give them the tools they need to cope with social interaction as they get older. Playtime helps a child to release the stress of any kind. It helps in the better functioning of the brain. Playtime encourages creativity and imagination in any child. If they had better playtimes in life, they are more likely to enjoy life when they grow old. 
Playtime helps children and adults to feel energetic and excited all the time. Playing with others teaches children to cooperate in different situations. Play improves children 's relationships with their friends, parents, and teachers. It stimulates the mind and boosts creativity. Play also teaches how to improve your relationships using humor and fun. Play gives confidence to children turning them into the beautiful people that they are today. 
We have already discussed in this article, that play improves creativity, enhances imagination, improves concentration, spontaneity, and social skills of a child. That is why playtime/play is important in a child's life. The different types of play that a child can be interested in can be unoccupied or onlooker's play. Different children have individual personalities, and they can be interested in some solitary playtime as well. 
Some children can be associative and cooperative by playing with others or teachers or parents, while some can simply enjoy and have fun while being on their computer screens. Playtime is sacred to all the children and they can spend time for having fun in their own different ways. Therefore, play encourages positive relationships in everyone's life.