Last Updated on March 8, 2022
If your current project is for a tech client, or if you've done similar projects in the past, you've probably noticed that this particular niche has its own rules.
You might be wondering what these rules are, what your client's audience is really looking for, the preferred style of design, and which design trends have a bearing in this particular domain.
We'll share the answers to these questions with you, together with an analysis of a sampling of tech-related pre-built websites. We'll also show you how to save time and effort by using these pre-built websites.
The Need to Follow Current Trends When Designing for a Tech Company
The trends that apply to tech websites can heavily influence the likeability of a brand. Well informed Internet users can usually tell at a glance if these trends have been followed.
They are not difficult to understand or implement.
Flat Icons – Decorative icons, including the use of shadows, gradients, or 3D effects are unnecessary. Flat or minimalist icon designs are all the user needs to get from here to there.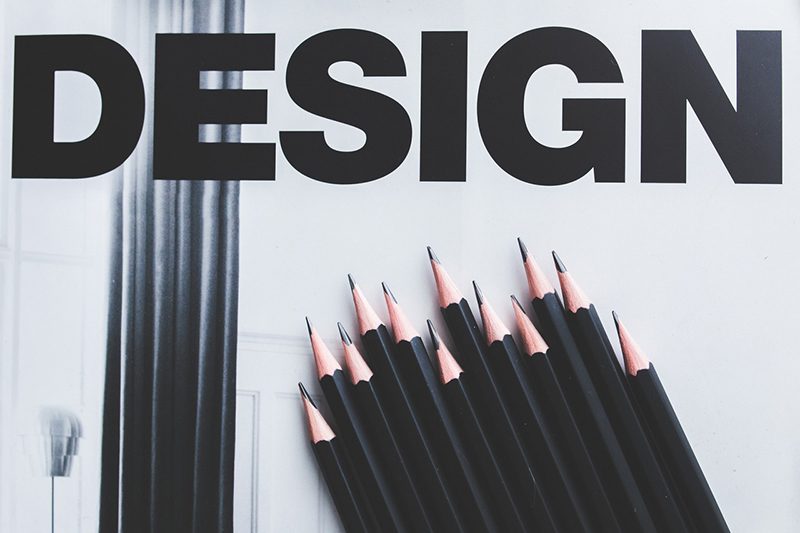 It's the fine touches that count when working on a tech-related website.
Bold Colors – You may have to forego certain color schemes that have served you well in the past. It's bold colors that enable your tech-related website to make a statement. The colors and color schemes should be fresh, clean, and dynamic.
Data Driven Elements – Most tech clients want to communicate some data on their website. The current trend is to work on your own data visualization scheme, rather than relying on other software.
The Right Typography – You have multiple choices in this area, but be sure to use an in-browser font that works with all screens. Select a font that not only supports the brand, and is easy to read on all screens.
Ten Cool Tech Related Pre-Built Websites to Help You Get Started
These ten tech-related pre-built websites are not simply design aids. They are powerful design tools that can save you time, boost your productivity, and help you build award winning tech-oriented websites.
Be Theme's 220+ pre-built websites take but one click to install, and no coding skills are necessary when customizing them to fit your needs.
They are responsive and retina ready, they offer modern special features (parallax effects and background video are two examples), and they are excellent vehicles for not only getting a project off to a rapid start, but for prototyping and collaboration as well.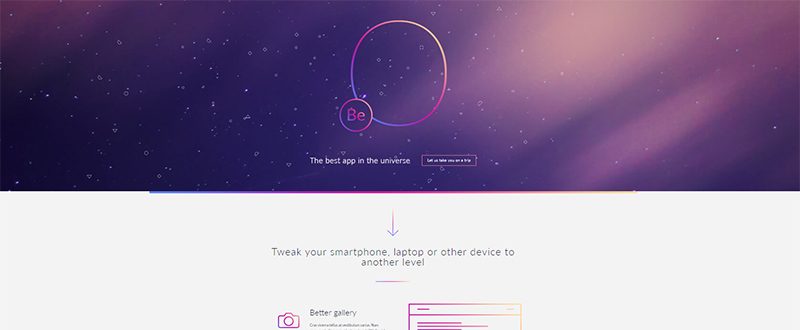 BeApp2 is the type of super-clean pre-built website to destined to a website communicating the features and benefits of an app. This one page website is structured like a landing page. It has sections dedicated to updates, a newsletter subscription, and news and information.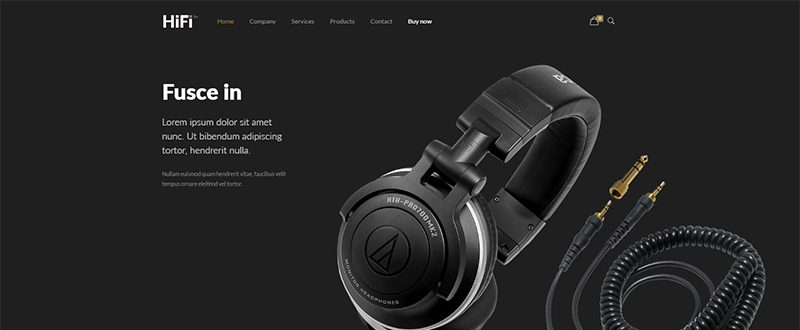 If an award winning tech-oriented website is your objective, combine a stylish layout that focuses on big, beautiful images, with a down-to-earth e-commerce approach. This homepage devotes a section to presenting new products, and there is also a page devoted to features and benefits.
This eye candy hero image uses a friendly corporate visual approach. Note how the image's elements surround and direct the focus to the headline. The icons contribute to a relaxing perspective, and the sections are simple and clearly presented.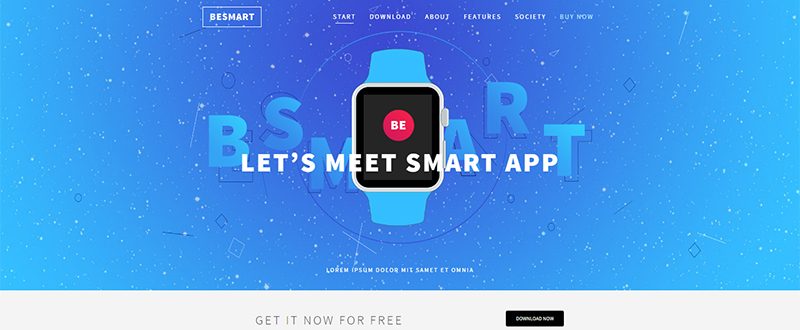 A good experience is guaranteed when this pre-built website is put into play. The product presentation is highlighted by a subtle parallax effect and plenty of white space. The sections include areas featuring content relative to the product and the app community, plus a section for a video presentation.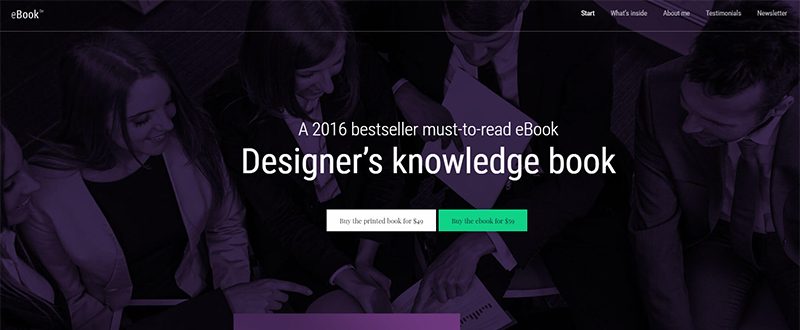 Although this one page website is destined to a technical or a design e-book, it could in fact be destined to any type of an e-book. Notice how the design team has put a bold color trend to excellent use.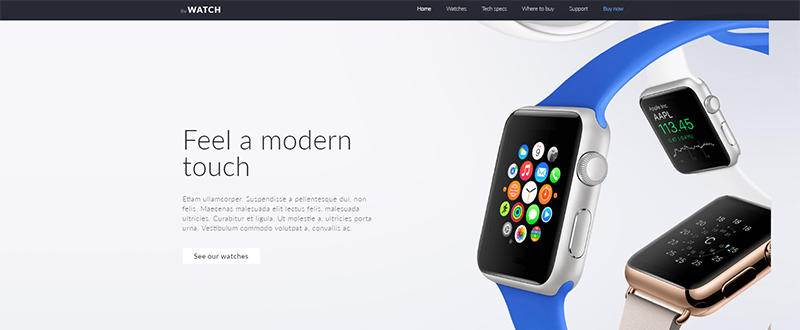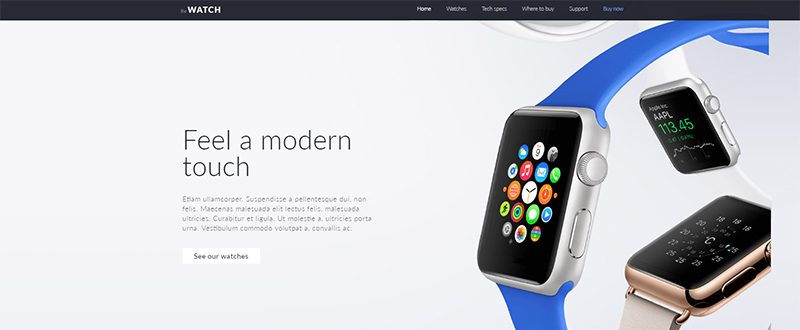 If your client has a smartwatch shop, or retails in some other tech-related product, this easily customized pre-built website provides an ideal starting point. The design is in line with the current e-commerce trend of focusing on beautiful, large pictures, while making generous use of white space.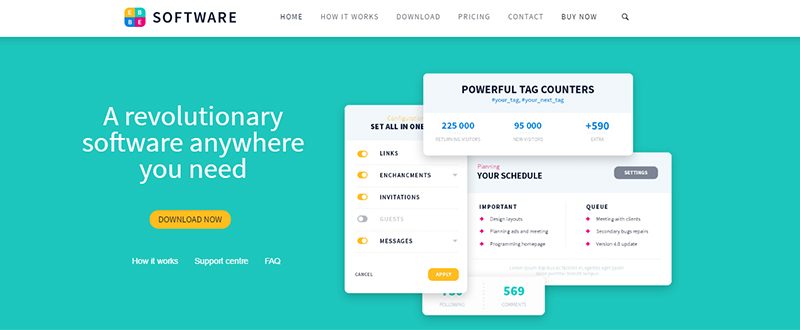 This pre-built website, suited for a client dealing in software products, is a good example of why color schemes count. Users pick up right away on a dynamic, yet relaxing color scheme like this one. The homepage also features a classical header, a testimonial area, and relevant product information.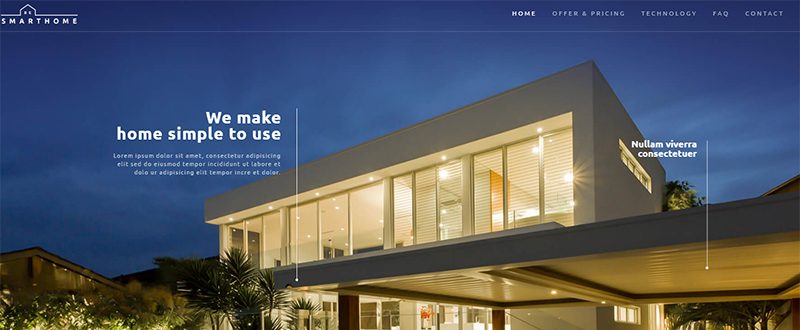 Be Smarthome's hero image depicts how technology can be used to create a positive transformation in a home. The use of cool icons and subtle special effects, in combination with the clever use of graphical elements, adds up to a highly engaging pre-built website.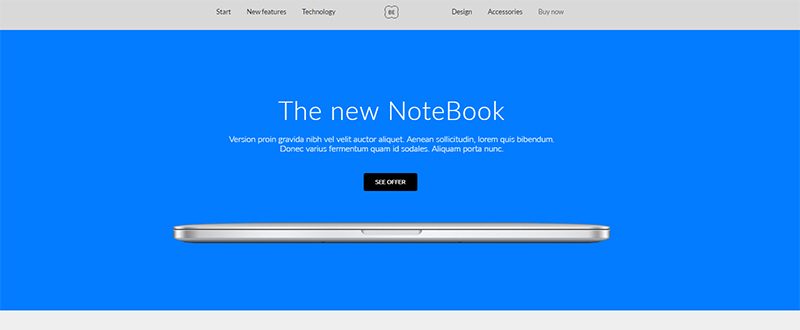 This pre-built website, destined for a notebook, could easily be used as a starting point for other types of eye candy tech products. The pattern here is to start with an impressive minimalist hero image, and follow it up with a flat icon area emphasizing the products features.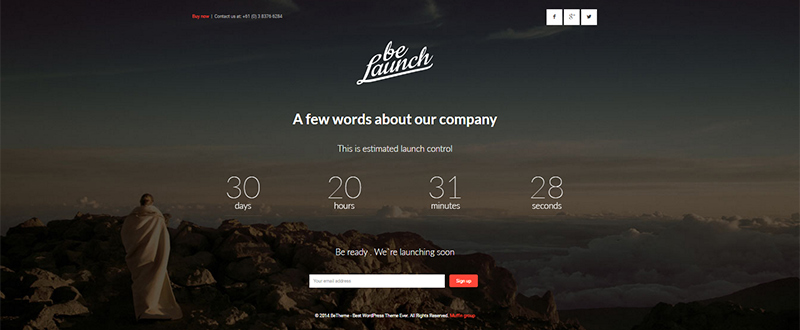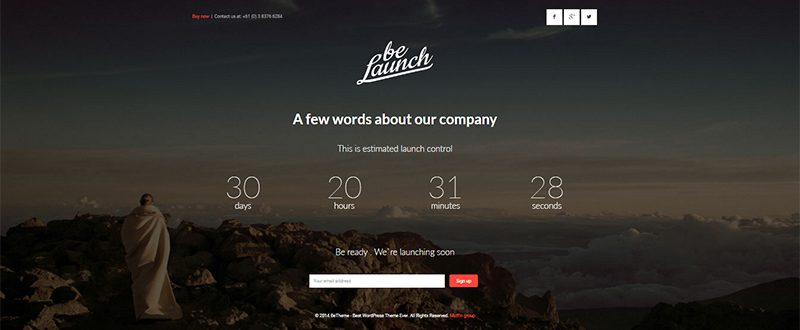 This special-purpose pre-built website is especially useful. The counter can be used for a variety of purposes, including counting down to a product release, to an upcoming promotion, or to a scheduled event. Like all pre-built websites, Be Launch is easy to customize.
A Perfect Start to a Tech Company's Website – Be Theme with Its Pre-built Websites
It's not difficult to understand why Be Theme offers such tremendous value for money. This theme's powerful site-building features and tools are exactly what you need to create an awesome website by taking a pre-built website as a starting point, and customizing it to fit your needs.
As the video demonstrates, these features include one click installation, no need for coding, and endless customizing possibilities.

Be's professional design team have incorporated the latest design trends into these pre-built websites. The result? Visually awesome pages, complete with embedded UX features.
When you choose Be Theme, you've made a wise choice and a safe bet. 46,000+ professional web design users will agree, which is why Be Theme is a top 5 ThemeForest best seller.