Last Updated on October 4, 2021
If building an online store is your objective, your best bet it to pick a theme that specializes in eCommerce websites, or alternatively, a multi-purpose theme that still has the features and tools you need for the job. Several of both types are what you will find here, but there's more. There are a few things you need to do yourself if you expect your web-building venture to be a success.
Take these five things into account, and you should do well:
Innovation is good, but for an online store, familiar is better. Don't be too clever, and don't make your customers have to think (Krug's first law of usability). They usually know what they want. Make it easy for them get it.
Don't overdo your homepage banner. Your user is looking for a good shopping experience, not a showy banner, and certainly not a hard-sell banner.
Display your products like other online stores display theirs. Don't subject your visitor to a scavenger hunt.
Think mobile – always. If you don't, half of your potential customers may never venture past your home page.
Select a theme that's fast and lightweight (which is what you'll find here). It will make building a rapid-response, high-performance eCommerce website that much easier.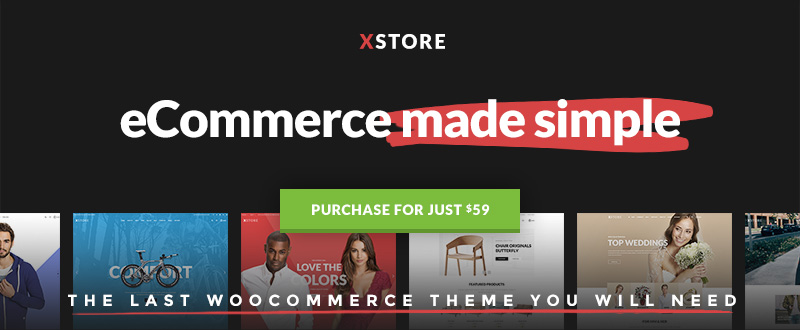 Taking the first law of usability to heart when building your eCommerce theme, makes good sense. Applying it to the building of an eCommerce theme also makes good sense, which is the approach XStore's authors took when creating this exceptionally easy to use theme. Finding your way around, while building page after beautiful page, will be no problem at all.
Familiarity is another key characteristic of this theme. You'll notice it in the demos, which will encourage you to carry this characteristic over into your online store. Hover over the demos if you happen to be on the lookout for a few ideas on how to give your websites a more familiar look.
XStore is responsive, and RTL ready as well, so if you want to be able to attract customers from around the globe, you'll have the tools at your disposal to do so. The popular Visual Composer is your page builder, and XStore is, as you would expect, 100% WooCommerce compatible.
User support is great, and video tutorials are included to assist you with installation and managing settings and other functions are included in the package.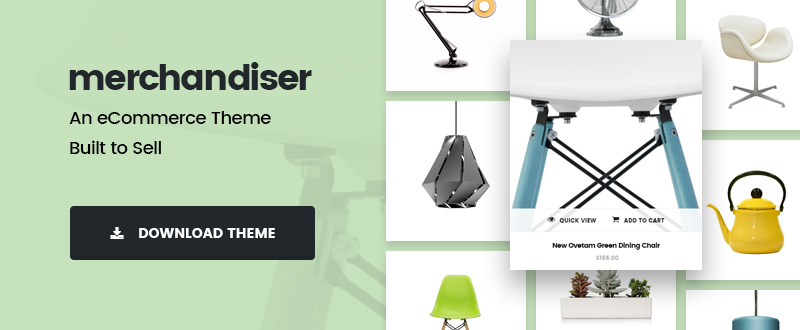 Merchandiser is a minimalist theme. It is not over-bloated with features you have little use for. It not only gives you super response, but imparts that same characteristic into your websites. Merchandiser's authors believe that simplicity is the ultimate in sophistication. Merchandiser has everything you need – and nothing more.
Visual Composer, coupled with the Theme Customizer, provides a potent page- and website-building force. You can also build into your online store several unique features your visitors will love, including an off-canvas shopping cart, and off-canvas product quick view.
You will have the wherewithal to sell anything on line, and if you've been toying with the idea of opening an affiliate business, Merchandiser is the eCommerce theme to do it with.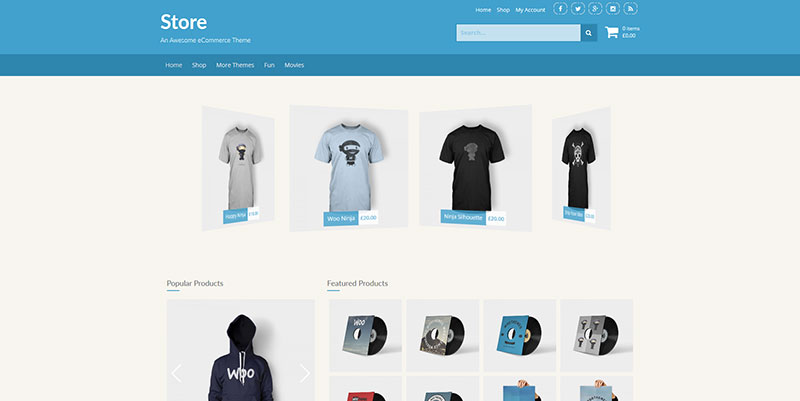 Store bills itself as being the last eCommerce WP theme you will ever need. True or not, this theme is loaded with the features web builders want and need, including multiple layouts, featured product showcase areas, multiple skins and color combinations, and much more.
Store is 100% responsive, so you needn't worry about including users of any of the standard devices having difficulty shopping in your store. They'll benefit from the same UX as will everyone else. Store is built using Bootstrap 3 and Font Awsome – and awesome is what you can expect.
Modular, a building block approach, customizable, and flexible. These are all good things to find in a WP theme, and you'll find them in Divi. With the Divi Builder at your fingertips, and 46 customizable content modules to select from, you can create almost any type of website, down to the finest detail, in a short amount of time.
That includes eCommerce websites, as there are several content modules dedicated to that purpose. As for building blocks, that's Divi's way of giving you full control throughout the web-building process. Divi is a premier WP theme that is definitely worth a look.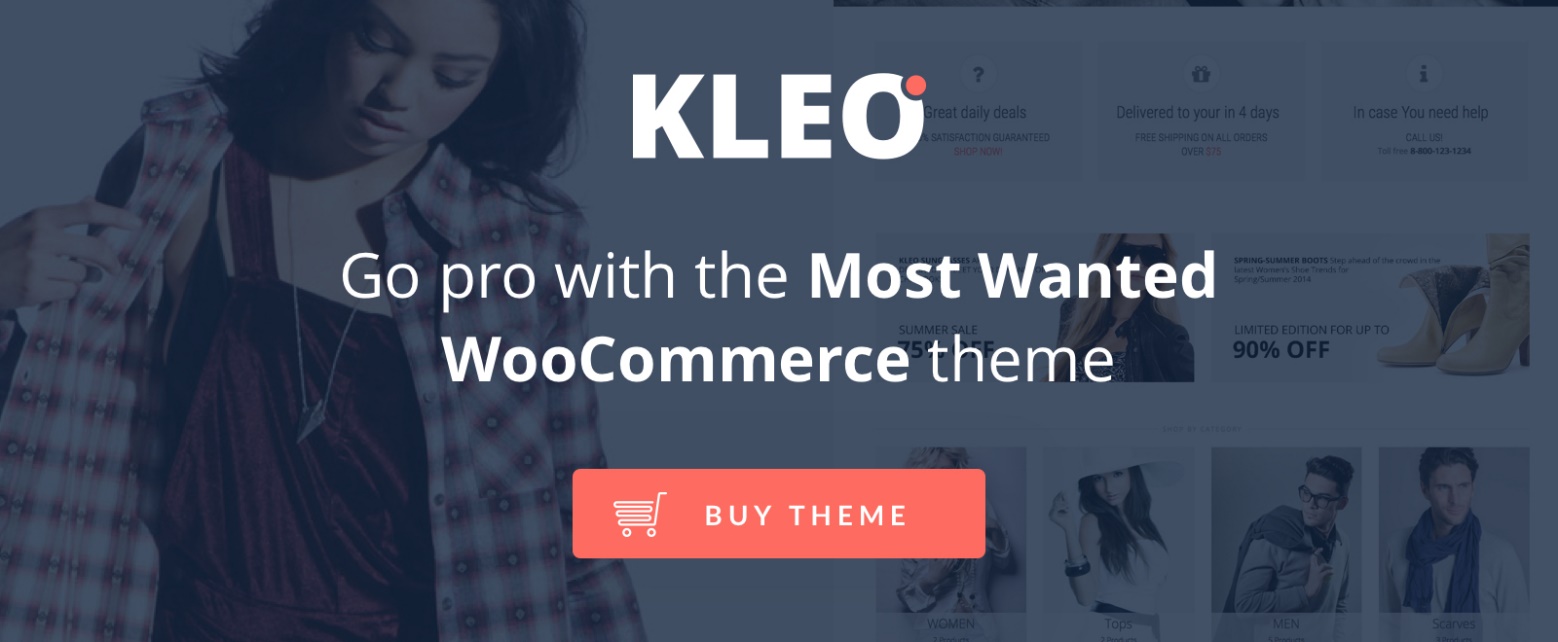 KLEO has a lot going for it, which is what you would expect from a WP theme that happens to be the #1 BuddyPress theme for 2016. KLEO is a multipurpose theme that is admirably suited for building eCommerce websites, community websites, creating awesome portfolios, or publishing your blog.
KLEO features a collection of 24 plugins, some of which are quite familiar to web designers, and others that are not so well known but are highly specialized, and offer great value to an online store designer. One of the plugins is, quite naturally, WooCommerce.
  
Uncode is a pixel-perfect, multipurpose theme that, with its advanced grid system and advanced image system, is an eCommerce web designers dream. You can create amazing shop layouts, and you won't have to worry about how mobile device users will view them. The advanced image system takes care of that – this theme is super-responsive.
Uncode can boast of a substantial, and devoted user base. What's unique about Uncode is its system of design concepts, neatly packaged into five categories and highlighting eCommerce. Browse this collection, and you'll immediately see why Uncode will make such a nice fit to your online store-building needs.
Merchant is, in a word, hip. It's also super-responsive, translation ready, and super flexible. You'll have little difficulty in converting your vision of what constitutes an awesome online store into reality. If ease of use is one of your priorities, you'll love working with Merchant – its Easy Layout Creator is more than just a name.
You'll have everything you need to showcase your portfolio display your products, or even publish a catalog, and of course, this premier eCommerce theme is 100% WooCommerce compatible.
Wrapping it up
If you're having trouble making a choice, don't despair. It's always hard when everything in front of you is top-of-the line. Perhaps a theme dedicated to eCommerce pursuits will suit you best. Or, choosing a multipurpose theme might make more sense.
You really can't make a poor choice. If building an online store is on your mind, any one of these seven products will do the job, and do it well. To ensure your store will be a whopping success, be sure not to neglect usability, familiarity, and the other design tips that kicked off this article.