Last Updated on December 11, 2019
What Is a Tattoo?
The tattoo is a primitive art form. A symbol is a kind of body art that can be permanent as well as temporary. Here the person designs a particular design of the choice of the client, which he wants to get tattooed on his or her body.
After this, the tattoo artist punctures the skin with the needles on the design using different types of inks, dyes, or colored or black pigments.
Earlier tattoos were done manually by the tattoo artist, where the artist used to puncture the skin using needles to make the design by hand. It is still used, but the frequency level has decreased a lot.
Nowadays, the professional tattoo artist uses different kinds of a modern tattoo machine to make tattoos, which makes their work very easy as they don't have to fill ink again and again.
Things to Know Before Getting A Tattoo
If you're planning or thinking of getting a tattoo, you should very well know the fact that tattoos are permanent. Removing a tattoo is quite a difficult task, very tedious, and expensive. Moreover, it may not be demolished.
Precautions Before Getting a Tattoo
Once you have decided to get a tattoo, make sure that you have had all the vaccines and immunization like tetanus, hepatitis B to avoid any medical complications. If you have any allergies, skin problems like rashes, eczema, warts, psoriasis or diabetes, bleeding problems, heart problems, then you have to take advice from your doctor before getting a tattoo done on your body.
If you ignore this, it may lead to serious medical problems that eventually will create health issues.
It's imperative and essential to protecting yourself from environmental and surrounding infections if you have decided to get a tattoo. Check that the tattoo studio is clean and safe and hygienic and sterilized.
Equipment like needles inks, dye, gloves used in the tattooing process is disposable. Always visit a licensed tattoo artist who has a professional degree in this form of art. Mystic Owl Tattoo is one of the best places to visit if you are planning to get a tattoo.
Many places don't allow the tattoo to be done on younger children and minors (people younger than 18 years) without their parent's permission. Some tattoo artists ask the parents of minors to sit with while doing the procedure of tattooing. Mystic Owl Tattoo always takes care to follow the guidelines while dealing with children.
Usually, professional studios take an active precaution and deep regard regarding cleanliness and hygiene in their studios and workplace.
Make sure that the tattoo studio uses single-use disposable needles and sterilize all equipment using an autoclave for the instruments that are not disposable. You should watch that the tattoo artist takes out a sealed needle, and other material removed from sealed, sterile containers.
Also, see that the tattoo artist uses single-use cartridges for each customer. If you see a used cartridge, don't go for that cartridge. Mystic Owl Tattoo uses all disposable, hygienic and sterilized types of equipment for the procedure
Universal Precautions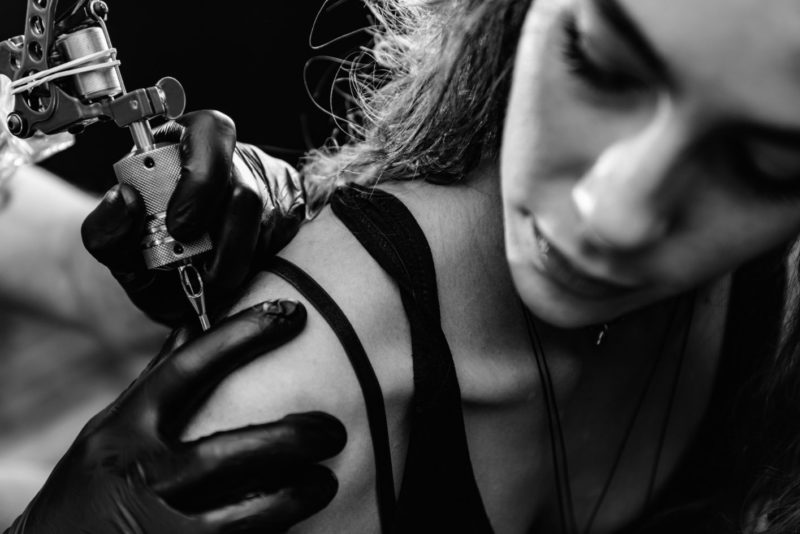 You have to see whether the place or tattoo studio is following universal precautions when they deal with the process like to prevent certain diseases like HIV, Hepatitis B, which spread through infected blood and needles.
If you have the slightest of indication about the hygiene and cleanliness of and you feel uncomfortable there, then you should immediately leave that place. Go for a better and hygienic place that has all the conditions fulfilled regarding hygiene and cleanliness.
TattooProcedure
A standard tattooing procedure has the following attributes:
The first and the foremost thing that a tattoo artist should do is wash his or her hands with an antibacterial and medicated soap.
Always wear a fresh surgical mask and gloves.
The area or part of your body where the tattoo has to be done should be cleaned with medicated soap, and if that part has hair, it should be appropriately shaved.
Next, the tattoo artist draws the design with a free hand or using a stencil at the place where the tattoo has to be made.
Now again, the artist applies antiseptic or alcohol on the area to clean it after that, and petroleum jelly is applied to the part where the tattoo is being made.
After that, the tattoo artist uses a tattoo machine that has needles attached to it to outline the design that he has drawn on the client's body part. The tattoo artist uses different needles depending upon the design and its effects, curves, thickness, etc.
If there is any trace of blood or any body fluid, the tattoo artist uses disposable and sterile gauze cloth to wipe it out and make the area clean.
After the procedure is complete, once again, the body part is cleaned using an antiseptic and alcohol.
Tattoo and Pain Level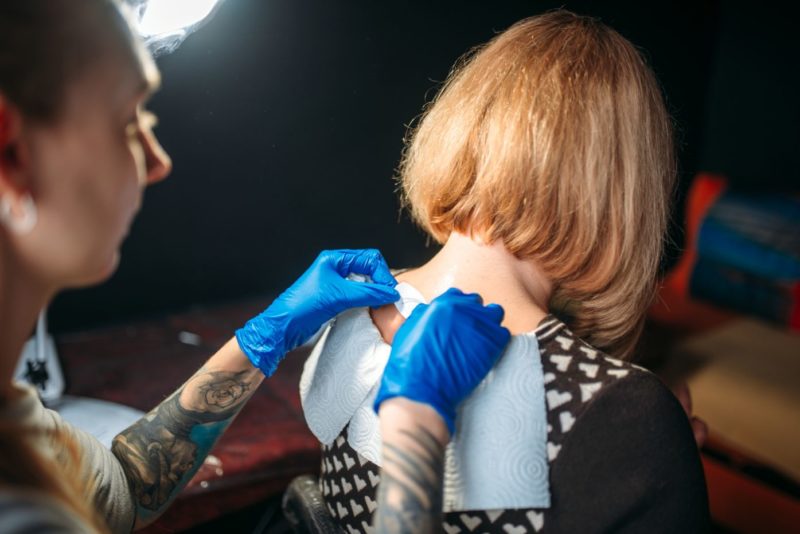 Getting a tattoo done is not a painless and easy procedure. The intensity of pain varies from person to person and design to design. There may be a slight burning sensation or itching, stinging, and tingling type of feelings.
The pain depends on a particular person how much he or she can bear the threshold of the pain. Some people may witness sharp shooting pain, while some have very little and dull pain.
After Care
After the procedure is done, you should take proper care and follow precaution that is given by the tattoo artist.
Keep the area covered for sometime till the time it is healed.
After this, keep it open so that it gets air to dry.
Don't touch and scratch the scrab that may have formed on the area.
Avoid wearing clothes that may get in touch with the tattoo to avoid any infection.
After the tattoo is healed, it should be washed with lukewarm water and mild soap and should be patted dry using a soft cotton towel.
Next, you should apply antibiotic ointment or any other medicated cream prescribed.
Avoid soaking tattoo in water till the time it is healed fully.
Avoid exposing your tattoo to the sun until it is healed completely.
Usually, it takes 2-3 weeks for the tattoo to heal, but after this also you should protect it by using sunscreen.
Risks Involved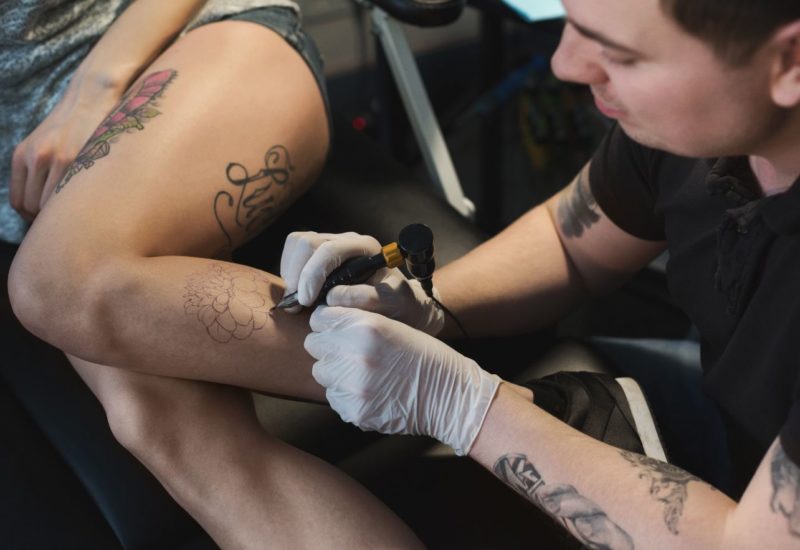 Specific risks are involved with tattooing. Some people may face allergic reactions due to their sensitive skin that causes itching, rashes, and bumps. If you are suffering from some kind of skin problem, then it may flare-up.
If the surface is not cleaned correctly that it may cause severe skin infections caused by bacteria, viruses, or fungi. The frequency of chances of getting HIV, Hepatitis B, Hepatitis C increases if you use shared needles or inks or other instruments that are used in the procedure without any sterilization.
See your doctor immediately if you have bleeding, increased pain, or any signs of infection.