Last Updated on January 25, 2022
Who Is Tiger Woods?
Tiger Woods, born Eldrick Tont Woods, is an American professional golfer with numerous golf awards and records to his name.
Tiger Woods is not only an accomplished golfer, but also one of the world's greatest athletes of all time. He is set to be inducted into the World Golf Hall of Fame in 2021, a rare feat that's awarded only to a selected few.
Quick Facts
| | |
| --- | --- |
| Full Name: | Eldrick Tont Woods |
| Popular Name: | Tiger Woods |
| Gender: | Male |
| Birth Date: | December 30, 1975 |
| Age: | 46 years |
| Parents: | Earl Woods and Kultida Woods |
| Siblings: | Earl Woods, Jr., Royce Renee Woods, and Kevin Dale Woods (all half-siblings from his father's first wife) |
| Birth Place: | Cypress, California |
| Nationality: | American |
| Ethnicity: | African-American, Native-American, Chinese, Thai, and Dutch |
| Education: | Western High School, Narrabundah College, and Stanford University |
| Marital Status: | Divorced. Formerly married to Elin Maria Pernilla Nordegren |
| Sexual Orientation: | Straight |
| Wife/Spouse: | N/A |
| Children: | Sam Alexis Woods and Charlie Axel Woods |
| Dating: | N/A |
| Net Worth: | 800 million (as of May 1st, 2021) |
| Source of Wealth: | Professional Golfing, Endorsement Deals, and Personal Investments |
| Height: | 6′ 1″ (1.85 m) |
| Weight: | 84 kg; In pounds: 185 lbs. |
Early Life and Career Information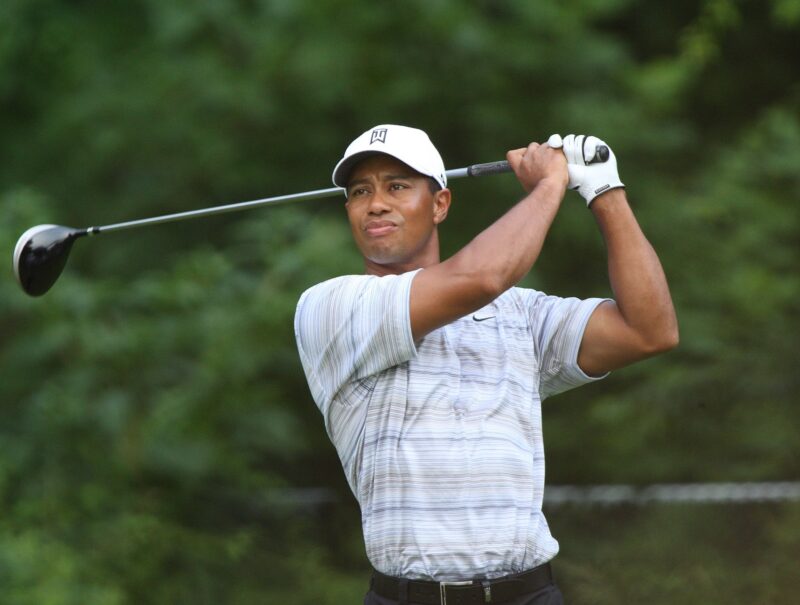 Tiger Woods was born on December 30, 1975, in Cypress, California, to Earl Woods and Kultida Woods. His father was a retired Vietnam War veteran.
Woods became a professional golfer in 1996. As soon as he turned professional, he landed lucrative deals with Nike and Titleist. A year later, he won his first major tournament, the Masters. His star continued to rise at the dawn of the new millennium.
In 2000 alone, Tiger Woods bagged six consecutive wins. One of these victories was winning the U.S open, where the golfer equaled or broke nine records.
Though his performance declined a bit after these historic wins, Woods made a grand comeback in 2005 by winning six official PGA Tour events. By the close of the 2006 season, Tiger Woods had secured 54 wins. He again took a short break before coming back onto the course in 2009 and winning the 2009 Presidents Cup.
However, in 2010, Tiger Woods's performance and ratings began to drop in the wake of infidelity allegations by his former wife, Elin Maria Pernilla Nordegren.
Things degenerated from bad to worse and on August the same year, the couple parted ways. Not only did Tiger Woods lose the divorce case, he also lost nearly all his endorsement deals. He resurged in 2013 by winning the Farmers Insurance Open and the WGC-Cadillac Championship.
Since then, Woods has been battling injuries, with rumors suggesting that he might be considering retiring from the golf course. However, the golfer is yet to confirm or deny those rumors, and has been spotted a few times playing golf even in the wake of the coronavirus outbreak.
Tiger Wood's Net Worth
Tiger Woods had a net worth of $800 million, as of May 1, 2021. Woods has earned his wealth both on-course and off-course.
Here are some of his most commercially successful wins;
• Masters Tournament – Won in 1997, 2001, 2002, 2005, and 2019
• PGA Championship – Won in 1999, 2000, 2006, and 2007
• U.S Open – Won in 2000, 2002, and 2008
• The Open Championship – Won in 2000, 2005, and 2006
Surprisingly, about 90% of Tiger Wood's career earnings, which works out as nearly $1.6 billion, came from off-course endorsement contracts.
He signed his first two major endorsement deals with Nike and Titleist in 1997, at an estimated cost of $40 million and $20 million, respectively.
A few months later, Woods signed another $30 million deal with American Express, becoming the first golfer to earn his first $100 million within the shortest period after turning professional.
Other brands the golfer has entered into endorsement partnerships with include:
• Accenture,
• Asahi,
• AT & T,
• Bridgestone,
• Buick,
• EA Sports,
• Gatorade,
• General Motors,
• Gillette,
• Golf Digest,
• Hero MotoCorp
• Monster Energy,
• NetJets,
• Rolex,
• TaylorMade
• Tag Heuer,
• TLC Laser Eye Centers, and
• Upper Deck
Woods is also a real estate mogul. He lives in a Jupiter, Florida property that he purchased in 2010 at a cost of $54 million. The golfer has a restaurant known as The Woods, which is also based in Jupiter, Florida.
Woods is also associated with Tiger Woods Design, a company that creates the designs of high-end golf courses. His asset base also includes a Gulfstream G550 private jet worth $54 million, and a 155-footer luxury yacht purchased in 2004 at a cost of $20 million.
In the wake of his infidelity allegations, Tiger Woods lost as much as $23 million overnight in endorsement deals. He also paid $100 million in divorce settlement to his ex-wife. However, these developments did very little to shrink Woods' net worth, which has continued to increase after the golfer made successful comebacks.
Life Lessons from Tiger Woods
One of the invaluable life lessons we can learn from Tiger Woods is that you can't build your wealth from a single income source. While he has earned millions from his direct wins on the course, he has also taken part in highly-profitable endorsement contracts.
Another lesson we can learn from Woods is the importance of consistency. Though his career has experienced a couple of lows, Woods has been largely consistent since he turned professional.
Lastly, Tiger Woods exemplifies resilience and tenacity. His divorce case dealt a major blow to his career, costing him millions in settlement and endorsement deals. However, he was able to bounce back onto the course and has since won several titles.
The following are some of the famous quotes by Tiger Woods:
"Every sport evolves. Every sport gets bigger and more athletic, and you have to keep up."
"Golf is a great way for someone to learn discipline, responsibility, and sportsmanship."
"I get to play golf for a living. What more can you ask for—getting paid for doing what you love."
"There's no point in going to a tournament if you don't believe that you can win it."
"Winning is not always the barometer of getting better."
Conclusion
Tiger Woods has broken numerous records both on and off the golf course. Like any professional athlete, he has had his ups and downs. But the world will mostly remember him for his stellar on-course performances.