Last Updated on January 11, 2022
Who Is Tony Robbins?
Anthony Jay Robbins, born Anthony J. Mahavoric and popularly known as Tony Robbins, is an American success coach, self-help author, motivational speaker, and actor.
Robbins rose to prominence in the late-80s after he began running a series of infomercials that mostly promoted seminars and self-help books. He is best remembered for authoring Unlimited Power and Awaken the Giant Within, which were published in 1986 and 1991, respectively.
Robbins plans and organizes his seminars through his very own Robbins Research International.
Quick Facts
| | |
| --- | --- |
| Full Name: | Anthony Jay Robbins (born Anthony J. Mahavoric) |
| Popular Name: | Tony Robbins |
| Gender: | Male |
| Birth Date: | February 29, 1960 |
| Age: | 61 years |
| Parents: | John Mohorovic and Nikki Robbins |
| Siblings: | Marcus Robbins and Tara Robbins |
| Birth Place: | Los Angeles, California |
| Nationality: | American |
| Ethnicity: | White and Croatian |
| Education: | Glendora High School |
| Marital Status: | Married . Previously married to Becky Robbins (from 1984 to 1997) |
| Sexual Orientation: | Straight |
| Wife/Spouse: | Bonnie "Sage" Robbins |
| Children: | Jairek Robbins (from a previous relationship with Liz Acosta) and Jolie Jenkins and Josh Jenkins-Robbins (from his marriage with Becky Robbins) |
| Dating: | N/A |
| Net Worth: | USD 600 million (as of August 1, 2021) |
| Source of Wealth: | Speaking Engagements, Writing, Acting, and Other Ventures |
| Height: | 6′ 7″ (2.01 m) |
| Weight: | 98 kg; In pounds: 216 lbs. |
Early Life and Career Information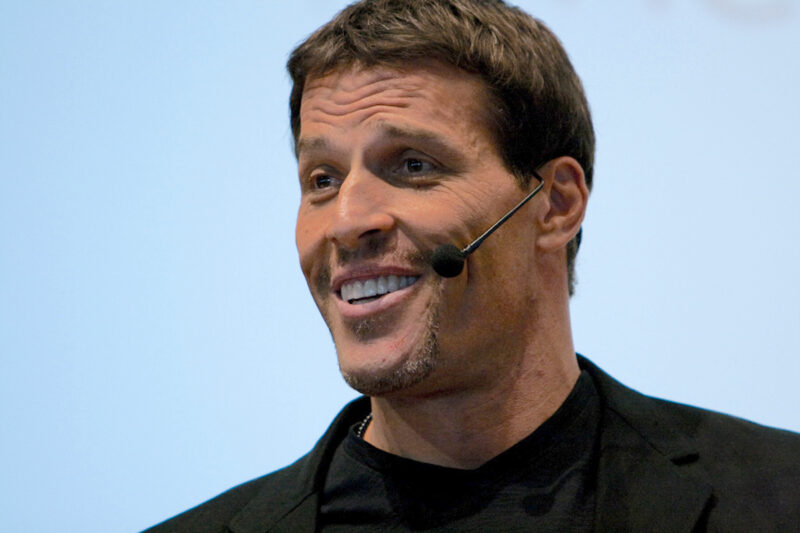 Tony Robbins was born on February 29, 1960, in Los Angeles, California, to John Mohorovic and Nikki Robbins. His father was a parking garage attendant, whereas his mother was a homemaker who's also said to have been a chronic drug abuser.
Robbins' parents got divorced when he was only seven years old. His mother remarried multiple times, including a marriage with a former semi-professional basketball player known as Jim Robbins, whose surname Tony eventually adopted.
Tony Robbins attended Glendora High School but never pursued education beyond high school. During his senior year in high school, he was student body president. He also reportedly grew 10 inches over a very short time-span, a growth spurt that would later be linked to a pituitary tumor. That explains his imposing 6 feet 7 inches height.
Coming from a financially-challenged background, Robbins accepted several handyman jobs around to support his siblings. When he was 17, he left home and developed an interest in the motivational speeches of Jim Rohn. He was later hired to promote Rohn's seminars.
In the late 80s, Robbins, who was then a practitioner of neurolinguistic programming and Ericksonian hypnosis, teamed up with businessman John Grinder to found Neurolinguistic Programming (NLP). NLP is basically a program that takes a pseudoscientific approach to personal development and communication.
According to reports by many NLP followers, the program can cure a wide range of mental and psychological issues, including depression, phobias, learning disorders, and tic disorders. The aim of the program isn't just to bring about therapeutic benefits, but to also ensure that the user can leverage those benefits to pursue greater success.
In 1983, Tony Robbins learned to fire-walk and decided to incorporate the technique into his seminars. In 1988, Robbins released his first infomercial known as Personal Power, through which he successfully promoted his audiotapes. In 1997, he launched the Leadership Academy seminar, and he has never looked back since then.
Robbins invested the money he had earned from the successful promotion of his first self-help audiotapes in co-founding Robbins-Madanes Center for Intervention in 2002, along with Cloé Madanes. The mission of this organization was to train life skills coaches, as well as assist individuals and families dealing with various challenges, such as addiction problem.
Besides doing seminars, Tony Robbins has also pursued a career in acting and is also a renowned author.
Tony Robbins' Net Worth
From doing odd jobs to becoming one of the greatest motivational speakers in the world, Tony Robbins has indeed come a long way. As of August 1, 2021, Robbins had a net worth of $600 million.
A huge chunk of Robbins' net worth comes from his speaking engagements. He holds numerous seminars annually, most of which focus on self-help and positive thinking. Robbins' seminars are usually incomplete without his trademark fire-walk as well as massages and physical exercise. Presently, he charges about $10,000 for his seminars and between $300,000 and $1 million for a private speech.
Tony Robbins has also made millions from book sales.
Some of the notable books he has authored include:
• Unlimited Power (1986)
• Awaken the Giant Within (1991)
• Giant Steps (1994)
• Money: Master the Game (2014)
• Unshakeable: Your Financial Freedom Playbook (2017, and co-authored with Peter Mallouk)
As an actor, Tony Robbins has appeared in quite a few movies and television shows, including Reality Bites (1994), The Cable Guy (1996), and Shallow Hal (2001) films, as well as The Sopranos and The Family Guy television shows. Robbins also plays himself in the 2010 documentary film titled, The Singularity Is Near: A True Story About the Future. While there are no official reports on what he earned from his acting endeavors, it definitely contributed to his net worth.
The following are other ventures associated with Tony Robbins:
• Los Angeles Football Club – He partnered with a group of investors in 2014 to acquire rights to launch this soccer team
• Team Liquid – He purchased this e-Sports professional gaming organization in 2016 as part of a joint venture between himself and Peter Guber (Golden State Warrior co-owner) and Ted Leonsis (Washington Wizards co-owner)
But Tony Robbins didn't become a millionaire yesterday. In an interview he held with the Los Angeles Times, Robbins claims that he earned $40,000 in 1984. He also added that in 1985, he earned over $1 million and that his annual earnings have been rising consistently since then.
By 1991, companies associated with Robbins were generating a cumulative annual revenue of $50 million. And by 2005, Robbins was earnings more than $30 million annually from his business empire. Reports indicate that presently, he earns upwards of $10 million annually from the program Unleash the Power Within alone.
Lessons from Tony Robbins
1. Believe that you can
This is one of the primary themes in many of Tony Robbins' seminars and self-help books. Success comes when you believe that you can and if you don't start with this mindset, you won't get anywhere.
2. Hard work and determination pays
Robbins wasn't born into affluence. He built his million-dollar empire from the ground up, and he has his hard work and determination to thank for that.
3. Keep your eyes on the prize
Although he was born into a poor and dysfunctional family, Robbins was not about to let his background determine his future. He diligently pursued his dreams to become the wealthy and influential motivational speaker that he is today.
Famous Quotes by Tony Robbins
"A real decision is measured by the fact that you've taken a new action. If there's no action, you haven't truly decided."
"People are not lazy. They simply have impotent goals – that is, goals that do not inspire them."
"Setting goals is the first step in turning the invisible into the visible."
"The past does not equal the future."
"The quality of your life is the quality of your relationships."
Wrap Up
Tony Robbins is an accomplished life coach, self-help author, and motivational speaker who built his lucrative business empire from scratch. Indeed, he is proof that he practices what he preaches.