Some people overcome fear. Tony Robbins went a mile further: he studied the nuances of it and came out victorious. He is not a self-help guru (according to the title of his new Netflix special).He is a man who has built empires (his own and other people's) by seeing the entire forest while others get stuck on trees.
Tony Robbins believes in the power of confidence, but not in the way others might perceive it. Confidence, to him, is the ability to understand fear, and to eventually reach a point of self-awareness so poignant that one learns to put it on the backseat. He has taught CEOs to fail gracefully, to have the tenacity and mental fortitude to not be fazed by uncertainty.
Drawing Strength Out of Chaos
Robbins was born Anthony J. Mahavorick on February 29, 1960 in North Hollywood, California, to a troubled household. His mother was addicted to both drugs and alcohol, which rendered her unable to care for Tony and his two siblings. Tony had no choice but to step up. When he was 17, his after-school hours were spent working as a janitor. While other kids went out and partied, he spent his weekends helping people move.
The turning point of his life was when he attended a personal development seminar by the motivational speaker Jim Rohn, an event he saw through two lenses: as a young man inspired by the ideas of another, and as a future speaker first encountering the power of words. Robbins approached Rohn, the beginning of the apprenticeship that set Robbins's course towards success.
Of his mentor, Robbins remarked, "He gave me a way of looking at life that allowed me to not ask life to be easier, but to ask that I be better. He got me to realize that the secret to life was to work harder on myself than my job or anything else, because then I'd have something to give people."
Unlimited Power—the Beginning of an Empire
At 23, he met John Grinder, the linguist and management consultant behind Neuro-Linguistic Programming (NLP)—the study of cognitive connections between language and experience. Robbins built a career teaching NLP and Ericksonian Hypnosis. He eventually became Grinder's partner.
In 1986, he published his first book, Unlimited Power. In it, he established the cornerstones of his philosophy: communicating in a powerful waywith others, and more importantly,with yourself. He taught his readers to not only walk the talk, but to talk in a way that you persuade people to walk alongside you.
The book was an international success. After two years, he released an infomercial that established his brand as a "peak performance coach". He sold millions of self-help audiotapes, and began attracting high-profile clients such as NFL Hall of Famer Fran Tarkenton and actor Charlie Sheen.
In 1991, he published another bestseller: Awaken the Giant Within. It presented a more personal approach to self-mastery through the psychology of change. During the same year, he launched the Anthony Robbins Foundation, which aimed to empower disenfranchised members of society through education and food drives.
Six years later, in 1997, he established his Leadership Academy seminar tailored to entrepreneurs and industry leaders.
Tony Robbins—Believing in the Power of You
It's one thing to have a coach. What separates Tony from other motivational speakers is that he believes not only in what he's teaching, but in the endless wonderful possibilities within every individual. The moment you read his books or attend his seminars, your goal would be to eventually be the person that Tony sees you as.
Olympic gold medalist Mike O'Brien says about Tony Robbins, "He exudes so much confidence that without even saying the words, he's relating that 'I believe in you. You have the potential to excel.' So you start to believe it."
That's the same magic that has made a mark on Bill Clinton, Serena Williams, Hugh Jackman, and Wayne Gretzky. Robbins has made Oprah Winfrey turn her own fear into power, and take control of her life's narrative.
His 2007 TED Talk, "Why We Do What We Do" reflects his extraordinary understanding of the human psyche. He emphasizes the importance of being self-aware, of being conscious of your own model of the world, and how it shapes you. His talk is still one of the most popular talks in the history of TED conference speeches.
Believing in yourself is no simple feat. We are shaped by our experiences, by our traumas, our fears. What makes people like Tony Robbins exceptional is his passion for human experiences. His empire is built on the power of transformation: fear to power, chaos to clarity, insecurity to self-assurance.
Tony Robbins has the special gift, a gift that he bestows to everyone he encounters: the gift of showing people the beautiful, breathtaking person that they could be.
Here are 40 life-changing and inspiring quotes from Tony Robbins:
Tony Robbins Quotes
"Energy is life." – Tony Robbins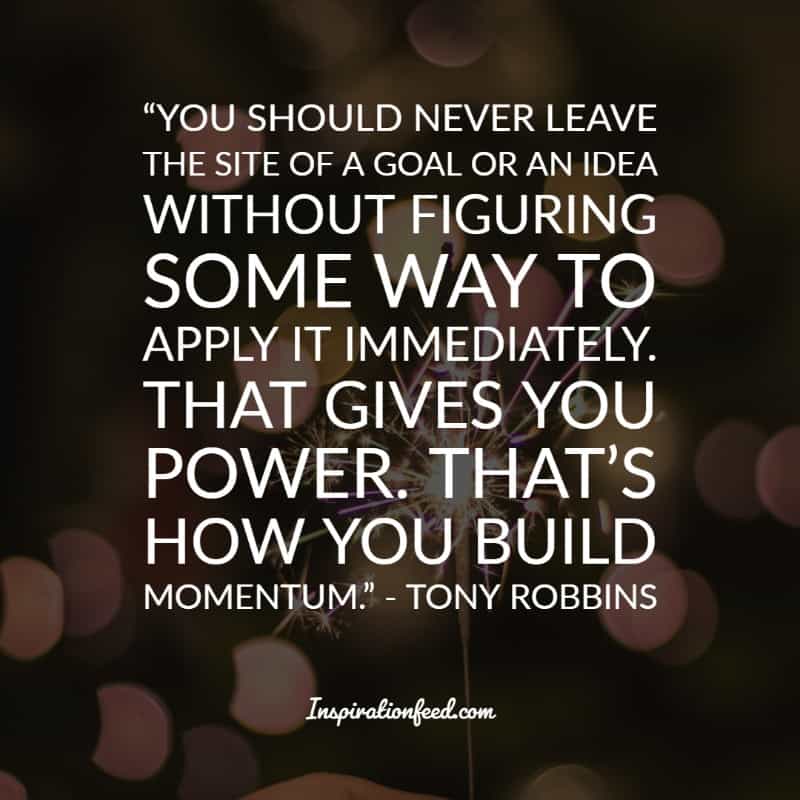 "You should never leave the sight of a goal or an idea without figuring some way to apply it immediately. That gives you power. That's how you build momentum." – Tony Robbins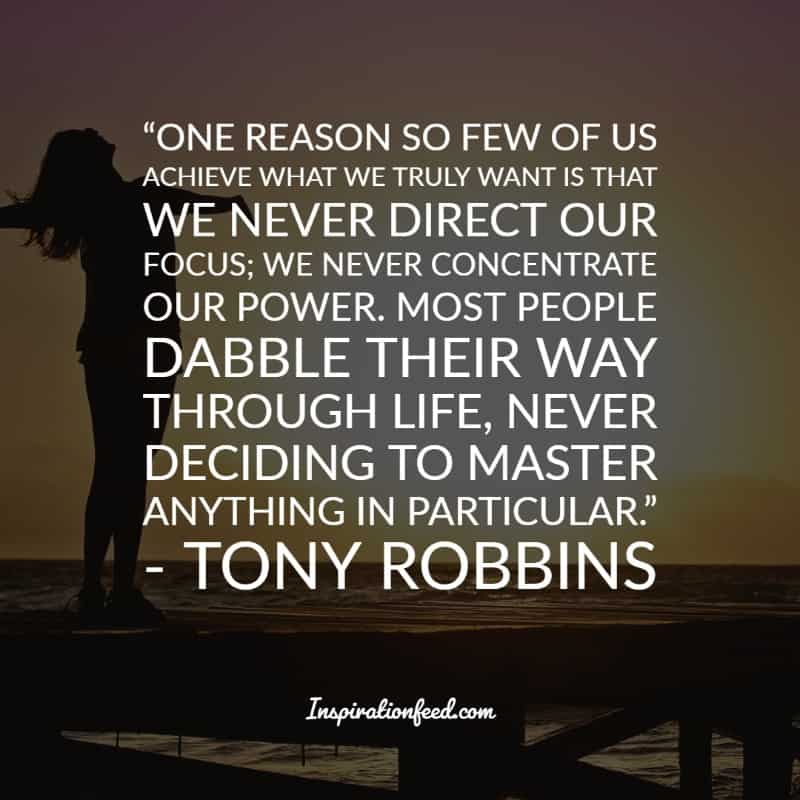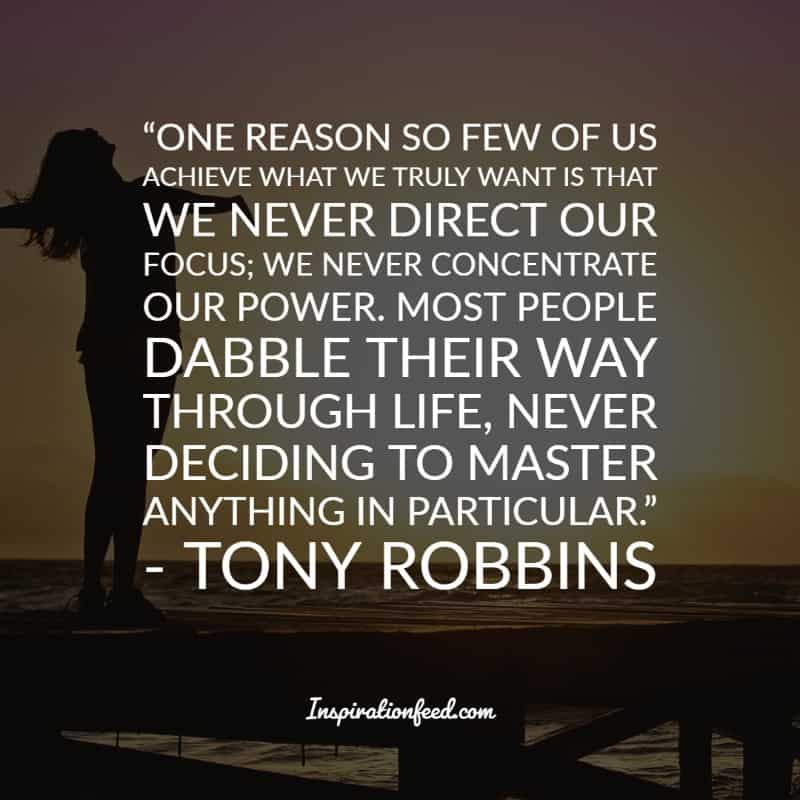 "One reason so few of us achieve what we truly want is that we never direct our focus; we never concentrate our power. Most people dabble their way through life, never deciding to master anything in particular." – Tony Robbins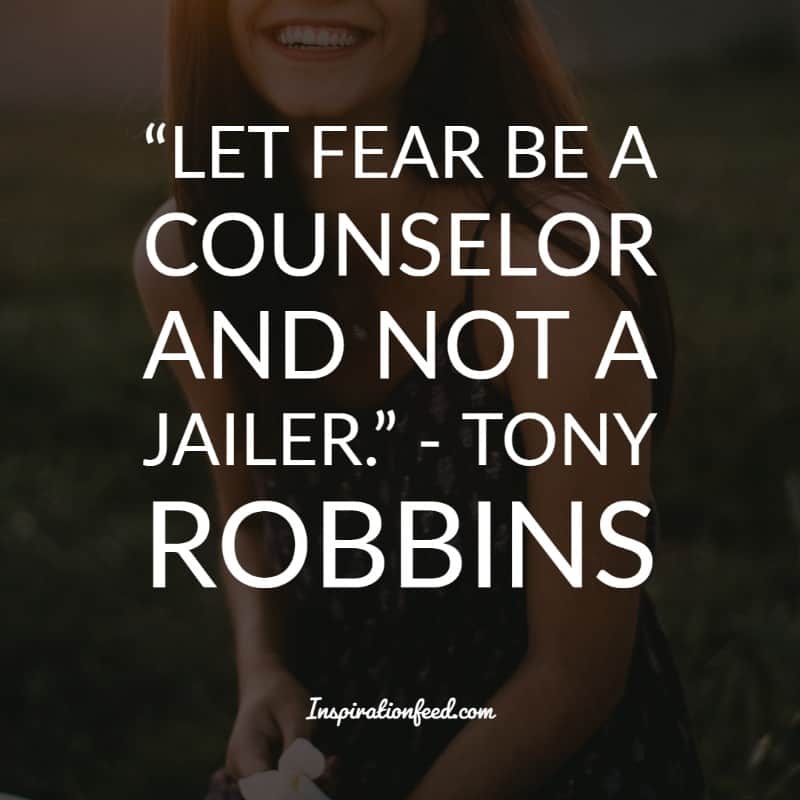 "Let fear be a counselor and not a jailer." – Tony Robbins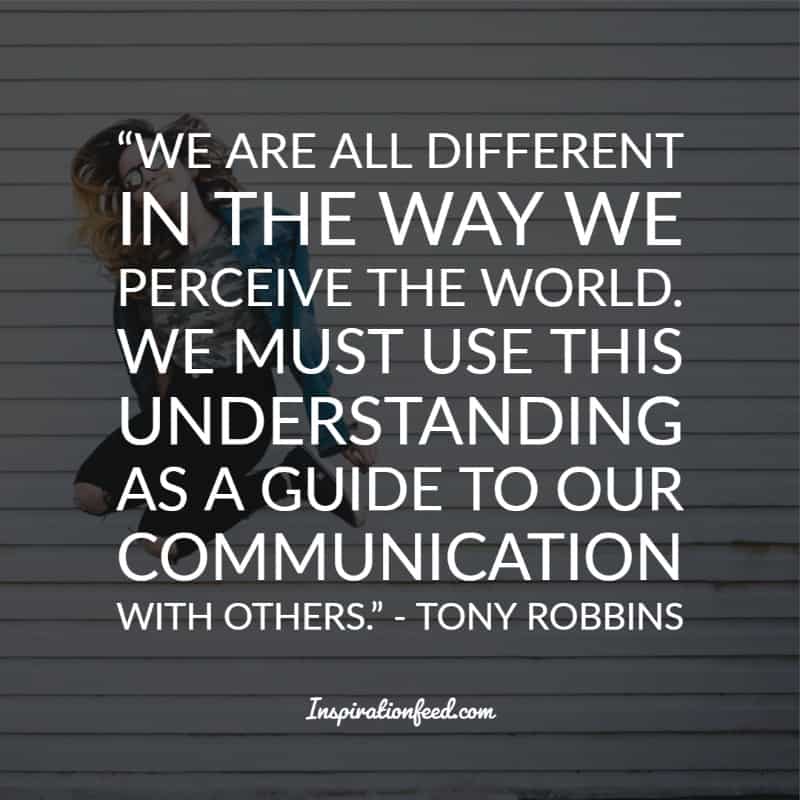 "We are all different in the way we perceive the world. We must use this understanding as a guide to our communication with others." – Tony Robbins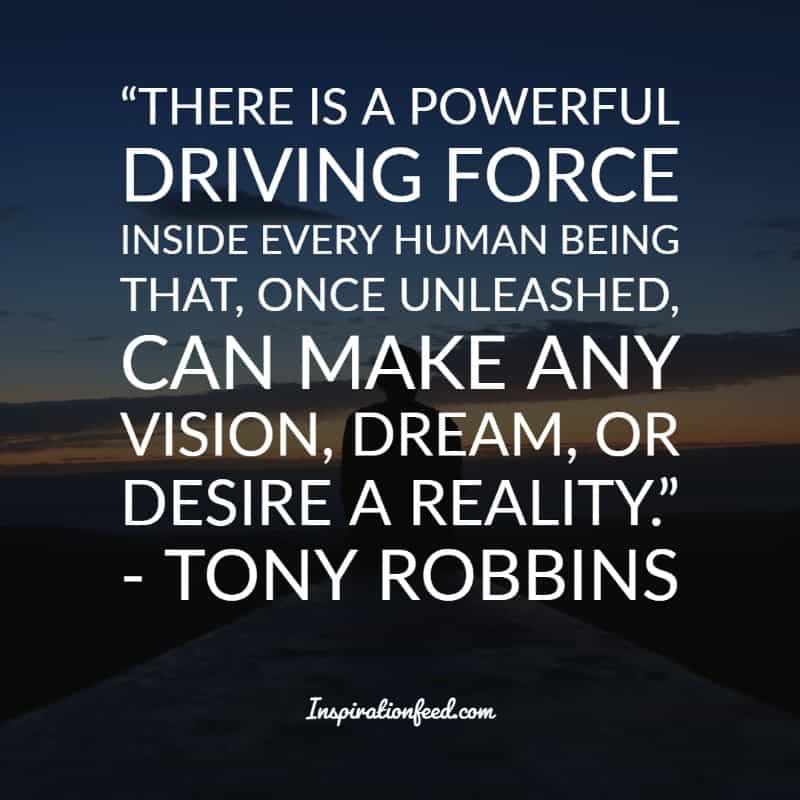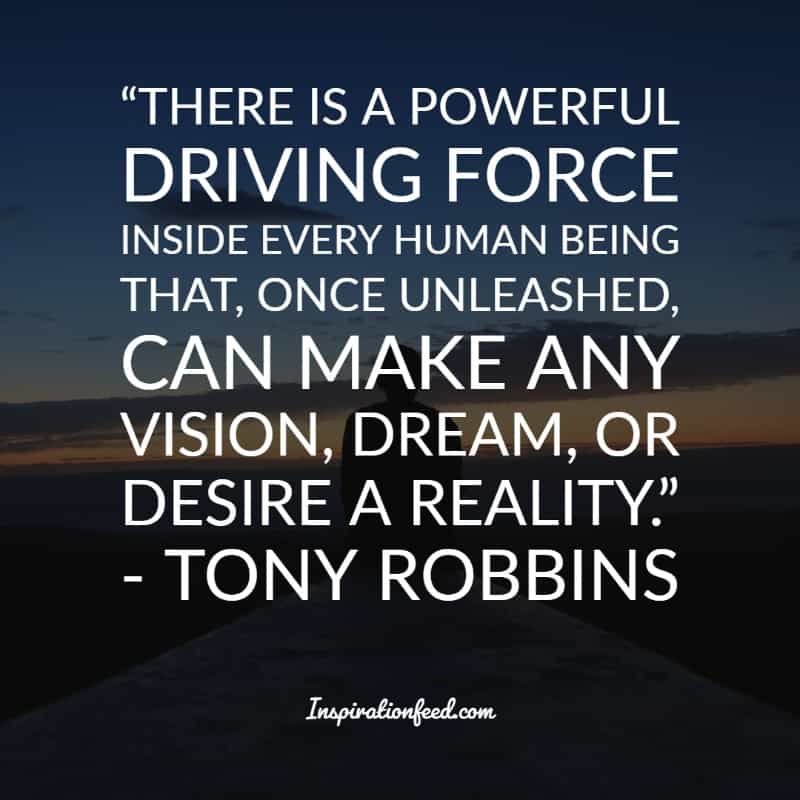 "There is a powerful driving force inside every human being that, once unleashed, can make any vision, dream, or desire a reality." – Tony Robbins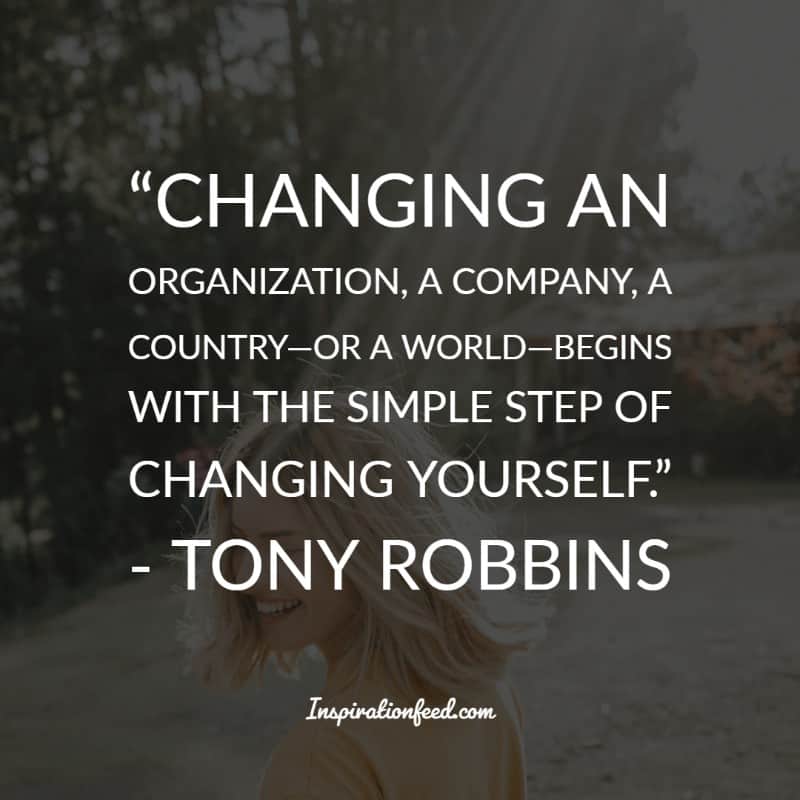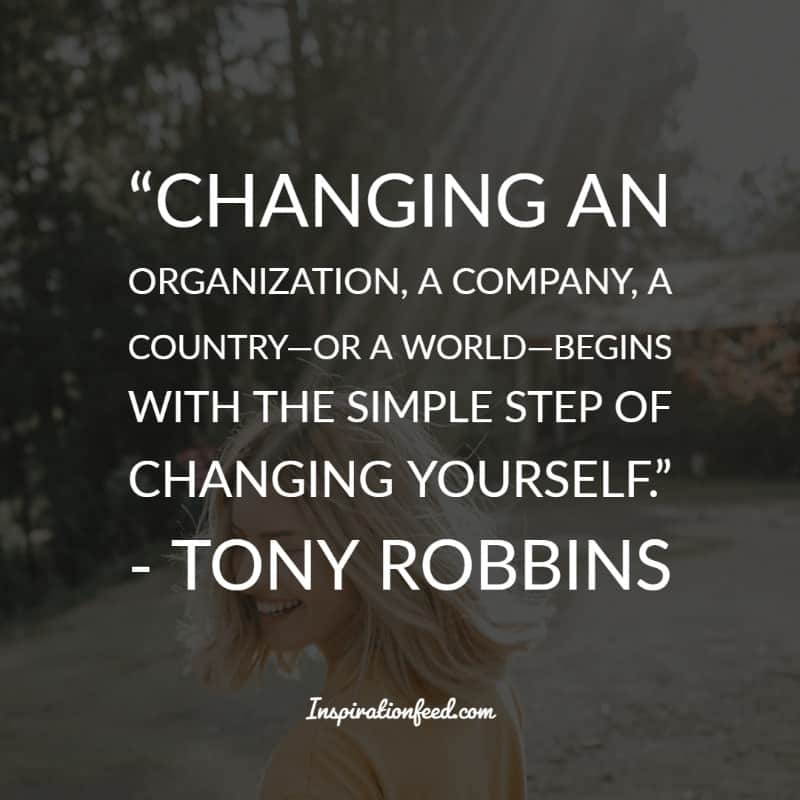 "Changing an organization, a company, a country—or a world—begins with the simple step of changing yourself." – Tony Robbins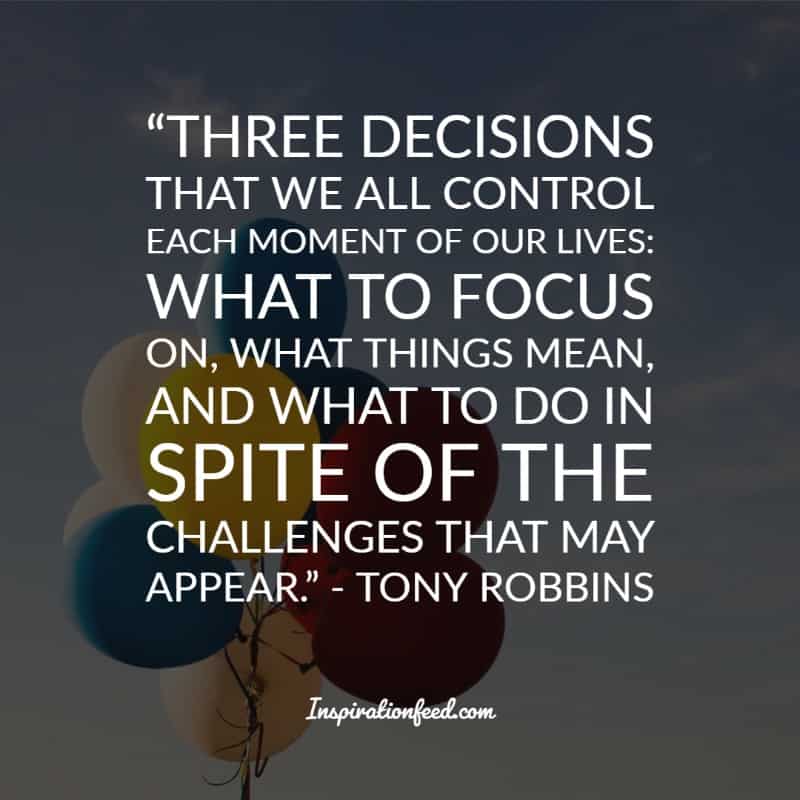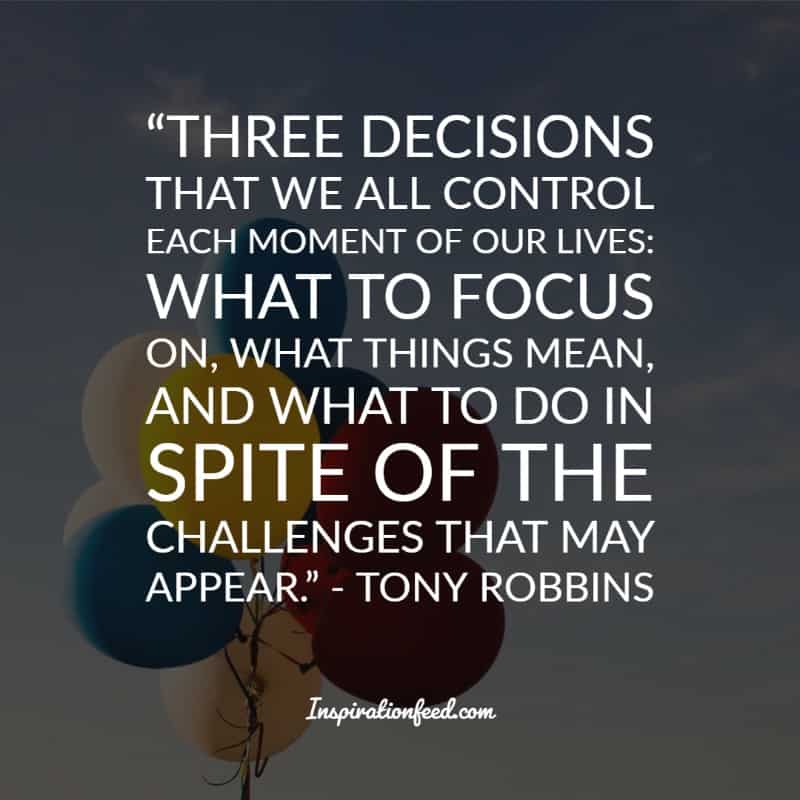 "Three decisions that we all control each moment of our lives: what to focus on, what things mean, and what to do in spite of the challenges that may appear." – Tony Robbins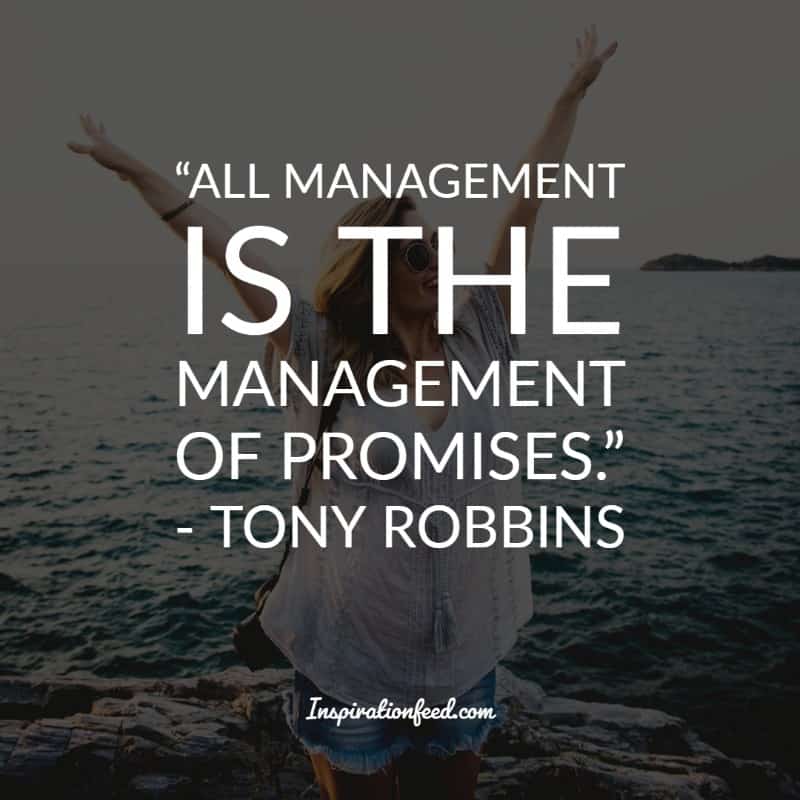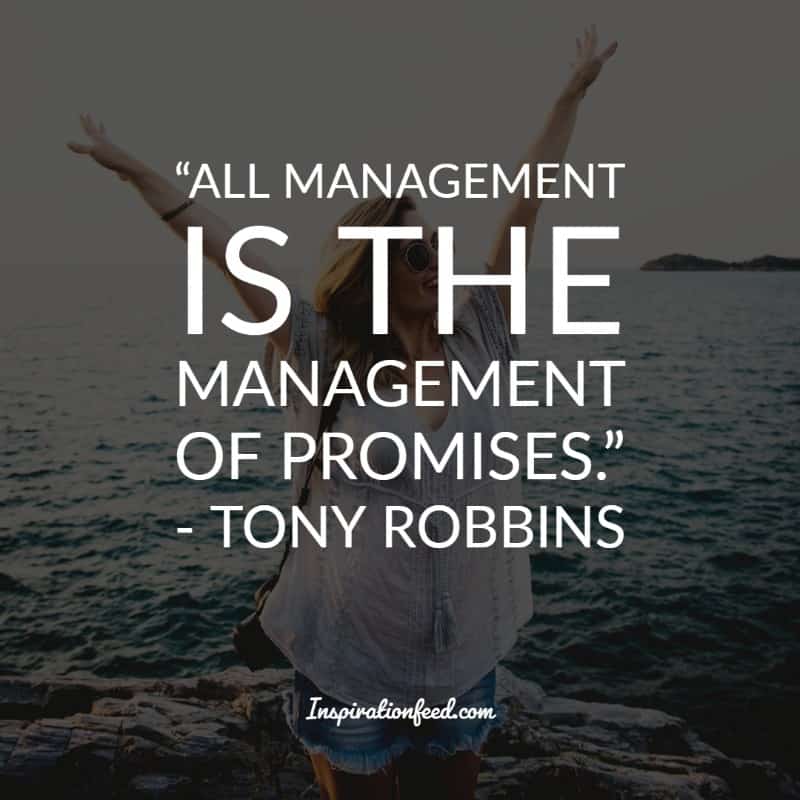 "All management is the management of promises." – Tony Robbins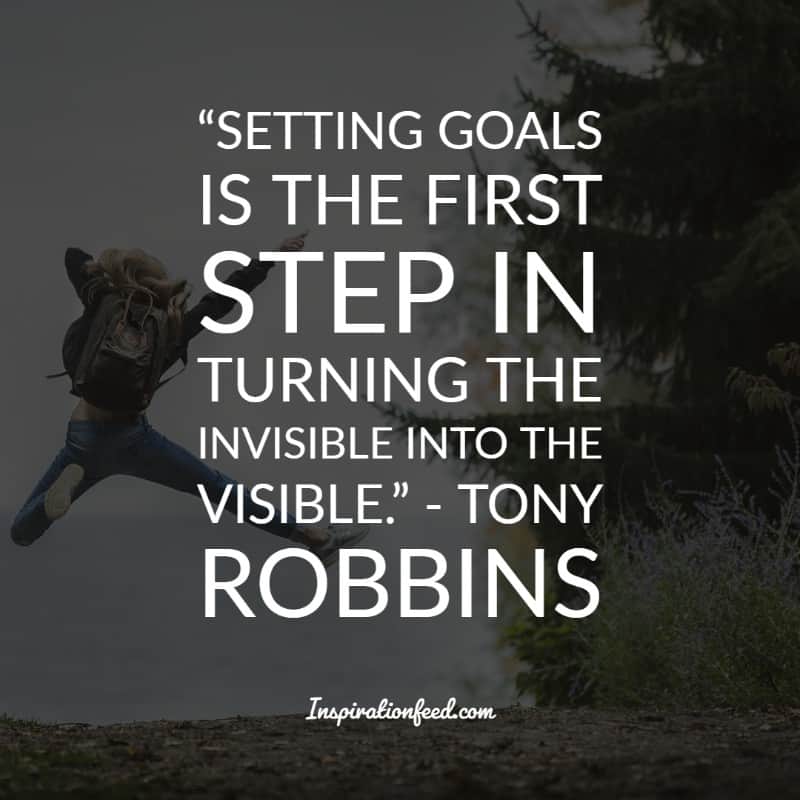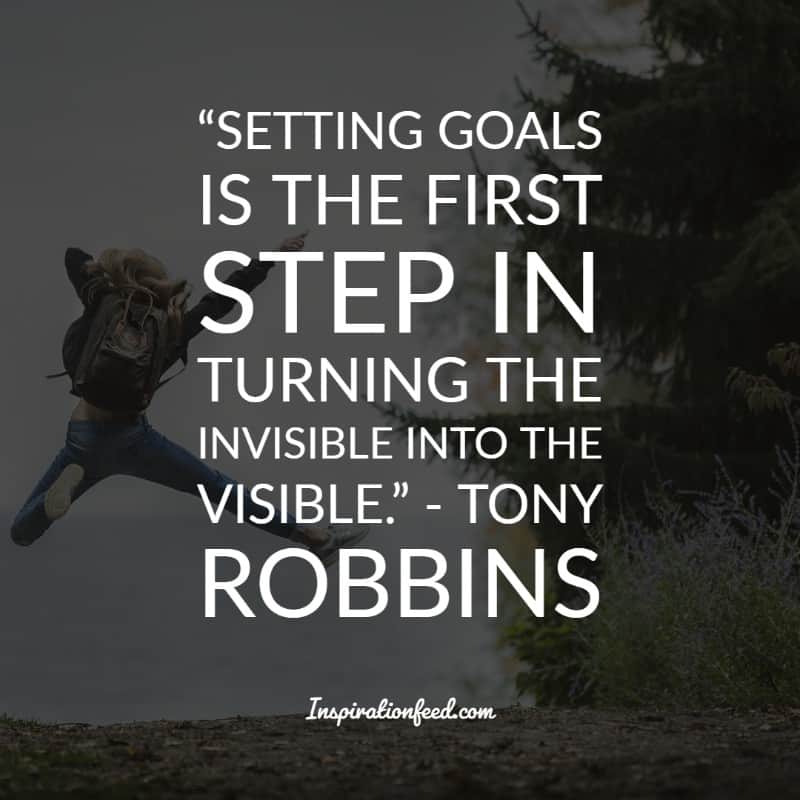 "Setting goals is the first step in turning the invisible into the visible." – Tony Robbins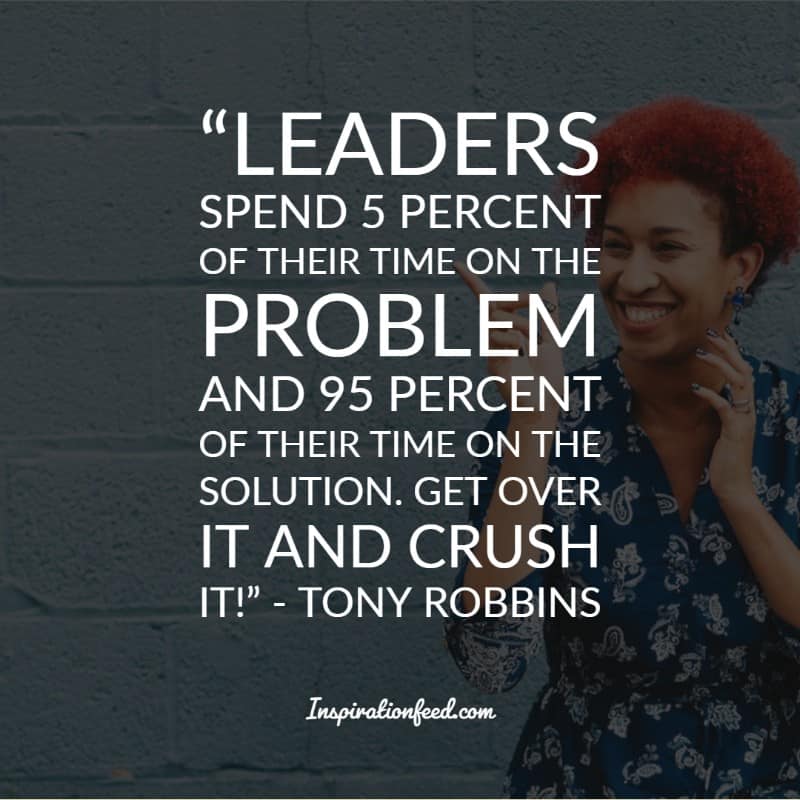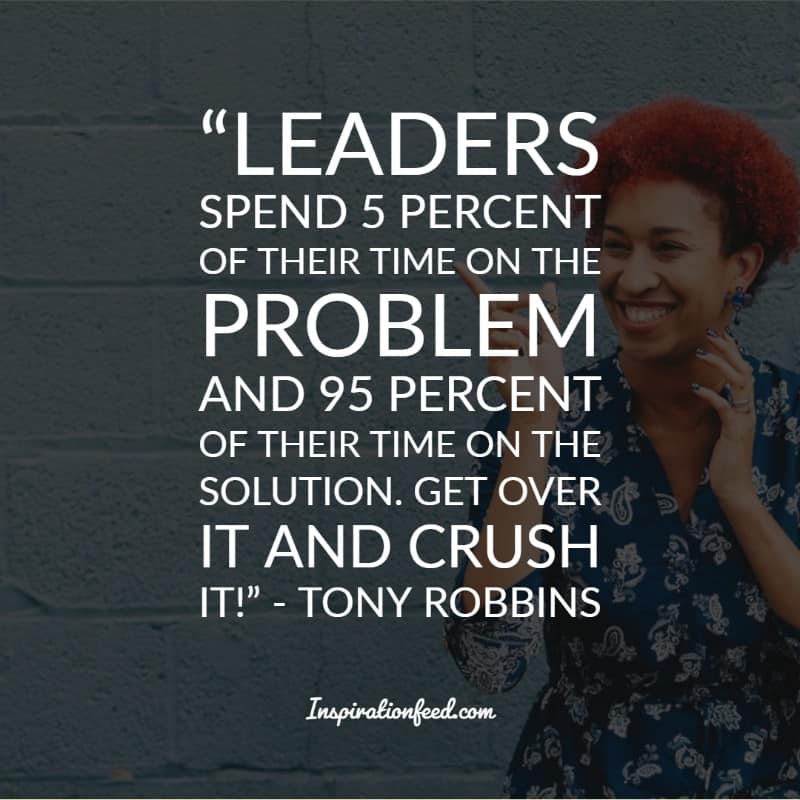 "Leaders spend 5 percent of their time on the problem and 95 percent of their time on the solution. Get over it and crush it!" – Tony Robbins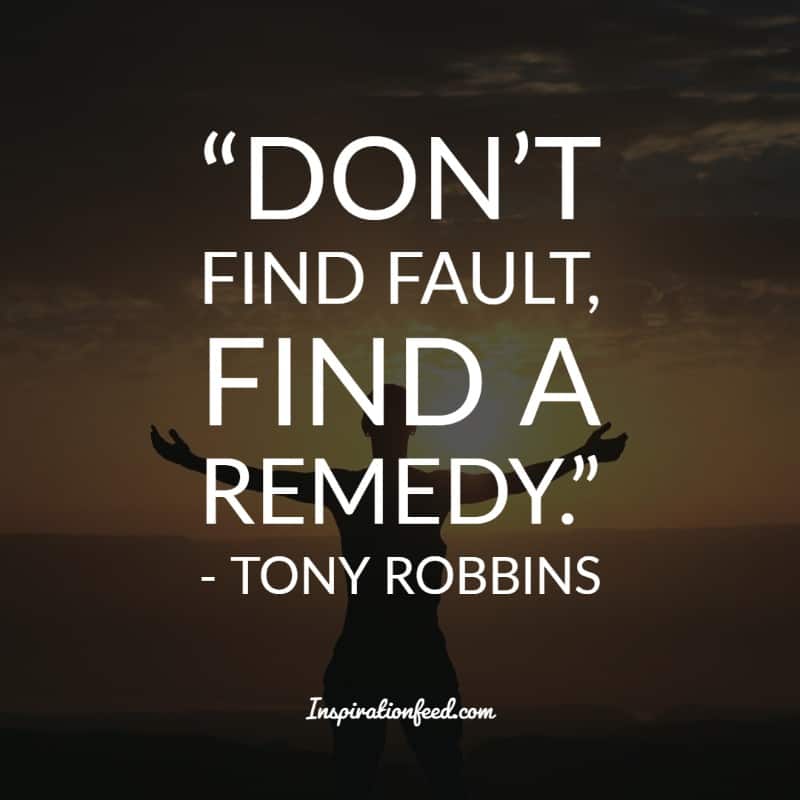 "Don't find fault, find a remedy." – Tony Robbins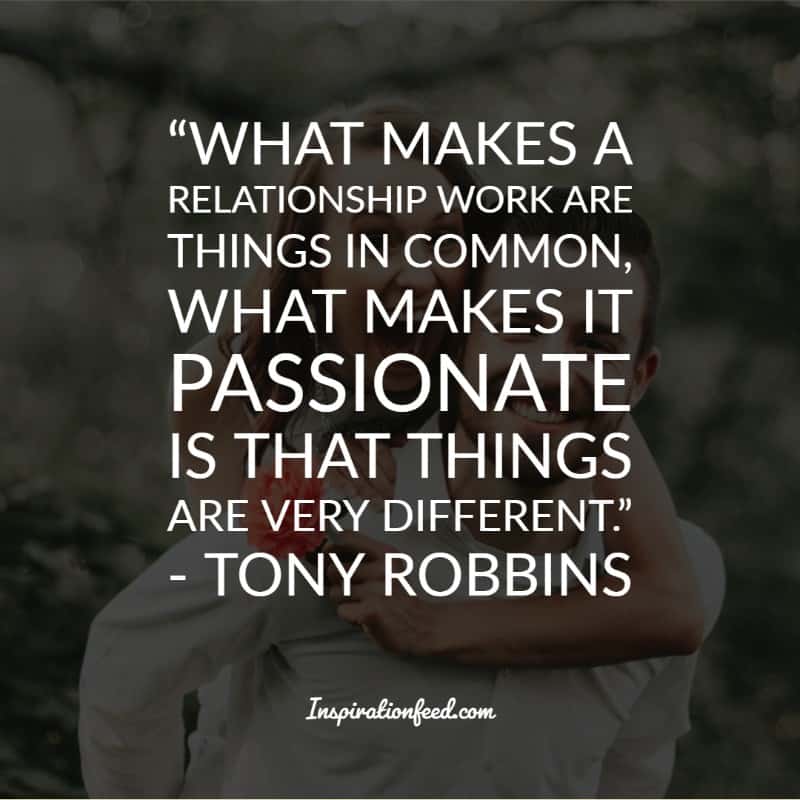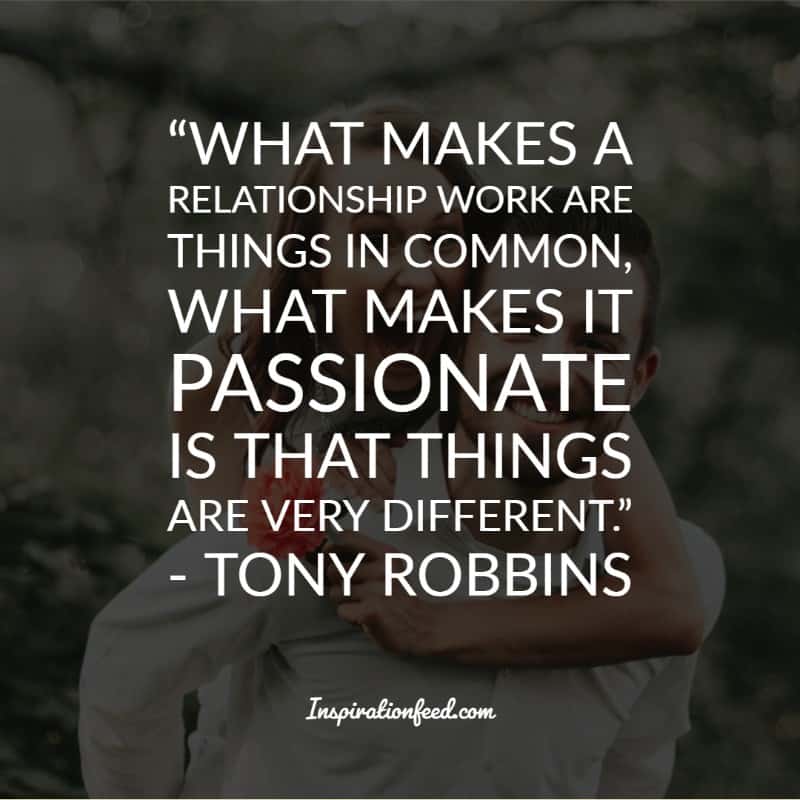 "What makes a relationship work are things in common, what makes it passionate is that things are very different." – Tony Robbins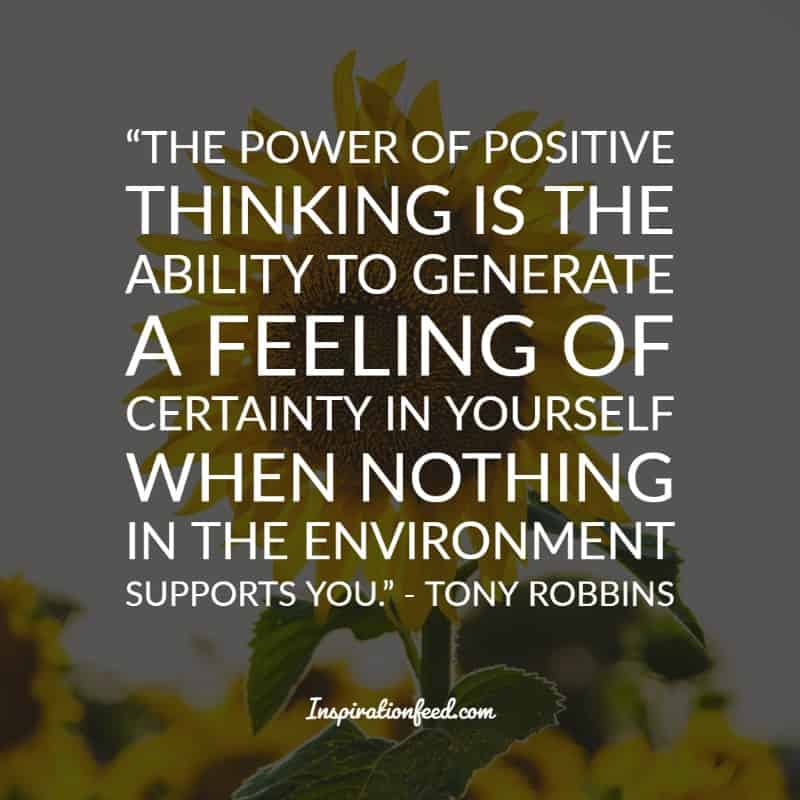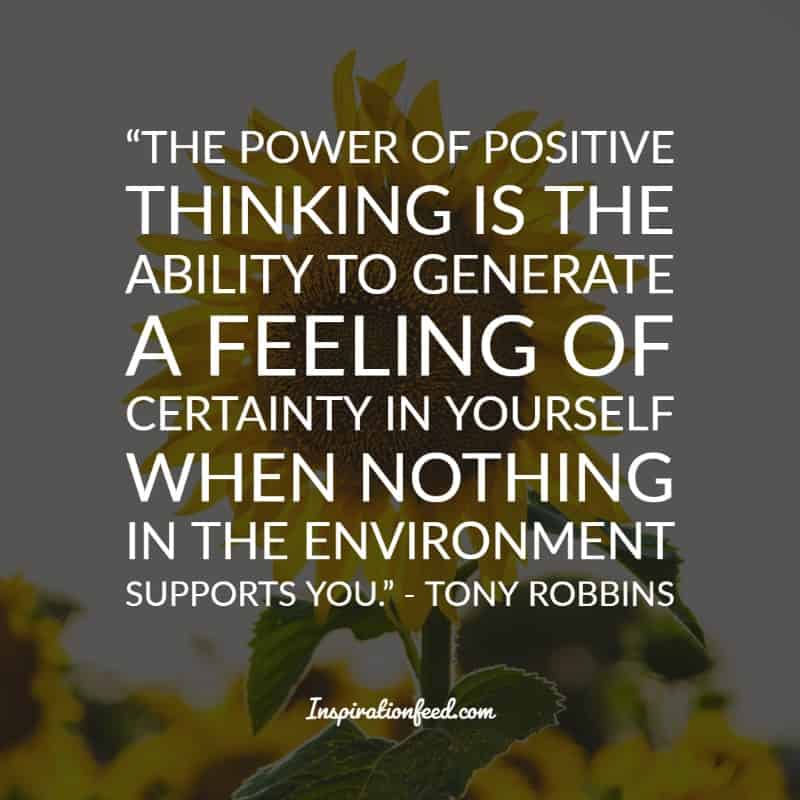 "The power of positive thinking is the ability to generate a feeling of certainty in yourself when nothing in the environment supports you." – Tony Robbins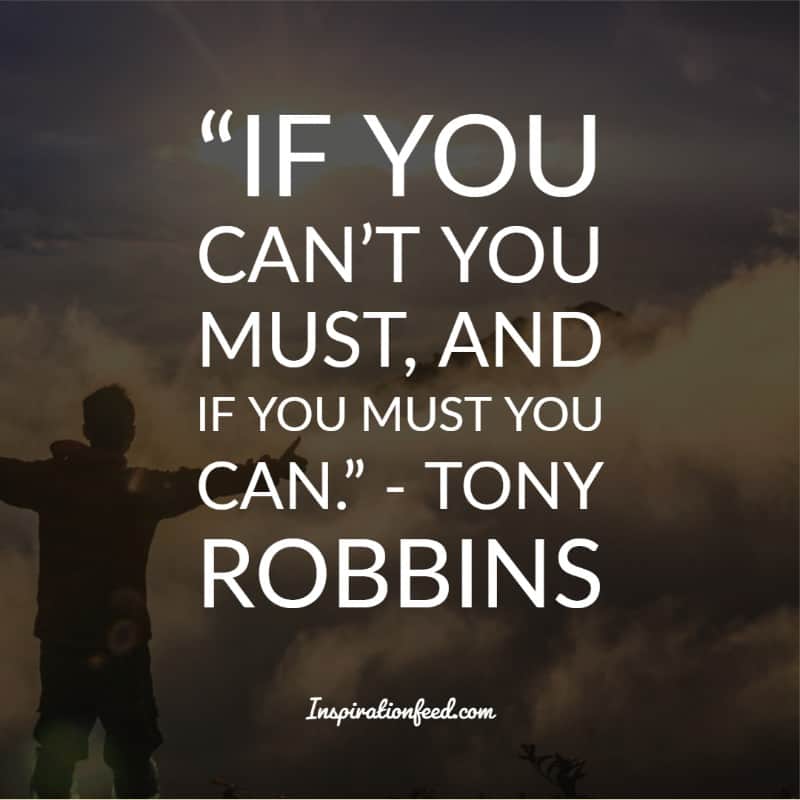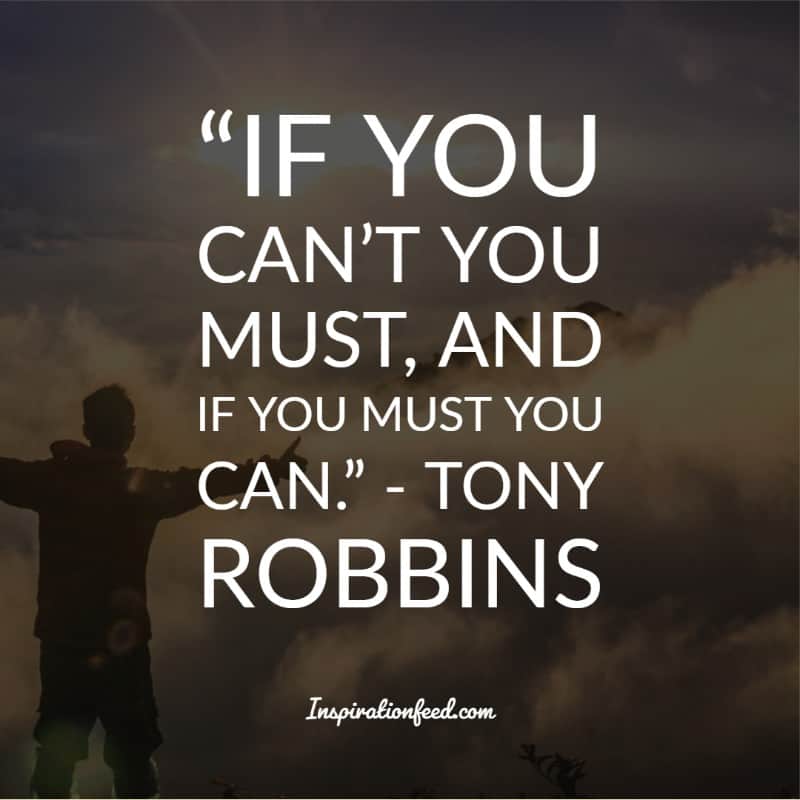 "If you can't you must, and if you must you can." – Tony Robbins
"The path to success is to take massive, determined action." – Tony Robbins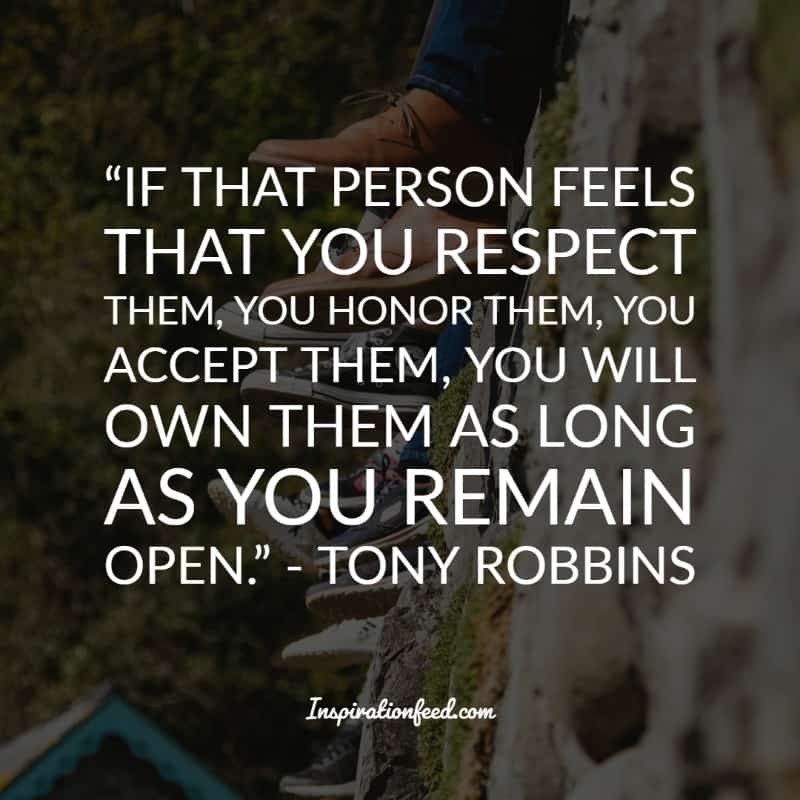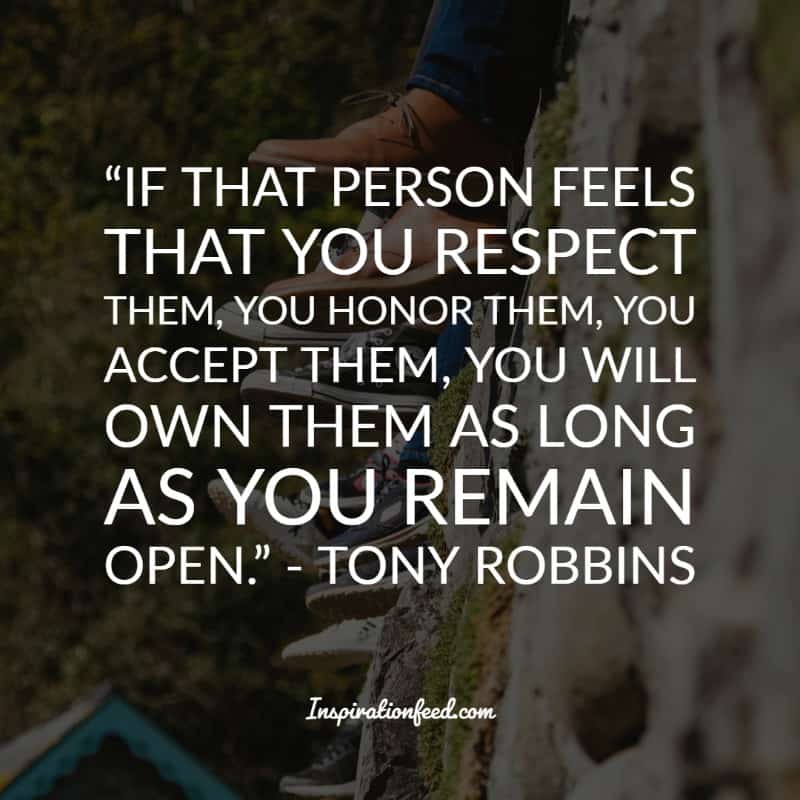 "If that person feels that you respect them, you honor them, you accept them, you will own them as long as you remain open." – Tony Robbins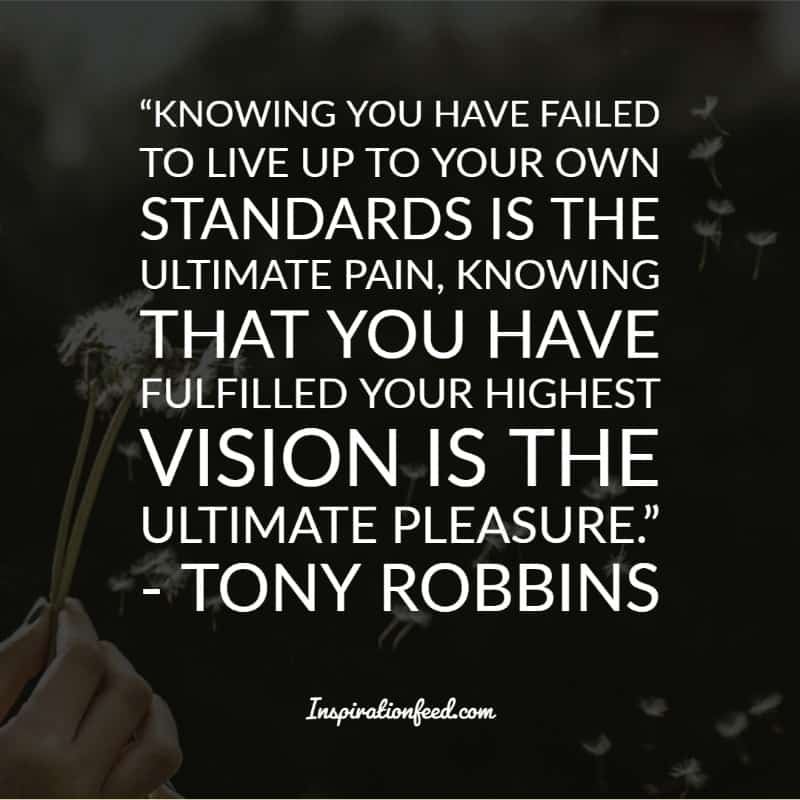 "Knowing you have failed to live up to your own standards is the ultimate pain, knowing that you have fulfilled your highest vision is the ultimate pleasure." – Tony Robbins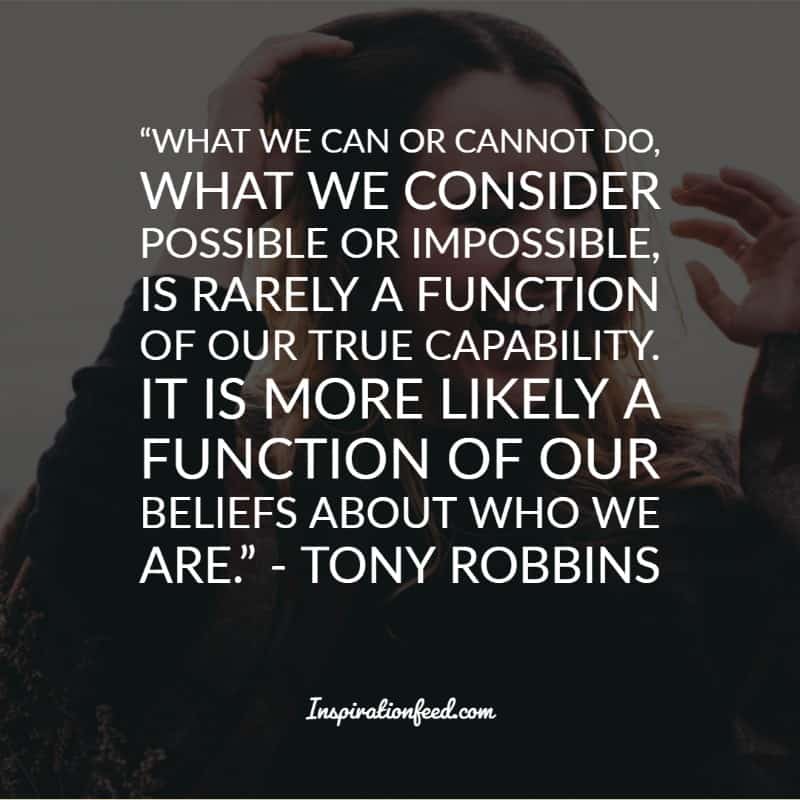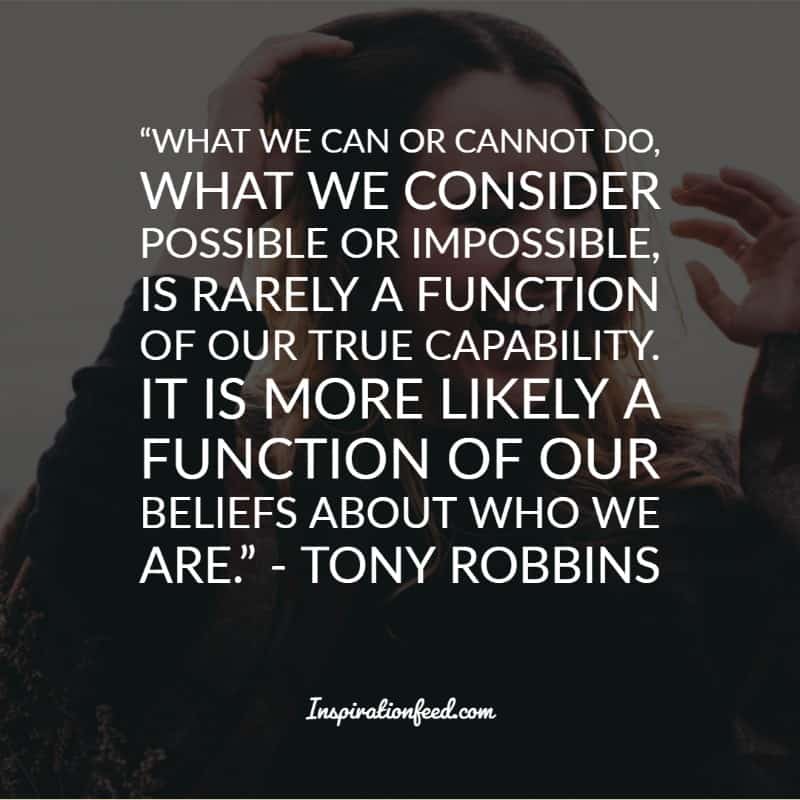 "What we can or cannot do, what we consider possible or impossible, is rarely a function of our true capability. It is more likely a function of our beliefs about who we are." – Tony Robbins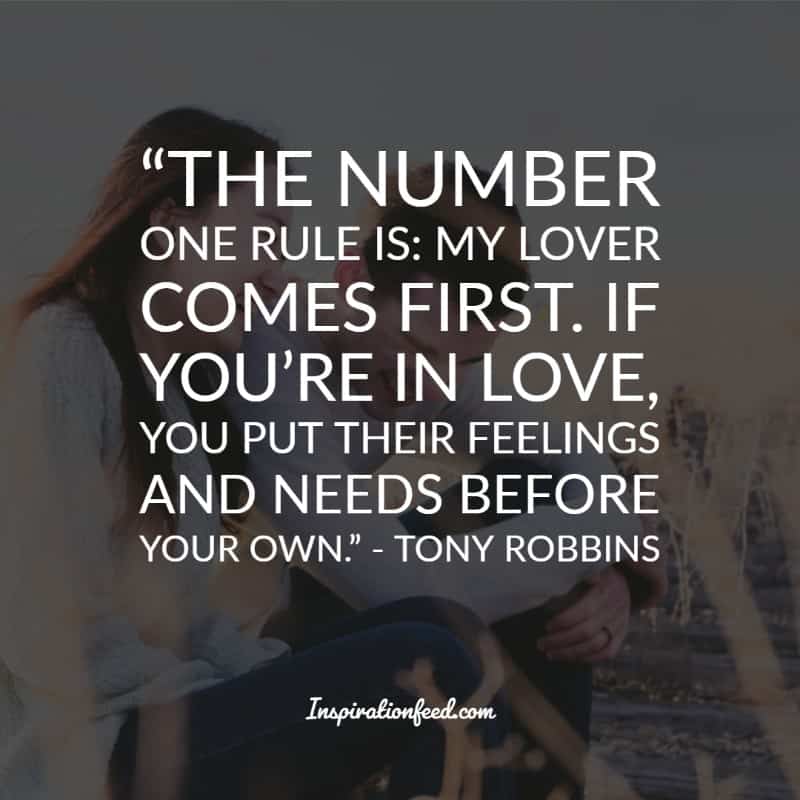 "The number one rule is: my lover comes first. If you're in love, you put their feelings and needs before your own." – Tony Robbins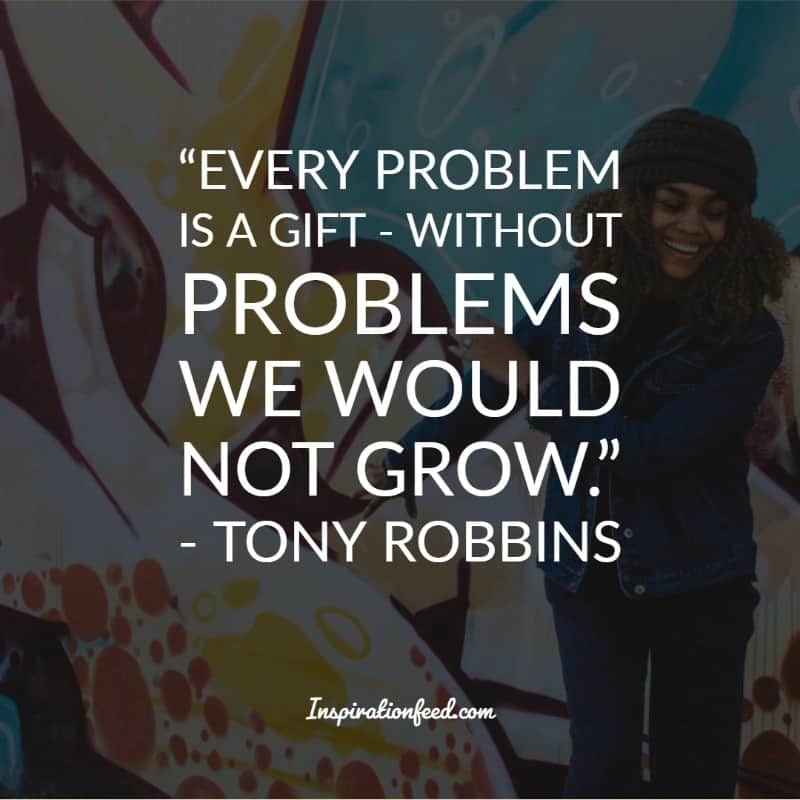 "Every problem is a gift – without problems we would not grow." – Tony Robbins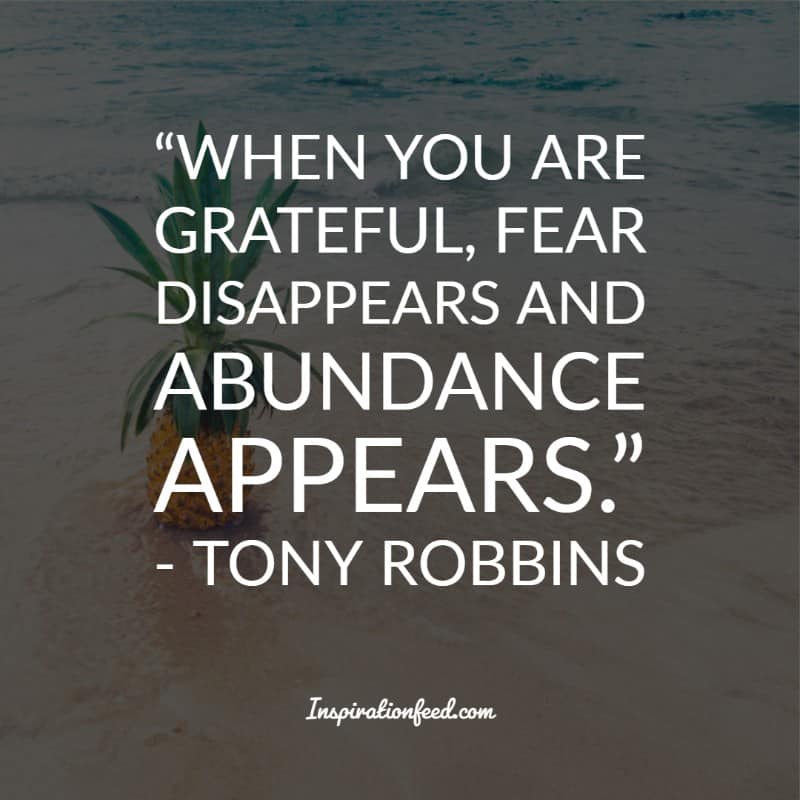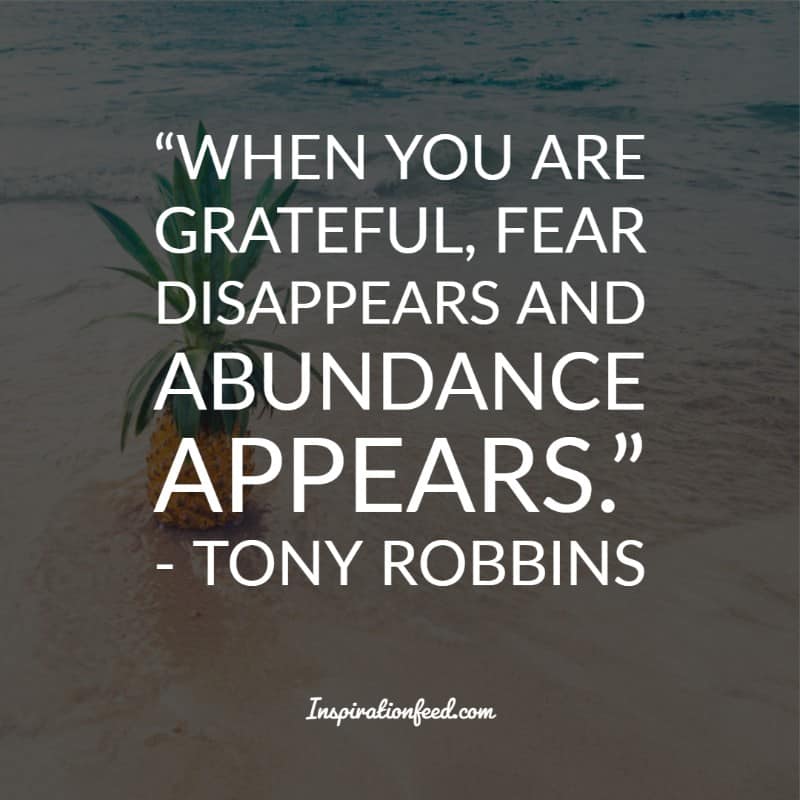 "When you are grateful, fear disappears and abundance appears." – Tony Robbins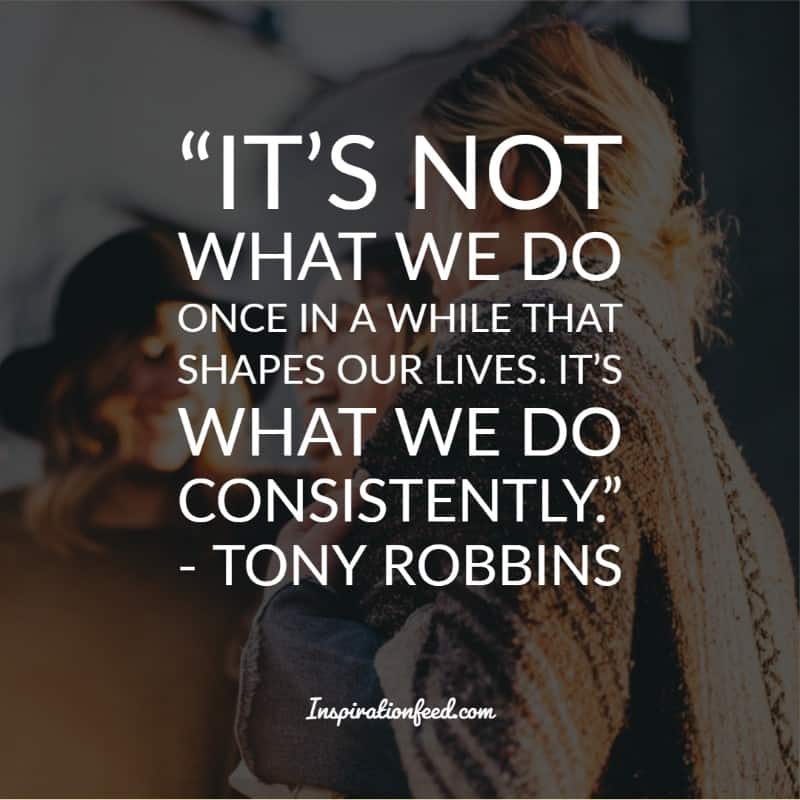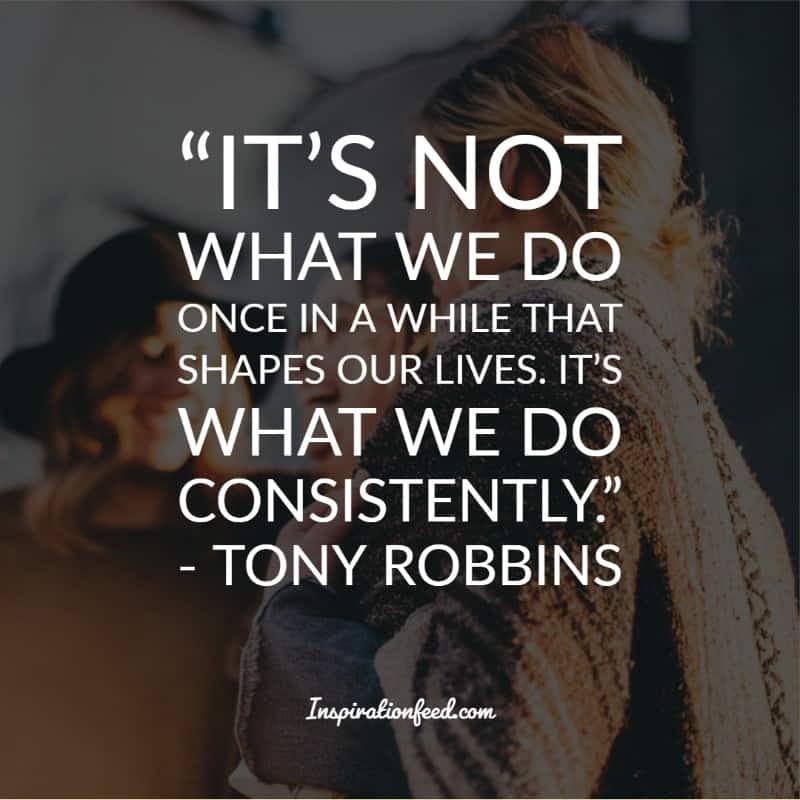 "It's not what we do once in a while that shapes our lives. It's what we do consistently." – Tony Robbins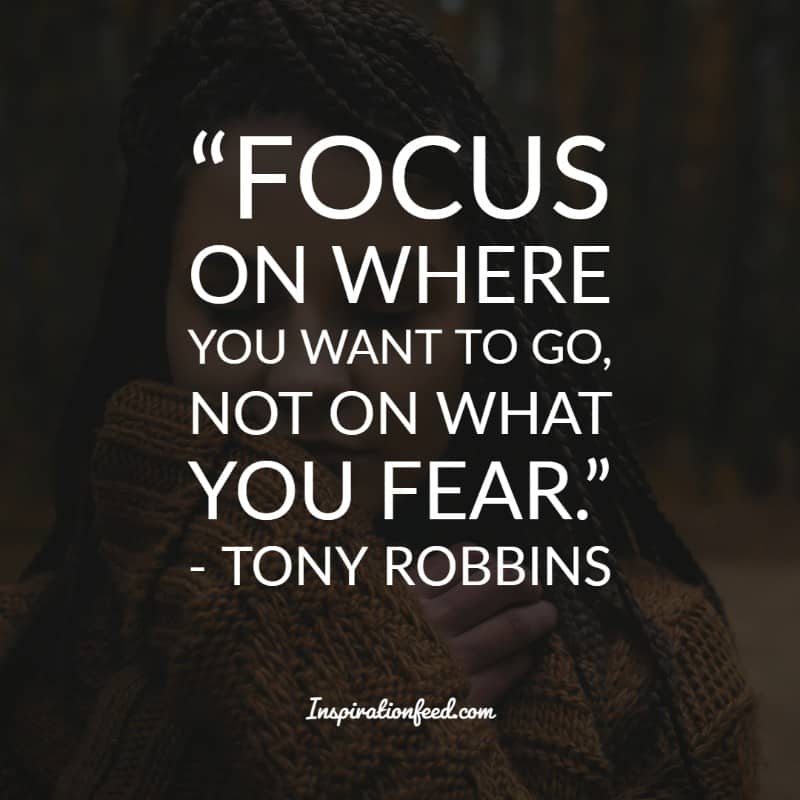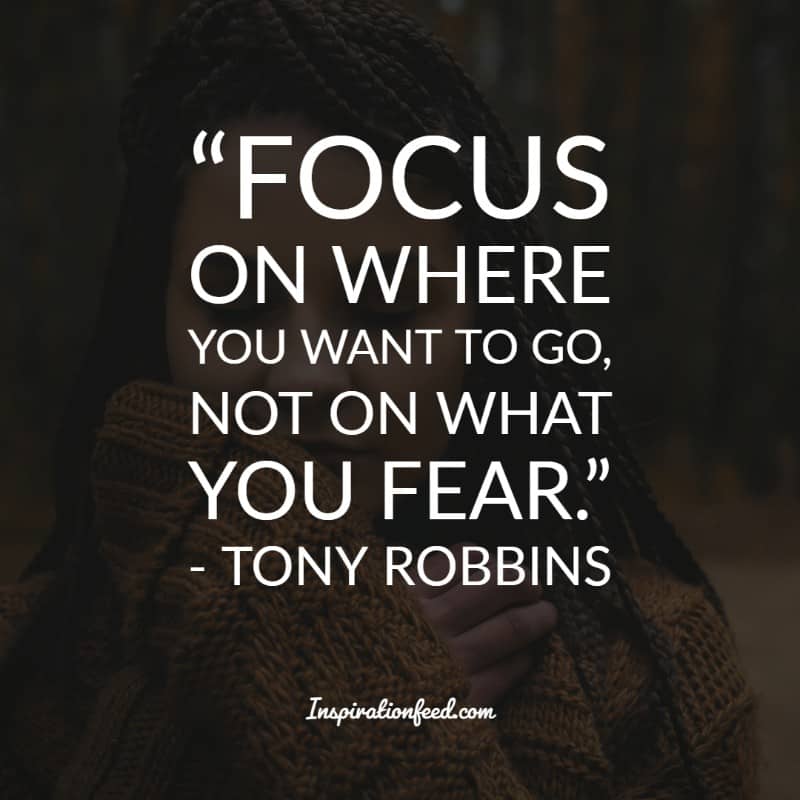 "Focus on where you want to go, not on what you fear." – Tony Robbins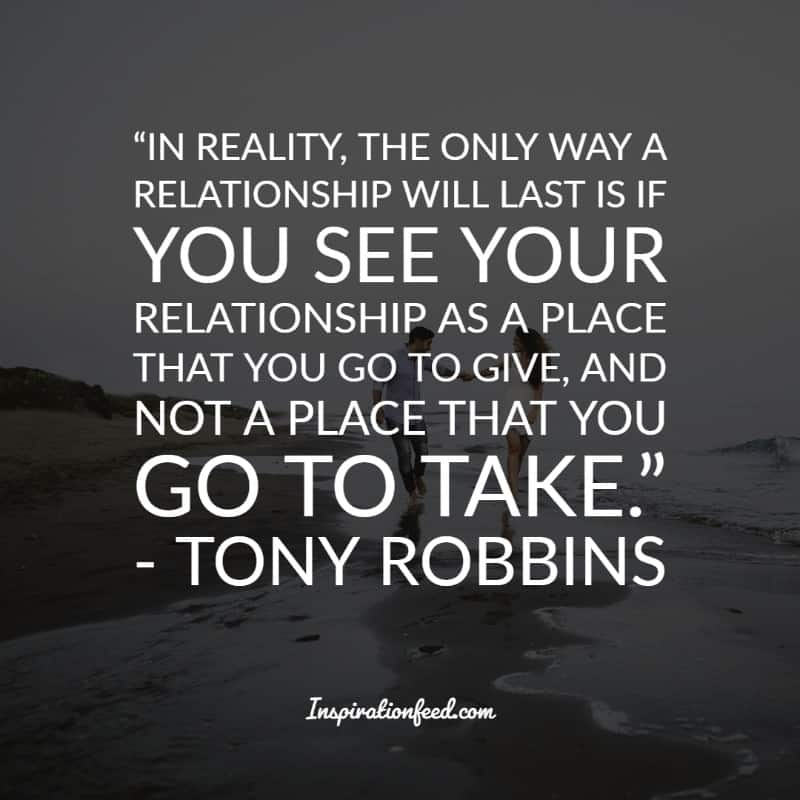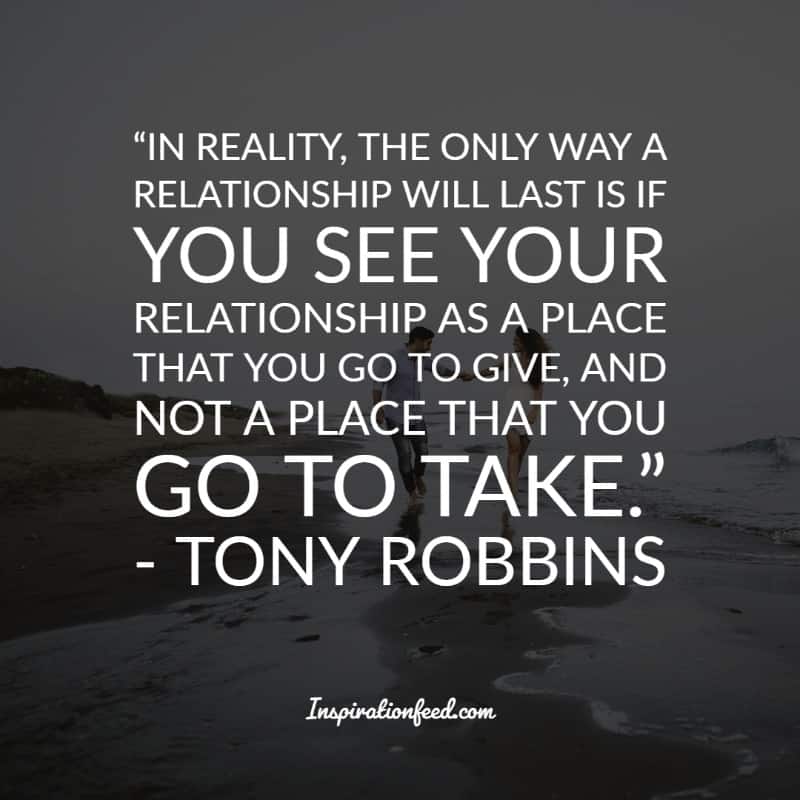 "In reality, the only way a relationship will last is if you see your relationship as a place that you go to give, and not a place that you go to take." – Tony Robbins
"People are not lazy, they simply have impotent goals…that is…goals that do not inspire them." – Tony Robbins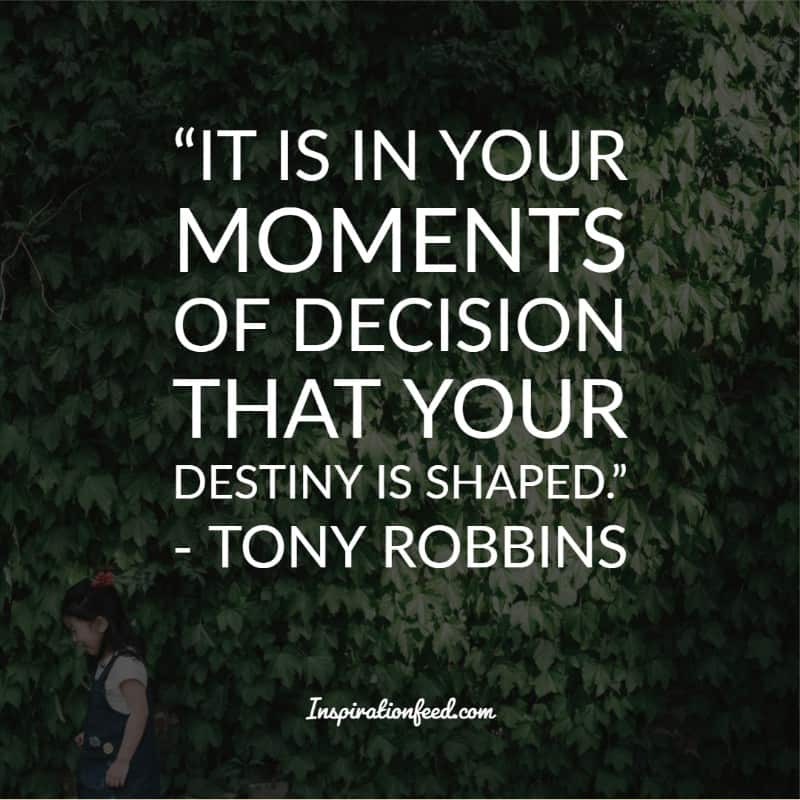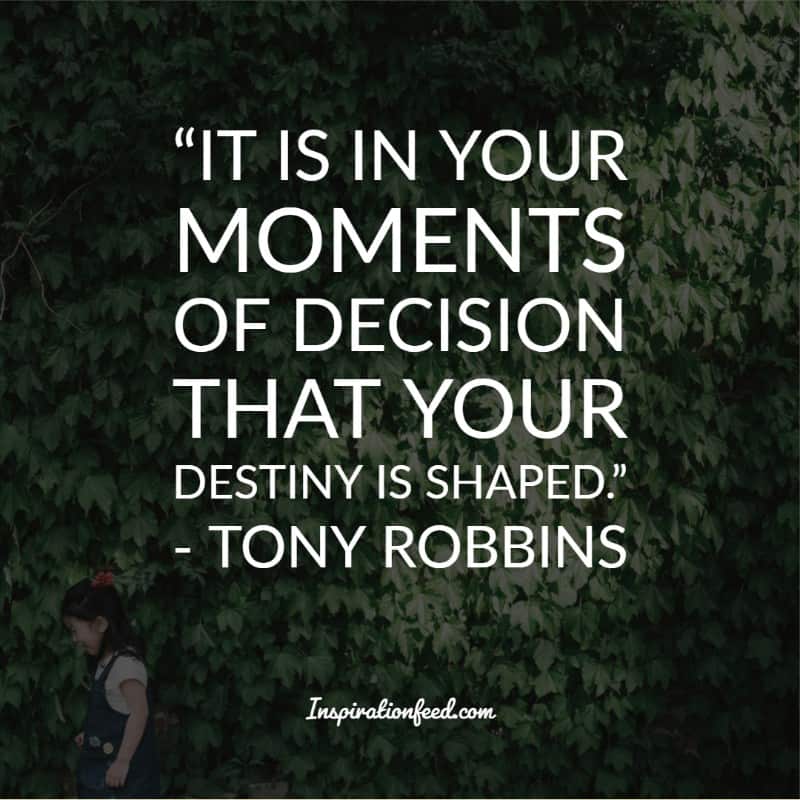 "It is in your moments of decision that your destiny is shaped." – Tony Robbins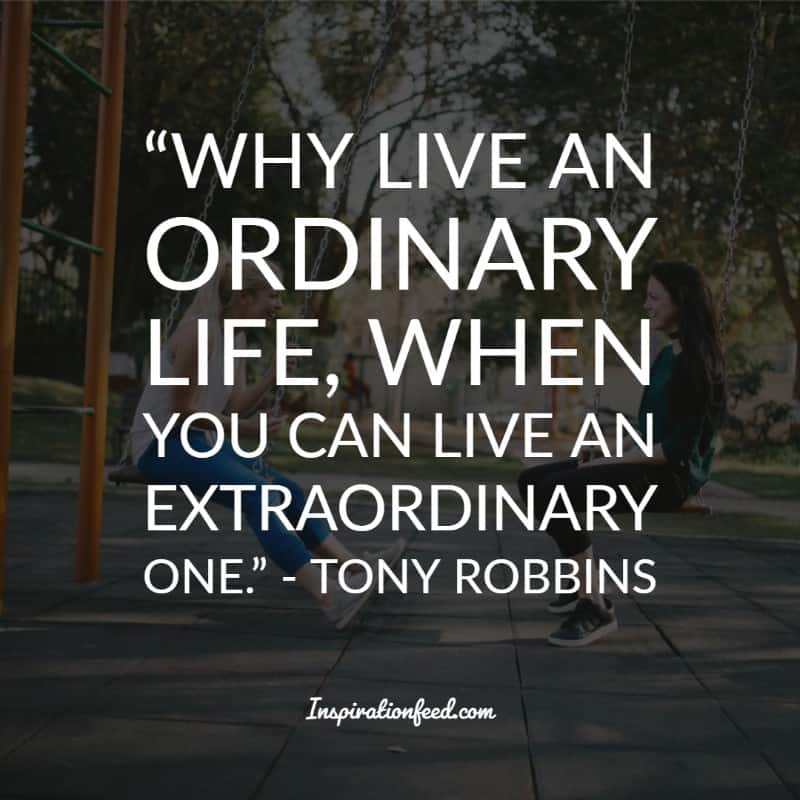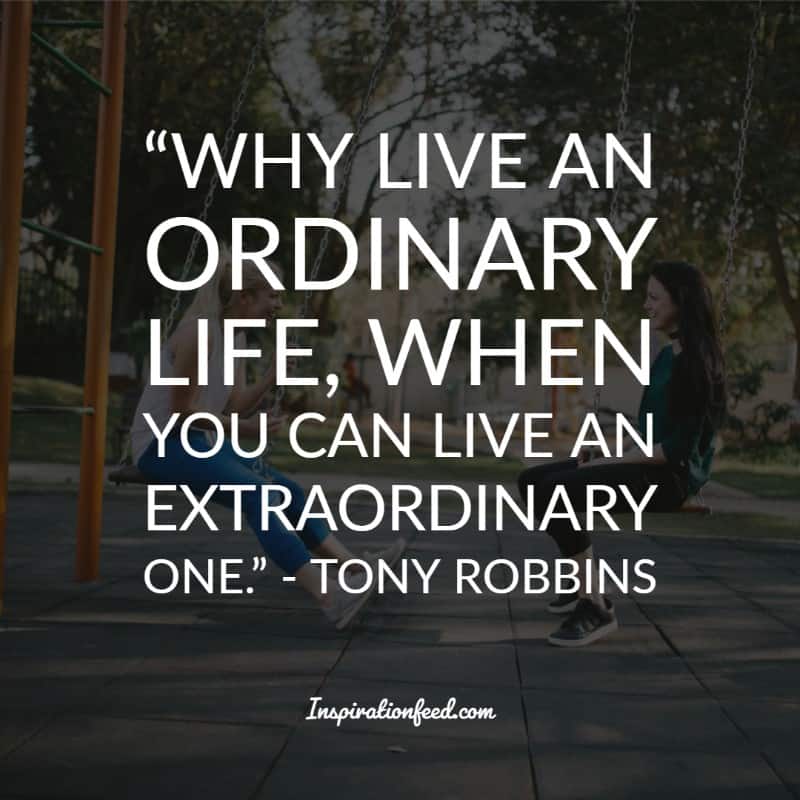 "Why live an ordinary life, when you can live an extraordinary one." – Tony Robbins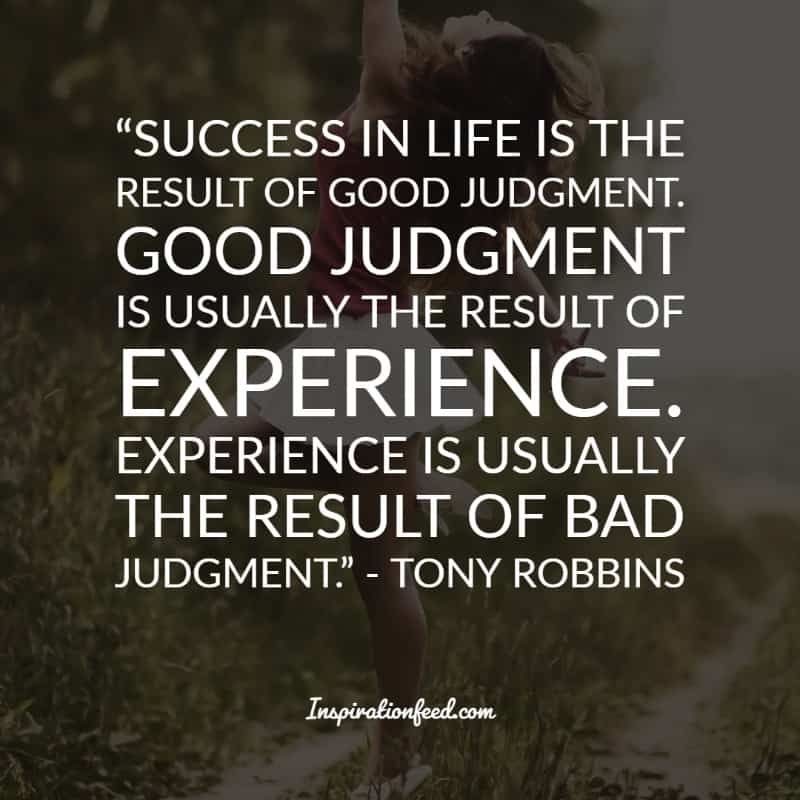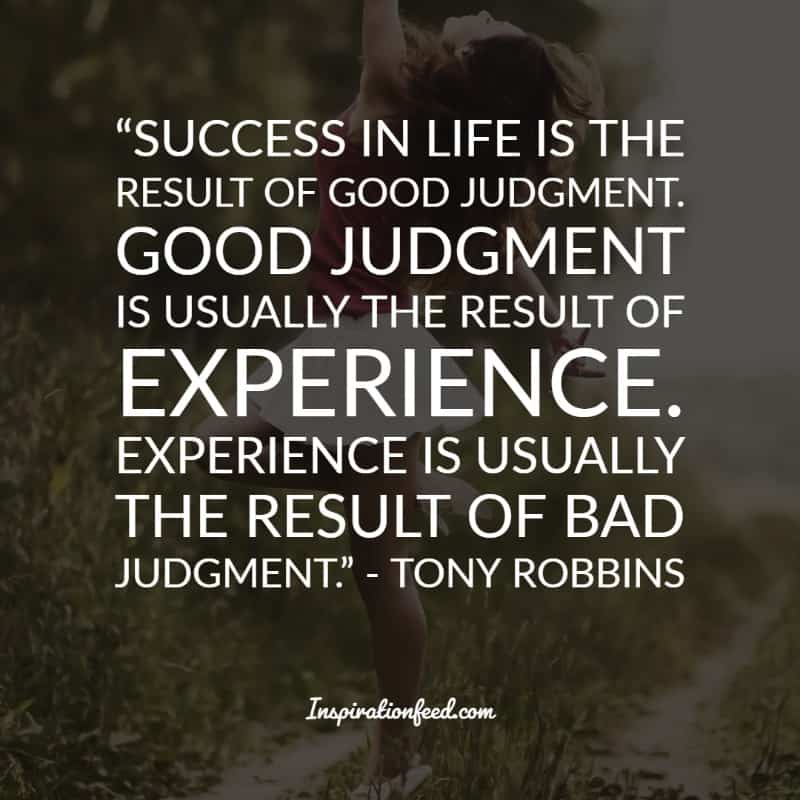 "Success in life is the result of good judgment. Good judgment is usually the result of experience. Experience is usually the result of bad judgment." – Tony Robbins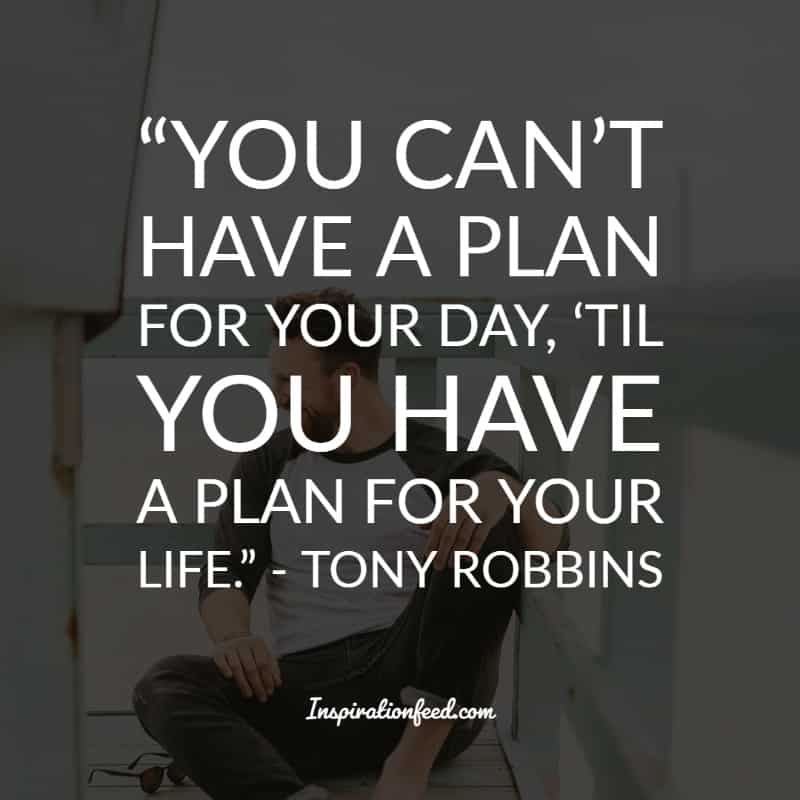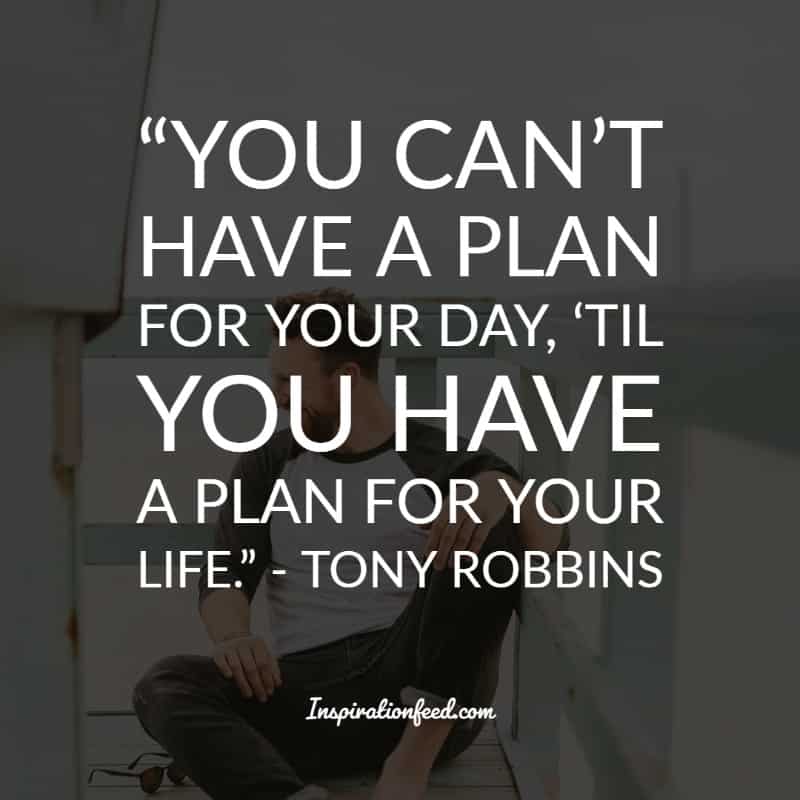 "You can't have a plan for your day, 'til you have a plan for your life." – Tony Robbins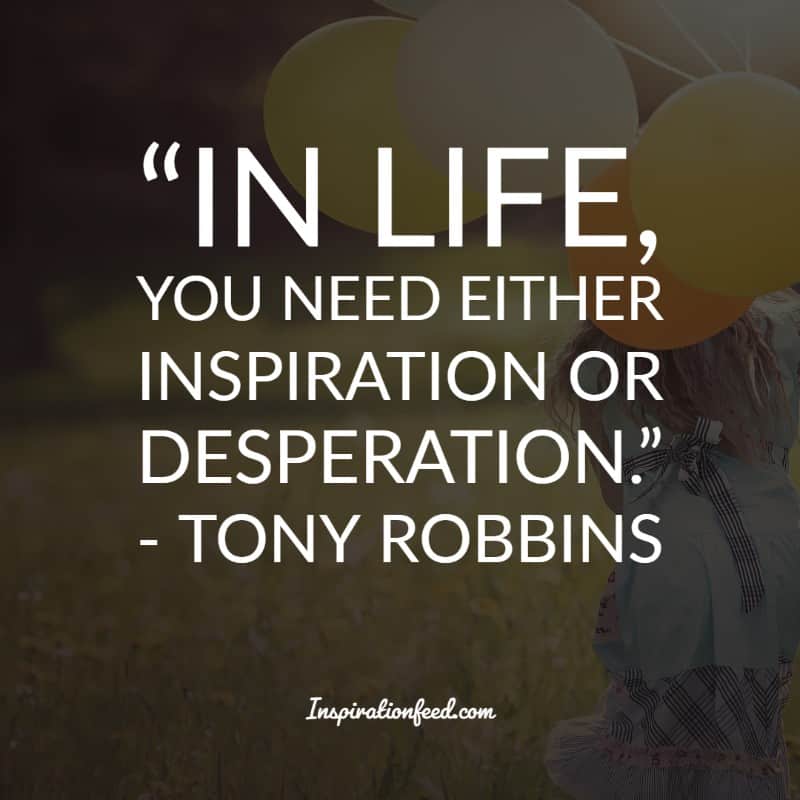 "In life, you need either inspiration or desperation." – Tony Robbins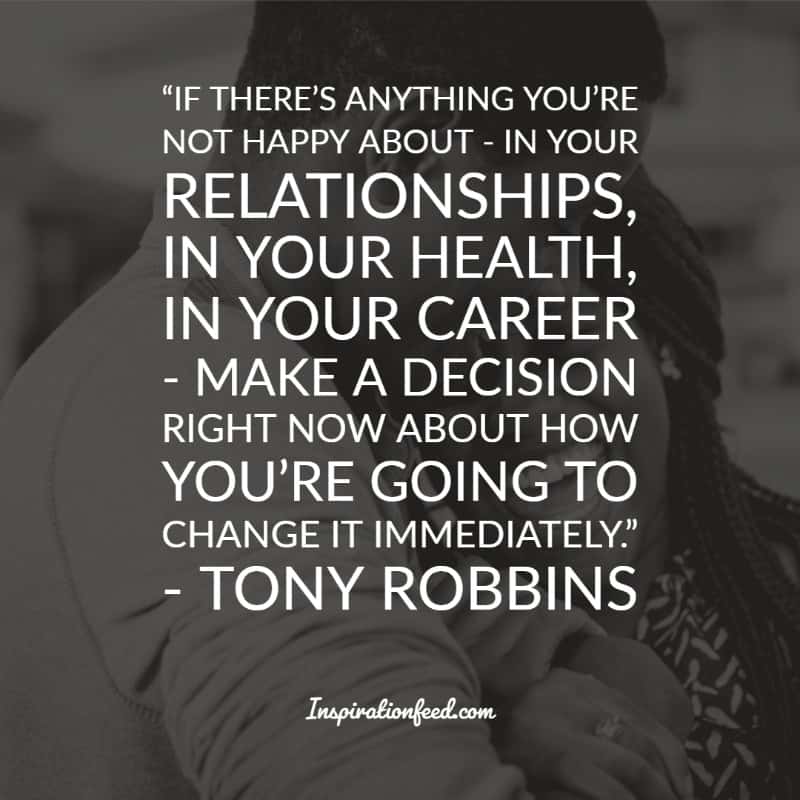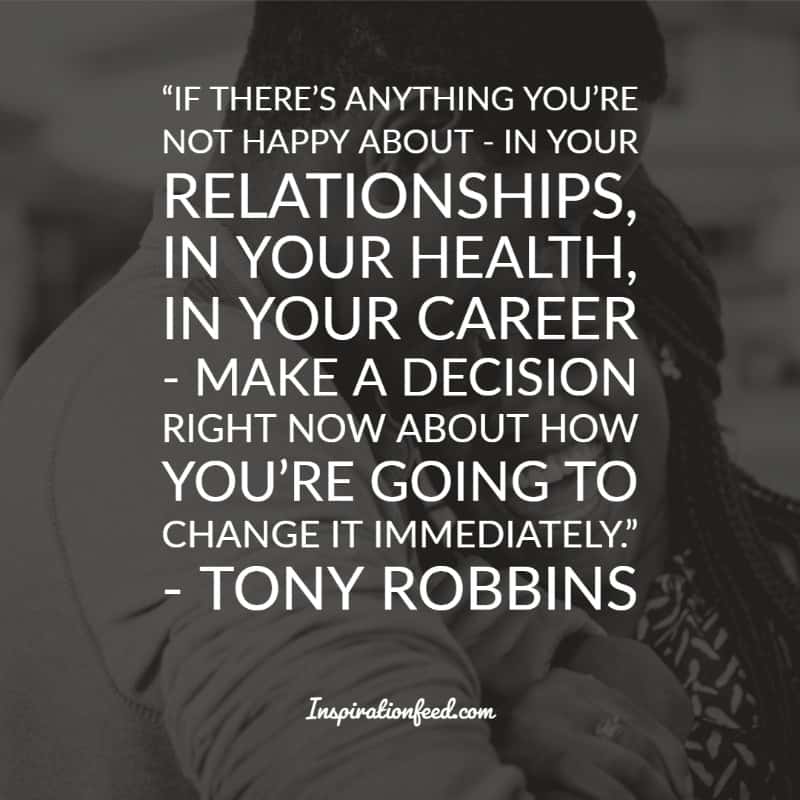 "If there's anything you're not happy about – in your relationships, in your health, in your career – make a decision right now about how you're going to change it immediately." – Tony Robbins
"You become what you do most of the time." – Tony Robbins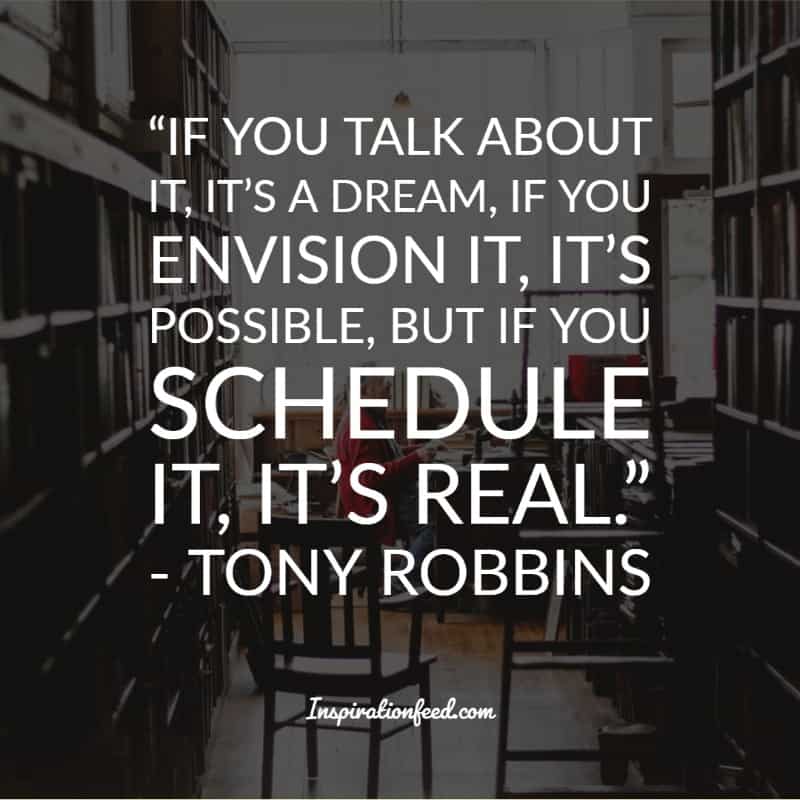 "If you talk about it, it's a dream, if you envision it, it's possible, but if you schedule it, it's real." – Tony Robbins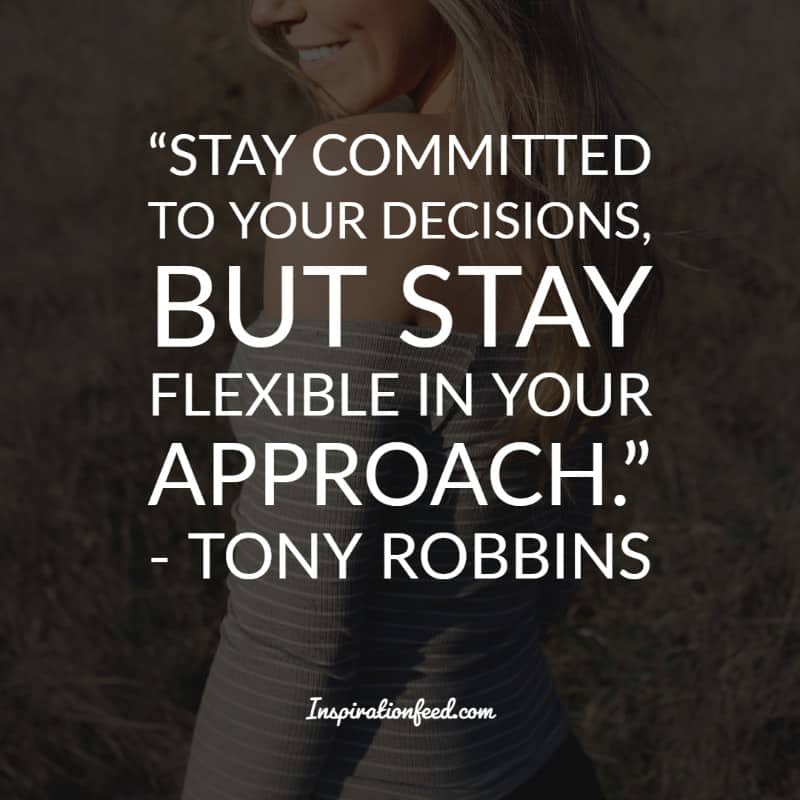 "Stay committed to your decisions, but stay flexible in your approach." – Tony Robbins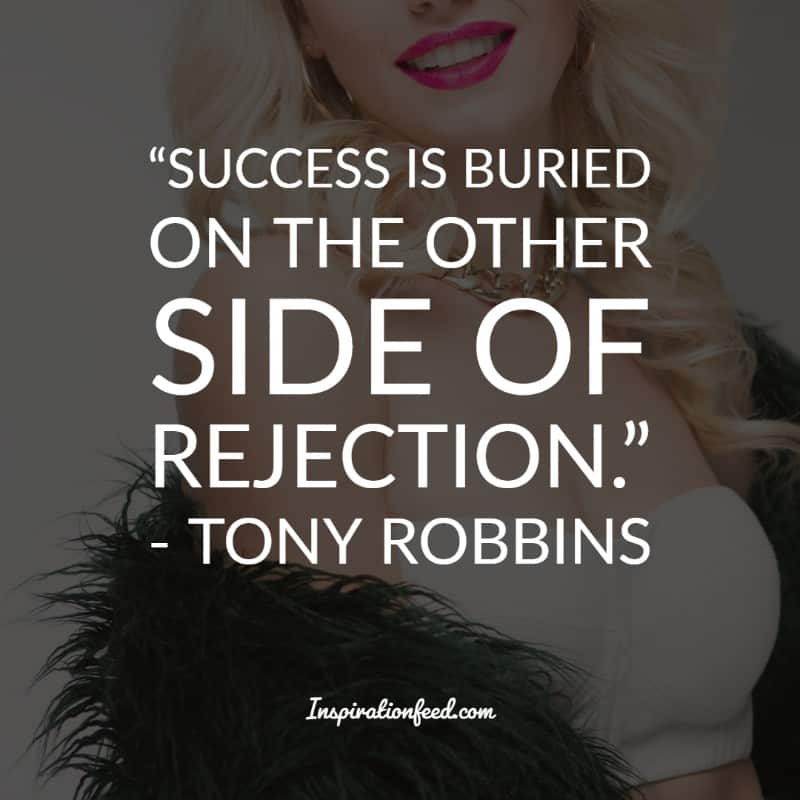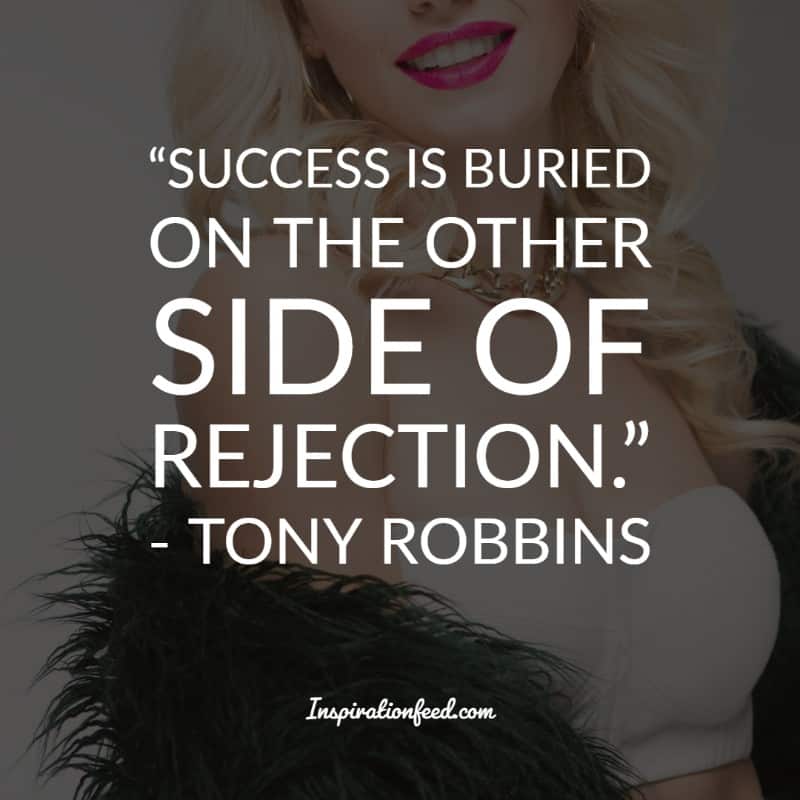 "Success is buried on the other side of rejection." – Tony Robbins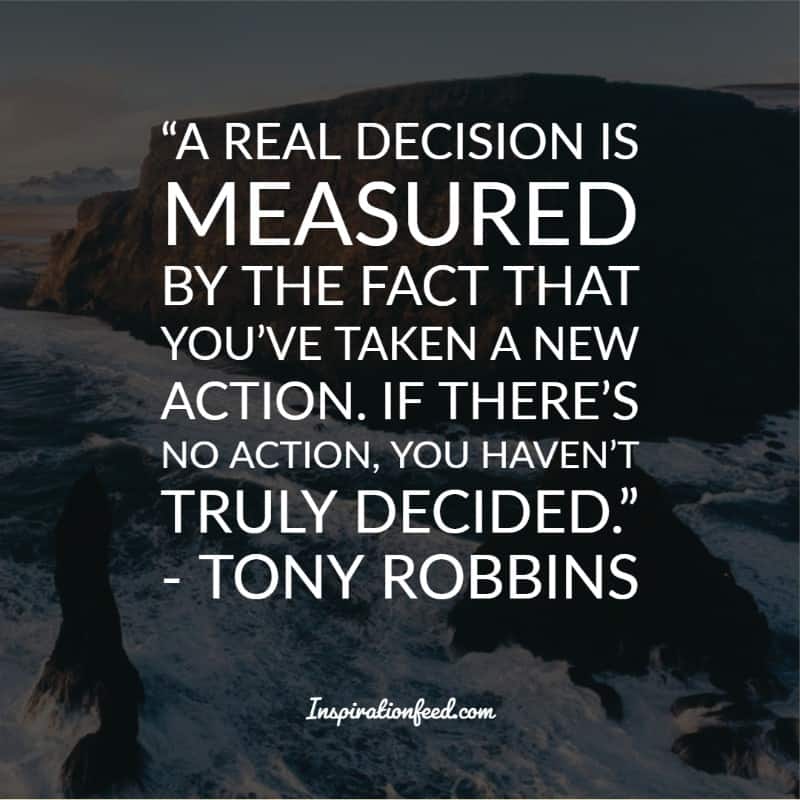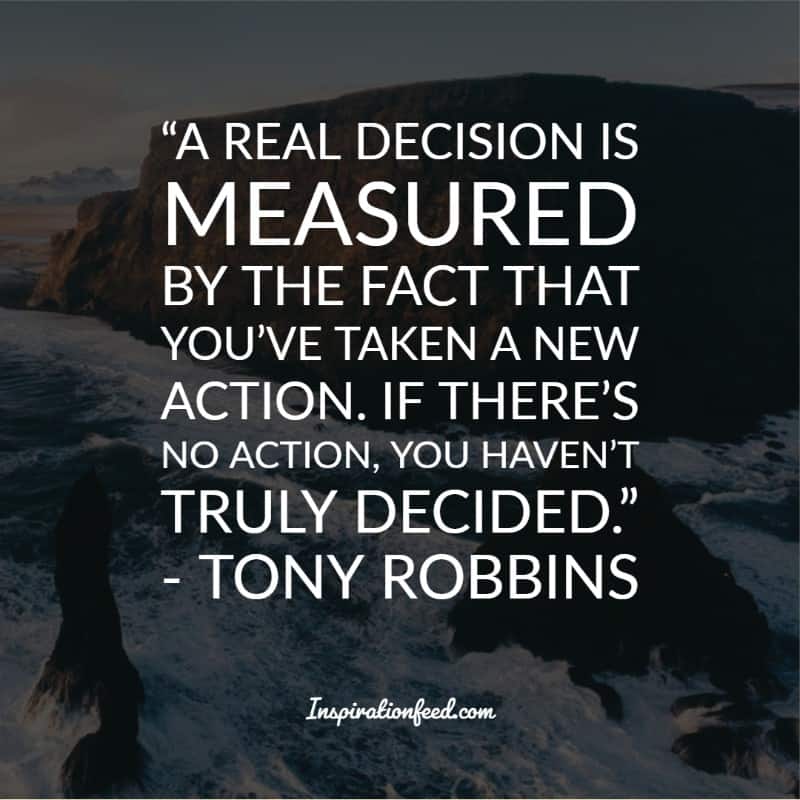 "A real decision is measured by the fact that you've taken a new action. If there's no action, you haven't truly decided." – Tony Robbins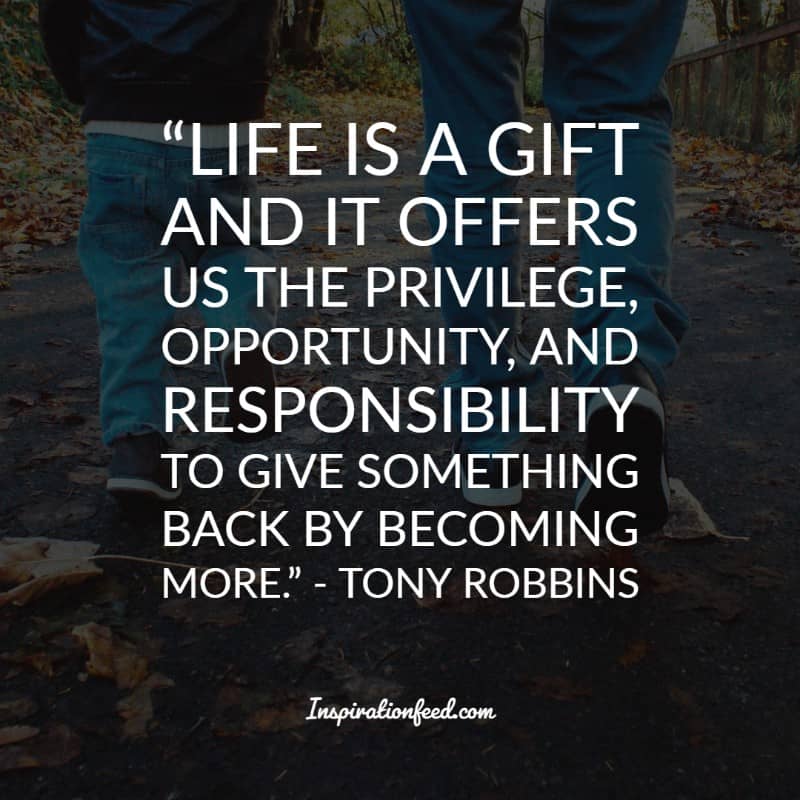 "Life is a gift and it offers us the privilege, opportunity, and responsibility to give something back by becoming more." – Tony Robbins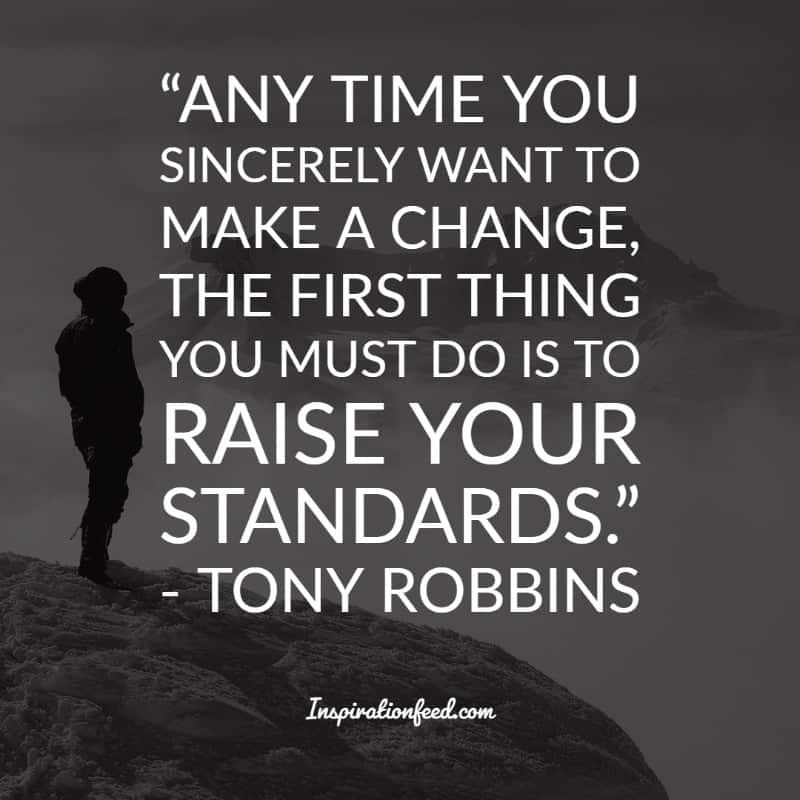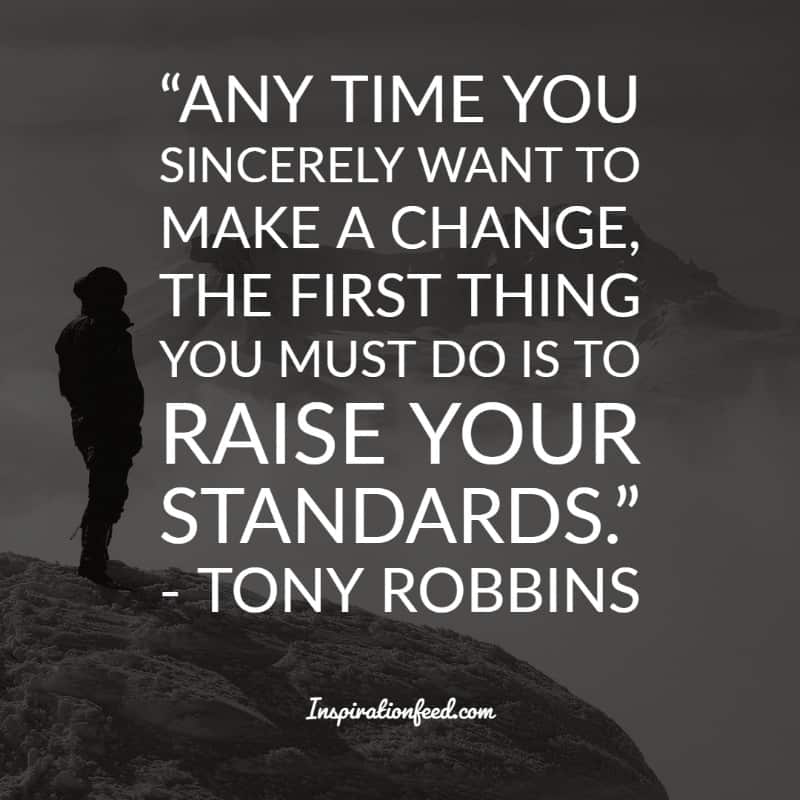 "Any time you sincerely want to make a change, the first thing you must do is to raise your standards." – Tony Robbins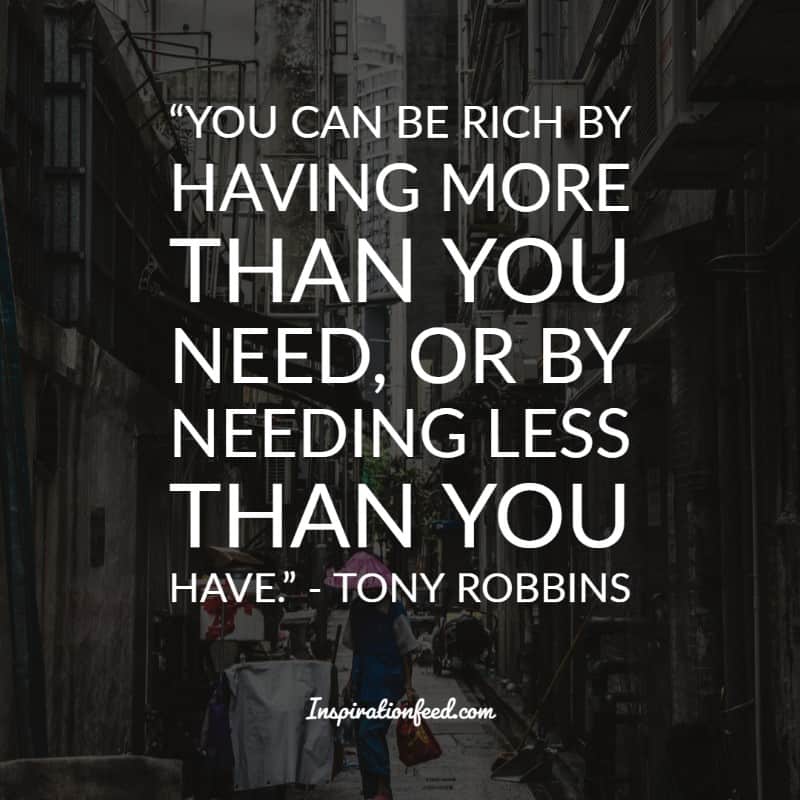 "You can be rich by having more than you need, or by needing less than you have." – Tony Robbins