Tumblr is a great place for creative's, especially designers. You can find so many cool things on tumblr, that you will lose track of time. With more and more tumblogs created daily, its becoming very hard to find and or keep track of great resourceful sites. The directory that Tumblr provides is good, but not that engaging. This is where we come in and help. We have managed to ask around our wonderful followers on twitter, and they told us some of their favorite design based Tumblogs.
1. Startupquote
As you can probably guess, Startup quote is a website for inspiring quotes from the biggest names in the industry.
2. Houseofbuttons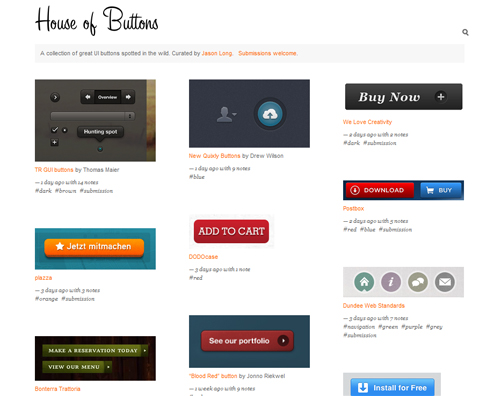 A collection of great UI buttons spotted in the wild.
3. TypographyFeed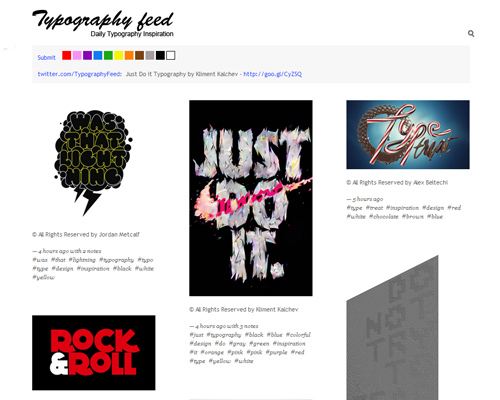 As the name suggests TypographyFeed is your number one source for daily typography inspiration. With a clean design and a color navigation, getting inspiration could never be so simple!
4. Art in my coffe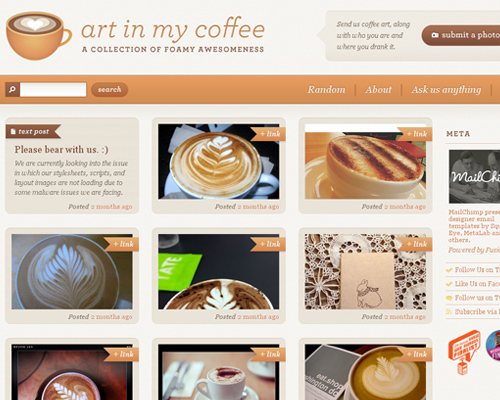 Art in My Coffee is a Tumblr blog which catalogs latte art from all around the world.
5. Clients from Hell
A collection of anonymously contributed client horror stories from designers.
6. Pprettifyit
Provides stunning icons, wallpapers, and other downloads.
7. Betalist
Like every other designer, new startups are exiting! This is the reason we included BetaList. They provide newly launched startups daily.
8. Bookshelfporn
Blog for book lovers. A photo blog collection of all the best bookshelf photos from around the world for people who *heart* bookshelves.
9. Inspire Me Now
This blog has some of the best inspiration resources you can find. It make you look at things differently and figure out the hidden meaning.
10. PSD Turtle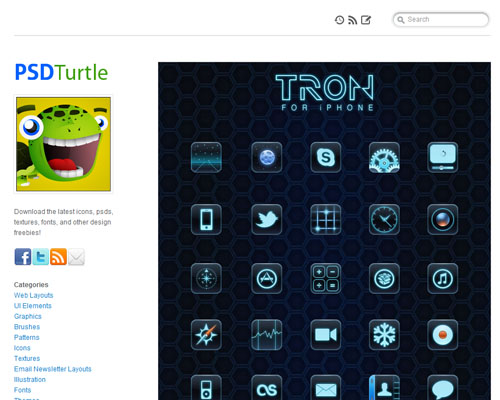 Download the latest icons, psds, textures, fonts, and other design freebies!
11. BaubauHaus
Offers inspiration for your daily need of design, illustration, photography, fashion and much more. To visually inspire and entertain.
12. ReformRevolution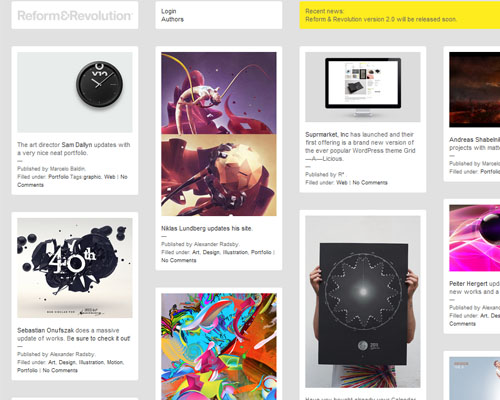 Provides stunning design inspiration in almost every single field.
13. Pratt
Wonderful collection of art and design by Jeff Rubio.
14. Inspiring Ethan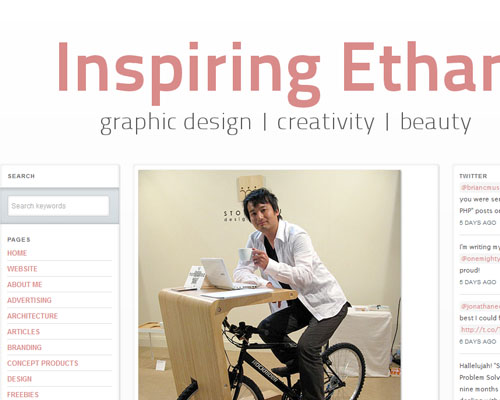 A blog of graphic design, creativity, and anything aesthetically gratifying.
15. Inspiredmark
Tumblog of Mark Collins, the Community Director over at DesignersCouch.
We would love to add more tumblogs to the list, so please suggest more sites in the comment section!