Last Updated on March 3, 2023
Can you still remember how things were when USB-powered devices still weren't around? You had to find sockets for almost everything that you end up with huge extension cords crawling all over the place. As far as computer peripherals are concerned, they required different ports behind your computer as well.
The Birth of the USB
With the birth of the USB port, things definitely changed for the better. Because almost every computer peripheral are USB-powered, there is no need to worry about requiring different ports behind the CPU. Now, there is a universal port for everything. And as different gadgets are invented, the importance of the USB port has become even more emphasized. Almost every mobile device that you see requires a USB port not only to power it up, but to allow it to be charged for long-term use as well as to transfer data between the computer and the device.
This is where it gets amusing. This scenario is actually quite familiar, when you think about it. There was such a shortage of power sockets in the past that people had to have a number of extension cords everywhere. Today, the same shortage is being experienced in the workplace as every computer has a number of peripherals plugged into each of its USB ports. Add to that the necessity to charge mobile devices such as smartphones and tablets and you have a real problem in your hands.
Useful USB Hubs for Everyday Use
Introducing the USB hub, the modern day version of the extension cord. These USB hubs allow you to plug in a few more USB-powered devices into your computer, and to charge a few other gadgets as well. And yes, some of them do not even have to be plugged into a computer to work. Some of them can actually be plugged into a regular electrical socket just like a normal piece of home appliance.
Here are some of the best USB hubs that you can use around the office:
HooToo HT-UH010
The HooToo HT-UH010 has seven USB 3.0 hubs, plus two charging ports. One of these charging ports is 1amp, which makes it perfect for iPhones and other smartphones, while the other runs on 2.1amps, which is the perfect fit for iPads and similar devices. It comes with both a USB cable (if you want to connect it to your computer) and a 12V5A AC power adapter (if you need it to work out of a wall socket. The only downside here is the fact that the charging ports are not capable of data transfer, and the USB 3.0 ports are not capable of charging your devices. Nevertheless, it is still a great compact product if you have printers, speakers, and other peripherals that you just don't have space for on your computer.
Anker 10-Port Hub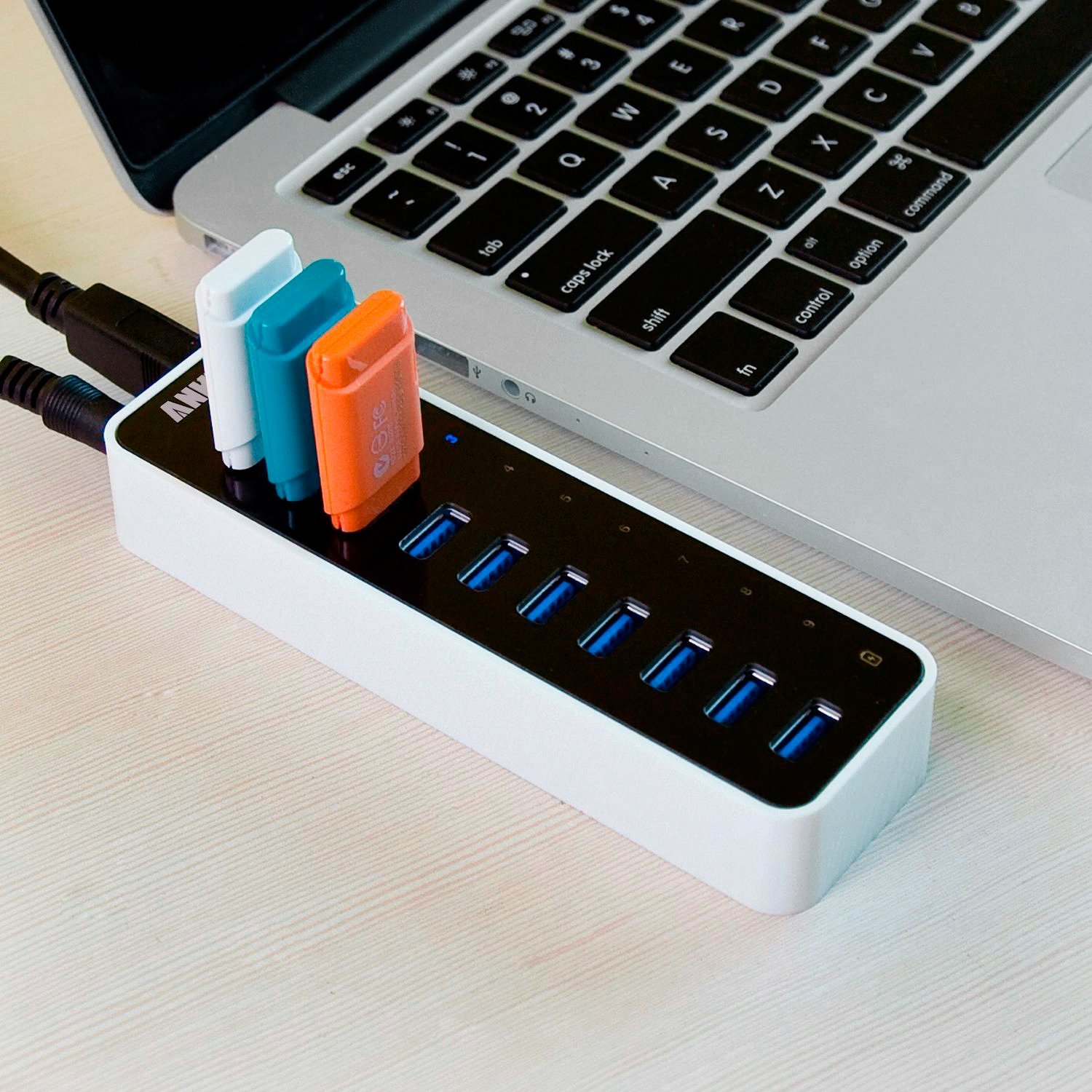 If you ever run out of space after purchasing the Anker 10-Port Hub, then we have absolutely no idea what else we could recommend. These are ten entire ports that allow you to transfer data at rates of up to 5Gbps, and could charge your smartphones and power up peripherals all at the same time. You can even plug it into a power socket in case your computer is off. The downside to this is the fact that it only charges devices at up to 1.5amps, which means that tablets and other similar devices could transfer data through the hub, but will not be able to charge properly.
Belkin 2-in-1 7-Port USB 2.0 Hub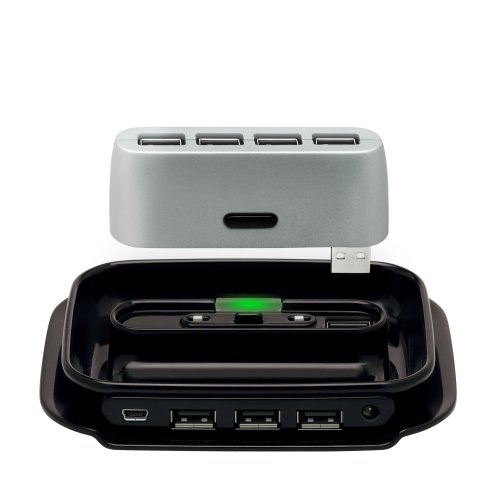 It will not be able to offer data transfer with speeds similar to USB 3.0 ports, but 2.0 is pretty standard, so it still does the job well. What's amazing about this is its unique design, with the 3-port base connecting efficiently to your computer itself, while the rest of its 4-port detachable piece could easily be plugged somewhere else, such as your laptop. And because your laptop usually has very little room for plug-ins, the travel hub's connector easily rotates so that you can plug other peripherals right beside it.
Plugable 10-Port Powered USB 2.0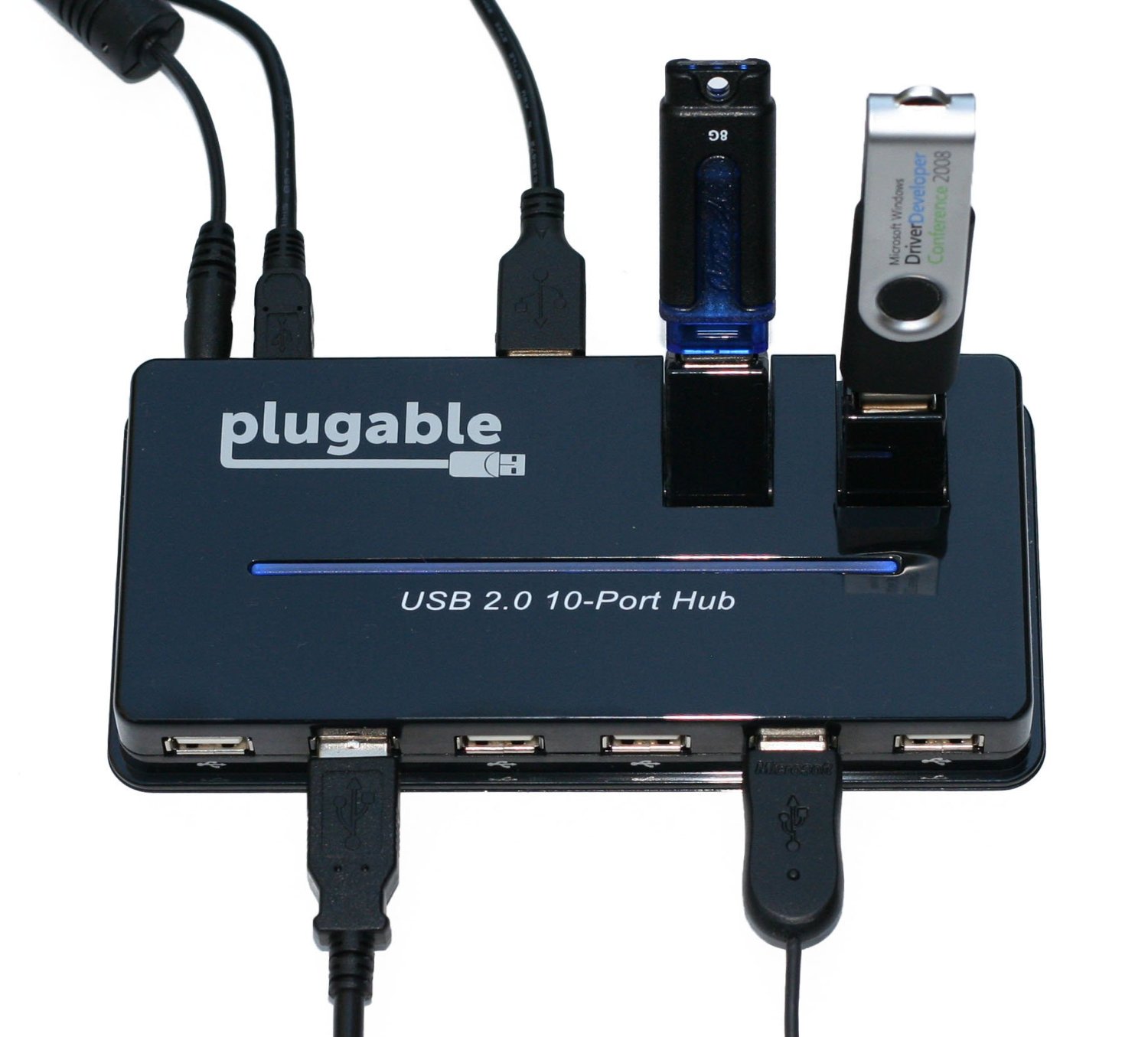 This hub can either be plugged into your computer, or plugged into a 100-240V 50/60Hz socket. Although the hub runs USB 2.0, it is also forward- and backward-compatible with USB 3.0 and USB 1.1. It is fully plug and play, and can transfer data at speeds of up to 480 Mbps. Two ports are also designed to flip up to a vertical position to make it easier for you to plug in flash drives.
Monoprice USB Hub
This gives you the basic necessities, with seven USB 2.0 ports that you can use to charge devices and transfer data. It also includes an external power adapter, which means that you can use it even without being plugged into your computer. The design is just a little bit bulky though, but if you have a lot of extra space, then this works pretty well for your basic USB needs.
Make work a lot easier by having all your peripherals and devices plugged in at the same time. Try any of these USB hubs and never worry about having to unplug stuff when you need additional USB ports again.