Last Updated on January 20, 2022
Few people might get excited thinking that it is shoulder day. However, many tend to dread it. Focusing on your biceps and triceps only wouldn't give you the body of your dreams.
Every inch of your body needs to be proportionate. And shoulders are an essential part of it.
The advantage of doing shoulder workouts is that it won't limit the gains. Many people believe that the width of the shoulders helps in creating the illusion of size without doesn't have to do anything with heaviness. If you want to look great physically, you need to pay close attention to your shoulders.
Apart from appearance, shoulder strength is also essential for pulling and lifting, things we do regularly every day. The shoulder joints are also known to be quite suspectable to injury. And the best way to avoid them would be to keep the muscles strong.
If you have weak shoulders, let's look at some of the exercises that can help in improving your shoulder strength.
Dumbbell Push Press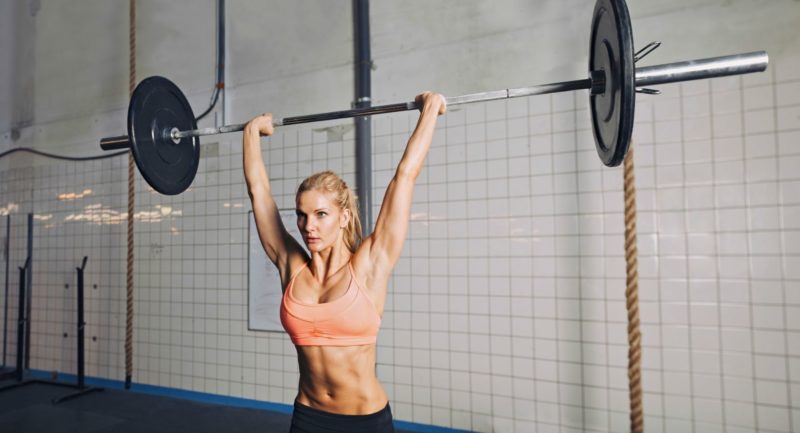 Few exercises are known as multitask lifts, and one of them would be the dumbbell push press. It is a great exercise that will include a partial squat for building explosive power that also incorporates legs. You will have to remain in an athletic stance with a shoulder-width apart distance.
The dumbbell should be in both hands and should be positioned in a way that they do not rest on the shoulders. You will have to lower into a half squat position and then push the dumbbells in the air.
Practicing this exercise can be very useful in helping you lift more weight. However, you need to be careful when performing this exercise, as it could also result in an injury. As this exercise has your legs involves, it will reduce the stress on the shoulders significantly.
Clean and Press
If you want to build great shoulders, you will have to do a lot of strengthening. One of the best ways of doing so would be by doing shoulder lifts. Clean and press is also known to be a great way to lose weight, and it works on different body parts.
By doing this exercise, you will be engaging your triceps, quads, hamstrings, glutes, calves, abs, and shoulders.
For performing this exercise, you will have to keep a shoulder-width apart distance between your feet and pick the barbell from the ground. You need to bend your hips by lowering your body into a squat position. The arms need to be spaced wider than the hips while keeping the barbell close to the body.
You will have to then extend the knees and hips for lifting the bar from the ground. Once the barbell is above the knee, you have to jump and shrug at the same time and catch it when it reaches the shoulders. Your abs need to be tight with legs planted firmly to the ground while you push the bar overhead directly. Do it right from the start for a couple of reps.
Seated Dumbbell Press
Heavyweights are known for leading to great gains, but the results are much better when there are more repetitions. If you plan on builder bigger shoulders, you should go for moderately heavyweights in this exercise. With lighter weights, you will be keeping your form intact as well as go for more repetitions, which is necessary to derive success in a training program.
You can sit down on a bench that has back support and use it for raising the dumbbell above the shoulders. Your legs can be helpful, but do not go for hefty weights. You will have to rotate the hands so that your palms start facing forward when you are extending your arms till the ends of the dumbbells are almost about to touch. You can pause for a bit and lower the weights.
Lateral Dumbbell Raise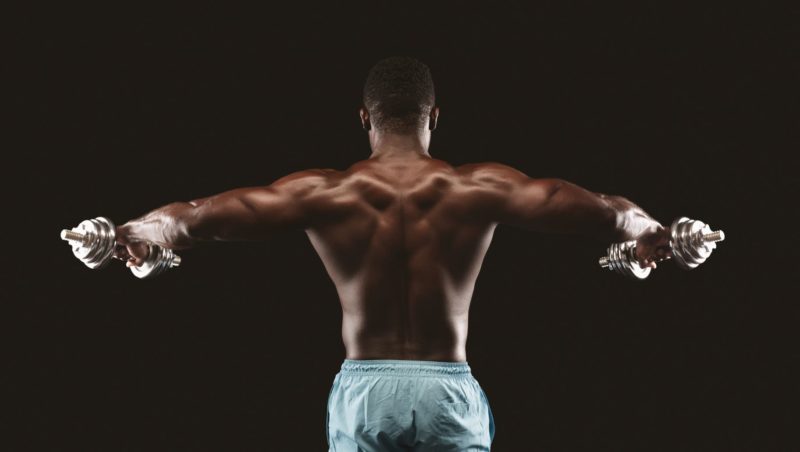 It doesn't matter which muscle you want to target. Every exercise is known to engage muscles in groups. When you work on shoulder strength, you will be focusing your energy on deltoids, which has three muscles.
You will have to pay equal attention to all the muscles in order to maintain the strength as well as avoid any form of a shoulder injury.
If you plan to engage the medial deltoid, one of the best ways would be to do the lateral dumbbell raise. You will have to maintain a shoulder-width stance and hold dumbbells in both hands with the palms facing inward. The arms need to be raised straight towards the sides in a very controlled manner.
It should be done until the weights reach the height of the shoulder. Once you reach the position, you can pause for a few seconds and go back to the starting position. It is an exercise where you need to pace yourself. Instead of going fast, you will have to be slow and steady.
Conclusion
These are four of the best exercises that you can include in your workout regime in order to make your shoulders strong and steady. Don't let the instructions scare you. Try them out, and ask your trainer for help if you face any difficulty.
People make use of supplements to enhance their performance during workouts. If you are looking for one, you give SARMs a shot. You can find the best SARM products at Select Sarms. Check them out!