Last Updated on March 8, 2022
In the world of websites, no two projects are alike. Every project is unique. Each website is designed with a specific designer's style, skills, and goals in mind. And even though every project is different, every designer believes he or she is the most skilled at designing their site and sourcing all their web needs for it.
If that were true, articles like this would not need to be written. But since it's not true, I'm here to help you navigate the resources web designers need by exploring the many tools that are available. Today we'll be looking at web builder themes, hosting providers, resources like fonts and vector images, as well as stock photos and icons. We'll also cover project management tools, Photoshop to HTML services, and e-commerce options.
Website Builders
 
A good website builder will properly facilitate all your creative energies as a direct reflection of the quality of your work. You should be able to create beautiful, unique websites without having to deal with HTML coding. With this in mind, an excellent source for designers is ALLYOU. In addition to being incredibly easy to use, their site offers a large selection of professional and stylish portfolio templates.
Founded in 2011, they are open to everyone – not just web designers. Without needing a lot of website training, you will find their site easy to use. There's no need to work in complicated HTML for your projects when using their services. You are able to customize each template into a unique and exciting portfolio that will be perfect for you. The best part is their services are free, which makes building your website not only painless, but affordable.
Webydo is a professional web suite that enables graphic designers to create and manage exceptional HTML websites, without writing code. With this sophisticated online software, designers can bring any design to life, and with a click of a button, publish an advanced HTML website with a friendly built-in CMS for the website owner. Webydo has recently introduced a parallax scrolling animator making it even more easier for graphic designers to create pixel perfect websites.
An almost overnight success,Wix is another popular web builder site that's really taking off. This cloud based tool is simple to use and really allows you to deploy your creativity to the max. The best part of course is that it doesn't require you to know any HTML in order to accomplish this. In addition to their excellent features, they also offer tie ins with 3rd party applications to enhance your templates. These will give you access to social plug-ins, contact forms, e-commerce, and even email marketing.
WordPress themes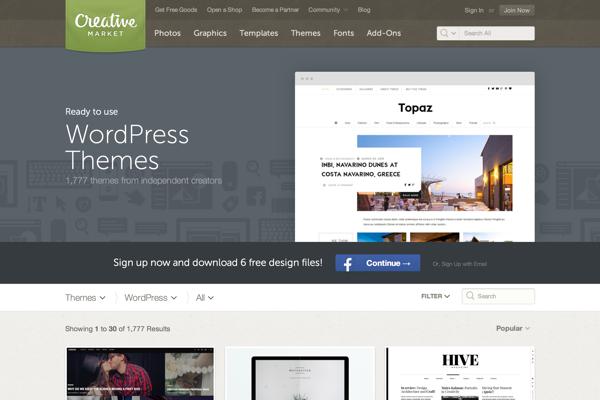 There's nothing more versatile than the themes offered by Themeco. You might be looking to build a professional portfolio, a blog, or an online shop. Regardless of what you are looking for, X-Theme has the template for you! There are a lot of options out there, but X-Theme is unique. One of their best features is their "stacks" feature, which allows you to build basically unlimited designs. With X-Theme, it's all about finding the right theme for you and then creating the template that you need. Another important aspect of X-Theme is that it gives you the ability to perform live edits with their live preview feature, a feature that is extremely handy.
For the biggest selection of website builder templates on the web, look no further than Template Monster! They have over 20,000 templates – literally! Regardless of the format you're looking for, they have an option for you – HTML, CSS with built in flash, Photoshop, you name it, they have it! No matter what size company you are designing for, they are a valuable resource. They have two options for how you can use their services – one option is a limited use license, and the other is a unique license, which is cool because it makes your site exclusive only to your purpose!
We would be remiss if we didn't include this last service in our list. Another source of fantastic WordPress theme sites is CrocoBlock. They have an extensive selection of WP themes, including eighty responsive templates. Their themes are incredibly easy to navigate and their features are not difficult to master. Regardless of what you're looking for, they have versatile tools that will help you build a variety of pages, from a portfolio to a blog. They keep their services up to date with frequent updates and include lots of great enhanced features like short codes with integrated plug-ins and built-in SEO tools and widgets.
Hosting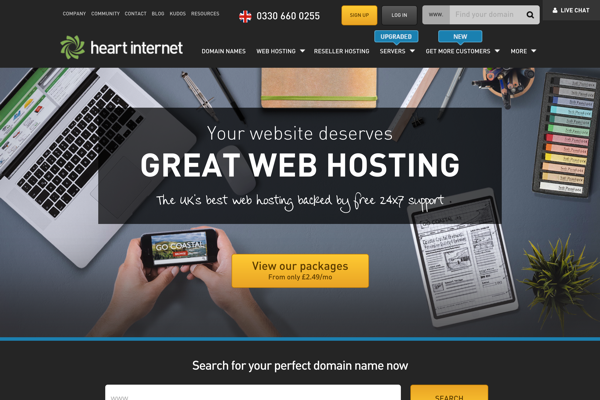 Pixeno, another UK based company, also offers first rate hosting services. Their site is very easy to use and even allows you to try their service for thirty days commitment free. They also have a re-seller hosting platform that is flexible for clients of all sizes. Equiped with a cPanel account and a web host manager, each client is really set up correctly with Pixeno. They are currently expanding to the US as well! Lastly, you can take advantage of a great deal for their services by using the coupon code "DESIGN15" and receive a 15% discount. Enjoy!
Once you find the best website builder for you, your next responsibility is to find a reliable hosting service for your website, emails and applications. For this, look no further than HeartInternet. No matter the size of your website, they can be a great resource for you. Their service is top notch and they provide 24/7 support. All their labor is based in the UK – they don't outsource any of their services.
Design deals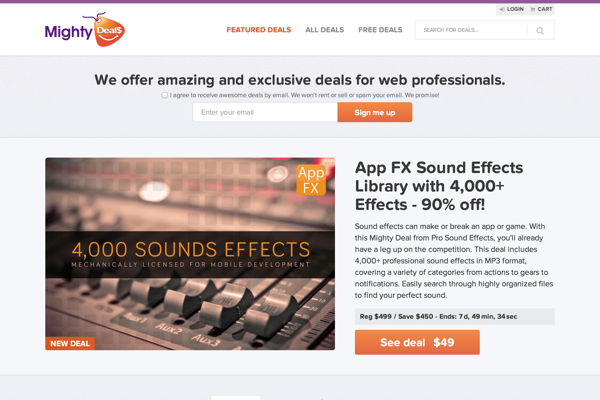 For an awesome deal, take a look at Might Deals – chances are, they have exactly what you are looking for! Once you sign up for their frequent newsletters, you will be in the loop on when they are running special deals. Discounts range anywhere from fifty to ninety percent off their awesome services, like professional templates, software tools, art files, images, even website development lessons! You'll have to act fast though, because their deals are only available for a limited time. Best of all, their service is 100% free!
There are lots of excellent free services on the web, but don't be turned off by excellent services that are only available for a reasonable fee. Such a service is Medialoot. For either $14 a month or $99 a year, you have unlimited access to their huge selection of resources. Their project selection is also vast in its variety – they offer mobile friendly design kits, icons, fonts, web, UI and vector kits, illustration kits, icons, and a huge selection of Photoshop add-ons. Take a look at what they have to offer, you won't be disappointed.
Font resources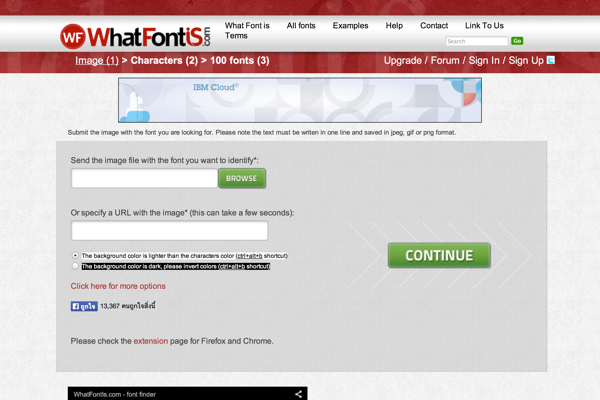 There are many dynamic aspects of a great website, but a good font is second to none. Without the right font, the rest of your site will not have the right impact on viewers and leave them wanting more. Never fail to disappoint with these great fonts you can find on UrbanFonts. Their fonts are all incredibly stylish and crisp. With over 8,000 free fonts for your pleasure, they also offer thousands more with their paid premium option.
You have fallen in love with the perfect font but you have no idea where to download it? Don't worry, I have the solution for you: WhatFontIs. When you're stuck in this mess and things look bleak, WhatFontIs is where you turn for the solution. This one of a kind tool will save you tons of valuable time, and connect you with the font you crave. Besides solving this problem, it's also very easy to use. You can either enter the fonts URL location into their site, or you can provide them with a basic screenshot. It's really an awesome service.
Vector resources
Fonts aren't the only thing that play a critical part of your project. You can't forget the importance of beautiful images. And when you're looking for hot vector files, look no further than Shutterstock. One of my personal favorites, their site is an awesome resource. Best of all, they are always adding more content to their collection.
Even better than great paid vector files is FREE vector files, right? This is when you turn to Vector Open Stock, for a huge selection of free vector files – they have over 7,000! The only drawback to their site is that some of their items are subject to a Creative Commons license, which means that their use is limited. However, they have plenty of images for you to use under an Open Stock license. Additionally, they offer their users the change to follow and like each work.
Stock images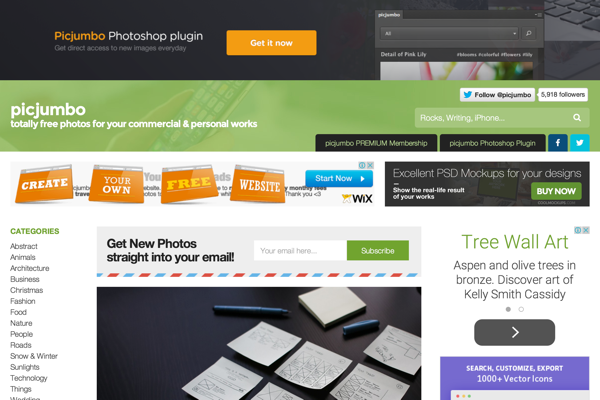 Not to be forgotten, make sure to take the time to look through what PicJimbo has to offer. They have some really cool unique looking images in their collection that are top quality and creative. They offer a premium service for only $6 a month, but the majority of their images is totally free to use. Be sure to check them out, you won't be disappointed.
When you're struggling to find the right images for your site, look to Unsplash for the solution. Instead of spending hours searching through art that is frankly not that good, take a stroll instead through their fetching selection. Their content is really first rate, and they keep it up to date by frequently adding new contributions every ten days. For your convenience, their images are license free, which means they can be used by anyone and provide the best options of image flexibility.
Project management
When it comes to designing a website, there are few things more important than organization. Without the right tools, you can find yourself and your project in hot water! For your project management convenience, look no further than Azendoo. Their service is very flexible and offers you not only a desktop option but a mobile one as well. Their free version is extensive and easy to use, but they also offer a paid version, with additional features you might enjoy, as well as extended storage capacity. Additionally, they integrated their service with other providers like Evernote, Google and Dropbox. Being able to sync all your software makes their service even more powerful and easy to use.
Let's face it – web designers don't make the best project managers. If we did, then we wouldn't need services like Casual. Their service is visually orientated, easy to use, and simple – you won't have any trouble jumping right it and putting it to use for your projects. Their interface is incredibly user friendly and really designed for the creative minded. With their unique "mind map" feature, your able to easily plot our your project with total control.
Icons
For one of the best sources in icons around, check out Picons! When you visit their site, you will find a huge selection of cool icons that will dress up your website – their collection is crisp and unique. Since they were created with Adobe Illustrator, all their icons are vectorized. This makes them easy to use and totally flexible. Best of all their service is totally free. You can also keep up with their latest promotions by following them on Twitter.
There are few better sources for icons than RoundIcons. With a huge selection, their variety is unmatched – they have over 5,000 icons! Chances are very small you won't be able to find what you are looking for, their selection is really comprehensive. In addition, their files are available in a variety of formats for ultimate flexibility. Best of all, their icons have an extended license, which means you don't have to worry about how you use them. Also, once you purchase a set from them, any items they add to the set after your purchases are mailed to you at no additional charge.
PSD to HTML services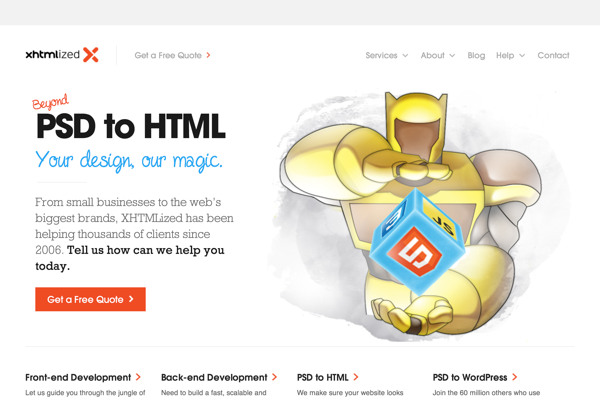 After the challenge of creating a unique, awesome website in PSD, do you really want to take the time to convert it into HTML? Of course not. That's why there are services like Direct Basing that can do the hard work for you. They are an excellent source for PSD to HTML conversion and are definitely one of the fastest. They are able to work with a variety of templates, from Magento eCommerce to Joomla to WordPress. Their coding team is top notch as well. Additionally, they will optimize your website during the conversion process, and offer you a ton of project layouts and JavaScript features.
When searching for PSD to HMTL conversion services, we know it can be a little overwhelming. That's why services like XHTMLized make your life so easy. Without a doubt, their industry experience is unmatched. With over ten years developing experience under their belt, you cannot match their quality – it's second to none. Even better, once you sign up with them, you sign a non-disclosure agreement so that your data and property are protected. You can expect the best quality and attentive service from XHTMLized as well – they make the entire conversion process easy and affordable.
E-commerce solutions
If all you need is an e-commerce plug in for your WordPress site, look no further than WooCommerce. For no money down, they will help you create a versatile e-commerce site. No matter what industry you are in – apparel, music or sporting goods – they have the right template for you. We know it can be difficult to find a viable e-commerce option, which is why we fully endorse WooCommerce.
There's really only one name you need to know in e-commerce solutions: Shopify. They have truly the best e-commerce available for the most affordable price, not to mention the free seven day trail they give you to try their service out – commitment free. Their platform is exactly what you are looking for – for your big and small clients. You won't have to mess with difficult HMTL to create a fantastic store with their service – their templates and features are incredibly easy to use. Speaking of their templates, their selection is huge – I'm confident you will find what you're looking for with Shopify.