Last Updated on October 4, 2021
With the coupons business touching a new sky of success, more and more individuals and enterprises have started investing their time, money and efforts into building a website that can deliver excellent deals to different sections of consumers.
If developing an eye-catchy coupon site is on your mind then WordPress can serve as the right platform for initiating the project. In this post, I've listed effective WordPress themes and plugins that allow you to add an elegance to your coupon site. So.. Let's take a look, shall we?
First, let's take a look at some WordPress themes specially designed for WordPress powered coupon sites.
1. ClipMyDeals Coupon+Cashback Theme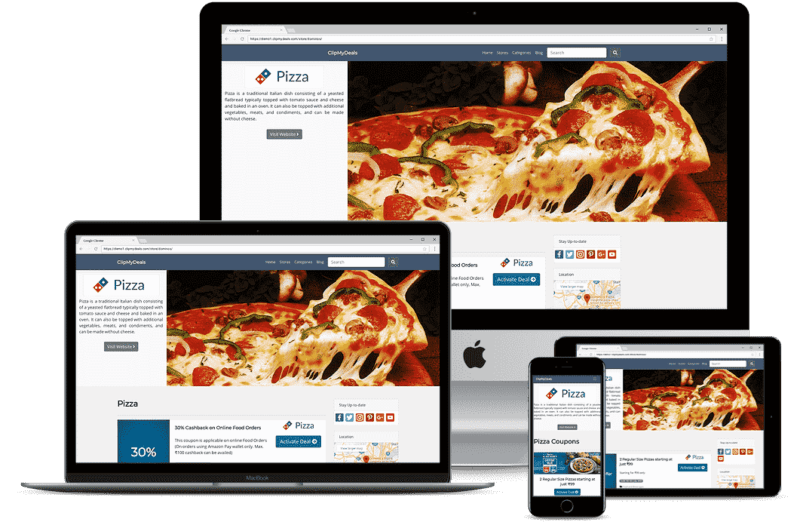 ClipMyDeals is one of the latest themes in the market and solves many of the common issues with older themes. Most importantly, it is the only theme which comes with a "Cashback" plugin. So you can start giving cashback to your visitors which exponentially increases your
loyalty
. ClipMyDeals also comes with a free Android App (white-labelled with your logo), so you don't have to spend extra on developing your own App.
Here are some of its unique features:
Cashback Plugin
Free Mobile App
Coupon Feed Integration (Free 30-day trial of coupon feeds from LinkMyDeals for selected countries)
Lifetime Support & Lifetime Updates
Different color for each store's page
RTL Support and Translation-Ready
100% WordPress standards, so you can use any WordPress Plugin without worries
2. Clipper
As a premium WordPress theme, Clipper lets you have a visually appealing coupon website, without the need for putting in excessive efforts. Backed by a simple design, Clipper doesn't include any major embellishments. Some impressive features included with this WordPress theme are:
Custom Email Templates
Advertising support for effective site monetization
Advanced Link Cloaking and Tracking
Subscribe to Coupons via Email
Custom Coupon Management and many more.
3. Couponer
Couponer is a custom-made WordPress websites designed to offer daily deals, discounts, and coupons. Built on the Bootstrap framework, Couponer is fully-responsive and retina-ready. The option of setting up Daily Offers with Time Counting enables your users to stay updated about the expiry date and time for the available deals.
4. Deals by ThemeJunkie
Deals is yet another robust WordPress theme that comes loaded with an individual blog section, where you can easily upload and share all the latest news and updates regarding the coupons and deals offered.
Plus, you can also opt for adding a submission form which can be used by website visitors for submitting innovative discounts and deals. As a fully-responsive WordPress theme, Deals enables you to turn your plain coupon website into a tool that can help you earn higher affiliate commissions via vouchers, coupon codes, promotions, and printable coupons.
5. Couponize
As a powerful, contemporary WordPress theme, Couponize is fully-responsive and allows you to offer impressive coupons and discounts to your site visitors in a unique style. This WordPress template lets you neatly showcase various promotional codes, coupons, and discounts from different brands and companies.
Now, let's have a look at some great WordPress plugins custom-built for coupon websites
1. WP Coupon 2.0
This is a simple WordPress plugin which comes loaded with some great features such as: Complete Affiliate Link Management System, support for third-party advertisements, and Sponsored Categories. Whether you're interested in adding coupons to your existing WordPress website/blog or want to run a complete affiliate coupon site, WP Coupon 2.0 plugin will let you do all this and a lot more.
2. JC Coupon Lite Plugin
This is a WordPress plugin that offers easy coupon management via the use of shortcodes on your site posts and posts. As a free to download and install WordPress plugin, JC Coupon Lite offers you the convenience of setting an expiry date for coupons. That means, when a particular coupon passes the set expiry date, it won't be shown to the user in the front-end.
3. Coupon Creator
As a free WordPress plugin, Coupon Creator allows you to create new coupons, in addition to displaying them on your pages/posts via the use of shortcodes. This plugin offers you complete flexibility of customizing the look and feel of your coupons.
You can also choose to create a link for opening the coupon details in a new window, thereby helping in printing the respective coupon code. Last, but definitely not least, you can create a separate Coupon section which would aid you in finding coupons that need to be removed or modified.
Wrapping Up
So now you know them better; the finest WordPress themes and plugins that serve as the right fit for your WordPress coupons website. I hope this article has opened your eyes and helped you decide on a specific theme or plugin. So the next time you plan to create a coupons site or are supposed to moderate things for your existing website you know where to look. Good luck!