Last Updated on May 5, 2020
Automatic transcription services are a welcome relief for digital newsrooms where every minute counts. The tools are also invaluable resources for freelance transcriptionists who're looking to boost their income by transcribing maximum audio and video files within the least expense of time.
Contrary to what you may think, automatic transcription software are nearly as accurate as manual transcribers. While they mostly use AI, some of these services are also human-powered, which further boosts the speed and accuracy of the transcription process.
Besides speed and accuracy, an ideal automatic transcription software should also be affordable, easy to use, and offer various ways to export your transcribed files. If you're looking for a tool that delivers across those parameters, your search ends here.
The following is a rundown of the most innovative automatic transcription services in 2020.
Trint is one of the most popular automated audio and video transcription services that's recommended for digital journalists, and there are numerous reasons for that. Most notably, Trint is powered by artificial intelligence, which makes it suitable for new digital companies who aren't able to invest in human resources yet.
As soon as you upload your audio or video files into Trint, the software converts them into searchable and editable transcripts. Trint ensures that every part of the transcript remains glued to the original audio or video file. That way, you can verify the accuracy of various parts of the file without necessarily leaving the software's online editor.
The app also comes with a vocabulary builder tool that lets you upload a list of unconventional terms, including uncommon English names, proper nouns, and other technical words.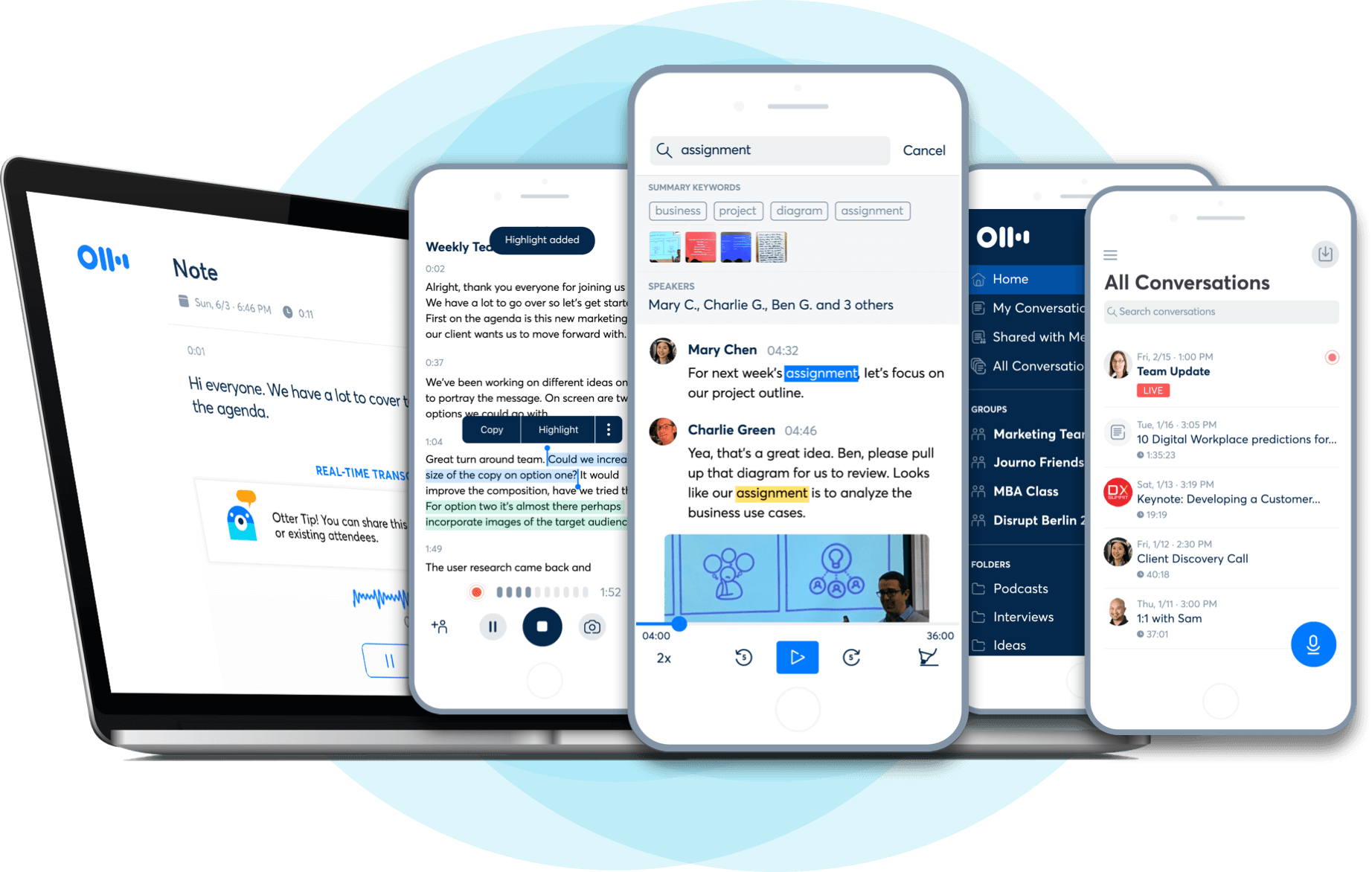 Otter is more of a note-taking and collaboration service than it is a transcription app. And at first glance, it's easy to miss its automated transcription features.
As an automatic transcription app, Otter is suitable for people with limited monthly transcription projects, which may come as a drawback for some. But it's the software's top-notch accuracy and speed of transcription that makes it one of the go-to automatic transcribers out there. Every month, Otter gives you 600 minutes worth of free transcription.
It's incredibly user-friendly too. You can import your files directly from your phone, computer, or even another service. And just like Trint, you can train Otter to recognize non-English terminologies and technical terms.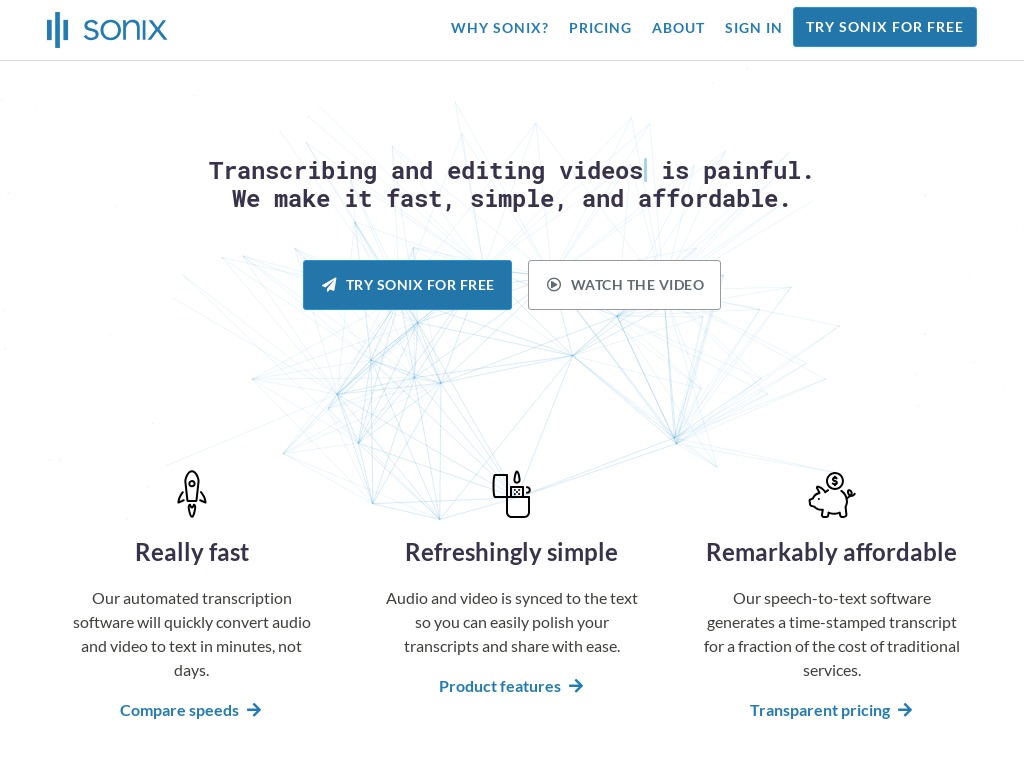 Like most innovative automated transcription services, Sonix prides itself on its intuitive user interface as well as high transcription accuracy. The software is powered by AI, which means that every file you import is transcribed and then organized into a searchable format.
Fast speed is another noteworthy feature of Sonix. The app can transcribe a 30-minutes audio file in about four minutes or less. Sonix also comes with an editing studio where you can fine-tune your transcripts to ensure they are as accurate as possible. And as you transcribe your files using Sonix, the tool indexes every word, allowing you to refer back to those words at a future date.
The only notable drawback to Sonix is that it's exclusively web-based.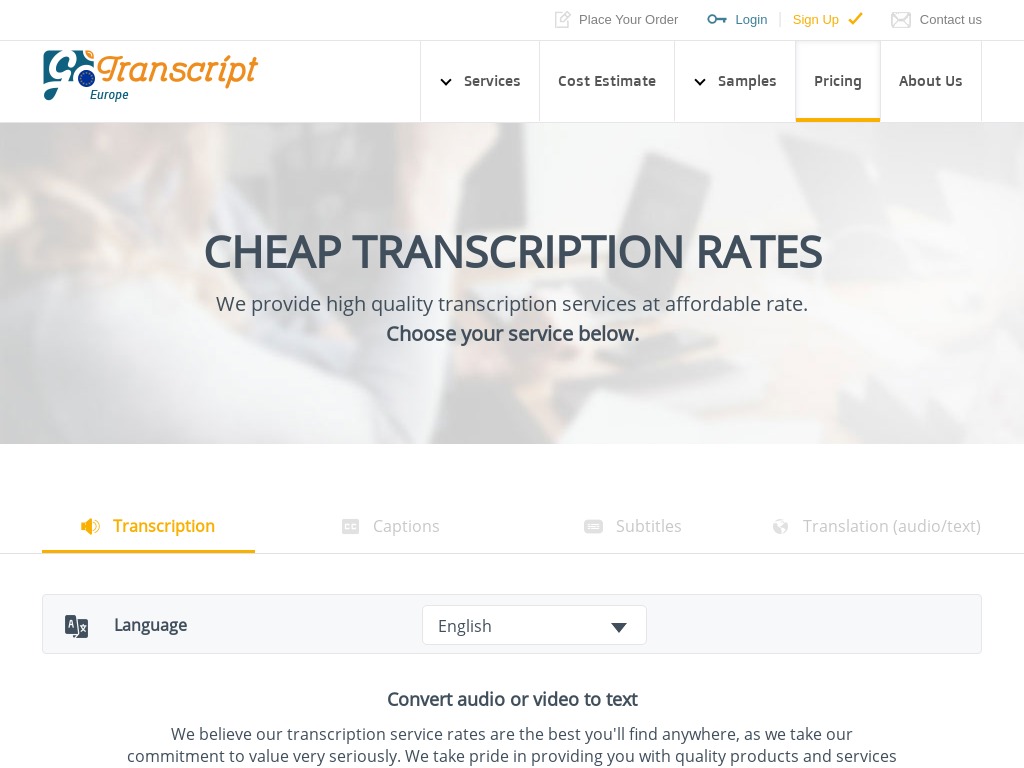 GoTranscript is one of the few automatic transcription software out there that cater to more complex transcription projects. The tool is particularly helpful with scientific, technical, and STEM academic projects, where word accuracy means everything.
Another thing to love about GoTranscript is its incredible turnaround, which generally ranges between six and twelve hours for its fastest service. Well, that's reasonably fast, considering the app mostly relies on human-powered transcription.
GoTranscript is easy to use too. You simply upload your files through the web, link, or other application. Then, you pay online through PayPal, credit or debit card. After that, you can have your files transcribed in as little as six hours.
Transcription Panda offers both automated and human-powered transcription. For both automated and human transcriptions, the service promises its clients top-notch accuracy, an intuitive dashboard, and flexible options.
Transcription Panda subjects most transcripts through a two-step process to ensure higher accuracy. And to shorten the turnaround for longer files, the tool splits the project into different parts. Transcription Panda may not have a web editor. However, a manager reviews every transcript and fine-tunes it to the client's specifications. To guarantee the safety of your files, Transcription Panda's transcriptionists work under strict non-disclosure agreements.
One notable drawback, though, is the fact that you must submit a ticket to have your files or account deleted.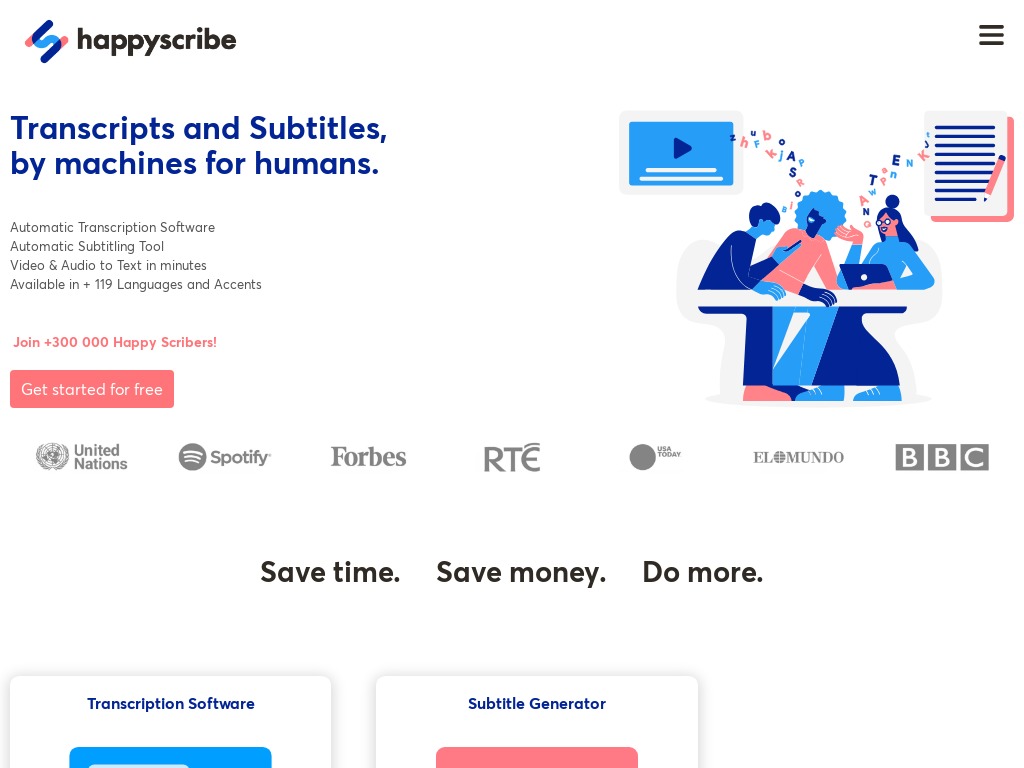 Happy Scribe transcribes both audio and video files into text, then allows you to export the transcripts into various formats, including Word, PDF, or TXT. This software doesn't limit the size of the audio or video files that you can upload. But regardless of the file size, Happy Scribe dispenses with most transcriptions in a matter of minutes.
The integration of Happy Scribe Interactive Editor allows you to edit your transcripts before exporting them. And as you edit the transcripts, you can leverage Happy Scribe's heatmap mode to know the specific areas where the AI struggled transcribing the files. That saves a lot of time, as you can then focus your editing around those areas.
Caveat: If you intend to use Happy Scribe, avoid uploading heavy files that contain background noises, heavy accents, or incoherent words.
Descript merges the benefits of automatic and human-powered transmission, ensuring a fast turnaround and high accuracy.
As soon as you upload your files to the platform, the files are immediately uploaded to Descript's servers and then transcribed. And once the transcripts are ready, you can collaborate on the files with your team using the service's cloud-based system.
One of the best things about Descript is that it grades every transcription in terms of accuracy. The White Glove service guarantees the highest accuracy. But as you shall find, most transcriptions by Descript are near-perfect, regardless of the service that you choose.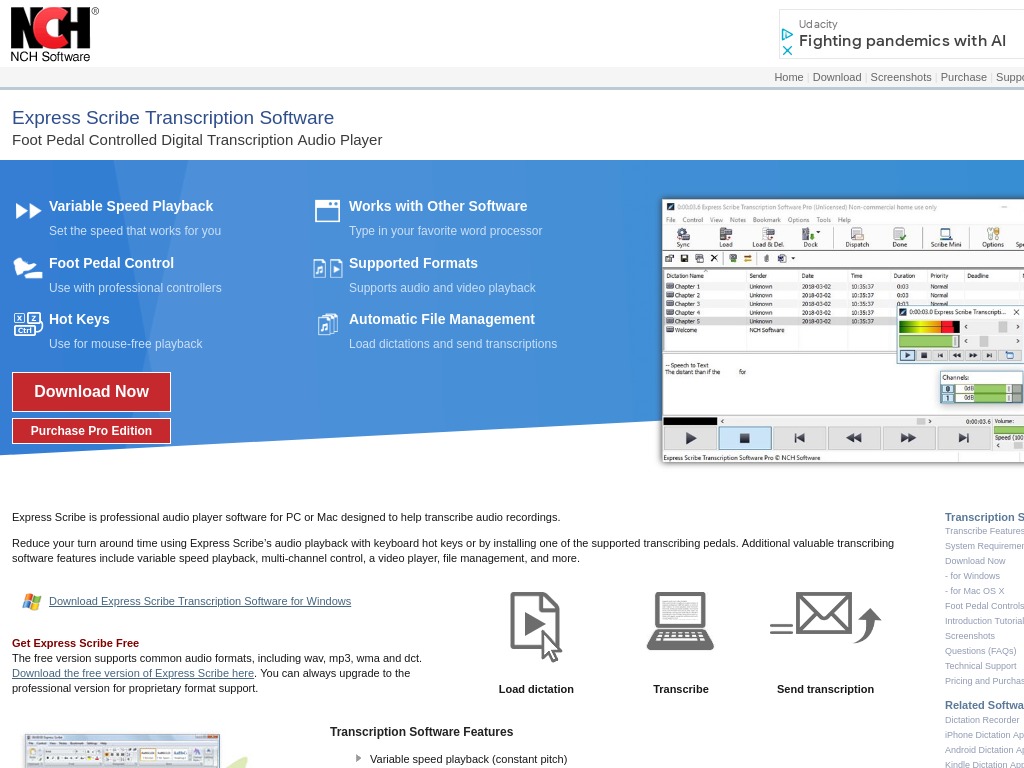 Express Scribe offers a user-friendly dashboard and comes with a wide range of hotkey controls that guarantee better speed and higher efficiency. The software is compatible with both PC and macOS.
Once downloaded and installed, you can control the entire transcription process using your device's keyboard, or by linking it to a foot pedal. The software is available in a free and paid version. While the paid version comes with more premium features, the free version is nearly as effective, as it includes a foot pedal support and can play various audio file types.
Last but not least, there's an option of adjusting the playback options for your audio files, depending on your typing speed.
Like Express Scribe, you'll need to download and install The FTW Transcriber to access its automated transcription features. After downloading it, you can proceed to enjoy the service's high-quality audio playback for smooth and hassle-free transcription.
As you transcribe your audios and videos using The FTW Transcriber, you can automatically add timestamps and frames to those files. The tool also saves various timestamp as well as hotkey settings for use by different clients.
Other noteworthy features of The FTW Transcriber include compatibility with all word processors, flexible timestamp formatting, hotkeys for popular transcription services, and friendly support. What's more – the service plays your transcripts either directly on your local drive or remote servers without necessarily having to download those files first.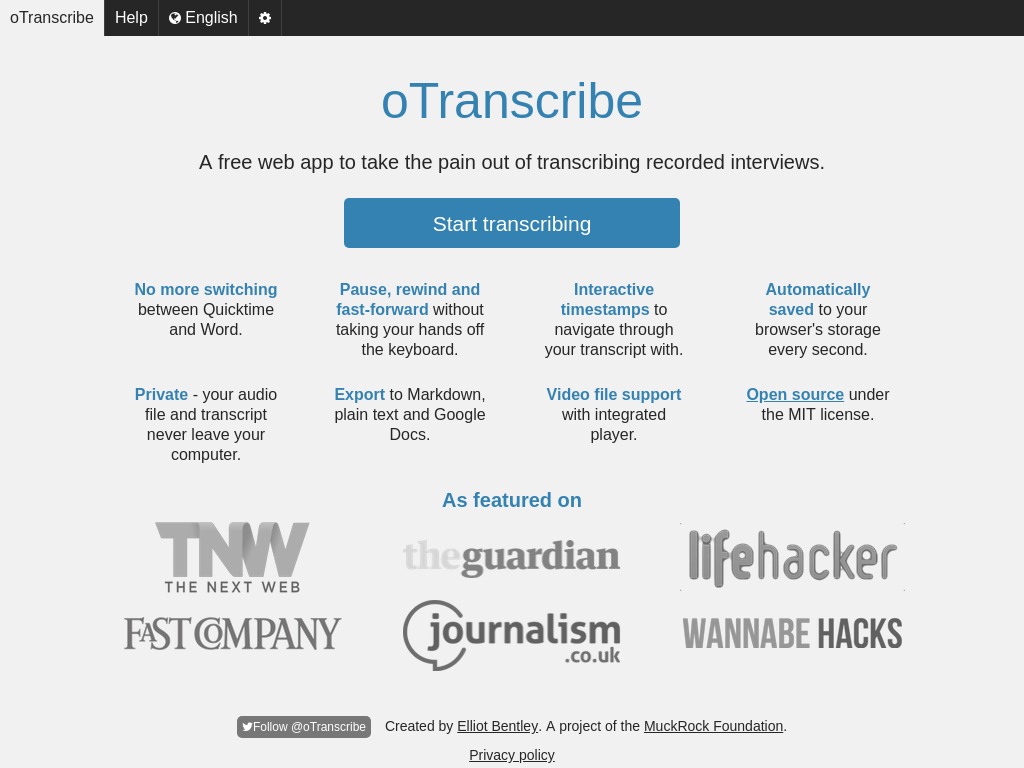 OTranscribe comes ready-to-use on your web browser, saving you the hassles of download and installation. But that' not the only thing to love about this automatic transcription service.
With OTranscribe, you can control both the audio player as well as the text editor on the same web page. Therefore, you don't need to click anywhere on the screen to stop an audio when you've missed something.
Also, you can control nearly every function using your keyboard, ranging from transcribing your audios to rewinding them, placing timestamps, etc. Another admirable feature of OTranscribe is the fact that it saves your progress on the go.
To get started, upload your audio or video file directly from your device or through the file's web link. Then, the player sits to the left of the text box, allowing you to work in one window.
Conclusion
Audio and video transcription doesn't have to be a painstaking process. Not when there are plenty of automated transcription services that get the job done fast and deliver incredible accuracy levels.