Last Updated on January 24, 2023
Transcription services are one of the most underrated and underutilized tools in the current business market. They have a high variety of features and functions that can save businesses or brands both large and small time and money. They are a more hands on upgrade to the basic dictation service.
They also offer a manual review process, allowing for higher accuracy and greater user satisfaction. Depending on the nature and necessity of needing audio to text transcription done, it can prove to save a company money in spite of being a relatively expensive service in itself. Gone are the days where companies would need a person to listen to a full 30-minute meeting and type up the contents themselves.
Today, we have far less labor-intensive software and companies to do it for us. What this article looks to do is understand why you might want to use a transcription service, what to look for in a transcription service and offer a list of services that you or your business can utilize and see which ones may best be suited for you.  
Why Use Transcription Software?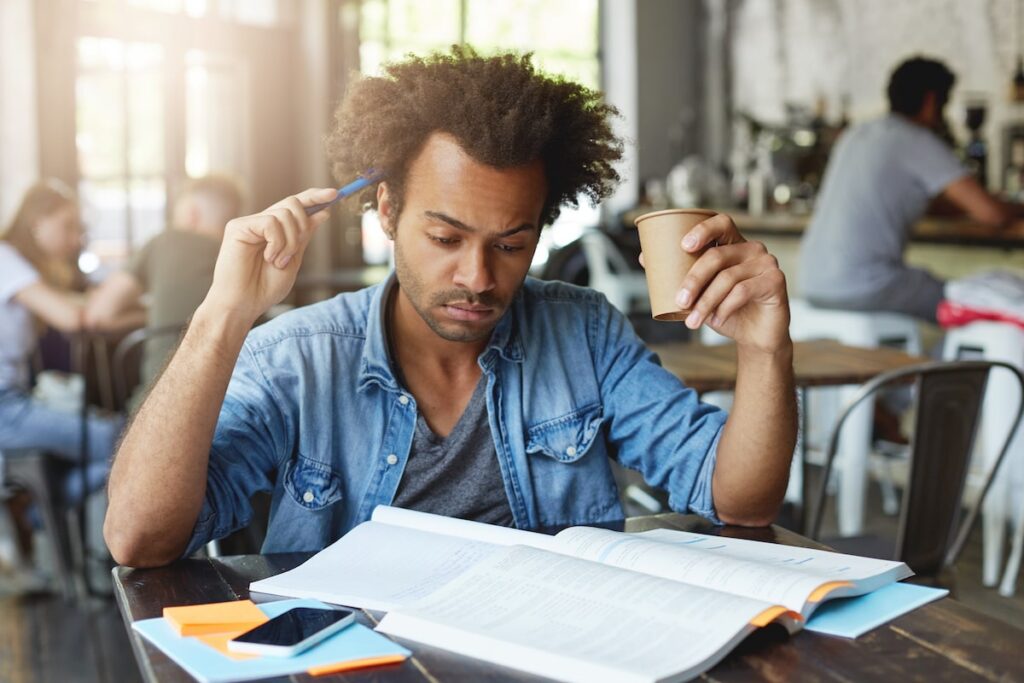 Time is money, not just in business, but for us as individuals also. There are a variety of scenarios in which purchasing the services of transcription software can prove to be useful: 
A business may need the minutes of a meeting transcribed without having to get an employee to do it. This allows the workers to focus on other aspects of the job. 

You may be a YouTube content creator and want a transcription service to add subtitles or captions to your work.

You may have your own podcast and want the podcast content written up and put on to a PDF or a Word Doc for your listeners. 

Businesses may need it as a means to have written proof of interviews or calls. 
What to Look for in a Transcription Service
Value
This is a big factor, mainly because the rate per minute can vary greatly depending on the software and its capabilities. Shopping around to find the right software to suit your budget is ideal. If you are new to transcription and are unsure whether to pay $0.10 per minute or $1.50 per minute, it is always best to look at reviews and find a happy medium to ensure quality. This list will offer a spectrum of price points to give you an idea. 
Features
You may need a transcription service that can translate or offer subtitling features for videos. You may need text to speech or text to text transcription also. Finding the right service that can offer these features should be a priority and they do exist. However, for the most basic transcription services, research to see if they do exactly what you need. Are they AI based software or human based services? Maybe some are both and if they are, perhaps you or your company can utilize this. 
Competency
As well as value being a key aspect behind choosing a gourd transcription service, eh service that has a high error rate when transcribing or bad customer service it's not going to be worth your time. If you do pay for a service, you want it to make less work for you or your company. So, it is crucial to stress the importance of shopping around once again and reading reviews on a product before you commit. 
The List 
Scribie is a very solid service to start with, they offer both a manual and an automated transcription service and both have their pros and cons. For automatic transcription, expect to pay about $0.10 per minute. There is a super quick turnaround of just 30-minutes for automated transcription, however, the accuracy ranges between 80-95% and that is only dependent on their being no accents or background noises.
Accented speakers are translated 75-80% accurately and poor audio will result in just 60% accuracy. If you are looking for speed and are confident in the quality of your audio however, the automated feature and price is one of the best you will get on the market. The manual service, however, is Scribie's flagship transcription tool. Expect 99% accuracy and a 36-hour turnaround as well as general competency in its quality.
However, there are a lot of added charges. For example, accented speakers, background noise or poor audio will set you back an extra $0.50 per minute each! That's on top of the $0.80 price tag the manual service charges already.
Scribie is, in general, a good tool. It is easy to use and offers competitive pricing, particularly for its automated service. It does have a lot of extra charges though that can add up if you are not extra careful with your audio. It is a good choice for both large and small businesses as it offers accuracy and competency. Just beware of the price increases.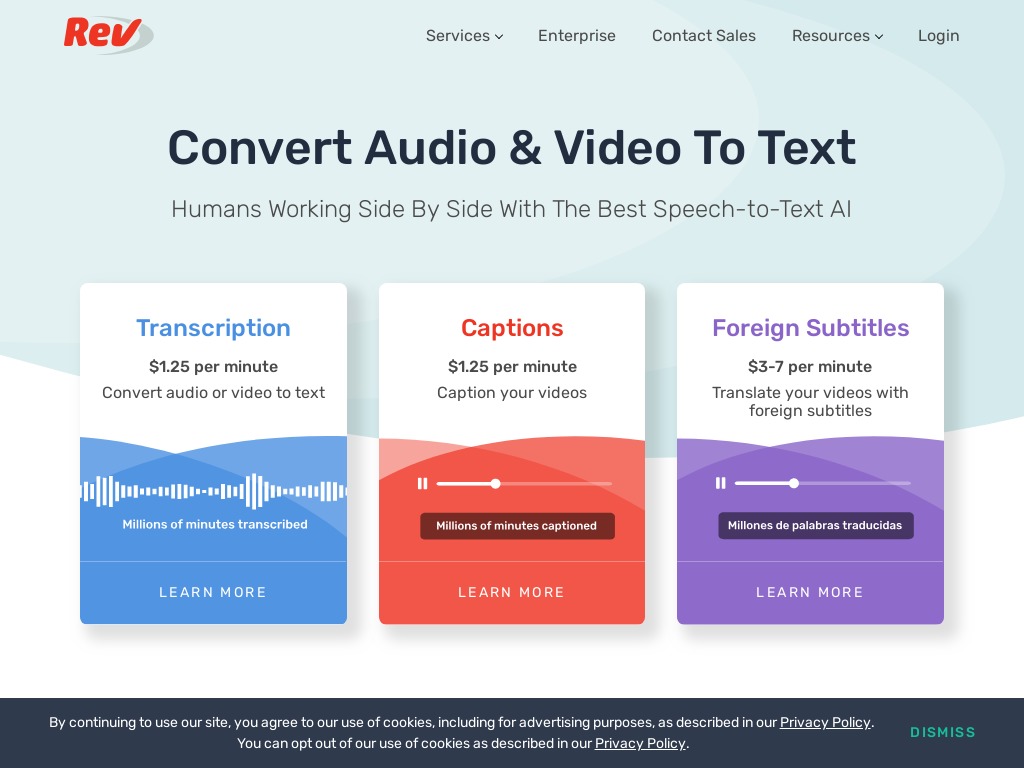 Rev is a very solid transcription service that offers a wider variety of services than Scribie does. For example, it offers captioning, subtitling, and foreign translation. However, those services do come at a larger price point. The basic transcription tool that Rev offers is well priced and accurate, at $1.25 per minutes you get a combination of human and AI transcription allowing for high accuracy and quality.
The service itself is trusted by media companies like CBS, universities like Duke and UCLA, as well as legal and marketing businesses like the Department of Justice and Amazon. They look to help companies capture more value from their meetings with their services and cater to all audio, video, and speech types. A solid feature is their English to foreign language translation, however, at $3- $7 per minute, it can get expensive.
Their video captioning feature is also well priced at $1.25 per minute offering a high rate of accuracy as well. What's more, Rev offers machine automated transcription too at just $0.25 per minute, allowing for quick and inexpensive transcription with 80% accuracy. An industry leader and a trusted high-quality product that is perfect for businesses. However, for smaller businesses or freelance podcast hosts or video makers, perhaps it is a little on the expensive side. 
Temi is actually a company that is closely affiliated with Rev and offers a slightly less accurate service at a more affordable price. It is trusted by companies like ESPN and the Wall Street Journal and with its five-minute turnaround time, combined with its 90 to 95% guaranteed accuracy, all for $0.25 per minute with no additional charges or subscriptions, it is the perfect alternative to Rev for smaller companies or individual users. A show of competency is Temi's free trial service, which lets you upload a transcript under 45 minutes long, and access all of its features before committing.
Furthermore, as well as it being inexpensive and quick in its turnaround time, Temi has a script editing feature, which allows you to edit out inaccuracies yourself, giving you greater peace of mind. Although it is not as feature packed as its parent software Rev, Tammy offers a very accessible price point and solid audio and video transcription. Its advanced speech recognition software along with its quick turnaround times make it an ideal and attractive tool for small businesses and freelancers or even for larger companies looking to save on costs.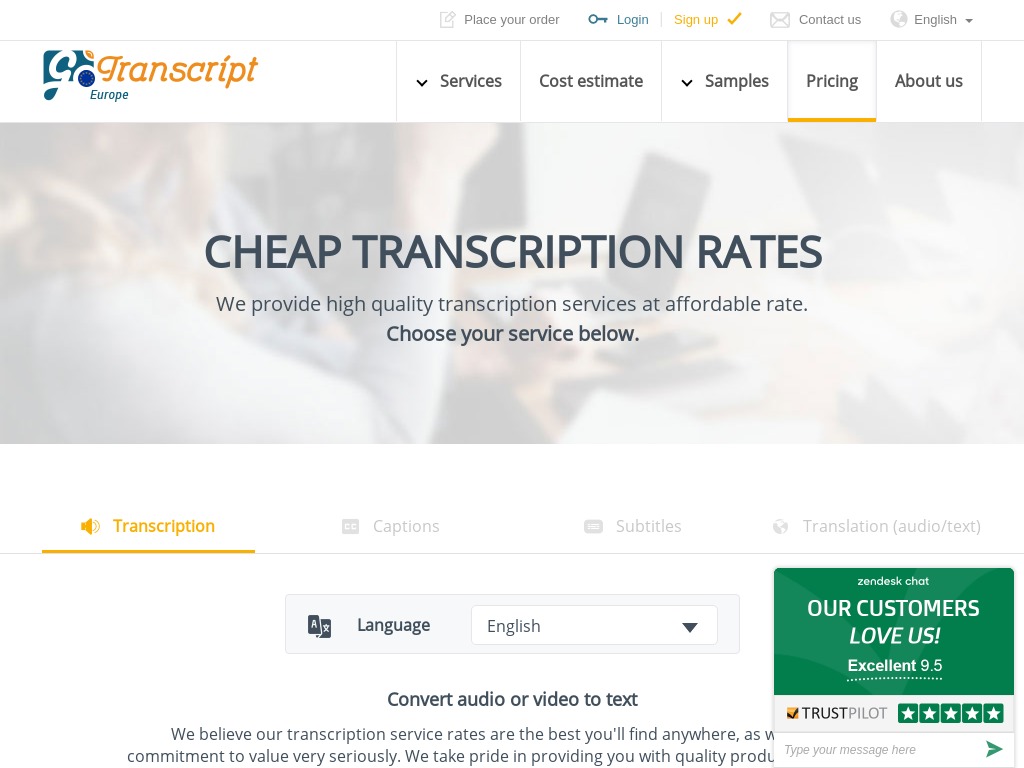 There is a lot to like about GoTranscript, particularly if you are European or British. That is because GoTranscript is a British based company, so the time difference could make things awkward for an American company and you could end up waiting longer for a turnaround on your transcript based on the time.
However, if turnaround time is not an issue or you can get your file to them at the right time, then GoTranscript is an attractive tool to use. The service itself specializes in transcribing more difficult projects, with a specific focus on STEM transcription. This focus on high accuracy within scientific, technological, engineering, or mathematical projects makes GoTranscript an attractive service for more academic or more complex companies.
Their turn around is about 6 to 12 hours which is quite fast compared to other human generated transcription services and with prices starting at 80 cent per minute with 90% accuracy, and supporting 50+ languages, GoTranscript is a versatile and well-priced service to use. They offer captions, foreign translation, and foreign subtitles too, but like other services, they are expensive. If you are in the US, I would probably say to choose other services on this list instead.
However, for European or British companies or freelancers, GoTranscript is one of the most accessible, fastest, and more comprehensive tools on the market.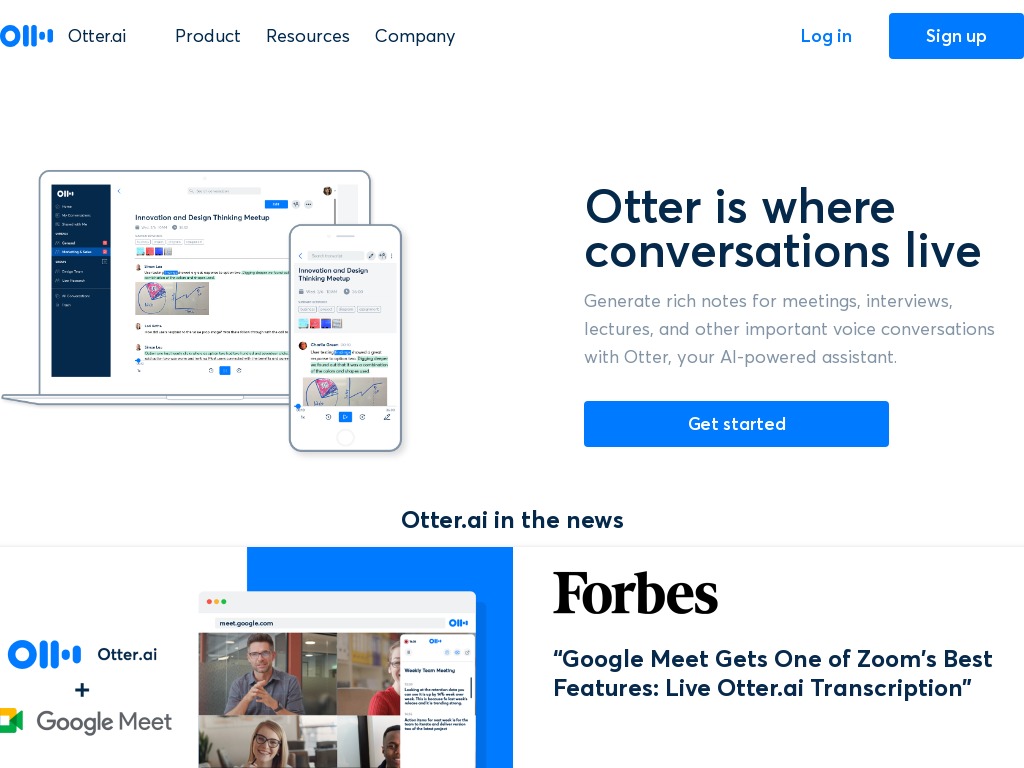 I wanted to include a mobile app transcription service that would be best suited to both freelancers and those who work from home or in a home office. Otter is in my view, the best app you can get. With a 4.5-star average rating from 300 reviews on the App Store, it has a plethora of features that make it stand out from other services on the list. For one, it records and takes notes in real time that you can share with your team.
You can also invite others to edit notes and collaborate with you, as well as record and transcribe podcasts, meetings, lectures, or interviews. You can highlight key points and even offer live captioning. You can add audio, generate word clouds based on the most used or common phrases to highlight the more important topics in your meetings as well as share and edit the texts with others.
All of this is available for $12.99 per month, what an app like Otter shows, is that many so-called "professional software" services can be very-expensive for what they offer and often it is the more-simple solutions that work best. Its main downside is the fact that it's available only as an app, so for businesses it is probably not applicable. However, for freelancers, students, or solo entrepreneurs it is a no brainer that Otter is the go-to option.