Last Updated on December 11, 2019
Is translation enough for marketing to a foreign market? Learn the critical marketing strategies needed to set up your business for a global audience.
On the surface, marketing to an audience in a new territory might seem like a simple task. After all, what you need to do is merely translate your existing message from the source language to that of your target audience. That's it right? Not quite.
Setting up your website and marketing messages in another language go beyond merely making word-for-word replacements. It's because what works in a specific language may not suit the customers in a new market. You need excellent localization services to ensure that you convey your company's message in a new language effectively. Apart from that, you may have to transcreate the entire message on your website and other marketing channels to appeal to your target audience better.
Website localization, market research, and SEO translation are the three marketing strategies that are essential to success in promoting your brand to a new audience. Let us delve deeper into each of these.
Excellently translated marketing research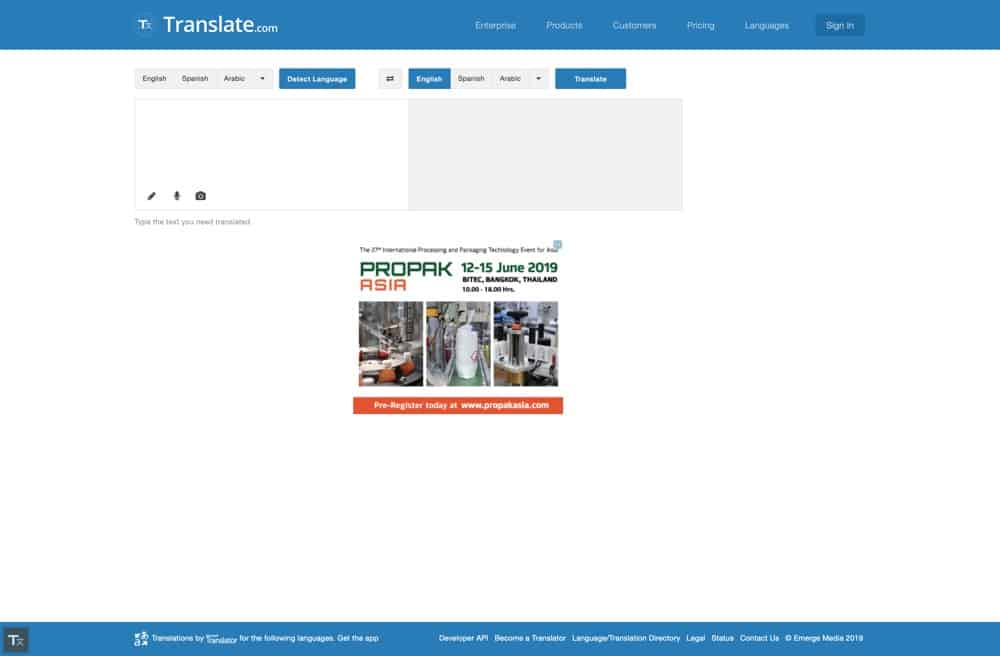 Thanks to technology, it is becoming easier to do commerce globally, and the business translation industry keeps growing by the day. Given that about 80% of the world population speaks languages other than English coupled with the fact that the purchasing power of people in these regions is increasing, it makes sense to go global with your business. Pushing your brand on the global stage could mean better revenue and expansion opportunities. That said, how do you ensure that you launch a marketing campaign that is not lost in translation?
One, research your target market. Companies usually do this through surveys on the potential demographic. With this research, you will learn of opportunities, the traditions, and values of your target market, and any obstacles you might come across as you try to enter a new market. Note, the documents you use in the survey exercise need professional translations to ensure that your audience understands the information; hence, the better quality of responses.
Who can offer quality translations? Certified professional translators or agencies such as Translate.com come in handy during such times. Given that these experts and services have been translating to multiple languages over time, they are conversant with what is required to focus your marketing campaigns to the target market. That said, adapting your marketing messages to another language requires that you comprehend:
Beliefs
Traditions
Taboos
The purchasing power of your target market.
Localization
The significance of localization for marketing translation tasks cannot be emphasized enough. Localization and translation service providers know the target market and can, therefore, offer valuable insight into the expectations of customers in a particular region. As a marketer, you want to understand how the audience purchases goods/ services, the type of advertising that appeals to it, and the products/ services that are sought-after the most. Minute details such as the popular sizes of a specific product or how traditional promotion of items is done are essential.
So that marketing translation to be effective, you must research how new audiences use technology and the internet. For example, how is mobile usage in the region? Do they usually buy on the internet? How much is their disposable income? Asking these kinds of questions will help you perform better keyword research and translation.
In localization, the small details such as symbols and colors also matter and you have to take into consideration the target audience's culture and beliefs when you are implementing them. For example, in Chinese culture, the color black which is written as "hei" is associated with evil, disasters, and bad luck. Using this color in your branding to a Chinese market, therefore, can have a very negative effect on people's perceptions about your brand.
You may also find that expressions which are humorous in one language to be distasteful in a different language. Localization is essential if your brand is to be accepted in a foreign country.
When do you need transcreation?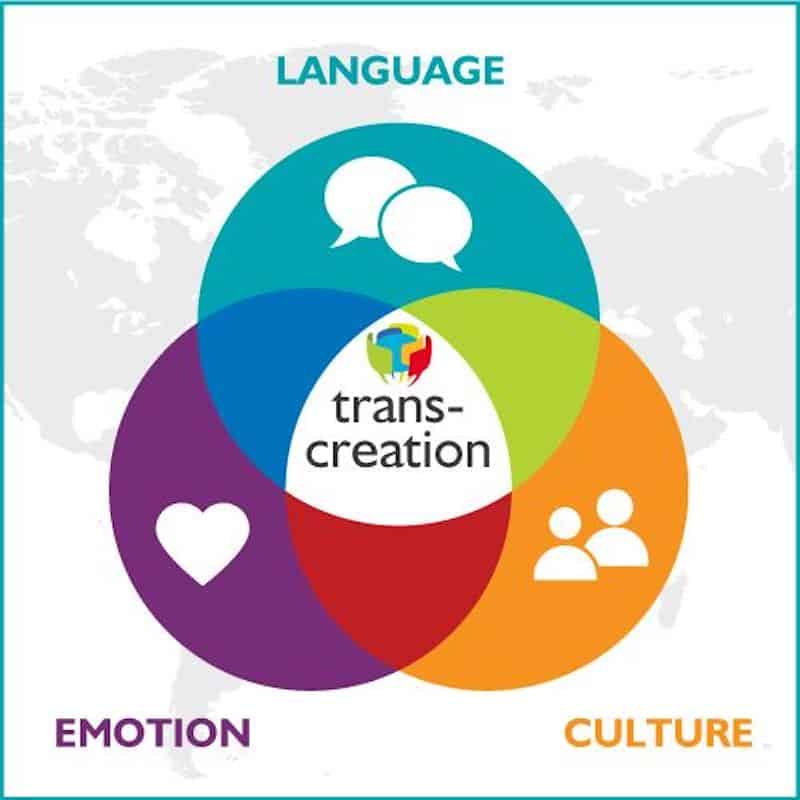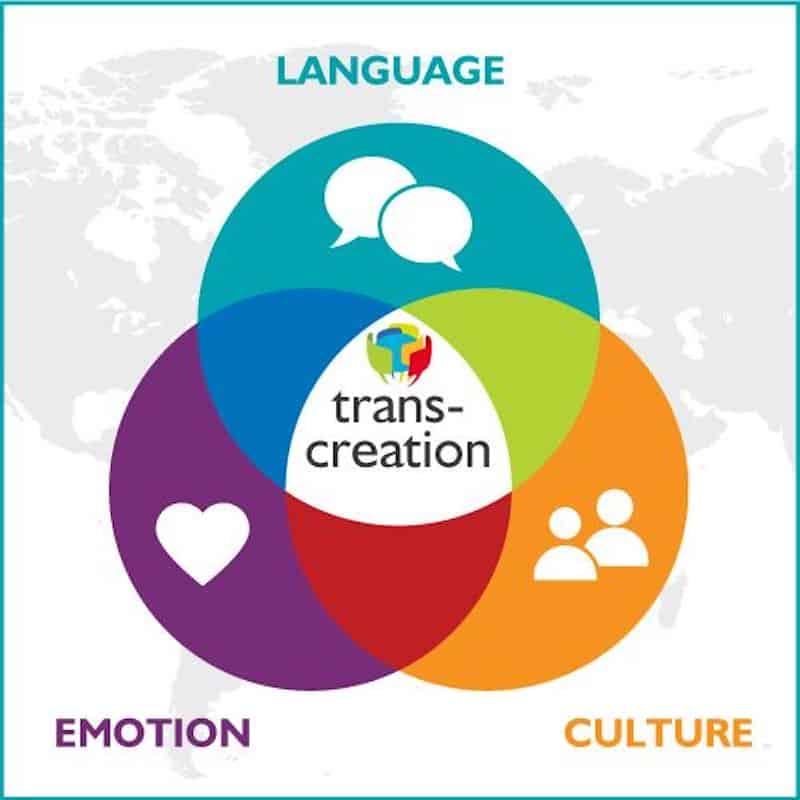 If your target geographical region has extremely different cultural beliefs, your marketing campaign will need to go beyond translation and localization if you are to pass your message across effectively. Otherwise, translations will be meaningless to your business. A good example is company slogans and taglines, which often are developed by playing around with words. When translated into another language, they may lose their meaning and impact completely.
Here's where transcreation comes in. While translation is the process of converting one language to another, transcreation involves recreation the original content into another language while ensuring it remains appropriate to the environment and context is it targeting. In transcreation, there is freedom to make significant changes to the translation process. It aims to preserve the tone, setting, style, and intent of the message being converted from one language to the other.
You may need to transcreate your marketing content from scratch before you can introduce it to the target market. To be culturally relevant to the audience abroad, you might even require changing the logo, product name or the entire brand name before introduction into the market.
Transcreation involves assessing how you want the target customers to react to your message and then creating a marketing campaign that addresses their specific needs. In the end, to achieve the desired results, you may find yourself with completely different material from what you originally had.
End note
The translation is crucial for businesses intending to launch their products in foreign markets where the language is not the same. However, it is not enough for global marketplace success. Adding localization will help you run your business without hiccups in a new culture. Transcreation, on the other hand, will further cement your brand in that culture by building your product or service around it.
In the implementation of these three, you will need to invest in an excellent translator; preferably a native who understands the culture of your target audience. With these considerations in mind, you can start doing global business successfully.