There has always been this never-ending debate about the best ways to connect with people. Many people claim that you should text and call more often if you want to connect with others. However, others opine that incessant calls can get annoying, and you may even start to look desperate.
Some opine that you should spend as much time in-person with them as possible. On the other hand, a few philosophers claim that since absence makes the heart grow fonder, you should limit the time you spend with them to allow them to miss you.
What do I believe? I honestly think that all these perspectives have merits. However, they lack one thing: balance! What most people seem to forget is that, in life, there is no one size fits all solution. There isn't a definite way to connect with everyone you encounter. Different approaches have different results on various people. Some people prefer calls and texts, while others prefer face-to-face engagements.
However, one thing that almost everyone loves is games. Party games, to be precise. Whether it is "Never Have I Ever," or "Truth or Dare," the truth of the matter is that these games provide an avenue for people to have fun, connect, and learn more about each other. If you've been searching for a way to liven up your parties and gatherings, or even a dinner date, then you've come to the right place.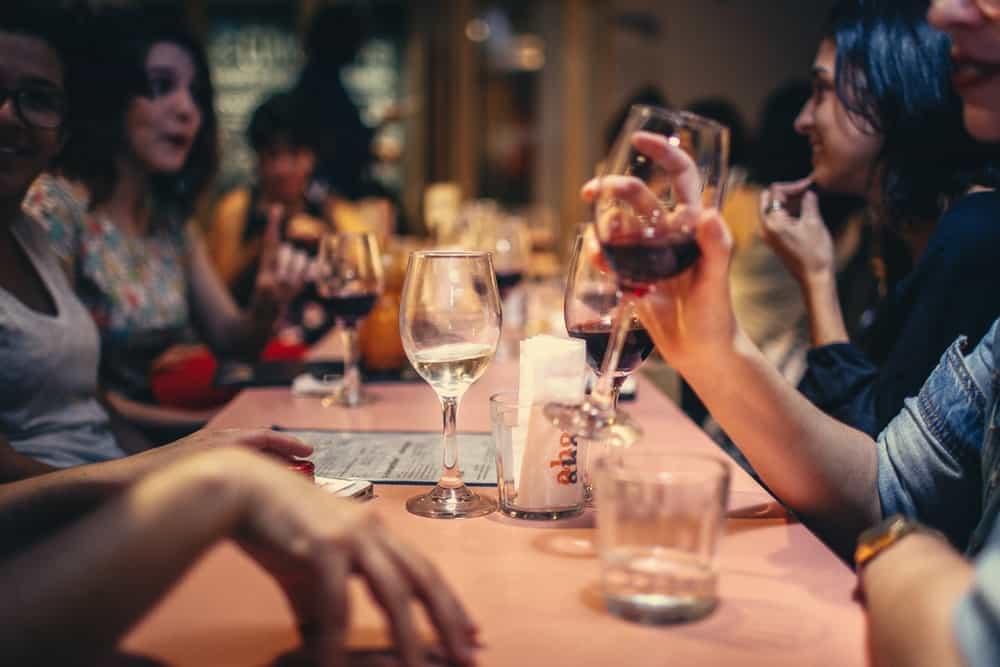 This article is dedicated to exploring one of the most exciting party games on the face of the earth: "Truth or Drink!" For conceptual clarity, allow me to establish the fundamental concepts as regards this fabulous party game. Truth or Drink" is a whimsical and alcohol-filled spin on the dreaded and loved classic game, "Truth or Dare." People draw up cards from a box or bowl filled with personal and awkward questions in this game. After a card is drawn, you have to either answer the personal question or drink. As the game progresses, the latter might not be a wise option, so drink responsibly!
This is an opportunity for people of the drinking age of 21 and higher to relax and revel in hilarious and naughty secrets while getting to know their friends and acquaintances. All you need to do is send out invites, write some of these questions on slips of paper or index cards, stack them in a bowl, and let the fireworks begin. Without further ado, here are some of the boldest "Truth or Drink" questions you will ever hear.
What is your go-to comfort food?
Tell us your cheesiest pick-up line?
Describe your ideal first date?
Tell the story of your first kiss?
Describe your worst date?
What's your "go-to" drink?
If you could get away with crime for a day, what crime would you commit and why?
Have you ever considered "batting" for the other team?
Have you ever cheated on anyone?
Have you ever been cheated on?
Which fictional character have you fantasized the most about?
What do you find most attractive in another person?
What was the last thing you texted?
Do you get a thrill out of being "sneaky"?
Have you ever been arrested? If so, what for?
What is something you've always wanted to do but been afraid to do it?
If your life was a movie, what would the title be?
Describe your body in three words?
Could you ever date someone twice your age?
What is your opinion on hickies?
Would you ever consider visiting a nude beach?
What do you wear to bed?
Have you ever walked around in the "buff"?
Have you ever kissed the same s*x as you?
Has anyone ever asked you to break up with someone for them before? Did you do it?
If you were famous, what would you be famous for?
If you could kiss someone right now, who would it be?
The most embarrassing thing you've done drunk.
What's the riskiest thing you've ever done?
Have you ever lied to get out of going out somewhere?
Wildest thing you've ever done?
Have your parents ever given you "the talk"?
How many exes' numbers are currently on your phone?
Has anyone ever accidentally seen you naked?
Which body part are you most proud of?
What's your favorite body part on another person?
Have you ever read erotic fiction?
When did you lose your virginity?
Longest you've gone without s*x?
Have you ever cried or fallen asleep during s*x? Tell us about it.
How many people have you "bedded"?
Tell us about your most embarrassing s*xual experience?
What is your favorite s*x position?
What is your biggest turn-on?
What is your biggest turn-off?
Have you ever slept with someone then immediately regretted it?
Where on your body do you like to be touched?
What's your dirtiest s*xual fantasy?
Have you ever received a "naughty" picture?
Have you ever sent a "naughty" picture?
Ever given someone a lap dance?
Would you ever strip for someone in this room?
Do you prefer the "top" or "bottom" position in bed?
Ever had s*xual intercourse with a co-worker?
Have you ever been pleasured while driving?
Would you ever let your partner dominate you in bed?
Are you a part of the "mile-high" club?
Do you prefer s*x with the lights on or off?
The first thing that s*xually attracts you to a person?
Do you enjoy dirty talk?
Your favorite place to be kissed on your body?
What is the farthest you've gone on a first date?
Describe your "naughty bits."
Ever had a "friends with benefits" situation?
Ever taken naked pictures of yourself?
What are you best at "under the sheets"?
Ever tried edible underwear?
If you had to describe your "love-making" as a weather event/natural disaster, what would it be?
Do you prefer your partner to be "shaved" or "all-natural"?
Have you ever been caught having s*x?
Have you ever walked in on your parents having s*x?
Are you loud or quiet during s*x?
Name a s*x position you'd like to try?
Have you ever been caught masturbating?
What is the last "dirty" dream you had?
Do you enjoy experimenting with different positions in bed?
Have you named your "naughty part"?
If not, what would you name it?
Is there anything you're afraid of in the bedroom?
What is your favorite time of day to have s*x?
If you could have s*x in public, where would it be?
Do you prefer "rough" or "romantic" s*x?
Have you ever fantasized about someone else while having s*x?
If you suddenly became invisible, what would you do with your newfound transparency?
If you were a sex worker, how much would each sex act cost?
Would you say that you're kinky?
What is a major kink of yours?
Do you watch p*rn?
What kind of p*rn turns you on?
What kind of p*rn turns you off?
How frequently do you masturbate?
Where is the weirdest place you've ever masturbated?
Do you own s*x toys?
What's your favorite s*x toy?
Would you/have you ever participated in group s*x?
Have you ever made a s*x tap? Would you?
Describe your best orgasm.
Would you try BDSM?
Do you have a high or low s*x drive?
Do you prefer to be "dominant" or "submissive" in bed?
Ultimately, it is irrefutable that this delightful, playful, yet insightful party game provides not only some fantastic icebreakers but also an avenue to get to know your friends better. As is often the case, getting to know someone better is the first step in fostering connections with them.
Seeing as this fantastic game gives you that opportunity, why not enjoy and revel in the glory of revealed secrets and fostered connections. To this end, I leave you with the exquisite words of Susan Young. "Connecting with others gives us a sense of inclusion, connection, interaction, safety, and community. Your vibe attracts your tribe, so if you want to attract positive and healthy relationships, be one! Staying connected and getting reconnected feeds the flow of goodness which empowers our humanity."