Last Updated on October 26, 2020
A two-week notice is a letter of resignation that allows you to leave your current job in a professional and positive manner, without burning the bridges behind you. The letter is often viewed as a polite and courteous way to resign from a job.
A two-week notice serves various crucial purposes. Most notably, it gives your employer as well as other work colleagues ample time to make sense of your impending departure. That way, your boss can easily prepare to fill your position or make other necessary arrangements within the transition period. A two-week notice also allows you to complete your current work obligations.
But just how do you go about crafting a stellar two-week' notice of resignation? This post shall offer more insights into that.
Things to Consider Before Writing a Two-Week Notice
Before resigning from your current job, it's customary to notify your employer at least two weeks prior to your departure.
But two weeks is a lot of time to draft a letter of resignation. After all, it's a simple expression of intent to leave your job, and you're not even obligated to state the reasons for your departure, right? Wrong!
Regardless of how long you've worked in a company or what your experience was, you want your departure to leave a lasting impression. How else would your boss miss you when you're gone? You should also be keen not to write a resignation letter that will burn the bridges behind you. Just in case you need to use those bridges on your way back. Above all, you want the letter to maintain a formal and professional outlook.
Now, there are two crucial things to consider before writing a two-week notice of resignation.
1. Check on the terms of resignation on your employment contract
It's okay to be excited at the prospect of leaving your current job for a more lucrative one. However, you shouldn't be so carried away that you forget the resignation terms in your employment contract.
Refer to those terms and establish whether there are any subjective guidelines around resigning. This is especially true for contract-based jobs.
2. Clue your boss in on your coming resignation
Another best practice before writing a two-week' notice is to clue your boss in on your upcoming resignation. The last thing you want is to have your employer learn of your impending departure on the grapevine. The best way to go about this is to have a physical meeting with your boss. And it's important to first establish an ideal time for the meeting.
Generally, avoid seeking out a meeting with your employer on a Monday, as they're likely suffering from Monday blues and weekend hangovers. Similarly, do not approach them on Fridays as they're likely already in the weekend mood. Most importantly, ensure your boss is in an upbeat spirit before approaching them.
Once you've secured the meeting, go straight to the point. Remember, this should be a short meeting that's simply intended to inform your boss of your intent to resign. Leave the nitty-gritty details to your resignation letter.
But as you can expect, your boss will definitely inquire about your reasons for resignation. It's important that you be honest, but don't go into the details. Depending on their inquisitiveness, your employer might also ask about your newfound opportunity. You can share that information if you feel comfortable, or withhold it for fear of possible victimization.
During this meeting, also let your boss know about your last day at work and give them an assurance that you'll complete any pending projects within the timeframe. If your boss considered you an exceptional employee, you can expect some pushback. How you go about that depends on how tactful you are.
How to Write a Two-Week Notice
The following is a general guideline for writing a two-week notice.
1. Use a Business Letter Format
As we already mentioned, a two-week notice should have a professional outlook. Which requires that it be in a business format. So, the top of the letter should have your contact information, the date of delivery, and your employer's contact information.
NOTE: The date of delivery is different from your last date in the office. The latter would need to be included in the body of the letter.
Also include an appropriate salutation and subject line, just the way you would write a typical business letter.
2. The Content
Now, the main focus of a two-week notice is in the content, or the middle section. The convention is to keep the content short, only capturing essential details.
State your intent to resign and offer an honest reason why you're leaving the company. The reason for resignation is mostly optional, especially if you feel it will cause you undue victimization or make you fall out of favor with your employer.
Also, ensure you express gratitude for having been offered a chance to work in the company. It doesn't matter if your stint at the company was a "hell on earth experience," common decency demands that you make up some form of gratitude. On the same breath, avoid negativity and keep everything positive. This is not the time to badmouth a co-worker or client. An excellent way to be positive is to focus on what your new job offers as opposed to what the present one lacks. You might also state your readiness to work for the company again in the future if given a chance.
Most importantly, offer to help during the transition process. You can offer to train your replacement employee or serve the company in any other capacity during the 14-day period.
3. Wrap Up
End the letter professionally, using your handwritten or email signature, whichever applies. Then, hand it to your direct supervisor and attach a copy to the Human Resource department. If possible, submit the letter in person.
What If There's A Counteroffer?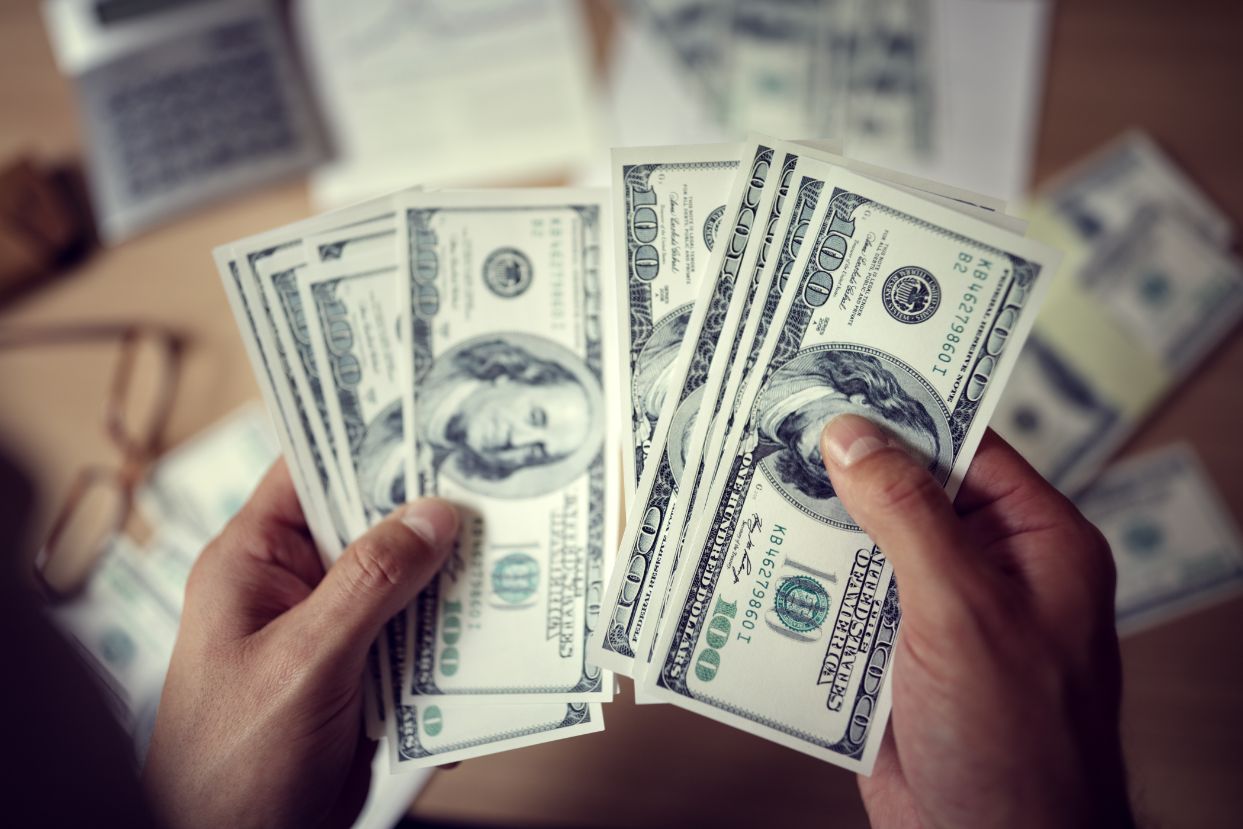 Loyal and dedicated employees are difficult to come by. If you were one, your employer will pull all the stops to have you stay. So, how do you go about a counteroffer?
Usually, the counteroffer will come in the form of better payment terms. If the option comes on the table, ask for some time to think it through. If you accept the counteroffer, inform your would-have-been employer immediately.
A Brief Two Weeks' Notice Sample
[Today's Date]
Steven Blake [Direct Supervisor's Name]
XYZ LLC. [Company Name]
123 Up Street, Columbus, Ohio 12345 [Company Address]
Dear Mr. Blake
This is to formally notify you that I'll be resigning from my current role as [your job title] at XYZ LLC on [your last date in office].
XYZ LLC offered me an opportunity to grow, both at a personal and professional level, and I'm sincerely indebted to the company for that.
During the [duration between now and your end date], I will try my best to complete all pending projects and assignments. I would also be glad to be part of a smooth transition process.
Sincerely,
[Your signature] [Your printed name]
Final Word
As you can see, crafting a perfect two-week notice is easier than most people imagine. Just remember the cardinal principles – keep it brief, professional, and positive.