Who Is Tyga?
Micheal Ray Nguyen-Stevenson, popularly known by his stage name Tyga, is an American rapper, singer-songwriter, actor, and television personality. The name Tyga is actually a backronym for Thank You God Always, which speaks to the rapper's sense of spirituality.
Quick Facts
| | |
| --- | --- |
| Full Name: | Micheal Ray Nguyen-Stevenson |
| Popular Name: | Tyga |
| Gender: | Male |
| Birth Date: | November 19, 1989 |
| Age: | 33 years |
| Parents: | Stevie J. Stevenson and Nguyen |
| Siblings: | N/A |
| Birth Place: | Compton, California |
| Nationality: | American |
| Ethnicity: | African-Jamaican and Vietnamese |
| Education: | Gardena High School |
| Marital Status: | Single, but previously in a relationship with Kylie Jenner and Blac Chyna |
| Sexual Orientation: | Straight |
| Wife/Spouse: | N/A |
| Children: | King Cairo Stevenson (from his relationship with Blac Chyna) |
| Dating: | N/A |
| Net Worth: | USD 5 million |
| Source of Wealth: | Rapping, Singing, Songwriting, Acting, and Other Ventures |
| Height: | 5′ 8″ (1.73 m) |
| Weight: | 67 kg; In pounds: 148 lbs. |
Early Life and Career Information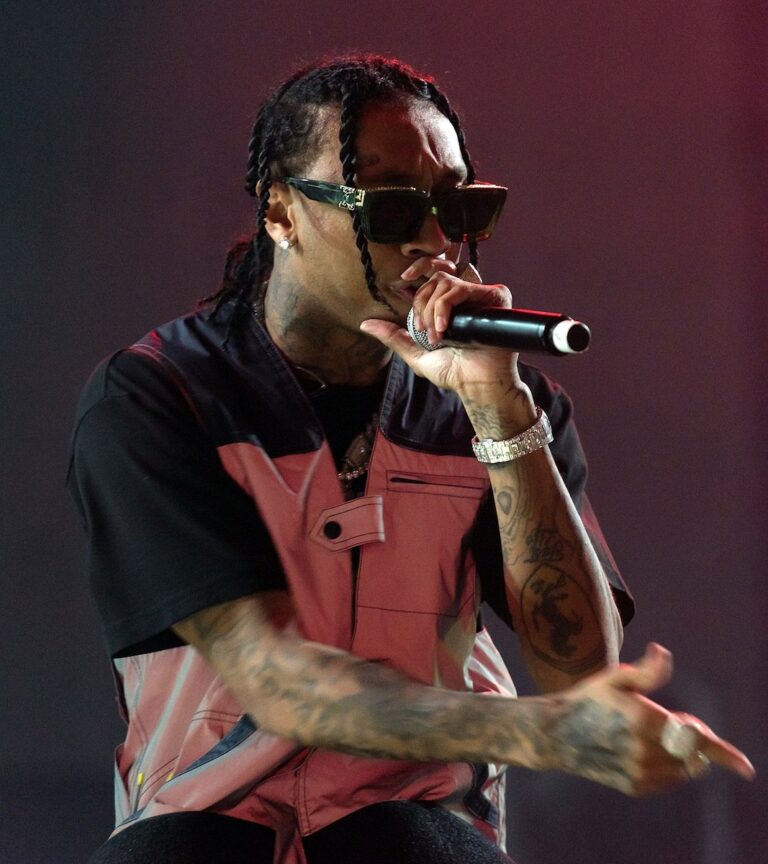 Tyga was born on November 19, 1989, in Compton, California, to Stevie J. Stevenson and Nguyen. Tyga didn't know his father until he became successful. He was mostly raised by his mother Nguyen, who is of Vietnamese descent.
Tyga broke onto the music scene in 2008 after recording the single Coconut Juice, alongside his cousin Travie McCoy. The same year, he signed a recording contract with Cash Money Records, Republic Records, and Young Money Entertainment and went on to release his debut album, No Introduction. He has since released six other studio albums, as well as one collaborative album.
Some of Tyga's most successful songs from his albums include:
• Ayo with Chris Brown
• Faded featuring Lil Wayne,
• Far Away featuring Chris Richardson,
• Make It Nasty,
• Rack City,
• Still Got It featuring Drake, and
• Taste featuring Offset
Tyga's Net Worth
Tyga is one of the most industrious rappers, with several music albums to his name. The rapper had a net worth of $5 million, as of 2023.
As you might expect, a significant portion of Tyga's net worth comes from his successful career as a rapper, singer, and songwriter.
To date, Tyga has released a total of seven studio albums, including:
• No Introduction (2008)
• Careless World: Rise of the Last King (2012)
• Hotel California (2013)
• The Gold Album: 18th Dynasty (2015)
• BitchImTheShit2 (2017)
• Kyoto (2018)
• Legendary (2019)
In addition to his solo studio albums, Tyga has also released one collaborative album, known as Fan of a Fan: The Album. The album, which is a partnership between Tyga and Chris Brown, was released in 2015.
While Tyga has been releasing studio albums from as early as 2008, he hasn't embarked on any solo tours yet. The only notable tour he has gone on is the 2015's Between the Sheets Tour with Chris Brown and Trey Songz.
But Tyga's net worth would have been way higher, were it not for his incessant financial and legal issues. It all started in 2013 when he was sued by a Beverly Hills jeweler for $200,000 in damages. That amount included both a diamond watch that the rapper hadn't paid for, as well as a diamond chain link that he had borrowed but not returned. Tyga ended up coughing $100,000 in damages. And as it turned out, the rapper was only getting started with his financial woes.
In 2014, the IRS issued Tyga with $120,000 in unpaid tax bill. The following year, the rapper suffered yet another financial setback after the state of California issued him with a $19,000 bill worth of outstanding tax arrears.
Besides being sued for outstanding taxes, Tyga has also run into trouble with some of his previous landlords. In June 2015, the rapper was sued by one of his former landlords for raking up to $80,000 in rent arrears. After factoring in penalties and interests, he was to pay a total of $124,000. A month later, Tyga was sued by yet another one of his previous landlords. The arrears in question this time was $50,000.
As of 2016, Tyga's G-Wagon was reportedly being repossessed, the latest evidence ever that the 'Rack City' hitmaker's finances were consistently drifting towards the deeper end.
For the next few years, it would have been safe to assume that Tyga was out of the woods, financially speaking. However, subsequent reports seemed to suggest otherwise. For instance, in August 2018, Tyga sued Lil Wayne and Birdman, the owners of Young Money Entertainment and Cash Money Records respectively, for not paying him his royalties over several years.
But in spite of his legal and financial woes, Tyga has been resilient in his pursuit of success. The rapper owns and operates a clothing store known as Last Kings, based in Los Angeles. He reportedly spent upwards of $120,000 refurbishing the interior of the store.
Lessons from Tyga
1. It's great to have role models
Growing up, Tyga listened to songs by popular rappers like Eminem, Lil' Wayne, Fabolous, and Cam'ron. So, it comes as no surprise that he ended up as a rapper too.
2. Keep everyone guessing
Tyga has kept his background and childhood a bit secretive. He has widely claimed to have grown up in the deprived neighborhoods of Compton. But in leaked footage from a never-released television show known as Bustas, the rapper claims to have hailed from an affluent home in the San Fernando Valley.
3. Collaborate with established brands
Tyga is one of the many rappers who appreciate the importance of collaboration in the music industry. Throughout his professional music career, he has partnered with established brands like Chris Brown, Lil' Wayne, Drake, to mention but a few.
Famous Quotes by Tyga
"As long as you know yourself and you got good people around you and you passionate about what you do, that's all that matters because, at the end of the day, you go to sleep with the people you love, you wake up with the people you love, and you spend your time with the people you love."
I don't really know how it feels to hate on somebody else or just worry about what somebody else is doing.
"The more real you get, the more unreal things get. "
"Wake up every day stronger than yesterday, face your fears and wipe your tears. "
"We can admire what we see, but we can only love what we truly know."
Conclusion
Tyga's rise to fame hasn't been without its setbacks. The rapper has suffered numerous financial and legal challenges that threatened to derail his career at some point. But thanks to his resilience, he has been able to bounce back. And while his wealth is yet to match that of his role models, his $5 million net worth isn't something to be scoffed at.