Last Updated on January 24, 2023
If you think that picking a wedding bouquet is the easiest part of the most important day of your life, you are very wrong! Choosing a bouquet for your wedding is a very important part of the entire event.
Handy Flowers, a London based flower shop, says that they have had a lot of situations where the bride didn't realize this but when she saw the offer she quickly changed her mind about everything.
A perfect wedding bouquet will capture the bride's signature look. It is like a cherry on top of a cake. It makes everything look better and picking the right one improves everything. After you take a look at your wedding photos you will see what we are talking about.
But now, let's look at some prime examples of wedding bouquets that you can choose from.
A Hand-Tied Bouquet
A hand-tied bouquet is exactly what its name states. A bunch of flowers tied up together with different stems and a different number of flowers. It is probably the simplest type of a bouquet yet a very beautiful one. It is going well with a classic look and in some ways seems kind of rustic.
The best thing about a hand-tied bouquet is that it offers a lot of flexibility for the bride. It goes with absolutely anything and will not create additional problems. Also, the florist will have not problems making it and will do it really fast as well.
Biedermeier Bouquet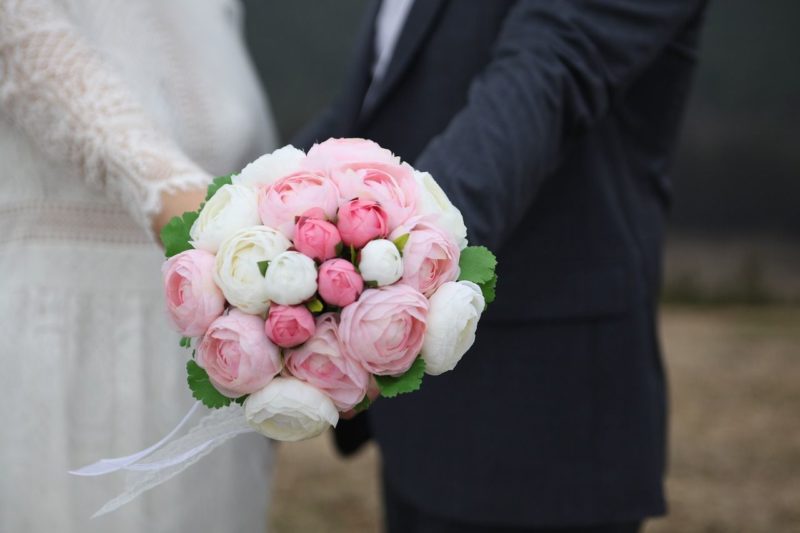 A Biedermeier bouquet is a very popular wedding bouquet. It was named after European style interior design and has been used in bridal ceremonies for a long time. It is characterized by placing contrasting colored flowers in a tight concentric circle.
It gives a very dramatic effect when witnessed live. That is why this type of bouquet is best used for stylish and posh weddings.
Round Bouquet
The round bouquet has been around for centuries and will most likely never go out of fashion. It gives the florist a lot of freedom to create in order to match the customers wants and needs.
It is designed by choosing a specific flower with a single color and making a round-shaped bouquet with it. This bouquet is actually comprised of more flowers than greenery.
What is interesting to note about a round bouquet is that is not specifically only a wedding bouquet. It can be used for all types of occasions and is almost universal in its use. But, it also means that it will probably never go out of style.
Pomander Bouquet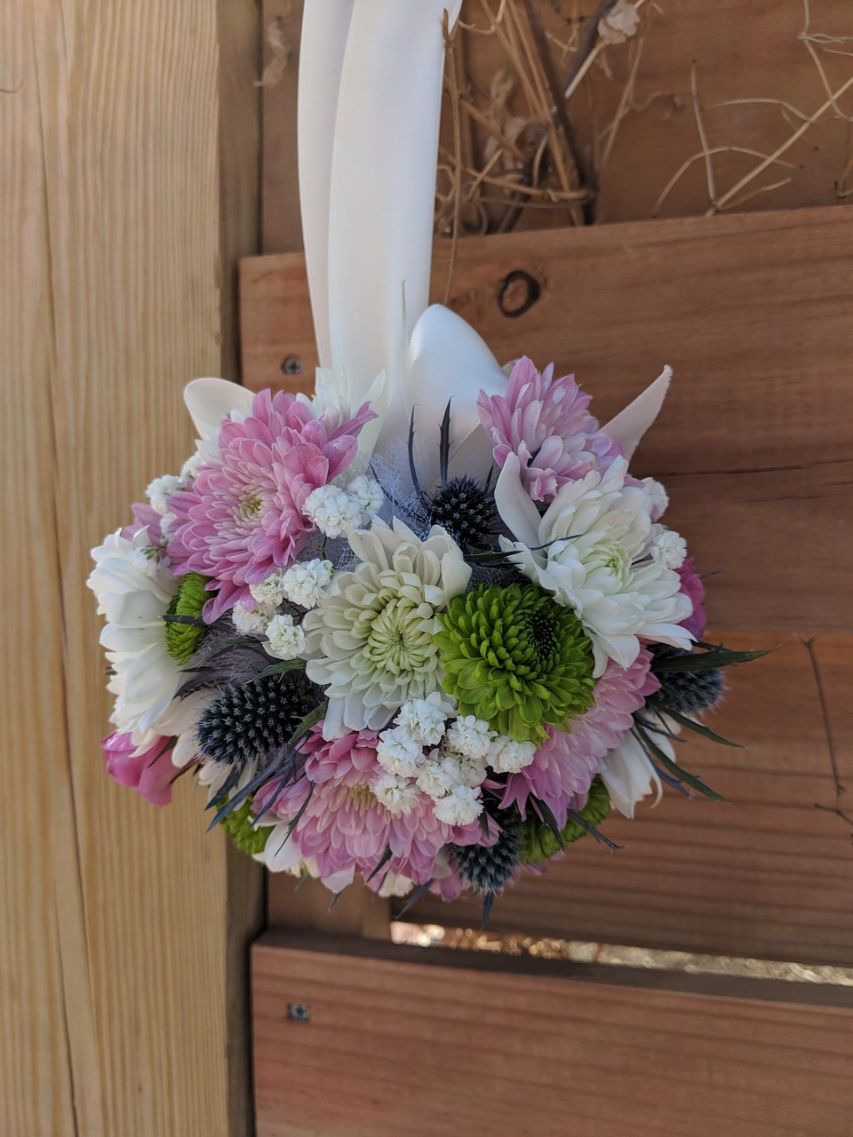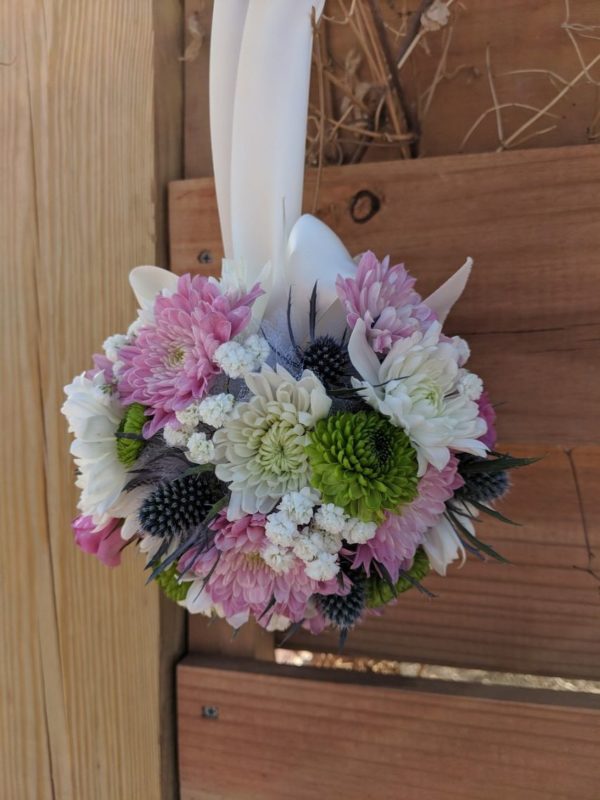 The Pomander bouquet, also referred to as the kissing bouquet, has been gaining popularity in recent years. It is a very unusual wedding bouquet because of its style and was mostly used by bridesmaids or flower girls. But, in recent times, brides have taken a liking to it and are using it as their wedding bouquets.
It consists of many different flowers tied up in a ball. It actually gives the florist a lot of leeway as they can use both flowers and greenery to make it. Wildflowers are particularly popular these days. The ball is tied by a ribbon and is meant to be carried by hanging from the ribbon.
Nosegay Bouquet
A Nosegay bouquet is not only beautiful it is also one of the most popular throw bouquets. It is made out of different flowers and greenery and also uses support for its structure. It is made out of flowers that are wrapped tightly together with lace or ribbon. Also important is that all flowers are cut to the same length.
The bouqet mainly uses smaller flowers to make and is generally small in its size overall. In some countries, it is mostly used for bridesmaids but is very popular with brides also. It is exquisite and can go with everything.
Cascade Bouquet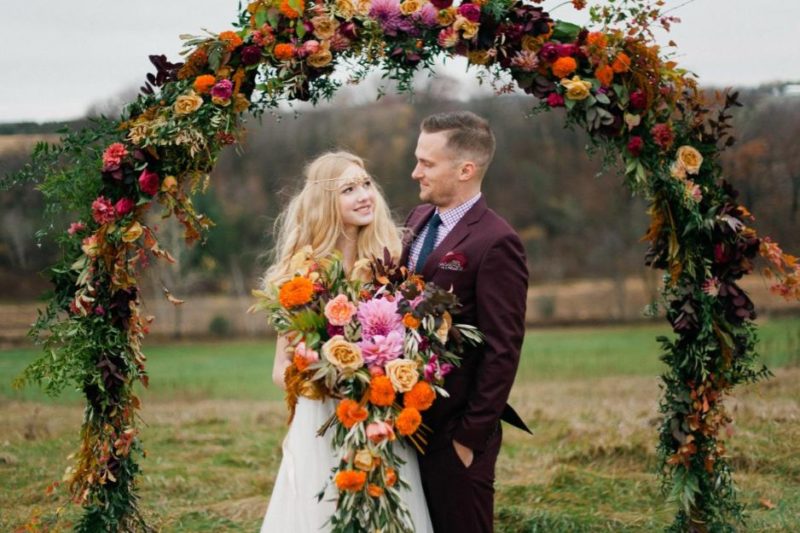 The Cascade bouget is a traditional type of a bouquet most seen in Britain. It can be big or small, depending on the bride's needs, but traditionally speaking it is a large type of a bouquet. Many agree that this is a very extravagant type of wedding bouquet and is used for glamorous weddings.
It is arranged in a way that it looks like the flowers are flowing or dropping out of the bride's hands towards her feet. Most propel refer to it as a trailing bouquet or a teardrop bouget as well. Floral designers say that this is a very popular type of a bouquet in recent times and a lot of brides like it.
Pageant Bouquet
A Pageant bouquet is a universal type of a bouquet. It suits any occasion and can be worn on different types of dress. It is usually long and incorporates different types of flowers and colors. Florists can express themselves and their creativity by devising this kind of a bouquet.
Because of the flexibility of this type of a bouquet, brides have taken a liking to it as well. There isn't an occasion that cannot be made better with a pageant bouquet. So that is one of the main reasons it suits weddings the best.