Last Updated on March 3, 2023
Mugging up ingenious ideas for the wedding photoshoot is one of the biggest hurdles among couples-to-be as well as wedding photographers.
Let's admit one thing, we all are damn sick and tired of seeing those archaic wedding photography poses in numerous wedding albums. We are not saying that you should put traditional shots totally out of the equation, but inculcating creative wedding photography poses in your pre-wedding and wedding photoshoot can make your wedding album stand apart from the pack by leaps and bounds.
If you are struggling hard to find the astonishing and super-creative wedding photography ideas for your upcoming wedding photoshoot, no need to stress away. We've rounded up everything for you.
In this all-inclusive post, we have collated some of the most trending and sought-after creative wedding photoshoot ideas that will sure-shot add an oomph factor in your wedding album.
Moreover, we recommend you to take the vital advice of your hired budget wedding photographers in Delhi before inculcating any of the ideas in the photoshoot.
1. Monochrome Photography
It may seem simple to you, but the truth is monochrome photography, or black and white photography is quite daunting to master. However, the end result of a perfectly planned monochrome photography is not only flabbergasting but also out of the world.
Couples can induce monochrome photography to bring a certain kind of vividness in their wedding photoshoot and make it stand apart from the pack.
2. Underwater Photography
If you have Aquaphobia, then underwater photography is surely not your cup of tea. Just imagine, you and your better half getting clicked underwater and surrounded by the exotic underwater flora and fauna.
Underwater photography is unquestionably an out-of-the-box and super-creative wedding photoshoot ideas which you must include if you are a swashbuckler. The drop-dead stunning aqua blue background of the ocean and the vivaciousness of flora and fauna can make your wedding photographs look stellar.
3. The Mirror Reflection Pose
Somebody said it well, "look into the mirror, that person is your real competition."  The mirror reflection photography pose is currently the hottest trend in the realm of wedding photography.
To get the picture-perfect photograph, stand away from the mirror a couple of steps away in such a way that both your real and the mirror image can be captured perfectly by the photographer without much of a hitch.  The mirror image in your wedding photograph will depict your whole love story and will capture numerous eyeballs.
4. Photo Bombs are Quirky
Yeah, we know that couples hate to have photo booms in their wedding photographs, however, if you look at the other side of the coin, photobombs are actually a quirky way to amplify the fun vibes in your wedding photography shoot and make your photographs look more real than reality.
Photobombs not only give your photographs a certain kind of depth but also add oodles of charm in them. For some classic and elegant wedding photographs which also encompass photobombs, make sure photo booms in your photographs look utterly natural.
5. Shadow Photography is Absolutely Lit
The kind of impact shadow effects can create in your wedding photographs is simply inexplicable in words. Shadow photography simply refers to clicking photographs when the sun is low on the horizon and causes the formation of dramatic shadows of objects.
When the sun is on the brink of falling in the west, it's the perfect time to take some shadow style photographs. For drop-dead stunning shadow photography for your wedding photoshoot, two elements are of paramount importance: the less intense sunlight and geometrical objects of varied shapes. Never conduct your wedding photoshoot in the day time, if you are aiming for shadow photography.
6. Actions Shots
Though actions shots usually fall under the category of traditional wedding photography, still this style of wedding photography is riding high on trends in the modern-day as well.
The best thing about capturing action shots photographs is you don't have to set up anything to capture the candid moments. Your photographer will take care of snapping all the vibrant moments which would look like they are even happening in photographs.
7. Don't Forget to Use Negative Space
If you have gone through a myriad of varied styles of photographs, you will find that some of the most enchanting and utterly regaling photographs encapsulate the damn fine use of negative space.
Like positive and vibrant space, negative space is equally significant in wedding photography to create the right balance in the wedding album. Some of the most prominent negative spaces are rustic brick walls, sculptures, historical architecture, and designs, etc.
Use of negative space in your wedding photoshoot will add detailing and definition to your photographs by leaps and bounds, and your guests one more reason to drool-over stunning wedding photographs.
8. Aerial Wedding Photography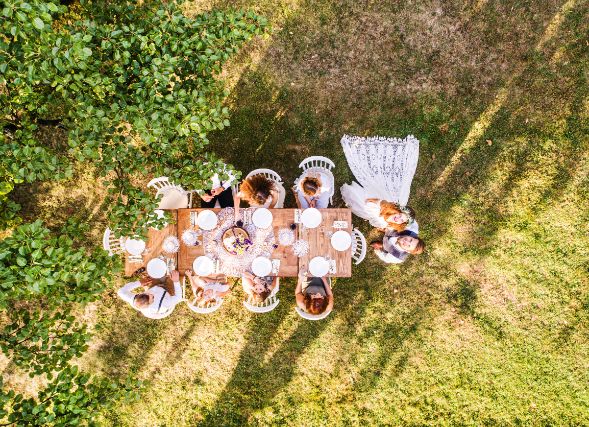 Aerial wedding photography is last but not the least in our list. If you have some extra cash to splurge, trust us, aerial wedding photography will add multiple dimensions to your photographs and make them super-splendid.
However, when considering aerial photography for the wedding photoshoot, you should also consider the safety factor in the first place. Taking photographs on a hot air balloon is indeed quite a nasty task. Therefore, proper safety measures should be taken in advance before commencing the photography.
Aerial wedding photography can help you to capture magical moments in the lap of the vast sky that will never be forgotten. Hire a photographer for your wedding from India's largest online wedding market.
9. Time-Lapse Wedding Photography
The very name of this creative photography style is sufficing enough to titillate couples. Time-lapse is actually a very technical and exceptional photography technique in which photographs are captured at a very rapid pace than the normal frequency.
When you see time-lapse photographs in a sequence, time appears to be moving faster than the usual which gives the sense of lapsing. For such a critical and intricate photography style, your wedding photographer should be technically sound and massively experienced.
The incredible time-lapse photography can eloquently depict your whole wedding story in a short span of time while keeping your guests hooked throughout the video.