Last Updated on March 8, 2022
The years 2020 and 2021 have not been so kind to love seekers and people in romantic relationships, thanks to the COVID-19 pandemic. With more countries imposing social distancing and 'stay at home' measures, it became exceedingly difficult to go on physical dates. Which explains the sudden surge in the popularity of virtual dating.

To get started on a virtual date, you'll need a laptop or smartphone, a stable internet connection, and a videoconferencing software like Skype, Zoom, or Facebook Messenger. You can then agree on a mutual time to go on the date. But before going live, it would help to arm yourself with a list of creative date ideas to spend quality time with the other person.

We've curated a list of the most fun and creative virtual dating ideas that will surely spark some intimacy with your partner.
1. Have a Q&A Session
Personal questions can be a great way to have a structured conversation on a virtual date. That's especially if you're meeting for the first time. These questions will help you to get to know the other person better while also serving as effective icebreakers.

Ensure you prepare the questions before going live. That will prevent the possibility of asking potentially offensive questions, which could otherwise ruin a good date.

Common questions to ask on your virtual date include:

• Tell me more about yourself!
• What was your childhood like?
• What do you do for a living?
• What are you looking for in a man/woman?
• What's your idea of an ideal date?

Most importantly, be sure to take turns so that the Q&A session is as fun and interactive as it can get. Also, understand if your partner is reluctant to answer specific questions.
2. Take a Personality Test Together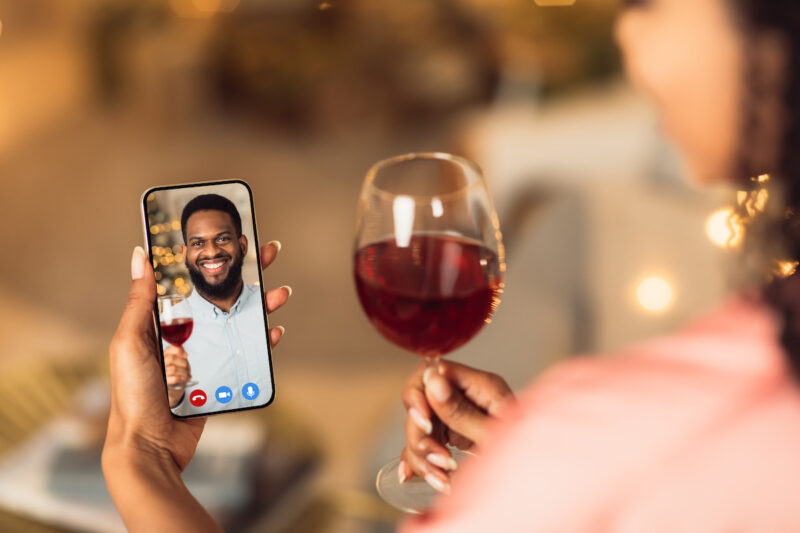 In addition to asking your partner random personal questions, you can also consider personality tests and quizzes. These tests will help to clue you in on what their personality is.

Try to come up with tests that touch on aspects like introversion/extroversion, emotional intelligence, work ethics, and mental aptitude.
3. Cook a Meal Together
This virtual dating idea is recommended where you're both connecting from home. First, you'll need to decide on a common recipe.

You then prop up your laptop or smartphone in the kitchen and cook together. And when the meal is ready, get down and eat together.
4. Have a Surprise Dinner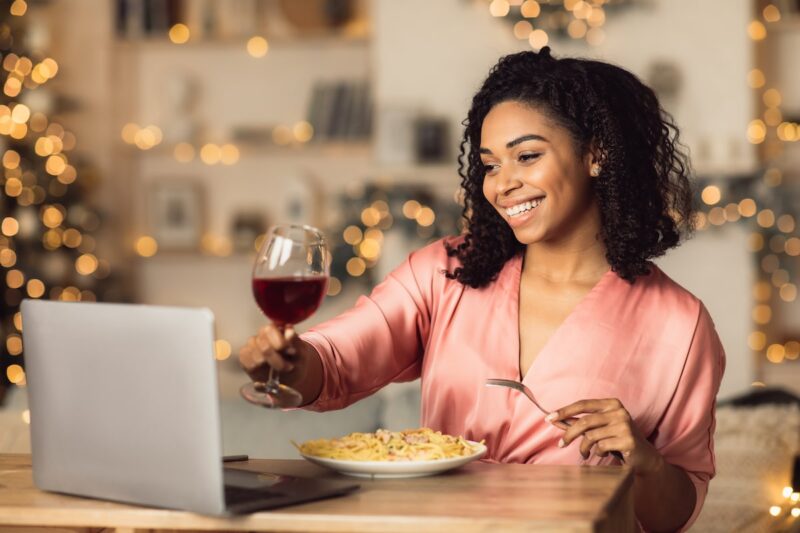 If you're averse to the idea of cooking a meal together, you can consider having a surprise dinner instead. You'll both need to agree to the idea of having dinner together.

If your partner is okay with it, order them a surprise meal, ensuring that the meal is delivered to them right before the beginning of the date. You then join a video call, unwrap the meals, and eat together.

To make this virtual dating idea successful, you'll need to have exchanged addresses and shared any special delivery instructions. So, this idea is recommended for couples who've known each other long enough to exchange their home addresses comfortably. Avoid sharing your address with a stranger.

Also, ensure you know your partner's dietary preferences and food allergies before ordering them a meal. The last thing you want to do is surprise them with their worst meal.
5. Watch a Movie or Television Program Together
Watching a movie or television series isn't just a way to have fun on a physical date. It's just as exciting on a Zoom or Skype date.

You'll need to agree on a movie or program to watch. Then once you're connected with your partner, press Play simultaneously and start watching the movie.

The convention is to choose a relatively short movie or series. Long films have a way of becoming boring, especially now that there won't be so much conversation taking place while the movie is playing.

At the end of the film or television show, you could take a few minutes to review it.
6. Play a Game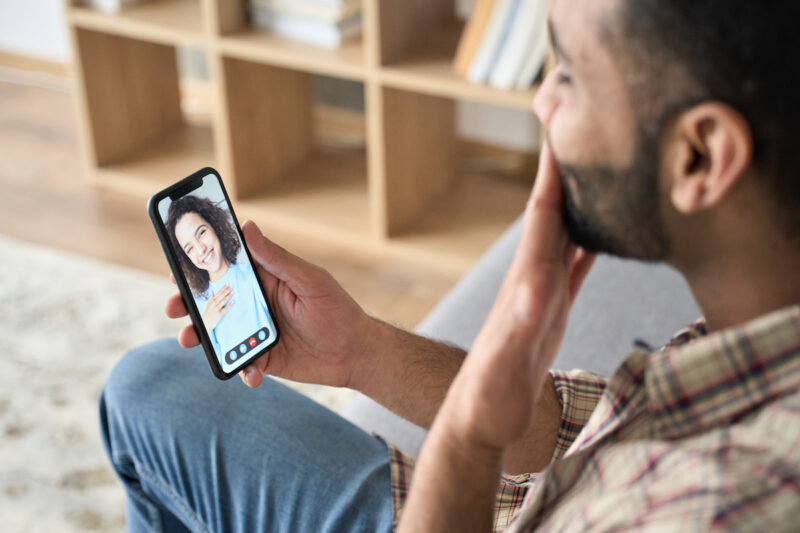 There's no shortage of games you can play over a virtual date.

One such game is Read My Lips. In this game, you turn off the microphone of your laptop and say a word, then let your partner figure out what you said.

You can also play Pictionary, a game where you draw a random shape and ask the other person to guess what the shape is.

Other popular games you can play on a virtual date include:

• The Alphabet Game
• Charades
• Say Something
• Truth or Dare
• Would You Rather?
7. Jam To Some Music
Decide on a common song. It should preferably be a song that both of you can relate to. Then, sing the song's lines or stanzas alternately.

If you like, you can both have the song play in the background. Also, don't be afraid to let your emotions flow.
8. Bust a Dance Move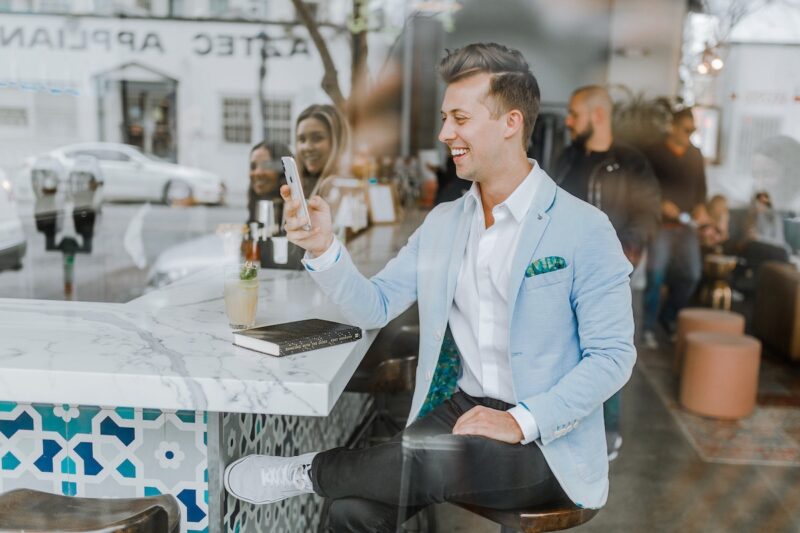 It doesn't matter whether you or your partner have two left legs. It won't hurt to take the floor and dance yourself crazy.

Consider visiting platforms like YouTube or TikTok and master a surprise dance move before the date. Then take turns to showcase your dancing skill.
9. Take a Leisure Walk
The fact that you're on a virtual date doesn't mean you should just be a couch potato. Not when you can spice up the experience by going on a walk around the neighborhood.

First, you'll need to get your partner to agree to the idea of a leisure walk. You can then set out on your favorite hiking spots and take the time to explore each other's beautiful sceneries.
10. Work Out Together
If you don't like the idea of a leisure walk but still crave for a fun and sweaty activity, you might want to consider working out together. There are tons of indoor exercises you can perform with your partner to have a good time while also keeping fit.

As with most virtual date ideas, both partners will need to agree on the workouts to perform. Consider exercises that allow for seamless interaction, such as yoga, pushups, and rope jumps.
11. Take a Fakecation
A fakecation is a mock vacation that you take within your very own house. It's one of the most effective virtual dating ideas during the COVID-19 pandemic, where couples may have been quarantined in different locations.

After going live, take your partner on a tour of your house, from the living room to the kitchen, bedroom, basement, and garage.

If properly executed, a fakecation can be a perfect way to give your partner a sneak preview of your life.
12. E-stargaze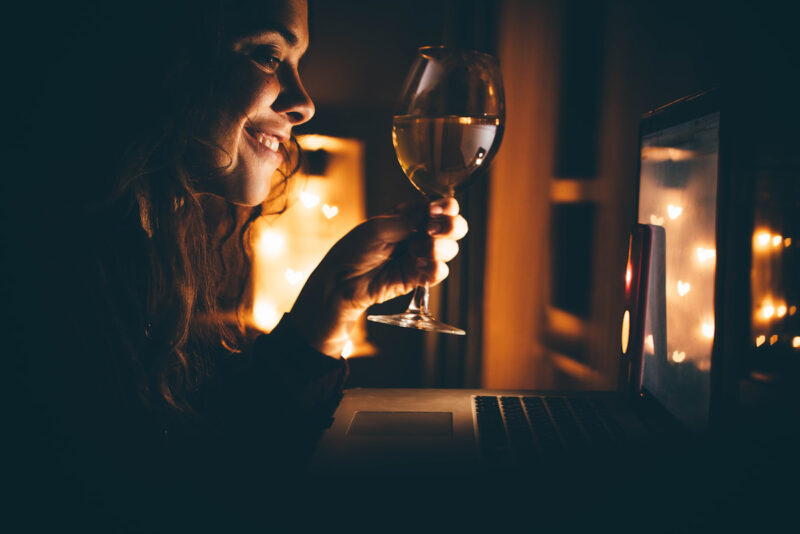 Stargazing is one of the most romantic ways to spend a date night together. If the sky is clear and the weather is right, you can both sit on your respective backyards and treat yourselves to the charming beauty of the firmament.

Better yet, there are several online planetarium sites you can take advantage of to make your e-stargazing experience more sublime. Examples include Sky Live and Stellarium.
13. Have a Double Date
When it comes to romantic dates, most people subscribe to the saying 'two's company, three's a crowd.' But in the case of long-distance relationships, inviting your friends can help spice up the experience.

It goes without saying that the friends you invite to a double virtual date must be people you can trust with your life. You don't want your intimate conversations landing into the wrong ears. They should also be people who can relate to the whole idea of long-distance relationships.
Wrap Up
Virtual dating is a great way to meet and woo your soulmate or navigate long-distance relationships. Although a date over a video call isn't exactly the ideal way to connect with your romantic partner or love interest, it can still be fun and exciting. We hope you can use the above-listed dating ideas to pop up your next virtual dating experience.