Last Updated on January 11, 2022
What Is A Website Uptime Monitoring Tool?
As the name implies, a website uptime monitoring tool is a service that tracks the performance of your site with regards to its availability and user experience. Many web hosting service providers often promise an uptime of up to 99.99%. Using a website uptime monitoring tool, you can know whether your site is performing as was promised by your hosting company or not.
But why does excellent website uptime matter?
First, poor website uptime affects your brand reputation, which reflects negatively on your net revenues. If your site experiences frequent downtimes, not only will you lose your current customers.
They'll also leave some pretty negative feedback on social media and other online community forums. Before you know it, you'll be shelling out huge amounts of money trying to reconstruct your damaged online reputation.
Poor website uptime also leaves a negative impression on new customers. First-time visitors to slow-loading e-commerce websites will unlikely ever return.
So, whether you're running a blog or an e-commerce store, your website uptime is of paramount importance. The following are some of the top services that can help you to track your website's uptime.
1. Uptrends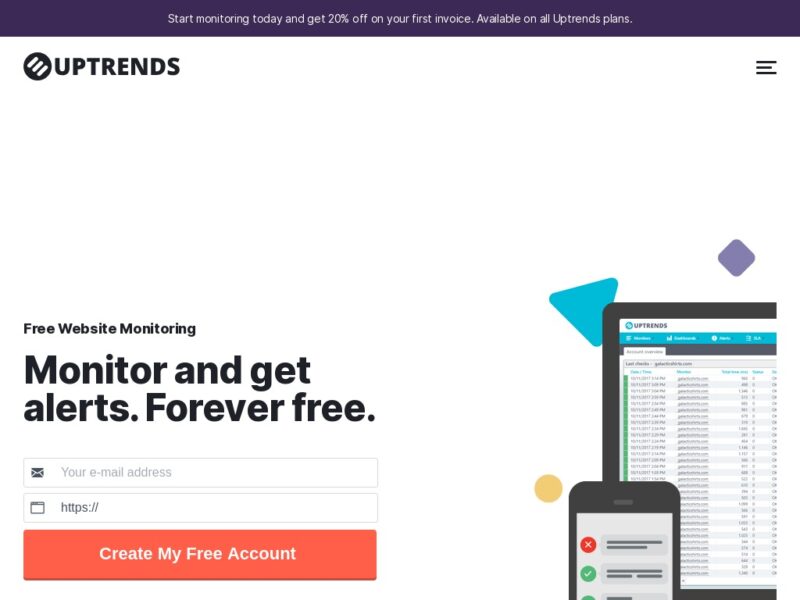 Website: https://www.uptrends.com/free-website-monitoring
Uptrends monitors your website's uptime from various locations around the world and sends you email notifications whenever your site experiences downtimes. This tool prides itself on its user-friendly and beautiful dashboard. On the dashboard, you can track your site's performance across several essential metrics, including;
• Availability chart,
• Total time taken to load graphs, and
• Error breakdown by types.
You can even customize the Uptrends dashboard to your desired specifications. The tool allows you to export data in various formats, including MS Excel and PDF. What's more – Uptrends is completely free.
2. Dotcom-Monitor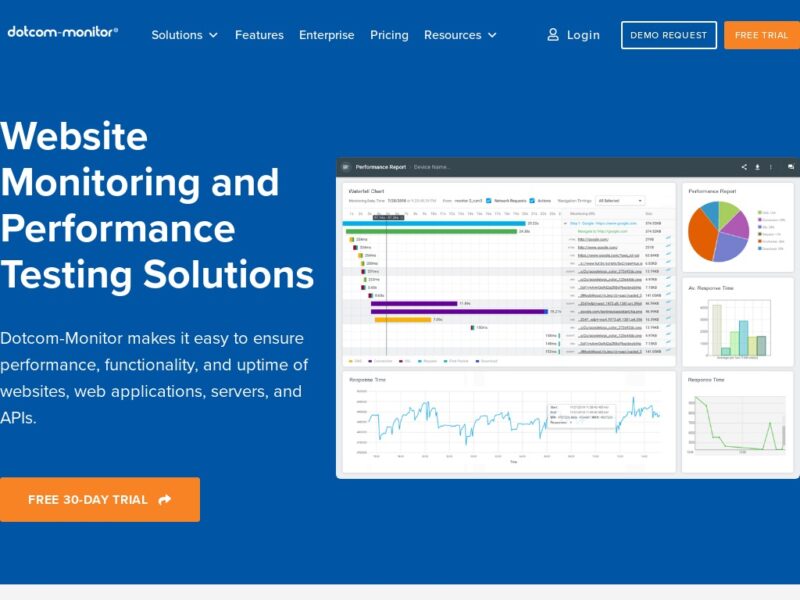 Website: https://www.dotcom-monitor.com/
How would you like to monitor your website's uptime in more than 25 global locations? Well, Dotcom-Monitor promises that and a lot more. This uptime tracking tool helps you identify specific issues with your website through email, text, or telephone alerts. Notifications are sent to you as frequently as every 1 minute.
Dotcom-Monitor reports across several metrics, including FTP, transaction time, dashboard navigability, mail server performance, and general uptime. The tool comes with a 30-day free trial, after which you can choose from one of the four available plans.
3. Status Cake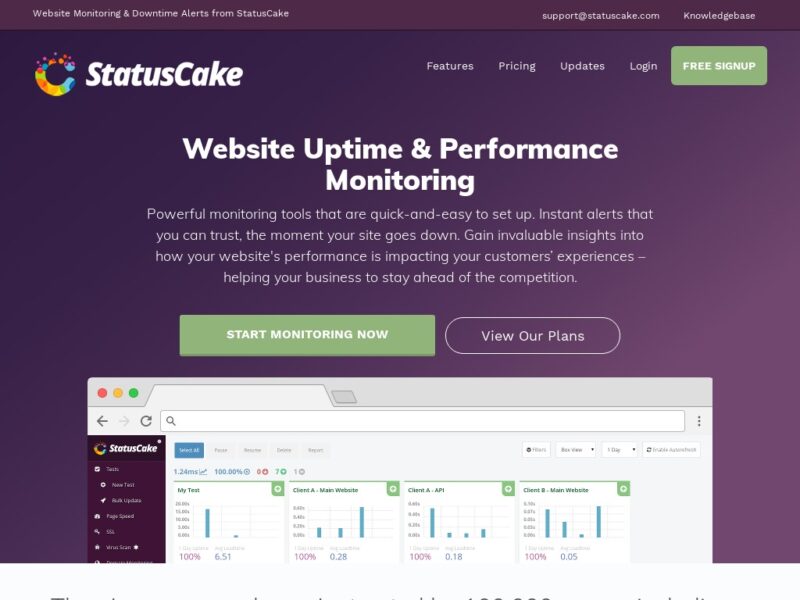 Website: https://www.statuscake.com/
There's a reason big brands like Netflix, Microsoft, and JET BRAINS trust Status Cake for monitoring their site's uptime. First, Status Cake is incredibly easy to use. The tool also comes with a cocktail of uptime tracking features. You can test the load speed of your web pages, as well as monitor your servers, domain, and SSL certificate.
Status Cake notifies you every five minutes and is available in more than 45 locations around the globe. The service comes with a free plan that you can sign up with and test its reliability before upgrading to the premium package.
4. Montastic
Website: https://www.montastic.com/
Montastic is available in both free and paid versions. The free version includes 9 monitors and reports on your site's uptime every 30 minutes. The paid version costs a paltry $49 per month and includes up to 500 monitors, with reporting intervals as frequent as 5 minutes.
Montastic sends you notifications when your site goes down and when it comes back up. And if you'd like to enjoy premium features but are a bit strapped for cash, there are a few plans between $0 and $49 to take advantage of.
The simplistic interface of this website uptime tracking tool makes it a perfect recommendation for beginners. Users also get widgets for Windows, Mac, and Android.
5. Alertra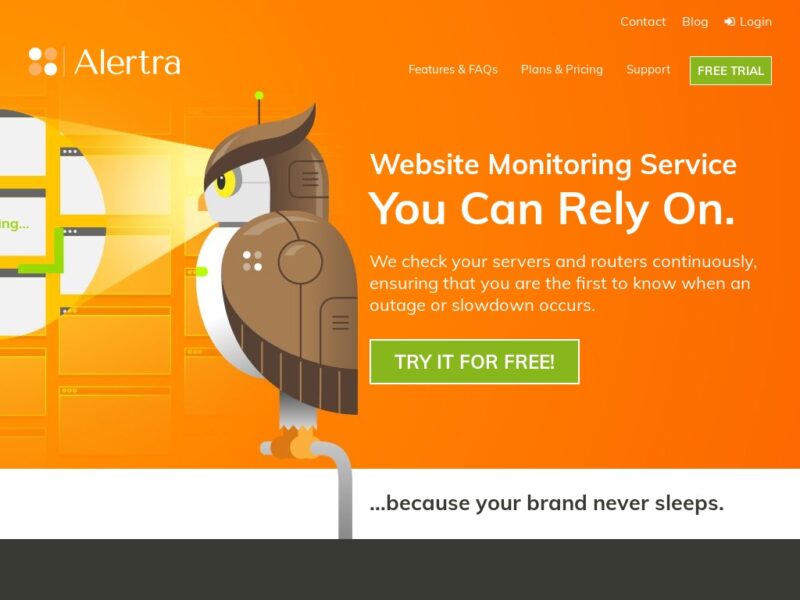 Website: https://www.alertra.com/
Like most effective website uptime monitoring tools, Alertra tracks the performance of your website from multiple server locations around the globe. It monitors website functions like DNS, SMTP, HTT, and MySQL.
With Alertra's subscription plan, you're entitled to free email and Google Talk notifications, as well as free Android and iOS notifications. However, the service charges 19c and 29c for SMS and telephone notifications, respectively.
Unlike some website uptime trackers, Alertra doesn't come with a contract. That means you can start and terminate the service whenever you want.
6. Updown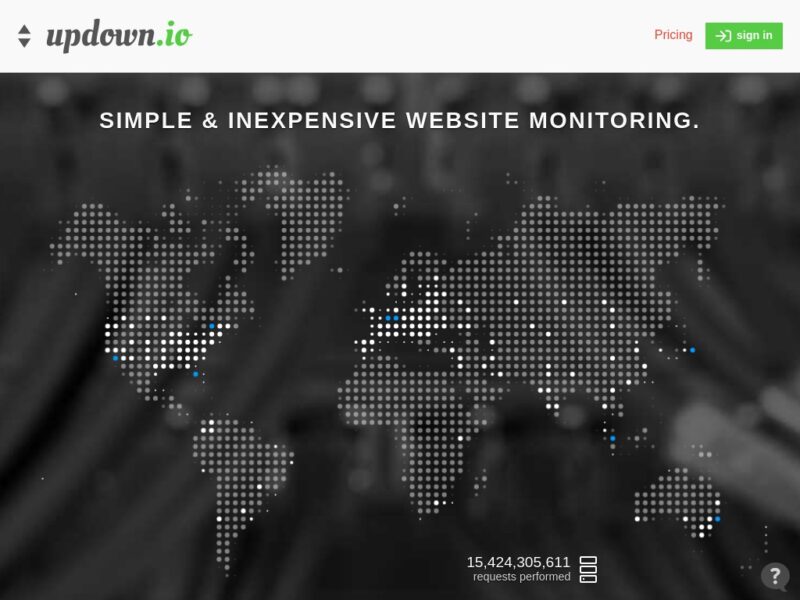 Website: https://updown.io/
Updown monitors your website's uptime by sending an HTTP HEAD request to your choice URL. If it detects any issues with your site, the tool notifies you via SMS or email.
But the best thing about this uptime tracker is its flexible pricing. Users are charged depending on the number of sites they wish to track and how frequently they'd like to receive the notifications.
Other features include slack integration, OAuth access, SSL testing, and the ability to check your uptime as frequently as every 30 seconds. Presently, Updown is available in eight global locations, from the US and Canada to Germany, France, etc.
7. Pingdom
Website: https://www.pingdom.com/
Pingdom checks your website's uptime in over 60 locations around the world. It's one of the most accurate website uptime monitor tools, as it double-checks all reports to filter out false alerts. The service notifies you every minute through SMS or email. Besides tracking your website's uptime, Pingdom also monitors the load speed of your web pages.
Some of Pingdom's clientele include notable brands like Pinterest, Apple, Google, Walmart, Spotify, and Amazon, which speaks to the tool's reliability. The service comes with a public status page where you can display the impressive results of your site's uptime.
A notable drawback, though, is that Pingdom doesn't have a free plan.
8. New Relic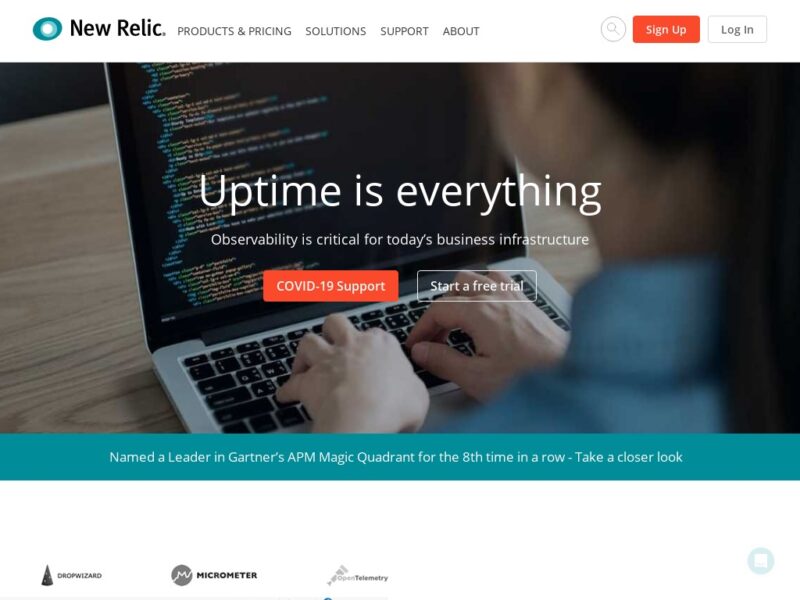 Website: https://www.newrelic.com/
New Relic is another website uptime tracker that prides itself in its pricing flexibility. The tool charges you depending on the number of hosts it's tracking and the environment size. It checks your website's uptime in up to 14 different locations and can report to you in as frequently as every minute.
New Relic is mostly famous for its incredible application performance monitoring (APM) abilities, which analyze your website's uptime and load speed. It reports across various metrics, such as filterable Error Analytics, error rates, and throughput. The tool supports up to eight different languages, including Ruby, Java, PHP, Microsoft.NET, Node.js, C SDK, Python, and Go.
9. Site24x7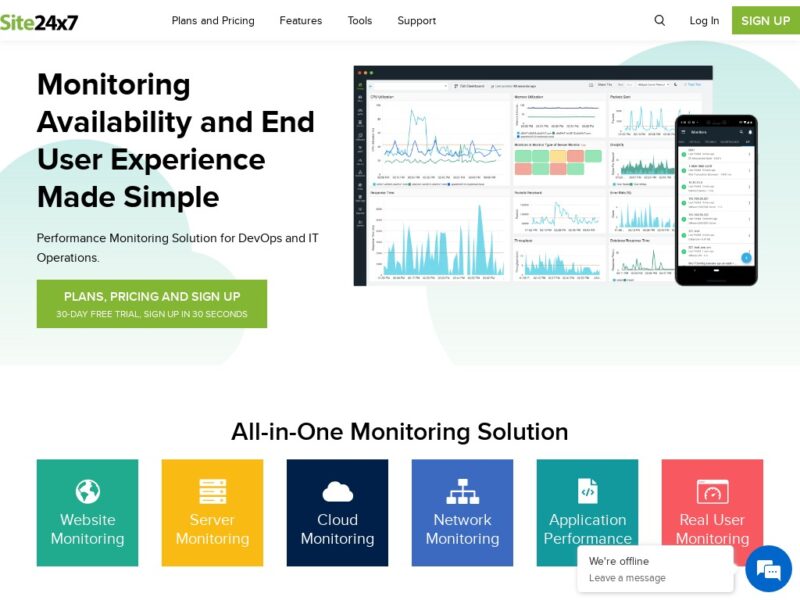 Website: https://www.site24x7.com/
Site24x7 was established way back in 2006, and the service has a lot to show for its extended duration in the industry. It's one of the most versatile website uptime trackers out there, with an ability to also check your servers and applications in more than 50 locations.
The tool supports a variety of protocols, ranging from REST API to DNS, FTP, HTTP, HTTPS, TCP, POP, Ping, SMTP, and IMAP. Site24x7 integrates with other reliable services like Zapier and Pager Duty to send accurate notifications.
To eliminate false alerts, the tool rechecks reports from three separate locations. Some of Site24x7's clients include Harley-Davidson, Groupon, and Xerox.
10. Uptime.com
Website: https://uptime.com/
Uptime.com doesn't come with a freemium plan, but that's by no means a deal-breaker. There are loads of website uptime monitoring features to enjoy just by paying as low as $16 per month. Besides checking your website's uptime across all the six continents, Uptime.com also offers virus and malware monitoring, real user monitoring (RUM), and load speed analysis.
When your website experiences downtimes, Uptime.com sends you notifications at one-minute intervals via email, SMS, phone call, or custom integrations. Some of the protocols the service supports include HTTP, HTTPS, SMTP, SSH, TCP, DNS, POP, Ping, IMAP, and UDP. Cisco, Kraft, AARP, and IBM are some of the brands that Uptime.com serves.
Conclusion
Admittedly, websites experience downtimes at one point or another. But when it happens, you deserve to know ASAP, so you can take the necessary measures to restore your site's performance.
With hundreds of website uptime monitoring tools out there, it's easy to get lost in the maze of recommendations. However, if you're looking for reliable and affordable website uptime trackers, then the tools that we've reviewed here are definitely worth giving a try.