Last Updated on January 24, 2023
A website's load speed significantly influences user experience. In fact, a slow-loading webpage is one of the leading causes of high bounce rates, which simply implies that visitors leave your site as soon as they enter there. With a slow-loading page, it's almost impossible to convert traffic to your website into leads. And that's just the beginning of your woes. 
Major search engines rank websites based on the average page load time. So, with a slow website load speed, not only do you lose potential clients, but search engines also rank your site lower on SERPs. That further affects the visibility of your website, which goes against the fundamental objective of establishing an online store. 
Fortunately for you, there are numerous tools that you can use to test the load speed of your website, and those shall be the focus of this post. 
Best Website Speed Test Tools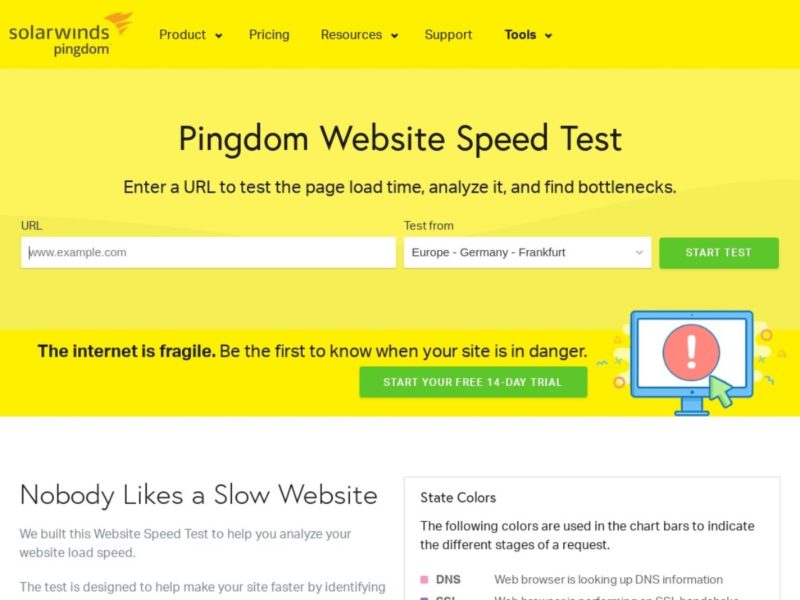 Pingdom prides itself in its friendly and interactive interface, where all of your site's request details are displayed in a waterfall view. The website load speed testing tool allows you to filter your requests by load times as well as load order and file size. That way, you can determine the specific aspects of your website that require improvements. 
Pingdom rates the speed performance of your website out of a possible score of 100. The rating takes into consideration various elements that might affect the load speed of your site, which again enables you to highlight the potential areas for improvement. 
And after testing the speed of your web page, Pingdom safely stores all the data. You can refer to this information at a later date to determine how well you've fared in improving the load speed of your site.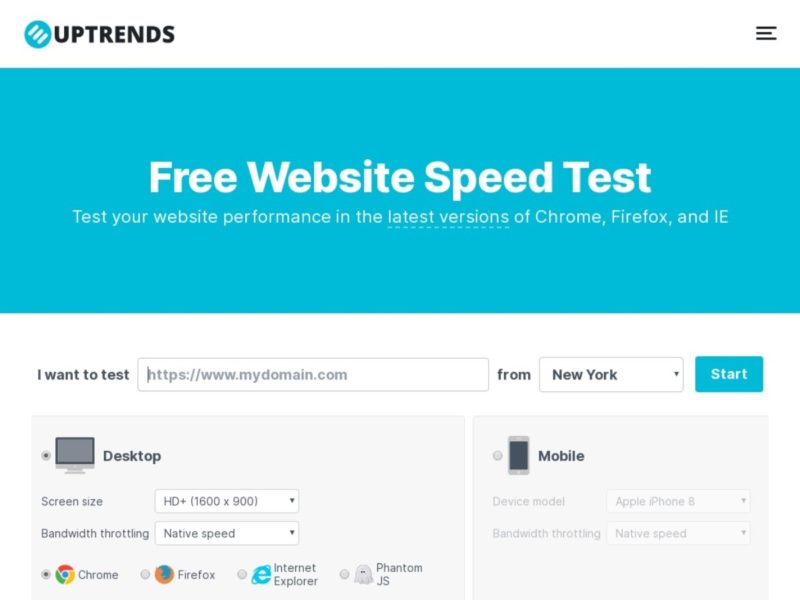 Uptrends comes with numerous features as far as testing the load speed of your website goes. The tool lets you track the performance of your site by providing various crucial metrics, including the load time, page size, and load requests. After examining all these metrics, Uptrends then recommends the areas for improvement. 
Uptrends' servers are located in various cities around the world, such as Berlin and Frankfurt in Germany, Los Angeles and New York in the US, Paris, Amsterdam, London, Sydney, and Singapore. That makes it one of the most globally available web page load speed testing tools. 
What's more – you have the flexibility of testing the load speed of your site either from a desktop or mobile device.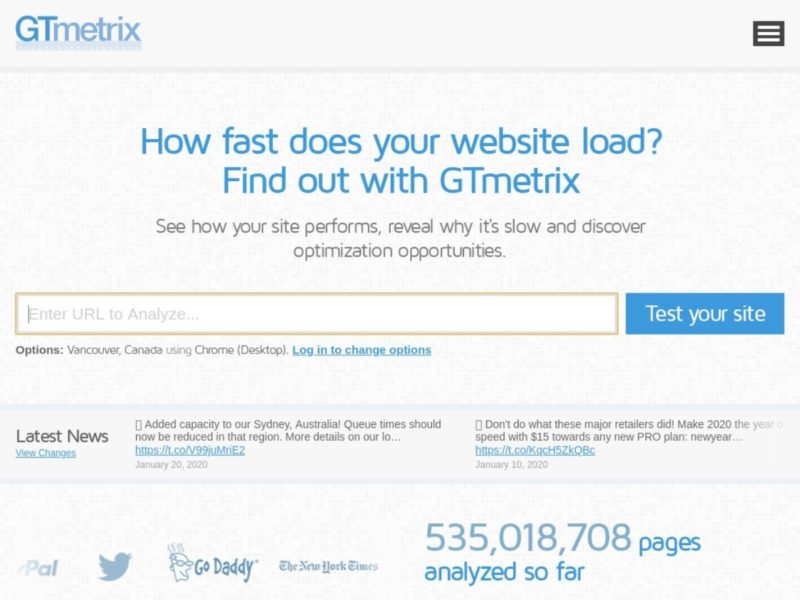 GTMetric uses Yahoo! and Google Page Speed to test the speed of your website. It then recommends the potential areas for improvement by providing an elaborate summary of crucial performance indicators. The tool displays all the request details in a waterfall chart, which helps with trackability. 
GTMetric is designed with a visual playback feature through which you can revisit the page load information. 
And like Uptrends, the tool is also available in different cities around the world, including Hong Kong, Sydney, Dallas, Sao Paulo, etc. If you're based in Canada, you won't even need to go through the free registration process, as GTMetric runs website load speed tests in the country by default.
As the name indicates, Google PageSpeed Insights is a tool that's offered by Google, which already speaks volumes about its high efficiency and credibility. 
The tool uses lab data that are generated by Lighthouse to test the speed performance of your website, giving your site a score of between 0 and 100. On this scale, a score of 90-100 means that your website is fast enough, 50 – 89 denotes average load speed while 0-49 is indicative of a very slow load speed. 
Google PageSpeed Insights displays its request details in data that features various metrics, including Speed Index, Time to Interactive, and Estimated Input Latency. Speed Index is the speed by which the contents on your website become visibly populated, while the Time to Interactive refers the time the page takes to become fully interactive.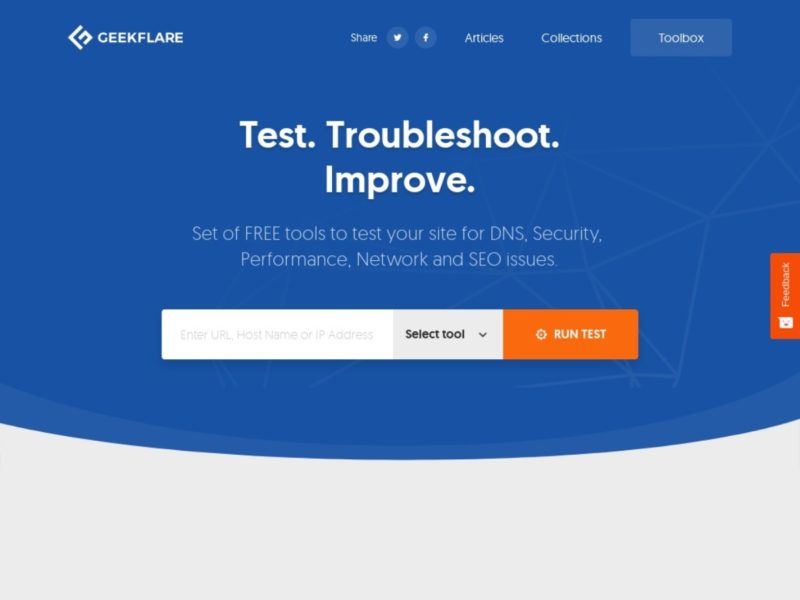 Geek Flare comes with the flexibility of letting you test the load speed of your website across desktop and mobile devices. You can also use this tool in various locations around the world. 
Geek Flare tests the load speed of your website by providing various essential metrics. Examples include; the page size, the time it takes to load the full web page across desktop and mobile devices, the number of load requests, and Time to First Byte (TTFB). TTFB refers to the duration it takes for a client's browser to receive the first byte from the web server. 
Another drawcard of Geek Flare is that it breaks down the load requests depending on the content, such as HTML, CSS, images, etc.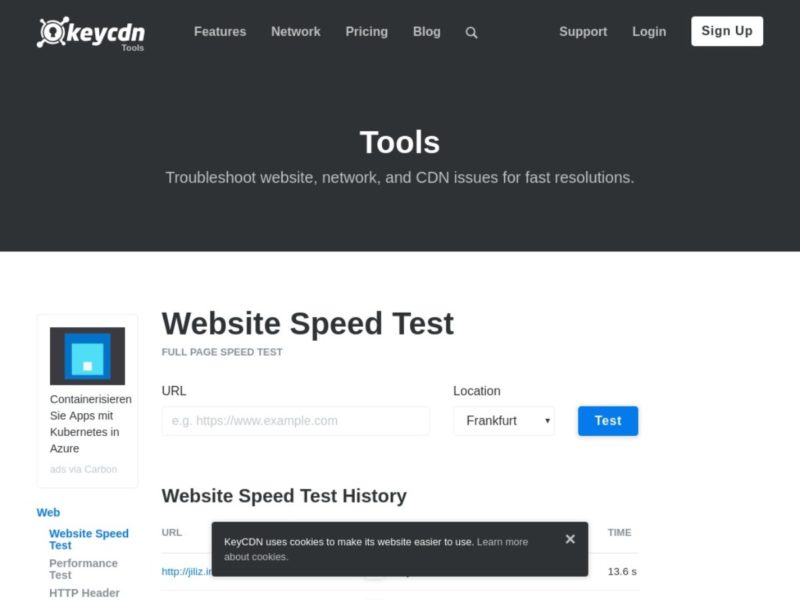 KeyCDN tests the speed of your website and displays results that you can share through a link. That's useful when you're working with your web developer in real-time, as it enables you to transmit the results for immediate action. 
KeyCDN displays a waterfall breakdown with color-coded sections that feature the following elements; Blocked, DNS, SSL, Connect, Send, Receive, Wait. The website load speed tester also displays the HTTP status code as shown below;
2xx – The server successfully responded with a code

3xx – The request was effectively redirected to a different target

4xx – Client error

5xx – Server error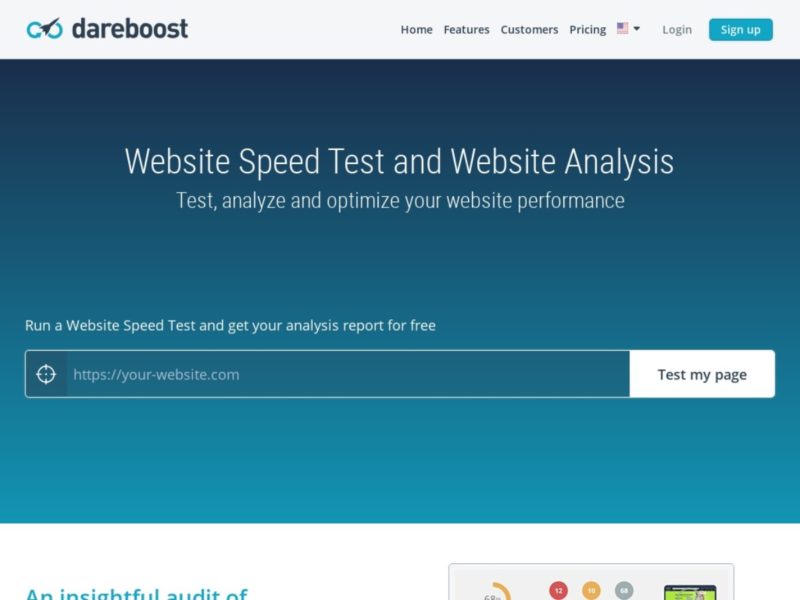 DareBoost is a one-stop tool that analyzes various performance levels of your website. Besides testing the load speed of your web pages, this tool also monitors the security, SEO, quality, plus scores of other data points. 
The security features of this tool are especially commendable, as you can leverage them to determine whether your website is under threat of clickjacking attack as well as check the status of your SSL certificate. 
While DareBoost is largely a premium subscription service, the tool offers five free website speed test reports every month. And though you don't enjoy a couple of advanced features under the freemium package, DareBoost's web page load speed tester is quite accurate and reliable.
WebPagetest is used to test the load speed of a web page in various regions around the world. But what gives WebPagetest an edge over other website speed testers is that it has a forum where you can always check into for more insights on how to optimize your site's performance. 
The tool allows you to run simple or advanced website testing, including video capture, multi-step transactions, content blocking, etc. 
And besides displaying your load speed requests in waterfall charts, WebPagetest also highlights potential areas for improvement. Lastly, WebPagetest is compatible with different browsers, including Chrome and IE browsers.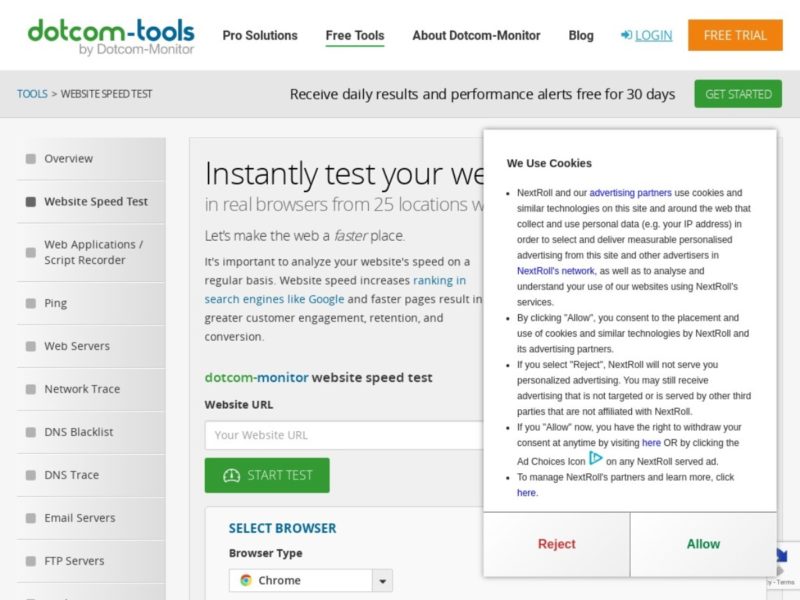 Dotcom-tools allows you to test the load speed of your website from over 20 locations around the world, covering all the six continents. 
The tool is compatible with various browsers, from Firefox, IE, and Chrome to mobile browsers. It displays elaborate waterfall charts as well as graphs and images. To ensure maximum accuracy, Dotcom-Tools analyzes the speed of multiple elements of your website, then works out the site's average speed depending on the performance of those individual elements. 
The tool also breaks down the report by host element, including SSL, Connection, DNS, First packet, Request, and Download.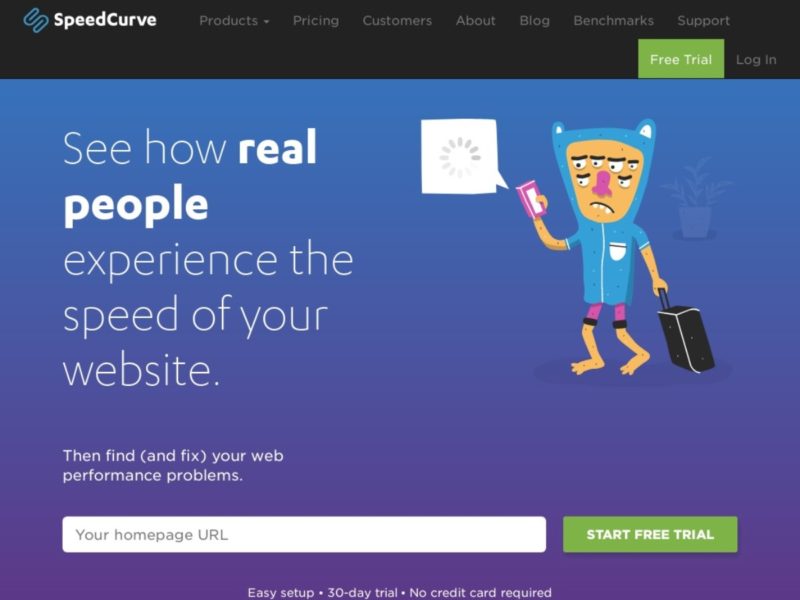 SpeedCurve tests the design and load speed of your website. It analyzes the speed of each of your web pages, enabling you to fix performance issues on a page-by-page basis. 
With this tool, you can monitor various performance parameters of your website, including A/B tests, conversion rates, cart size, etc. Not only is the tool's interface user-friendly, but it also displays engaging charts. 
SpeedCurve also comes with a Deploy API feature, through which you can track code changes between deploys. What's more – the tool allows you to generate personalized visualizations that you can then share with your team, such as side-by-side videos.
Wrap Up
Nothing is more distressing to an online retail outlet than having to deal with high bounce rates. 
And with statistics suggesting that internet users spend an average of 8 seconds on a site, it pays to ensure your website has superb loading speed. 
You can leverage any of the tools we've reviewed here to test your site's load speed and make improvements where necessary.