Last Updated on January 24, 2023
The blog industry is a cut-throat business. With more than 150 million blogs vying for the top spots online, becoming the next big thing requires more than just a touch of luck. The thriving blogging world is competitive, challenging and exciting. The trifecta of revenue, enjoyment, and challenges that blogs can bring to the table make site owners crave for more likes and follows.
Alas, with the demand for new, exciting blogs and bloggers, the online world is bombarded with trends and fads that honestly do nothing but be a nuisance. These trends that seemingly possess endless lives make blog reading annoying and inconvenient. Here are some of the most common internet trends today that we really hope to die NOW.
Note: We are guilty of executing a few of these. 🙁
Web Interface  
Screen Loading
Yes, unfortunately, this is still a thing. Despite the outstanding internet advancements we've seen in the past couple of years, screen loading is still widely prevalent. Some websites still allow their readers to wait for a few precious minutes just to load the site's contents – precious minutes that can easily push the reader to just move on.
What makes this cringe-worthy internet trend worse is the lack of features to make the waiting time worthwhile. A couple of minutes of wait for the screen to load can be bearable if there are some fancy elements on the homepage that readers can look into to pass the time.
Pop-Up Boxes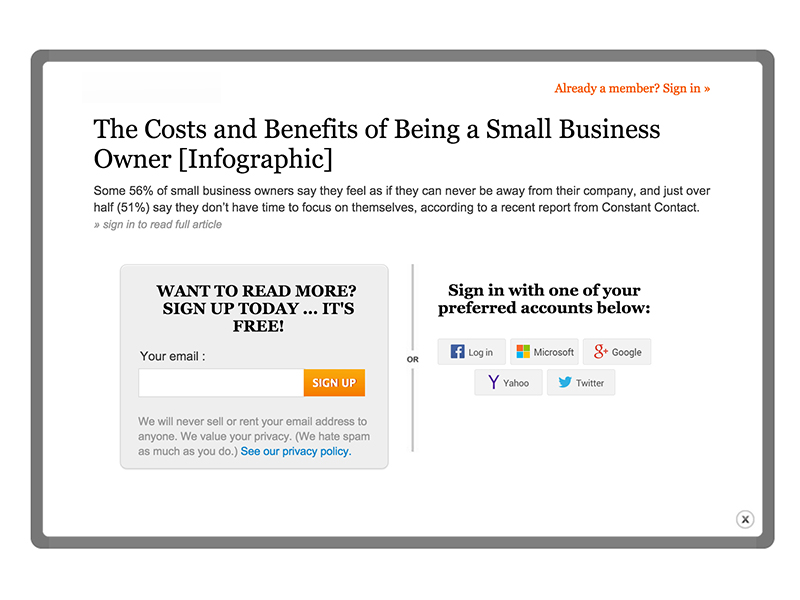 Particularly those that pop up even before you start reading. This is probably one of the most annoying internet trends that have nine lives. It just won't quit.
It's no fun being immersed in a compelling article or laughing at something you read and then the page just goes dark so the pop-up can take the center stage. What makes this extra annoying is that message posted on the pop-up screen, which is usually a call-to-action to like the blog's Facebook account. The ironic thing is that blog owners with pop-up boxes don't realize that a reader will like the blog's social media account AFTER reading a compelling article or a story, and not BEFORE.
Interstitials
You may not know what they are called, but interstitials are the ads that load up in between the search page and the actual website. One of the most popular sites that use interstitial is Forbes. Most of the time, these ads are just random "quote of the day." However, they can still cause annoyance, especially if the site visitor wasn't able to notice the option to skip the ad. Thankfully, interstitials are less and less being used in blog sites these days. The downside is that more and more free mobile apps are using this trend.
Autoplay Videos
Autoplay videos are sneaky ones. They are the ones that usually cause panic to first-time site visitors. Out of nowhere, you'll just start hearing some form of music, sound, or someone actually talking. This results to you doing some sort of hide-and-seek to see where the sound is coming from – which is usually at the side or at the bottom of the site. While video options are okay and helpful at some extent, autoplay videos are annoying, especially if the PC or laptop's speakers are set to loud. They rob the visitors the choice to play – or not – the videos on their own.
Ads Overload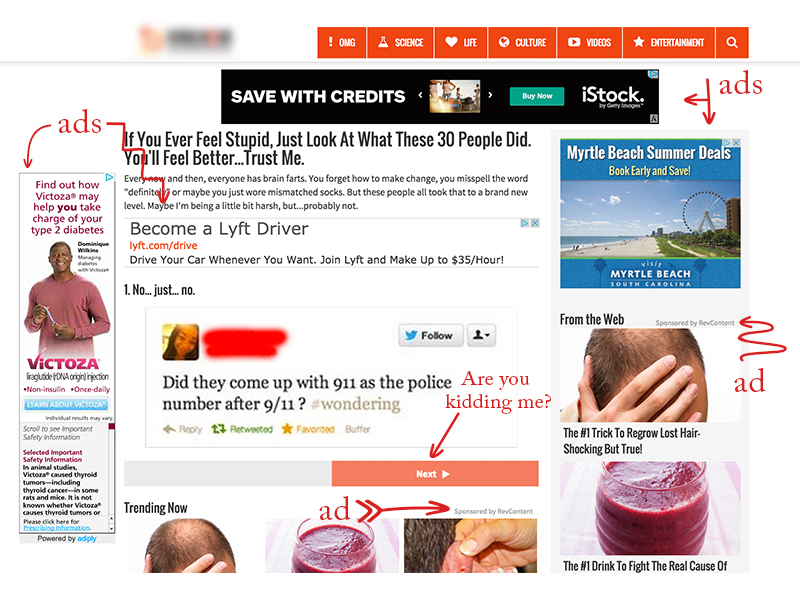 It's not a secret that ads are the bread and butter of many blog sites. And most visitors are accepting (or tolerant) about this fact. However, what makes this trend infinitely taxing is the amount of ads the blog owner puts in an article or page. Three types of ads for a 300-word article is just plain wrong and rude. Peppering a blog page with ads with little content information is no good as well.
Yes, everyone must make a living, even bloggers. But, hopefully, not to the point that the actual readers – the prospective buyers – may get turned off because the ads make their reading experience difficult.
Online Content Fads
Clickbait
Clickbait is similar to a black cat with nine lives… and some more. Clickbait is old news, and so are the complaints about it. But even with its prevalence, a lot of online users still get annoyed because of it. And their negative reactions are justified. Clickbait articles are essentially misleading, recycled, exaggerated, poor in quality, and often nonsensical. These articles are literally baits to generate more clicks. Websites that use clickbait usually sacrifice user-experience just to make an ad impression. This is an unimpressive marketing strategy.
Scraped News
This online content trend that we all wish to cease right away is in close relationship with the clickbait. Retelling of news isn't a bad thing, per se. After all, news, particularly those that are life-changing, needs to be spread far and wide. What makes scraped news vexing is the amount of scraping done. On some levels, blogs that constantly publish scraped news are subjected to plagiarism. This is especially true if the blog article doesn't have any attribution. Another problem with scraped news is the quality of the article. Obviously, the content is recycled. Can it still provide a new light on the issue? Can it still provide value? More often than not, the answers to these questions are "no" and "no."
Slideshows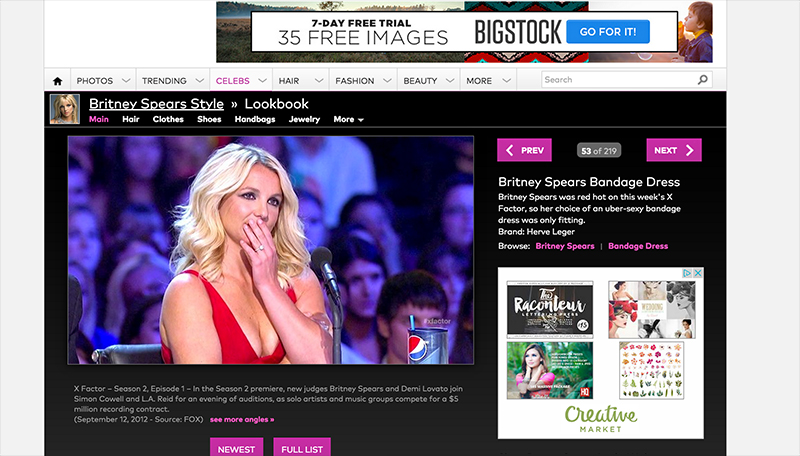 In theory, slideshows are great for blogs. In fact, for a time a few years back, slideshows were the "it" form of content. The idea behind slideshows is to encapsulate related images into a single viewing frame with a back-next buttons. It's a simpler method as opposed to clicking photos one-by-one and waiting for the page to load every time. The idea is great, the problem is the execution. Most slideshows are either plain crap or frustrating to view.
For one, there are slideshows that use JavaScript that takes forever to load. And if they successfully do, most of the time, the photo is cropped or just abruptly stops working. Another issue with slideshows is the ad inserts. In the past, slideshows were used to split a long article into two. Nowadays, slideshows are used to generate more page clicks and ad revenues.
Share Button Overload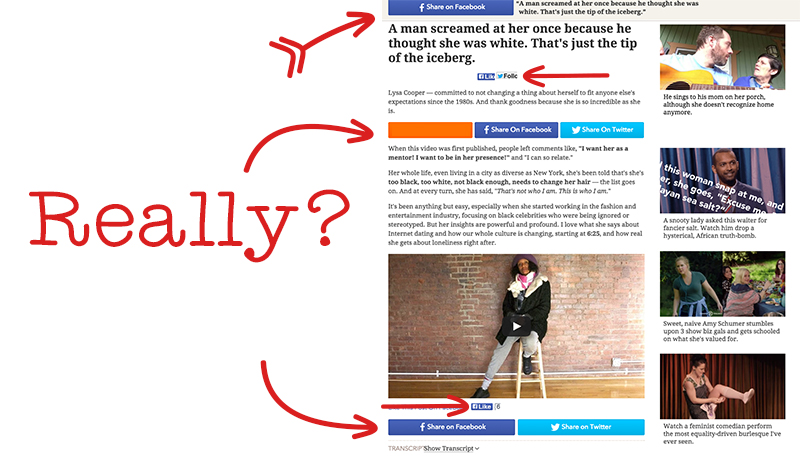 Just the sight alone can make you cringe. Blog owners either want to cover all of their bases (hence, the overload of share buttons) or they don't have the concept of "less is more." Facebook, Twitter, and Google+ buttons are okay because they are, honestly, the only ones that really matter. But adding the button of every social media platform or channel, not to mention email options, can push the readers to their limits. While the idea of more options is good, sometimes, too many choices can result in decreased interactions.
Native Ads (Guilty as Charged)
Overwhelming in a bad sense. Like mentioned earlier, ads are to be expected in a web/blog site. They're the blogger's main source of revenue. However, there are certain ads – like the native ads – that are too annoying just by reading their snippets. Why? Because, to say it bluntly, they are full of crap. Seeing a blog recommending "How to Lose Fat in Five Days" or "How to Be a Millionaire in a Month" diminishes its credibility.
Incorrect Images
Yes, a picture paints a thousand words. But if the photos used in a blog site doesn't jive with the overall design of the site and the product/service being offered, then they are useless. This particular internet trend can result in a negative user experience because humans are visual creatures. We have an entire area in our brain that is just reserved for image processing. And if what the photos your visitors saw aren't worth processing, then your content will suffer. The content will likely be disregarded as not something worthy of a second look, thanks to the wrong images used.
Website Design 
Obscure Navigation
It doesn't matter if your website has the coolest design ever or if it's unique and outstanding, if it is not workable, it's nothing. One of the many pet peeves of online users, and ironically a web design trend that won't just die, is the obscure navigation.
Isn't a website supposed to be simple, hassle-free, and easy-to-navigate? A very cool web design is worthless if a blog visitor, thanks to the invisible navigation on the blog, can't access one page from another. This is just like offering hundreds of products to a client, but with no labels and no signs to assist them.
Overcomplicated Design
There's unique, and then there's unique. The problem with some blog owners is that their desire to stand out usually gets in the way. Instead of wanting cohesiveness, they want overcomplicated. Instead of simple, they want crowded. Instead of user-friendly, they want one of a kind. In the same manner, the problem with some web designers is their intense desire to make every blog site they create different to any site online. While these aspirations are commendable, sometimes they don't provide any help to the site.
Online readers would rather have a simple and easy-to-navigate website than an overcomplicated and loud design.
Carousel Design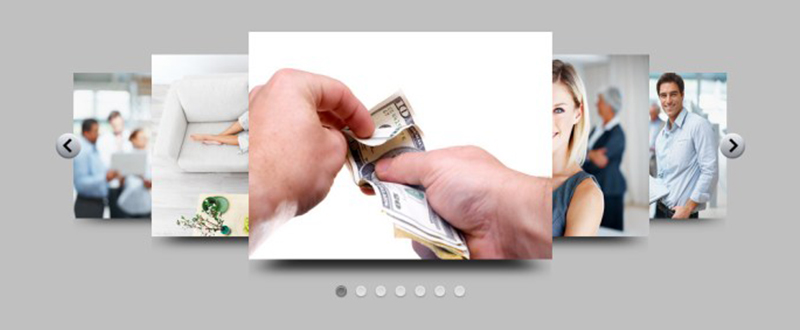 The carousel web design is the perfect example of design-first, use-later. There are some industries that can take advantage of what carousel brings to the table, like real estate business. However, most industries don't need the carousel design to provide content to their readers or show what they're offering to others. In fact, the carousel has an opposite effect. Instead of happiness, visitors will just get easily annoyed with how the content is presented. Not to mention, the carousel usually wastes valuable space that can be used to further promote the blog or the brand.
These are just some of the internet trends that need to cease existing NOW. Especially today when the advancements being developed online are geared to a faster, simpler, and more productive blogging experience.