Last Updated on January 24, 2023
Color plays a big role in a wedding.
From the decorations to the flowers to the bridesmaids dresses, it is imbued in every aspect of your big day and it really sets the theme and the vibe for the celebration.
Besides figuring out the most effective skin care products to transform your skin and hair, picking the right dress, flowers and settings for the venue can be overwhelming.
So choosing the perfect color palette is definitely not an easy decision to make.
You need to keep your venue in mind, the emotion you want to evoke, the season, and even what color flatters your complexion.
Most importantly, your colors should be a reflection of you and who you are as a couple.
Not sure what colors vibe with your personality?
Here, we're breaking down what five popular wedding color themes reveal about you.
Black and white says you're classic and timeless
You can never go wrong with a classic black and white theme.
It says you're all about elegance and sophistication.
You like to keep things traditional but edgy at the same time.
Black is powerful and projects an aura of confidence and a little bit of mystery.
It gives that extra touch of drama.
White, on the other hand, symbolizes simplicity, light, and new beginnings.
Together, the colors create a high-end ambiance that's perfect for black-tie celebrations.
It's definitely a color combination that won't ever go out of style.
 There are so many different ways you can play with these colors.
Dress your bridal party in long black gowns.
Add an unconventional touch to your own look with a bouquet of black flowers.
Adorn the tables with white linens and black chairs and maybe add a pop of glamour with gold silverware.
And if you want to make it feel a bit more casual, you can mix in some greenery.
Red says you're a romantic at heart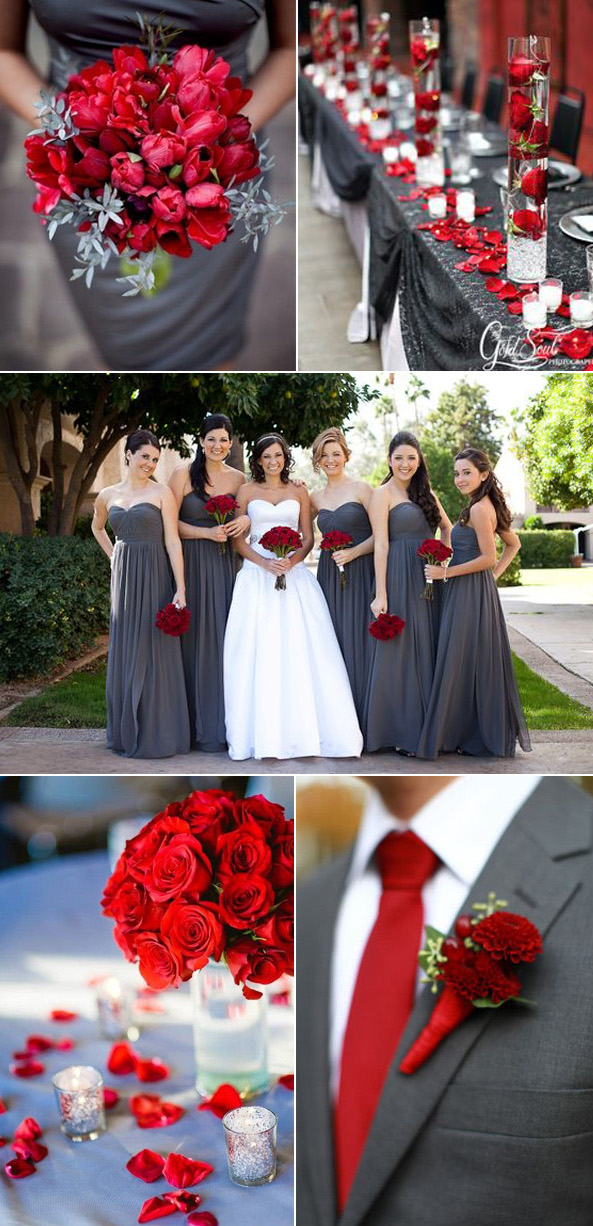 There's a reason why the color red is associated with Valentine's Day: It oozes love and romance like no other.
Choosing red as your main wedding color says you're fiery, strong, and passionate.
You and your partner are not afraid to make a statement.
You want your guests to feel the love in the air on your wedding day.
Although bold, red can be versatile.
You can dress it up and make it into a grand, luxurious affair in an ornate ballroom.
Or, you can give it a more bohemian vibe with rustic wood tables, candles, flower crowns, a red rose archway at the altar, and lots of lush foliage.
If you really want to wow the crowd and go against the grain, wear a red wedding dress.
If you're more of a demure type of bride, you can use red to just add some eye-catching accents via your lipstick, shoes, or bouquet.
Pinks and pastels say you're fun and whimsical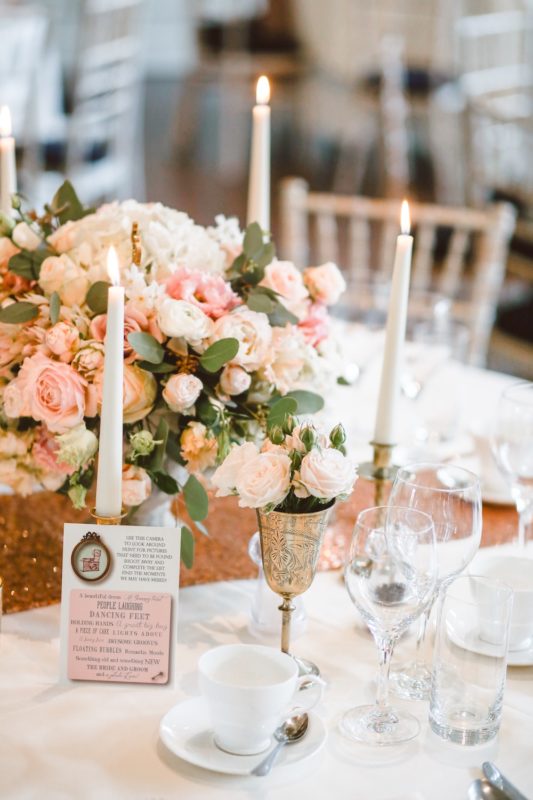 Pinks and muted pastel colors give off a loving, nurturing, blissful energy.
These light colors say you're charming, soft, and a bit whimsical.
They say you and your forever love are free spirited and like to have fun and laugh a lot.
The light and airy colors are great if you're getting married somewhere beachy or during the warmer months.
Dusty rose and blush pinks are super popular these days so you'll have no problem finding endless inspiration on Pinterest.
You can keep it super light and neutral by mixing in different textures (think burlap, twine, satin, and chiffon) into your decor.
Or make it pop a bit more with some hints of brighter shades of pink here and there.
Light pastel colors are also begging to be incorporated into a gorgeous flower wall photo booth aka Kim Kardashian.
Sunset hues say you have a zest for life
 Sunset hues like yellow and orange reveal that you're fun, cheerful, bright, and adventurous. Orange is spicy.
Yellow feels like a ray of sunshine.
They symbolize the bright future you and your significant other will have together.
These colors work for all seasons too.
They're great for a citrus summer theme in a garden setting or an autumn affair with a deeper shade of orange.
Whatever the season, these colors create a playful atmosphere for you and your guests to celebrate your love.
The possibilities for these colors are as vivacious and vibrant as the colors themselves.
Have your bridesmaids wear all different shades of orange, yellow, and coral to really nail that sunset theme.
Choose a Pinterest-worthy orange ombre cake.
Use actual citrus fruits like oranges, grapefruits, and lemons sliced in half as part of your table centerpieces.
The more creative, the better.
Greens and blues say you're down-to-earth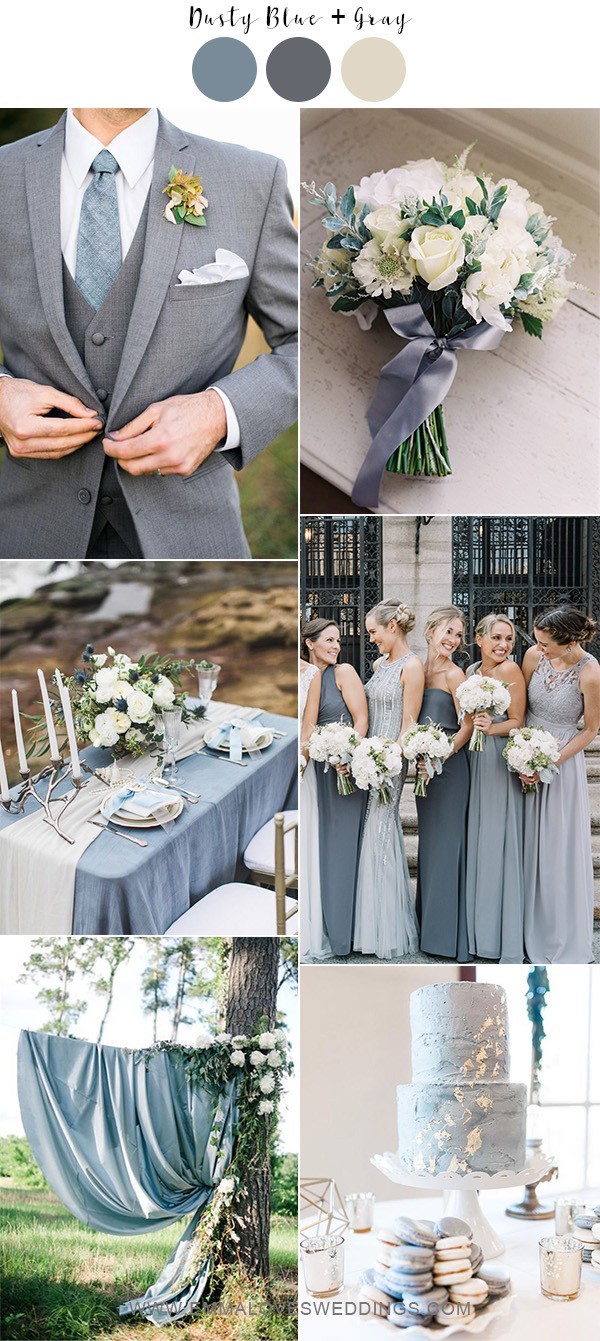 Blue and green are both colors you find in nature.
Choosing these colors for your wedding tells everyone that you're a dreamer and a lover of beauty.
It says you're full of life yet you give off a calming, peaceful energy. Blue is a very spiritual color.
While green is very grounding and earthy and symbolizes growth.
 There are a few different ways you can use these colors in your wedding depending on the season.
During the warmer months, you can use softer tones mixed in with botanical motifs to give the day a very elegant and fresh personality.
And during the colder months, you can go with richer, jewel tones like emerald green and sapphire blue that are more regal and luxurious.