Last Updated on January 20, 2022
If you spend a substantial amount of time on social media, then you've probably used tons of emojis. Indeed, the introduction of emojis revolutionized the way we express ourselves online.

People no longer have to write 'haha' in response to a hilarious Facebook pun or type a page-long reply to show their disgust for a mean tweet. A simple emoji can drive the message home, sometimes even more effectively than a worded reply would.

But emojis have one glaring drawback – their inability to customize.

Fortunately, it's now possible to customize characters on a social media website to create realistic depictions of yourself. That's all thanks to Bitmoji.
What Is Bitmoji?
Bitmoji is a secondary social media app that allows you to create a personalized, realistic cartoon version of yourself. You can then use these cartoon depictions (also known as Bitmojis) as your profile picture on your various social media accounts to enhance your personal branding on these platforms. You can also use them to communicate with other online users through various communication channels, such as live chat and email.

One major advantage of Bitmojis is their ease of creation. All you need is to download the Bitmoji app, create an avatar of yourself, and then apply a range of customization features. Bitmojis also provide better appeal than Emojis. Using them to communicate on the internet is an ingenious way to draw the spotlight to your message.
A Brief History of Bitmoji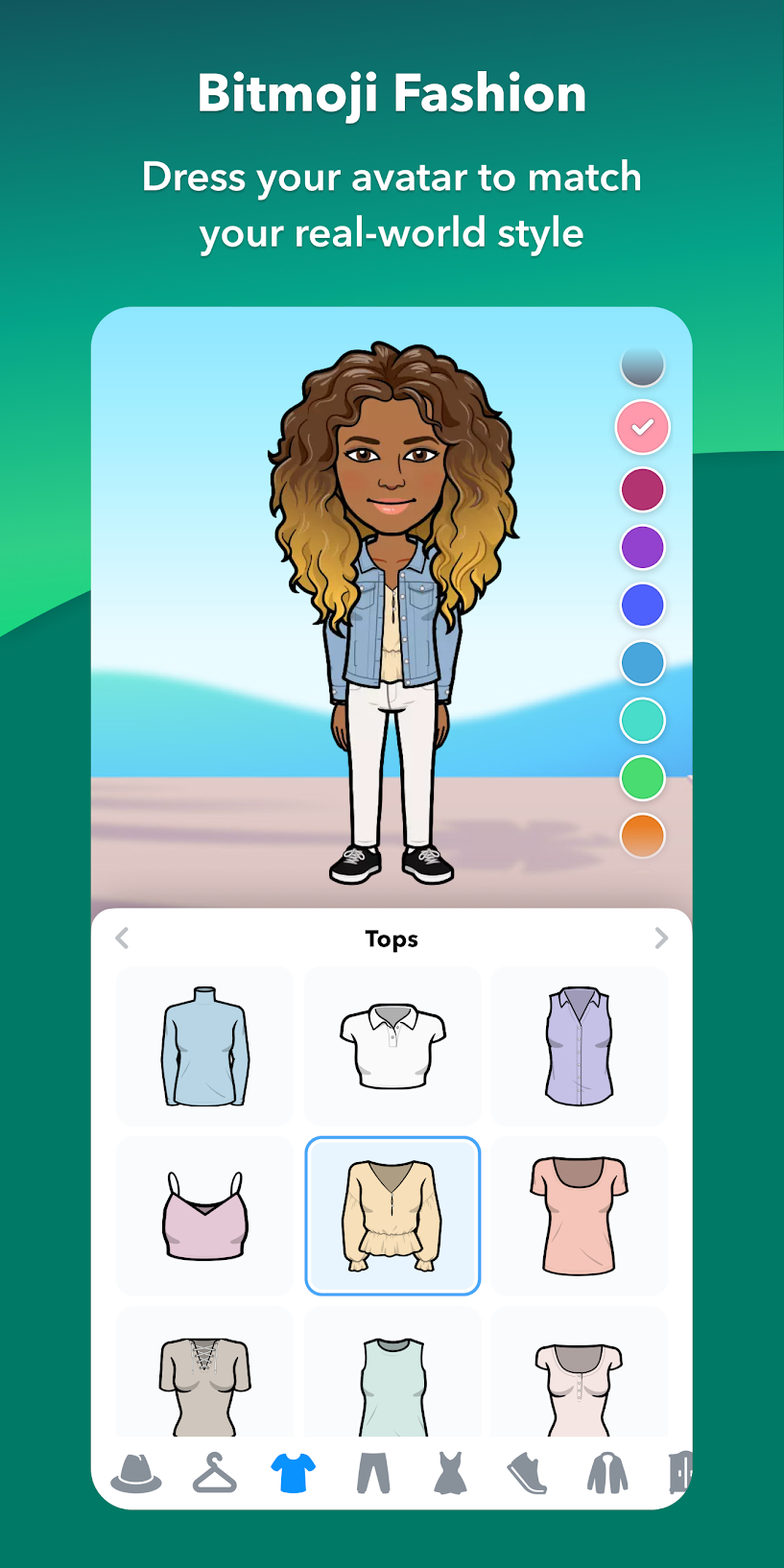 The concept of Bitmojis has been around for nearly 15 years. Initially, social media users were able to create comic depictions of themselves and their friends, then put these versions in different situations by use of the app Bitstrips. The Bitstrips app was developed by a company by the same name, based in Toronto, Canada.

Founded in 2007, Bitstrips intended to create digital comic strips that feature customized avatars – the same concept behind Bitmojis. According to co-founders Jacob Blackstock and Jesse Brown, the original idea of Bitstrips was to enable self-expression on the internet without necessarily requiring artistic skills.

In December 2012, Bitstrips launched a version for Facebook. By July the following year, the app had over 10 million Facebook users.

To enhance its accessibility, Bitstrips launched a mobile app in October 2013. Two months later, Bitstrips became a top-downloaded app in 40 countries and at least 30 million avatars had been designed using it.

In 2014, Bitstrips launched Bitmoji as its spin-off app. Bitmoji allowed Bitstrips users to create personalized stickers featuring Bitstrips characters.

In July 2016, Snap, Inc. (the same company that owns Snapchat) acquired Bitstrips for over $100 million and subsequently shut down the parent company so it could focus on Bitmoji. A few months following this acquisition, Snap, Inc. updated its Snapchat's app to integrate it with Bitmoji. Snapchat users could now link their accounts with Bitmoji, making it easy to add Bitmojis to their Snapchat posts.
Where Can You Find Bitmoji?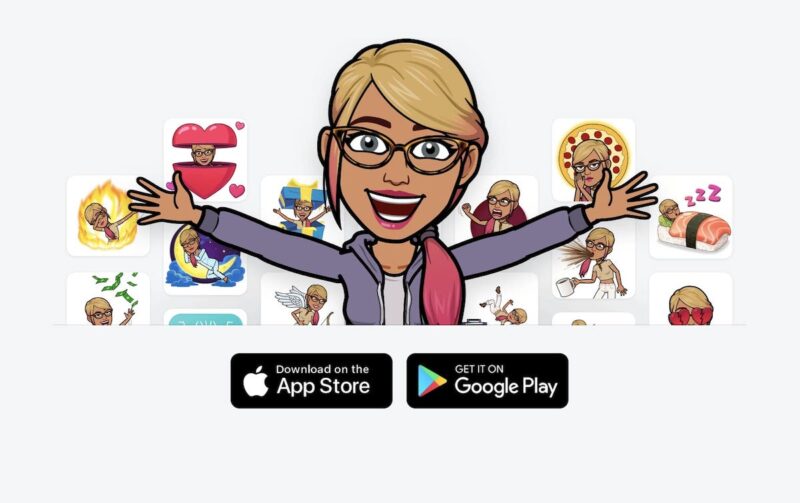 Bitmoji is readily available in the Chrome Web Store. That makes it especially suitable for Chrome users. You can either use the app directly from the Chrome Web Store or add it as a Chrome extension.

There's also a Bitmoji app compatible with both Android and iPhone devices. However, Android users must have Android 4.3 devices or later to access Bitmoji, while iPhone users require iOS 9.0 devices or later to enjoy Bitmoji's profile personalization features. Either way, the app is free to download provided that you have enough internet bandwidth.
Which Apps Integrate With Bitmoji?
As we've already pointed out, Bitmoji is owned by Snap, Inc. and has since been integrated with Snapchat. But we've also mentioned that Bitmoji is a separate app which is accessible on the Chrome Web Store as well as Google Play Store and Apple Store. So, you don't necessarily need Snapchat to use Bitmoji.

Bitmoji integrates with several other platforms, such as Facebook, Facebook Messenger, iMessage, Gmail, Gboard, and Slack. In fact, you can use the app on any online communication platform that lets you copy and paste.

However, there are several perks of using Bitmoji on Snapchat compared to other social media platforms. Most notably, you enjoy a wider range of customization features, including the ability to access Friendmoji. Friendmojis are customized little Bitmojis that you can share with your Snapchat friends.
How to Use Bitmoji
i. Download the app.
Although you can access Bitmoji easily on the web or add it as a Chrome extension, you'll have better luck with the app if you download it into your Android or iOS device.

When you visit Bitmoji's website, you'll find options to download for various platforms, such as iMessage and Chrome web browser.
ii. Sign up.
After downloading the Bitmoji app, the next step is to create your login details by signing up for an account.

You'll be required to input various personal details, including your name and gender. You then choose a strong password for your account.
iii. Enable Bitmoji.
It's important to enable Bitmoji before using it, regardless of whether you downloaded the app through Snapchat.

The following is the procedure for enabling Bitmoji on Snapchat:

a) Open Snapchat.
b) Tap on the 'ghost' icon located on the top of the camera screen.
c) Open Settings by clicking on the 'gear' icon.
d) Tap Bitmoji > Link Bitmoji.
e) Finish the enabling process by agreeing to the confirmation screen when prompted.

NB: You don't need to enable Bitmoji in Snapchat if you're using the app on other platforms. Nonetheless, this step is highly recommended.
iv. Create your Bitmojis.
Now that you've connected your Bitmoji app with Snapchat, you're ready to create your personal Bitmojis.
The process unfolds as follows:
a) Access the Bitmoji app from your device.
b) Sign in to the app using your login details.
c) Proceed to Avatar and start making the cartoon depiction of yourself.

To proceed, Bitmoji will prompt you to take a selfie first. It will then auto-generate a comic version of yourself based on the photo. You can apply this version immediately or customize it further.
Some of the customization features you can experiment with include:
• Hair color and hairstyle
• Skin tone
• Eye color
• Nose shape
• Headwear
• Outfit
• Body type

After you've gone through the several screens of personalizing your Bitmoji, the app will present the final output which you can use immediately.

It's also possible to change your Bitmoji cartoon by adding or removing features whenever you please. You'll only need to head to 'Avatar Builder' and apply your desired changes.

Bitmoji provides regular updates and themes, ensuring that users have something different to experiment with each time. There are also special themes for seasonal sporting events, holidays, fashion trends, etc. These themes typically appear for a limited duration.

For instance, you can always change your Bitmoji clothing by heading to the section marked 'Dress Your Avatar.' You'll find a variety of wardrobe options to apply on your Bitmoji, including seasonal options like basketball jerseys and Santa Claus-themed clothing. There are plenty of other themed choices, such as job-related outfits designed for firefighters, chefs, etc.
Another cool customization feature is the ability to use the 3D animated version of yourself.
To use this feature:

a) Tap on the 'camera' icon.
b) Raise the Snapchat lenses.

Ensure the camera is in the rear-facing mode as opposed to the selfie mode.

For Bitmoji accounts already linked with Snapchat, there's the option for using the 3D Bitmoji feature among other lenses.

c) Tap on and pinch your avatar to change its size or move it to a different area within the background.
Sharing Your Bitmojis
When you're satisfied with the Bitmoji version of yourself, you can set up the Bitmoji keyboard on your device. It's this keyboard that allows you to share your generated avatar on other social networking platforms.

The Bitmoji app provides comprehensive instructions on how to set up the Bitmoji keyboard. You'll be able to access these instructions once you've saved your first Bitmoji. The instructions differ, depending on your specific device and operating system.
Android users can follow the procedure below:
i. Open the keyboard.
ii. Tap on the Stickers icon.
iii. Choose the Bitmoji tab.
iv. Select the avatar you wish to use.
The following procedure works for iOS users:
i. Head on to Settings > General > Keyboard > Keyboards > Add New Keyboard.
ii. Tap on Bitmoji.
iii. Slide the toggle located next to 'Allow Full Access' into the 'On' position.
iv. Access the keyword by tapping on the 'globe' icon and selecting your desired avatar.
Final Word
Bitmoji has truly revolutionized the way we communicate over the internet. Through its nifty personalization features, the app makes it easy to customize our social media profiles as well as chats over various online communication platforms.