Last Updated on January 24, 2023
Choosing the perfect swimsuit is no walk in the park. There are various factors you need to consider before you settle for the right suit. The most important one is your comfort level.
You should feel great in whatever position; when you are lifting your hands, squatting, sitting, running, or standing. The second thing to consider is the fabric.
There are types of fabric which provide sun protection, so you do not have to worry about harmful UV rays. A material such as nylon is smooth-fitting and lightweight, while polyester is a quick-drying fabric.
Consider your body type when choosing a swimsuit
Another very crucial factor in considering what swimsuit is best for your body is your body type. There are various types of body shapes. There is the straight or banana figure where the hips and shoulder measurements are almost the same.
Closer to the straight shape is the athletic shape which is also less curvy but more muscular. A pear or triangular figure is defined by a small waist, wide hips, and narrow shoulders. The popular hourglass figure is characterized by a small waist and large hips with proportionate shoulders.
Another common shape is the apple shape which is characterized by a larger bust and narrow hips.
How to choose the best suit for your body type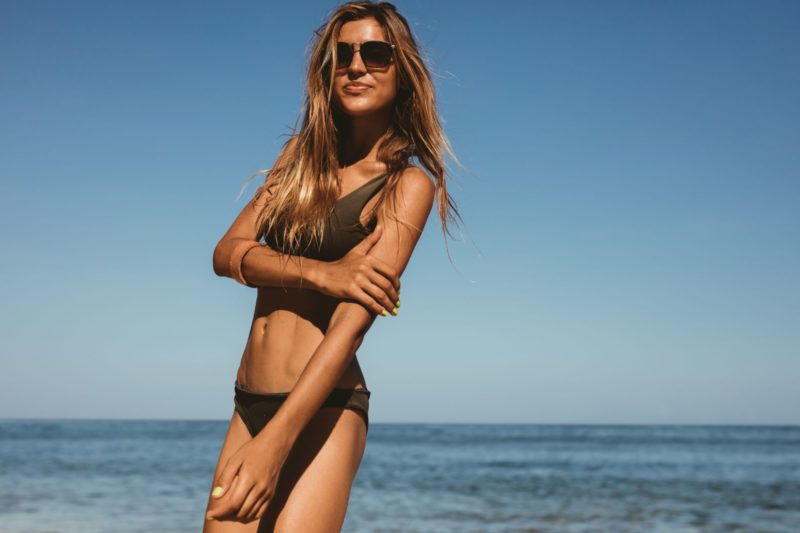 Whatever your shape is, below are some guidelines on how to choose a bathing suit. You can get most of these suits from a quality bikini shop such as Banana Moon.
Curvy hips and thighs and small torso
If you are a lady with a pear shape or a plus-sized shape, you need swimwear which gives you enough coverage for your bottom half. The correct bathing suit will draw attention to your top and minimize the bottom.
A skirted swimsuit is perfect for your body, coupled with an eye-catching top such as a halter neck or a sweetheart neckline. A bathing suit with a separate short will also give more coverage to your thighs.
Plus-size women with curves and large busts
If you are a plus-size woman, you can still rock in the right swimsuit style. Emphasize your better assets like your bust with a uniquely designed top. If you have a well-endowed bust, a high-neck suit can visually minimize your bust.
Also, go for an underwire bra with thick straps to provide extra support or a bra with molded cups to keep your tits in shape. To conceal a thick waist and round tummy, wear a blouse top with an empire waist, especially those with tummy control panels for extra smoothing.
The length of your legs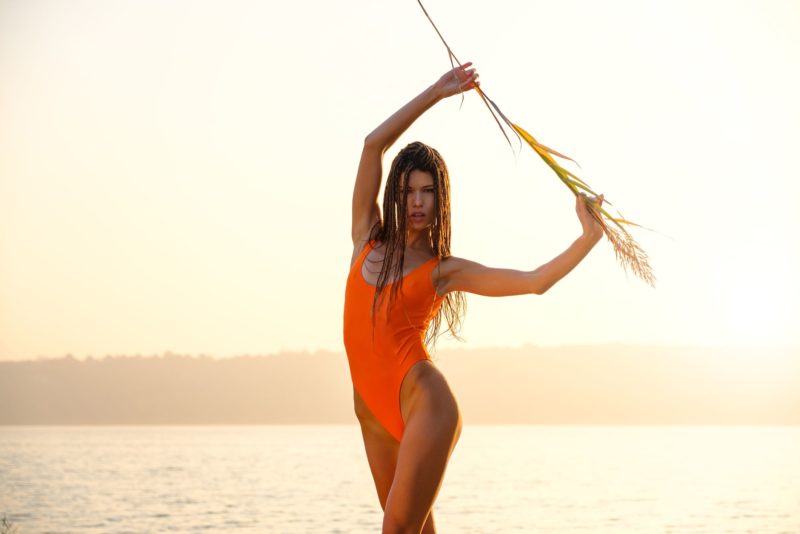 Swimsuits or one-piece bodysuits come in several styles including high, low, and medium leg cuts. The correct leg cut will highlight your body shape. If you have short legs, a high leg cut will be best as it will make your legs appear longer. A low cut 'shortens' your legs and 'lengthens' your torso.
Straight or athletic shape
For this kind of shape, you need a swimsuit which flatters your shape more and provides less coverage to make you look curvy. Go for bold prints both for the top and bottom as they add intrigue and accentuate your curves.
Monokinis and one-pieces with strategic cutouts or slashes, for example at the sides, are best for the athletic shape. Also, try a tie-side bikini bottom. You can adjust these bottoms to your size, and they also enhance your curves.
Small bust
If you wear an A or B cup, you have a smaller bust. That means your chest will need less support, which means you can go for styles with minimal bust coverage.
Since you will be choosing smaller bra sizes, you may want to go for styles, details, and patterns that give an illusion of a larger bust. Go for bold prints with ruffles or triangular tops to create an illusion of curves.
You also need a bikini top which creates a cleavage such as a padded push-up top or a halter top. Scoop tops also fit well if you are small-chested, so take advantage of them.
For the apple-shaped who have a fuller middle
If you carry much weight in your middle area, there are swimsuits for you. You can go for one or two-piece swimsuits which can slim your middle. A high-waisted two-piece suit, for example, will stylishly conceal your middle.
You can also try a surplice wrap silhouette whose crossover fabric will trim up your waist. The shirring is also perfect for covering up bulges thanks to its gathered fabric.
The tankini trend
The latest tankini trend of swimsuits also works well to conceal your middle body. A tankini bathing suit is one of the best choices when you want to cover your abdomen area, and it is also great for sun protection.
Its name is derived from the fact that it is a combination of a tank top and bikini top. The tankini is common for pregnant women as it offers safety and comfort. It is also suitable for most of the body types.
Consider a 3-piece suit with a bikini headband
A swimsuit with a matching headband can help spice up your look, making your attire stand out. Headbands absorb sweat and keep it from getting into your eyes as most are made from absorbent fabric. You may also find them useful for holding things like earbuds on your head.
Additionally, they help block off harsh and unwanted elements such as cold winds, sunshine, bugs, grit, and sand. If you are having a bad hair day, you can also hide it under a stylish headband.
In conclusion, do not downplay the power of your swimsuit's pattern and color. Black colors tend to make you appear slimmer. Designs with vertical lines can make you look taller and thinner, while horizontal lines have the opposite effect.
More importantly, avoid swimsuits that are too tight or too loose. Ensure you are comfortable and feel confident in the swimwear you choose. Loving what you see when you look in the mirror is crucial for you to have fun at the beach or swimming pool.