Last Updated on January 20, 2022
So far, the year 2017 has been great for the VPN industry. Every other day, a new VPN service gets launched, creating a buzz among the internet users. With an increase in online attacks, a breach of online privacy and internet security, there is a dire need of using a VPN service whenever you think of going online. Especially when your online experience involves a lot of data sharing – sharing personal information with others on the internet, floating confidential information or accessing websites that require your bank credentials or other private information.
In such circumstances, we urge you to use a VPN service whenever you're connected to the internet. Surely, you wouldn't want anyone to mishandle your private. These days, you cannot even trust your own ISP because you never know what they can do with your private information.
Most of the advertising companies are already paying a hefty amount to the internet service providers for providing them with users' data without getting their consent. Therefore, we would recommend you to always use a VPN service for better online security and never trust your ISP with your personal information. They not only can monitor your online activity but also share and sell your information to advertising companies, government, or any other surveillance agency.
Before we move further and tell which best vpn service you should definitely try in 2017, we would like to elaborate what a VPN really is and how it actually works. This explanation will be most useful for the users who are in desperate search for a tool that can help them with online privacy, let them stay away from online hackers, use public Wi-Fi without putting their private data at risk, and most importantly, browse the internet without worrying about someone monitoring their work.
What is a VPN service?
A VPN service acts like a secure tunnel between your internet connection and your electronic device, encrypting your online traffic. While you're connected to a VPN server, all the information that floats on the internet gets encrypted and stays safe from the prying eyes. Except for your VPN provider, no one can track your online activity, not even your own ISP. The ISP can only see that you're connected to a VPN server but they cannot monitor your internet traffic.
Why is VPN Service Good for Online Privacy?
A VPN service is quite beneficial especially when you're concerned about your online privacy and also want to make sure that you can safely use a public Wi-Fi. Moreover, many users would already be aware of the fact that since the FCC internet privacy protection has been repealed by the U.S Government, internet service providers would now be able to sell your private information to the marketing agencies such as Google, Facebook, etc.
Yes, you've heard it right. ISPs have been given green light to sell your web-browsing data without your consent. This harsh reality can really be hard to digest and not many internet users will be happy with this decision. Therefore, to secure themselves from their own ISPs, the best way would be using a VPN service.
Other Benefits of Using A VPN
There are numerous other benefits of using a VPN service. Apart from giving you online privacy on the internet and encrypting your internet data, a VPN service hides your IP address and current location, making you completely anonymous on the web. It also helps you in accessing unrestricted or blocked content. You can watch Netflix content while sitting in your own country. Moreover, you can access any website that has been blocked in your region. Therefore, it helps you in spoofing your location and hiding your IP address so you can unblock geo-restricted content.
Also, if you're a constant traveler, you must be having the habit of using a public Wi-Fi connection whenever you visit a restaurant, coffee shop, airport, or any other public place that offers free Wi-Fi to its customers. When you're connected to the public Wi-Fi via VPN server, no one can sneak into your device and get access to your private information because all the data will be encrypted with secure VPN protocols.
Best Free VPN Services
There are way too many VPN options available in the market at the moment. Some are free whereas others are paid options. If you're going to use a VPN service for the first time, then we would recommend you give it a shot to a free VPN. Since you have no idea how this VPN works, we would not want you to pay for a premium VPN and then think you've wasted your own money when you're not able to gain benefit from it. Therefore, a free VPN can be your best shot especially if you're going to use this service for the first time. Free VPNs can come with some drawbacks; therefore, you need to be careful while picking the best ones. We have listed down some of the best VPN services that you can try this year.
FalcoVPN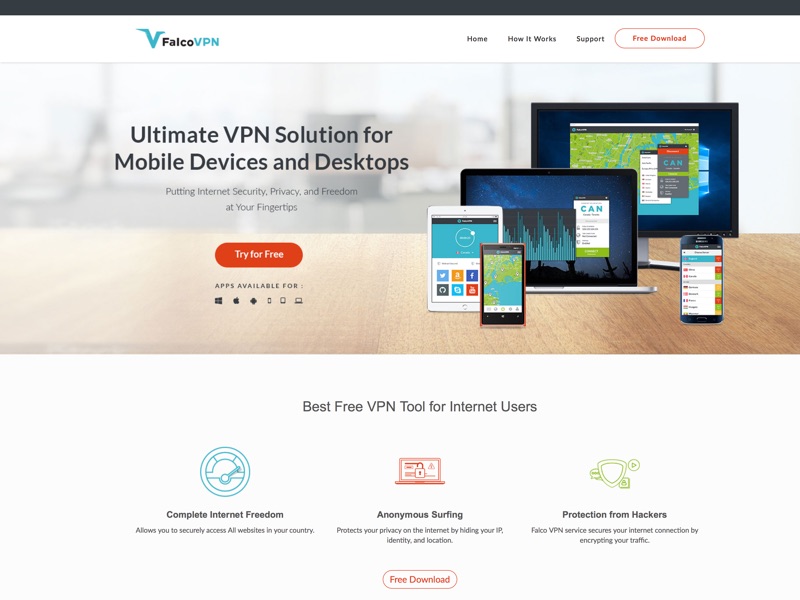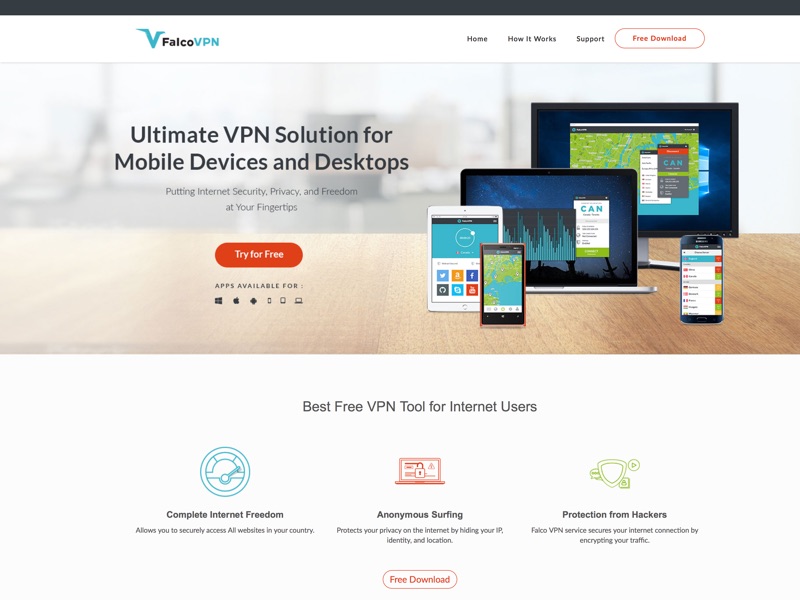 FalcoVPN made its entry into the VPN industry not while ago but has already been receiving rave reviews from the users. Providing full support for all mobile phone and desktop platforms, FalcoVPN is definitely our pick of the bunch. After skimming through the reviews this VPN service has received so far, we come to analyze that it works really fast without any internet speed interruptions. The user-friendly interface of the app makes it really easy for the users to install and then use. It allows users to select their own level of protection by selecting from a wide range of secure VPN protocols.
This VPN service does not keep log of your private information. Since it follows a strict no-log policy, it does not monitor or keep a track of your online activity and web-browsing history. So far, we couldn't find its downside except the fact that you have to get its premium version after the expiry of free trial version. This VPN service should definitely be on your list.
CyberGhost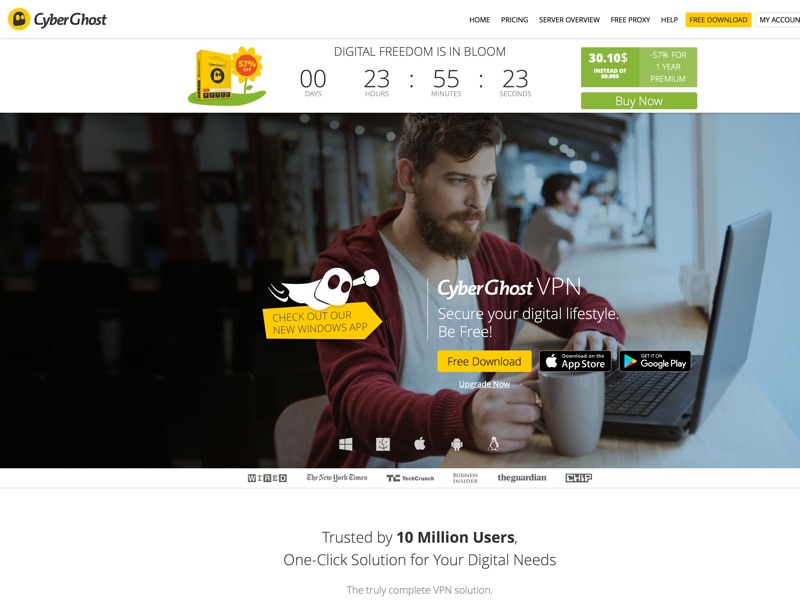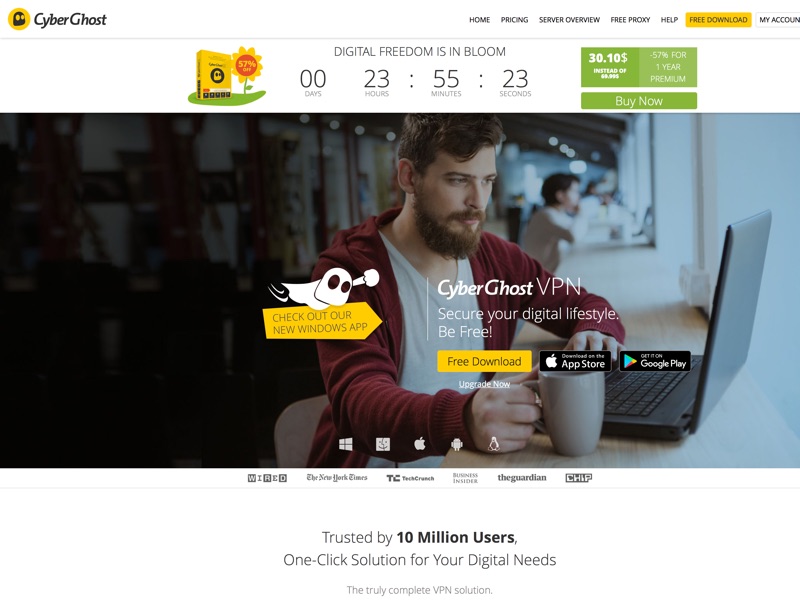 After FalcoVPN, CyberGhost would be our next pick. It offers both free and paid options. However, the free service only offers access to fourteen countries whereas the premium versions give access to twenty-four countries. We picked this VPN service because it never limits the bandwidth for free users. They can use it as much as they like. Furthermore, it also offers good internet speed. You can stream Netflix without any problem.
There are some drawbacks to its free version as well. Whenever you're connected, you will be logged out of the VPN server after every three hours of browsing the internet. You can still login again instantly but you will be logged out again after a certain period of time.
PrivateTunnel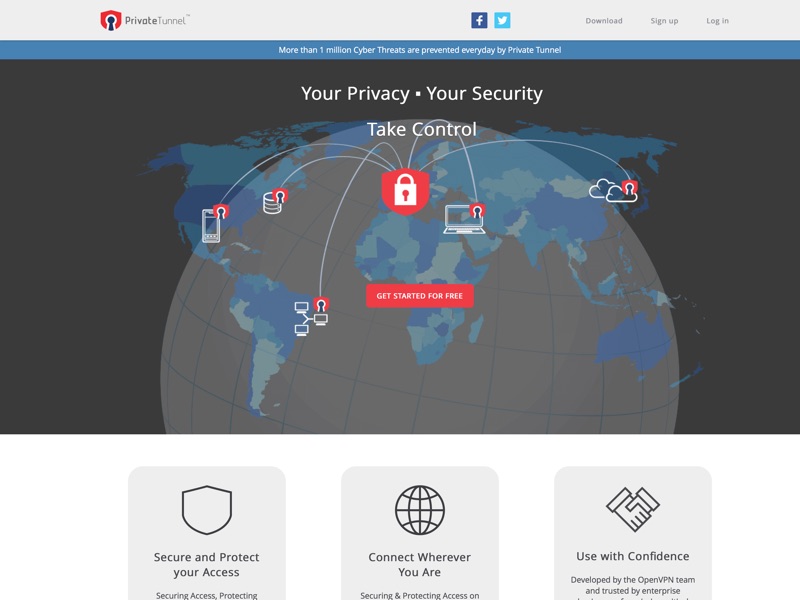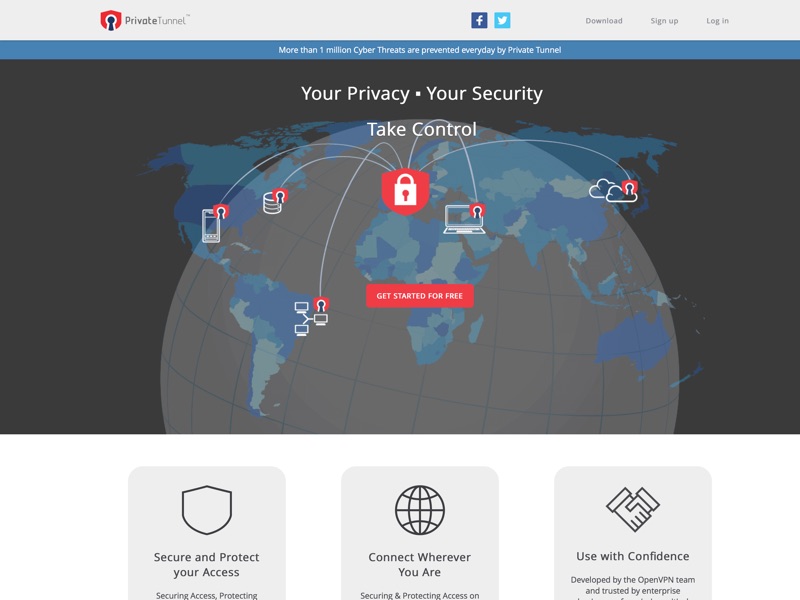 As the name suggests, this VPN service does act like a private tunnel between your device and the internet connection. Unlike other VPN services that offer both a free and paid option, PrivateTunnel gives out a different offering to its users. It does not charge any monthly fee from its users and only provides 100MB of data whenever you first use it.
After the end of the trial period, when your data limit ends, you can pay for the amount of data you want to use. There are different prices for 50GB, 100GB, and 500GB. You can use this VPN service on multiple devices. Also, there's no time limit within which device you can use the data. Currently, PrivateTunnel has servers based in U.S, U.K, Canada, Switzerland, and Netherland.
Tunnel Bear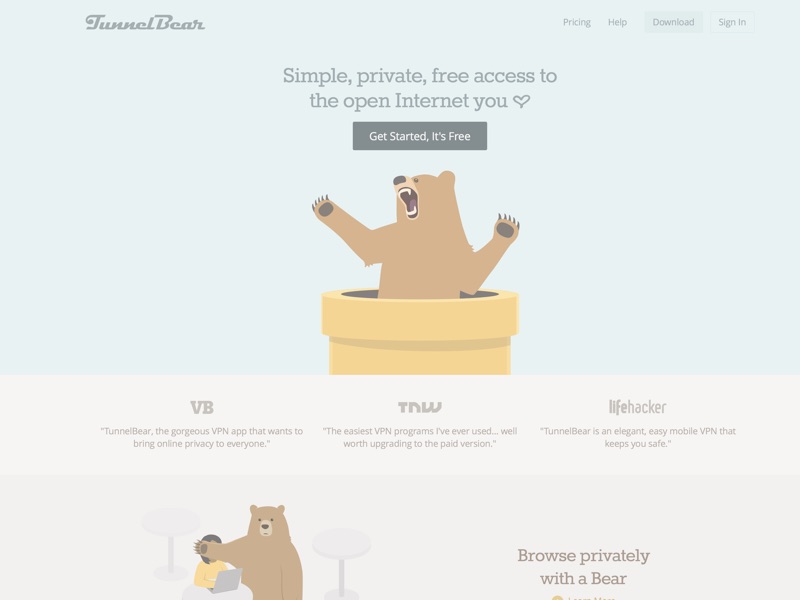 With servers based in U.S, U.K, Germany, France, Canada, and Japan, Tunnel Bear is one of the best free VPN services because it offers relatively good speed. The free service offers 500MB per month and you can also increase it to 1GB if you request the VPN service on Twitter. However, you do not need to worry about the data allocation if you have subscribed to a premium service.
Hotspot Shield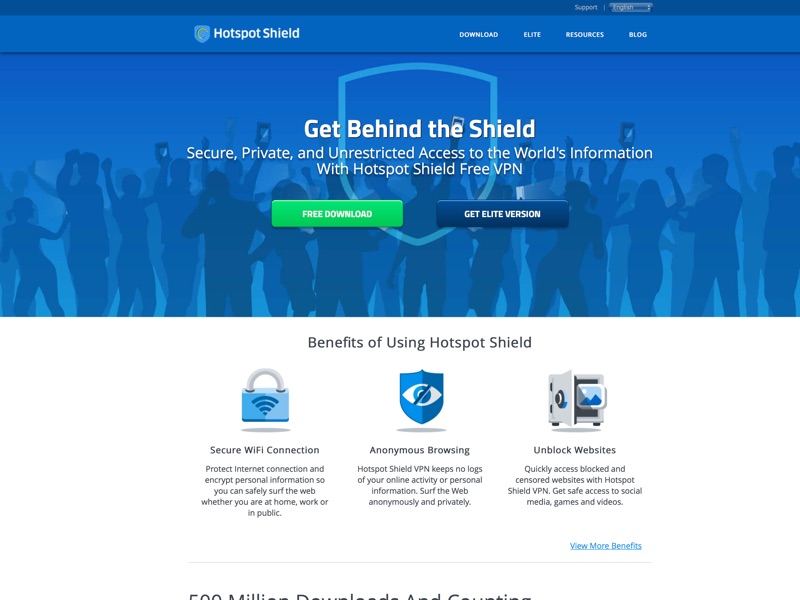 Even though this is the most popular free VPN service available as it has been in the market for quite some time, it has a lot of severe restrictions. The download speed is good, and it also offers unlimited data usage but still, it has got a lot of shortcomings. When you're connected to the internet via this free VPN service, you will see a lot of advertisements in the web browser.
Too many ads can become a headache especially when you're not in the middle of some important task. Even though it has servers based in Australia, U.K, and Japan, it assigns to one if its U.S based server on a random basis especially if you're a free user. This means that you won't be able to access U.K based information when you're in another country. We added this VPN in this list because it is free and offers online privacy.
Apart from the above-mentioned free VPN services, there are also other options that can be tried. For instance, Opera and Spotflux Lite are also free VPN services that have made good names for themselves in the VPN market. Though we do emphasize on giving a shot to free VPN services first but once you have learned how to make effective use of them, we would suggest you move to the paid VPN options as they can be used without any restrictions and offer better online privacy control. The use of VPN services has become common among the internet users because all of us care about our online security. We would like to take full control of our internet data by trying different measures which also includes using a VPN.