Last Updated on March 8, 2022
More than just taste
Most of us go through life enjoying our favorite foods as unfancy meals that can be found just about anywhere.
But for every foodie, there comes a time when we get to sample something prepared by a real pro. When you eat something created by a Chef with a real vision, every detail is just right.
The flavors will be impressive, of course, and the ingredients will be fresh, but the presentation is where things really get interesting.
Compelling food presentation is one of the main reasons for the rise of foodie social media culture.
For many restaurants and Chefs, making use of creative presentation doesn't just provide guests with a great experience, it also serves as a smart marketing move, as the guests will be tempted to share photos of the meal with their friends and followers.
We're going to explore food presentation, food carving, and why even amateur cooks should care about the visual element of every dish.
To get some answers, we talked to an expert in food presentation and food carving: Effie Noifelt. Noifelt has spent years as a Private Chef and master carver, creating elaborate displays from fruit and vegetables for festivals and special events.
Even if you're not looking to do any carving or arranging yourself, you'll gain a greater appreciation for just how much care and effort goes into making food not just taste great, but look great too.
How presentation can upgrade a meal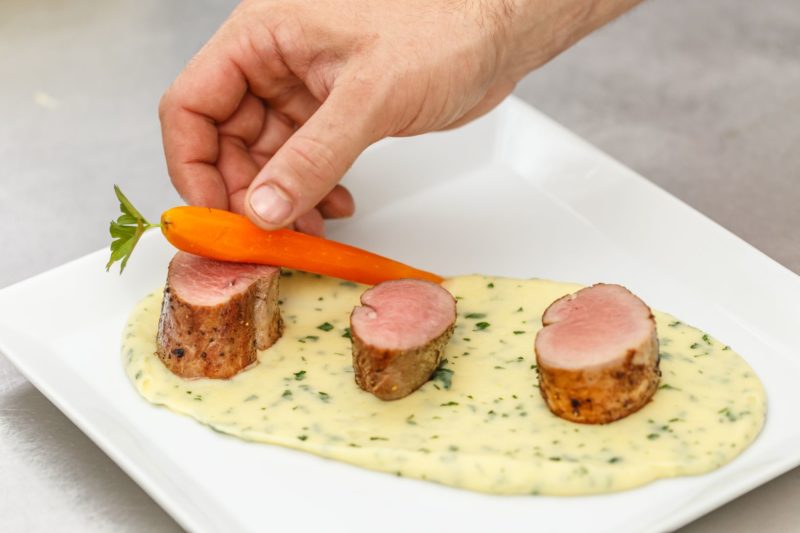 Presentation is important, plain and simple, but it still tends to fall by the wayside at many restaurants and even in some culinary schools.
We definitely need to be clear about this point: the food itself always takes priority, and we would never want to imply that presentation can make up for food that may be lacking in flavor and fresh ingredients. It's not true.
However, ignoring the power of presentation represents a missed opportunity and a large one at that.
Eating is a multi-sensory experience, and seeing a dish that has been presented just so can make a culinary experience that much more memorable.
Still don't believe us? Here's a short test you can try. Grab yourself a simple snack– anything that's not very complex.
A few crackers or toast will do fine. Now, before taking the first bite, hop on your phone or computer and pull up a photo of a gourmet meal or an elaborate dish created on a cooking competition show.
Your snack is going to taste better.
No, you won't get all the complex flavors of your visual aid, but we trust you get the point.
Eating isn't just the work of your mouth and taste buds, it also involves your sense of smell, touch, and sight, meaning your brain is in on the action as well.
Great presentation takes a meal to another level, and Noifelt agrees, noting that food offers so many different opportunities for mental and sensory stimulation.
Good presentation upgrades the dish. The plate itself becomes an artistic canvas to be filled with colors and textures. The colors have to be balanced with certain kinds of textures and direct the client to travel with the utensils to an experience that will result in stimulation of the other senses.
Presentation is important, but what's the next step? Do only professionals get to delve into complex food presentations or can amateurs get involved, too? Let's find out.
Learning presentation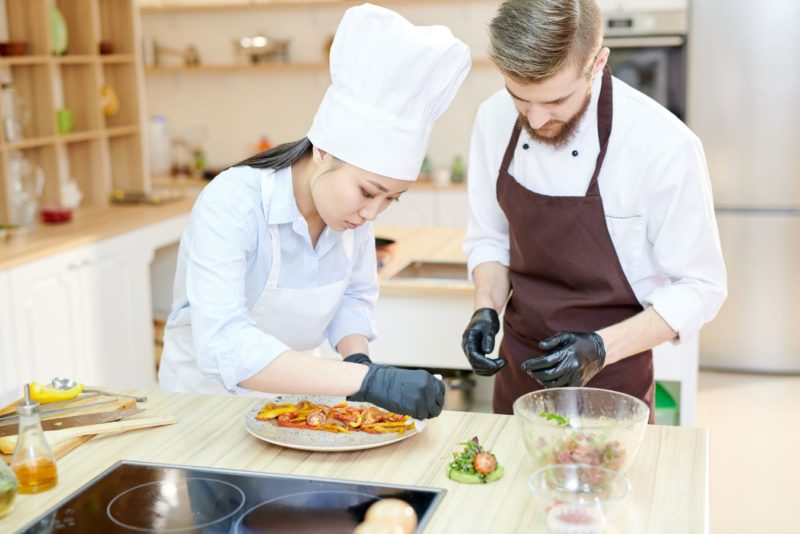 If you attend culinary school, you will learn a bit about food carving and a lot about food presentation.
Where it gets tricky is in the artistic side of the presentation. Food preparation, for example, is fairly black and white. There are safe food handling guidelines that must be followed, cooking temperatures are more or less pre-determined, and cooking times aren't that flexible.
Presentation is based solely on creativity, so while certain techniques and trends can be taught, original ideas need to come from the individual.
Noifelt told us that food carving, in particular, is a balance between technical skill and creative thought.
It takes talent and a lot of practice time in order to learn intricate food presentation. You need to know how to use your tools for one thing. Food carving requires many different knives, for example. But you also need to come up with your own ideas. In the end, this is just as important.
So can amateurs get involved with food carving and creative presentation? Absolutely. The only catch is that you'll need to be willing to gather the tools yourself and commit plenty of time in order to find your own style.
In the beginning, it's acceptable to just mimic presentation styles you've seen on TV or online. In many cases, this will be enough to impress dinner guests, but getting to that next level is going to require introspection and plenty of experimentation.
Get creative! You can even draw quick sketches of your ideas before you step into the kitchen.
If you're feeling really ambitious, order a few stylish plates and platters. You'll be surprised how changing your canvas inspires fresh ideas.
If you're looking for resources on how to get started with home cooking and baking, click these links for some helpful videos that explain the basics.
Theming your dish/carving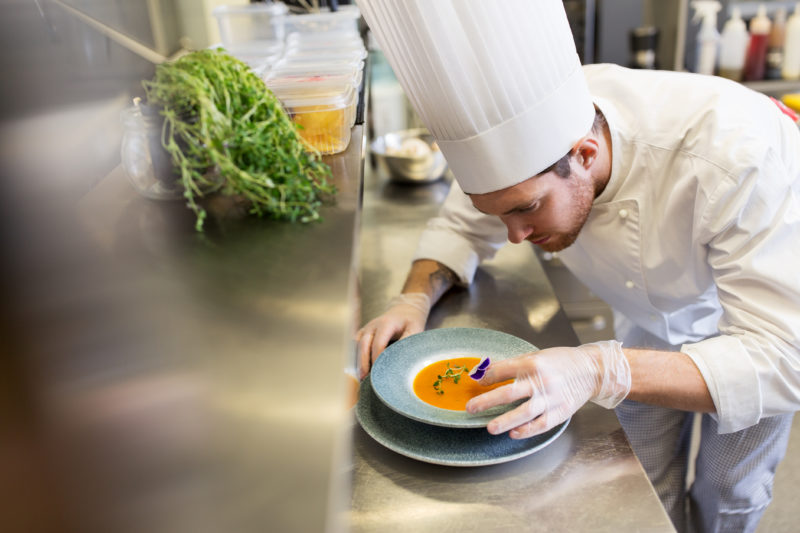 There are plenty of Chefs, amateurs and pros alike, who find one visual theme and stick with it through each and every meal.
This is fairly common in the world of fine dining, where for many years ring-based presentation has dominated.
When it comes to food carvings, flowers are one of the most common shapes.
But sticking to a unique theme for each event can really make a meal feel special.
Noifelt has created carvings for many different events, and as such, she nails down a theme for each long before reaching for the carving knives. Like many great artists, she even finds ways to incorporate elements of her culture into her work.
It definitely helps to choose a theme for each display. For a wedding, the theme would be hearts and flowers made from carrots and yellow melons. For seasonal events, I like to carve butternut squashes into birds, fish, and flowers. A large fruit like a watermelon offers a great opportunity for carving an image into the skin. As a tribute to my heritage, I love to carve ancient Greek gods in my pieces.
Once again, the key here is finding your own niche. Searching for your own unique ideas isn't just exciting, it's an important step on the way to becoming a true culinary artist.
Every meal is a chance to tell your story, even if the ingredients are common. Sharing something special with your audience makes the culinary experience fulfilling for everyone involved, which brings us to our next point.
The fruits of your labor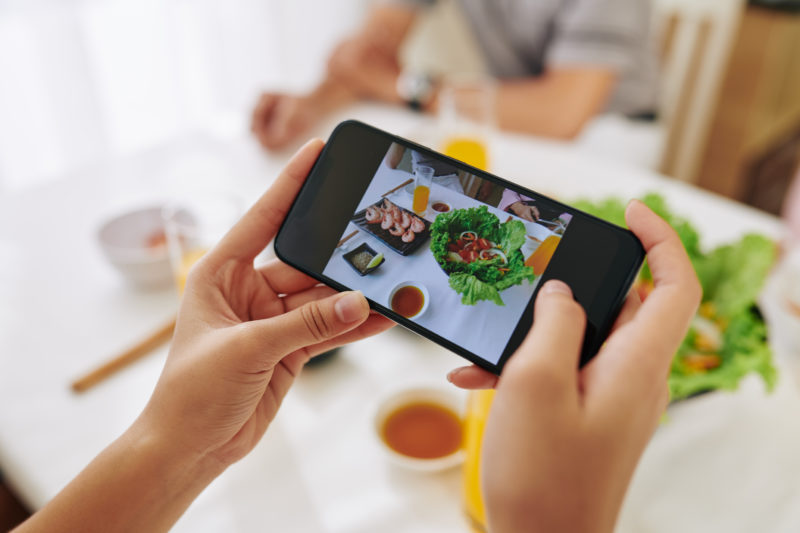 Many artists are somewhat removed from their audience. A director can't sit in on every screening of their new movie. A painter doesn't travel around as their work cycles through various museums.
But culinary professionals, on the other hand, are typically close at hand, and while not every Chef takes the opportunity to see the reactions of their guests, Noifelt views this experience as the best part of the job.
I've always loved watching the faces of the people tasting my dishes. Sometimes at work, I'll step out of the kitchen and watch my clients as they take the first bite. I've received a number of rewards throughout my career, but the most rewarding moment is when I see someone enjoying a dish that was made just for them.
Whether you're a professional Chef or just a home cook, this work is all about people. The goal is to always make someone happy. It might be a group of friends or it might be just yourself, enjoying a finely-crafted meal on a Tuesday evening.
Even if your presentations aren't especially elaborate, diners will notice the effort, appreciate it, and maybe even snap a pic to post online.
Go forth and enjoy
In a sense, food presentation may be the perfect encapsulation of the human desire for expression and reinvention.
It involves taking something common (and necessary) and making it more interesting, more appealing and creative.
Humans don't just cook to survive, we cook to make daily life fun, to play around with our pre-existing notions of what a meal should be. We find ways to make something as simple as food express beautiful, abstract concepts.
We hope you've come away from this article with a greater appreciation for the 'art' in 'culinary arts.' Maybe the next time you come across a food photo on social media, you'll be able to acknowledge it as the art piece that it is.