Last Updated on January 20, 2022
This is the modern era. Developments and updates to anything are frequent. Life has become so fast-paced that it is sometimes very hard to keep track of.
This phenomenon is amplified with access to internet services. The Internet has molded our lives so exquisitely that it is almost impossible to live without it.
Today we will be discussing a few of the industries showing how important the use of the internet is. What is possible with the availability of the internet and what would be impossible without it?
These are a few of the things that we will be discussing the emphasis on internet access.
Medicine
The field of medicine is everlasting. It will live on till the end of time. No matter what era you are living in, the need for the field of medicine cannot be removed.
Because of this phenomenon, the internet plays a vital role in this field as well. Lives may be saved with a difference of seconds just because information is transferred instantly.
Moreover, relevant information needs to be transmitted in real-time in the medicine industry some times. With flawless internet connectivity, this can be achieved. Additionally, new discoveries and breakthroughs are being made in the field of medicine with the help of the internet. With the internet, information is a touch of a button away.
In contrast, if we did not have access to the internet, the world would be a whole different place altogether. Lack of speedy and accurate transfer of information could have resulted in the loss of countless lives. It is beyond a blessing that this field is equipped with the availability of the internet.
Aviation
With regions expanding at a fast pace, there is a growing need for fast transportation. This gave rise to the aviation industry many years ago. Airlines require complex software, all of which require connections to internet service.
Information is needed to be accessed regularly and all the information needs to be up-to-date. Without the internet, all of this would have been impossible.
Furthermore, flight schedules and time tables need to be updated in real-time. If there is even a nanosecond change in the transmission of data, catastrophic events would occur, resulting in the loss of thousands of lives. Thus, stable and high-speed internet is a basic necessity in this field.
Entertainment
Entertainment is a basic human necessity. We require it on a regular basis if we want to survive in this highly demanding and ruthless world. For this, we seek various forms of entertainment in our lives.
Some go out with friends and family, some prefer a little alone time with a book, while others turn towards their screens and enjoy various activities such as watching movies, listening to songs, playing games and so on.
If the entertainment industry did not have any relation to the internet world, life would have been completely different. People would not have turned to their screens after long hours at work simply because they needed to relax.
There are numerous companies out there that offer various packages to cater to this need. You can find providers throughout the country which offer Double and Triple play packages that bundle services at discounted rates. Moreover, you can see from Mediacom internet how tempting and affordable these services are.
News
The news industry has flourished beyond words with the discovery of the internet. Previously, the news was communicated consuming significant amounts of time, sometimes making the news obsolete. With the revolution of the internet, now, the news is communicated almost instantaneously. This way people are up to date with the current happenings in the world.
Schools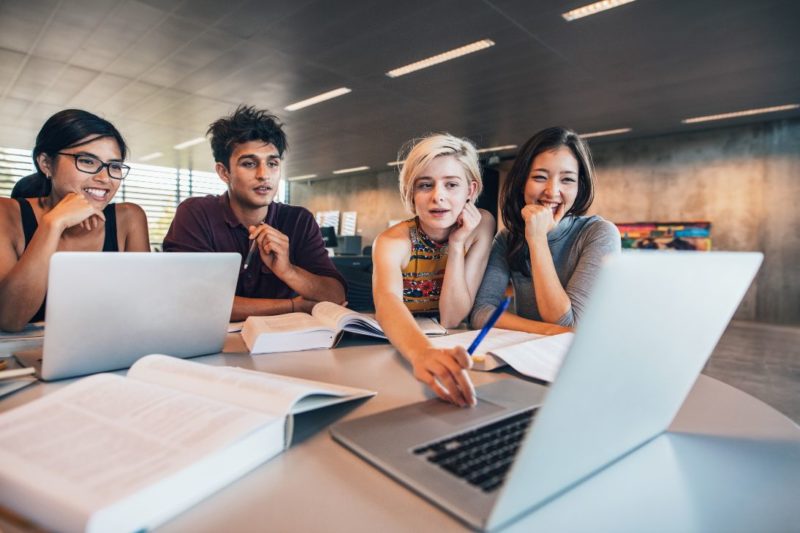 Education is an institution that has benefited the most from this technology. Students in the 21st century are much more informed thanks to the invention of the internet. Internet access is integrated into classrooms nowadays to help the students access information immediately.
Teachers and students make use of virtual classrooms to conduct their classes, share information and achieve plenty of other tasks as well. Moreover, with the availability of internet students are much more aware of their environment, helping them make better and smarter decisions.
Social Media
The social media industry has skyrocketed since its introduction. After the innovation of the internet, many companies formed various platforms known as social media platforms. This gave rise to consumer involvement in various activities, both personal and professional.
People nowadays spend countless hours scrolling through their social media profiles updating themselves of the happenings of the world and updating the world regarding their own experiences.
Furthermore, businesses have made use of social media platforms by promoting their products and services online. This reduced their marketing communication costs a lot. Since a lot of people are available, online companies can target their campaigns and capture the right potential customers all at once.
Conclusion
These are only some of the industries that have made use of the irreplaceable internet. The Internet has proven to be a vital tool in all aspects of our lives. We do realize that it brings a lot of negative effects as well. But the pros and cons of this technology are a separate debate.