Last Updated on January 24, 2022
There are many ways to build websites. You can take the wireframe approach and then do your own coding, you can use a website builder, or you can hire a website designer/developer to do it all for you.
Each has its pros and cons, but there is still another method, and one that may be the best approach of all. You can call it the pre-built website approach, and it's for real –
it makes wireframing (and coding) unnecessary.
it creates both simple and complex websites quickly.
its tools are affordable, and the time and effort they save you can put money in your pocket.
These three reasons alone make it worthwhile to give the pre-built website method a closer look. There are no smoke and mirrors involved. Everything is as straightforward as can be.
Check out one or more of the pre-built website examples below (courtesy of Be Theme). Replace images and text, and you have your own website – ready to go.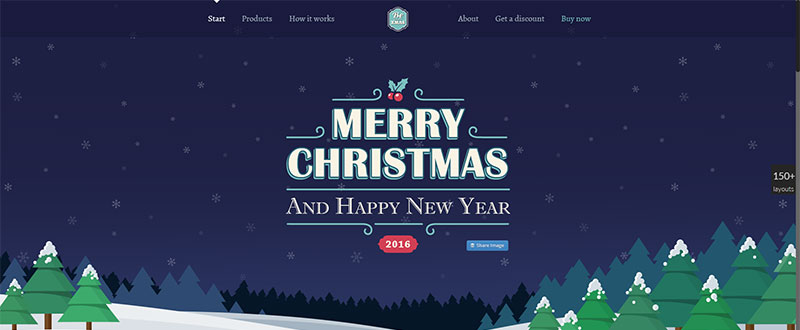 Editing a Be Theme Pre-Built Website using Muffin Builder 3
BeTheme, already a longtime favorite among web designers, gets better with each new version release. The page builder has a great deal to do with the theme's huge popularity. Muffin Builder 3 features greater data access and transfer speed, enhanced navigation capabilities, and a significant improvement in overall performance.
Muffin Builder's ease of use isn't just hype; as this video demonstrates. Admittedly, the video moves along at a fast clip, and you aren't likely to create a website in under 2 minutes, but having one up and running in a few hours isn't an unreasonable objective.
Muffin Builder's authors have added a section called Wraps. Calling upon containers inside Wraps will enable you to create more advanced content than ever.
Muffin Builder has always been easy to use, but with its new interface and cleaner look its operation is even more effortless. You will especially like its search tool and tab navigation features. When you have a wealth of design elements at your disposal, it's always nice to easily be able to find what you want.
If you have been looking for a page builder that is easy to work with, and one that makes website creation fun, you'll definitely like the way in Muffin Builder transforms a pre-built website into your website.
A Sneak Peek at Be Theme Reveals a Great Deal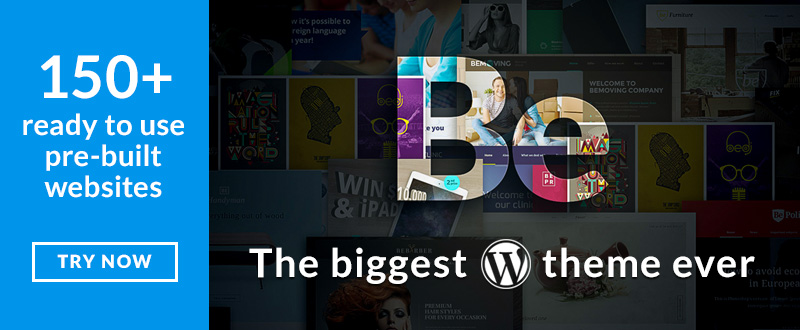 It's not always easy to initiate your design activities by staring at a blank screen, no matter how detailed your ideas or your conceptual design many be. When you have a pre-made website in front of you as a starting point, everything suddenly becomes easier, as the design elements will quickly begin to fall into place.
All it takes is one click to install one of these websites.
There are more than 150 of them, 119 of which feature multiple pre-built pages with 8 new ones added each month.
There's a 99% chance you'll be able to find a pre-built website that matches your needs.
Included in Be's features are:
16 different Header styles,
more than 200 customizable shortcodes,
Revolution and Layer sliders,
full-width or boxed base grids, or grids with sidebars.
There's more. A total of 40 core features make up BeTheme's package, including those already mentioned. plus a powerful Muffins panel, parallax and video background effects, 6 column support, and Multilingual, SEO, Responsive, and RTL ready features.
BeTheme is a ThemeForest top seller, having sold more than 21,000 copies to date. The support, anchored by a top-notch customer support team, is as helpful as you will find with any software tool or application.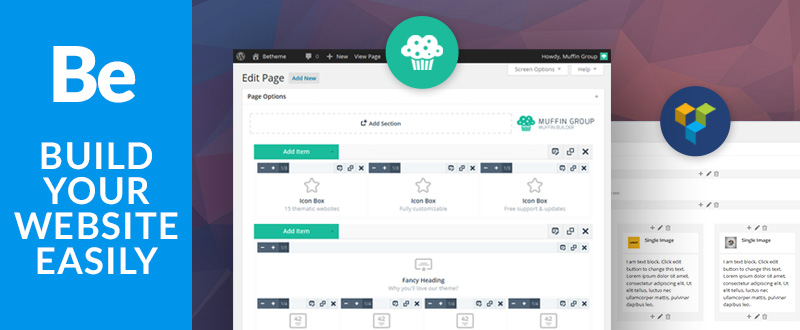 If you are already a Visual Composer (VC) user, you may be happy to know that you can use it as well when you elect to go with this theme. You can stick with VC, which is included as a plug in, switch to Muffin Builder, or have your cake and eat it too, by using both.
What Be's Customers have to Say
It's a bad feeling when a client expresses dissatisfaction with your product when you deliver it along with your invoice. If that has ever happened to you, you can put your fears to rest about it ever happening again once you include BeTheme in your toolkit.
Starting with a pre-built website, and allowing BeTheme to apply the final touches can make delivering a picture-perfect product on or ahead of schedule a regular happening.
See what other BeTheme users have to say:
The Value of Great Customer Support
No matter how many features a website-building product has, if the support isn't there it is going to be a disappointment. It doesn't matter whether the support is totally lacking or merely substandard. If you have to wait 2 days to get an answer to an email you submitted, that's 2 days wasted.
BeTheme support is never more than a click away. You can always expect a prompt and courteous response from a live person who has the expertise to address your problem or question completely and accurately.
See it for yourself:
Pre-built websites can easily be the next big thing in the world of website design. You, the user, still have to provide the ideas and creativity, but you can rely on BeTheme, with its premium page builder and invaluable core features, to do the rest.
You will be able to do more, and do it better and in less time than before. You'll experience the good feeling that comes with seeing your ideas become reality in an amazingly short time. Your clients will feel good about it as well.