Last Updated on
In response to the Trump-Trudeau trade dispute, Twitter is thanking Canada. As Trump looks to slap tariffs on Canadian good, US Twitter users are using the hashtag.
Who started the trade dispute?
On June 1st, the US president announced he was seeking to impose tariffs on Canadian goods. This has led to a war of words on both sides. Proposed tariffs would affect the automotive and dairy industries. Both of which are vital to the Canadian economy.
Donald Trump has also hinted at placing tariffs on EU goods. In particular, on the importing of non-US steel. This has prompted a souring of US relations. Unsurprisingly EU members have taken Canada's side. Both the EU and Canada are now looking at counter tariffs.
Despite the G7 Summit being held in Canada, tensions are still rife. After leaving the summit, President Trump took to Twitter to vent his frustrations. To his millions of Twitter followers, Trump called Justin Trudeau "very dishonest and weak".
Currently, President Trump is in Singapore meeting Kim Jong Un. It is unclear if he will make further comments when he returns.
Where did #ThankCanada come from?
From his extensive tirade, Donald Trump has put Canada in the spotlight. After attacking both Justin Trudeau and Canada, Twitter came to their defense. By early Monday, hashtags #ThanksCanada and #ThankCanada were trending. It appears these hashtags were started by writer David Wild.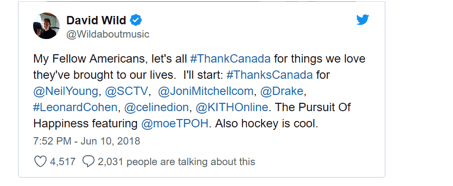 In these tweets, people are listing all the great things Canada has given us. From Hollywood movie stars to coffee, all things Canadian are being praised.
What has Canada given us?
Situated just above the US, Canada is often overlooked. No more, thanks to the #ThankCanada hashtag. This week people all over the world are realising just how much Canada has given us.
Ryan Reynolds – Yes that's right one of Hollywood's hottest male stars is Canadian. Born in Vancouver, Reynolds is a proud Canadian citizen.
Maple Syrup – Did you know that over 80% of the world's maple syrup is Canadian? Without their 8,000 syrup farms, our pancakes would be dry and boring.
Online Casinos – Unlike in the US, online casinos are legal in Canada. Which is great if you don't live near a land casino. Canadian online casinos even offer more to their players. With a large selection of casino games, bonuses and payment methods on offer. French Canadian players even have the choice to play En français. How's that for customer satisfaction?
Polar Bears – Okay polar bears aren't strictly Canadian, but they may as well be. Over 50% of the world's polar bears live in Canada. These animals are extremely precious given their 'in-danger' status. Many of us have only seen polar bears, on the television. Mainly thanks to wildlife experts like David Attenborough. However, around 1,000 of the beautiful animals call Canada home. In areas like Manitoba, polar bears are protected and allowed to roam freely. Tourists and conservationist adhere to strict guidelines. This allows the bears to exist peacefully and without too much human contact.
Celine Dion – It's hard to imagine the music industry without Celine Dion's songs. Most especially,

'My Heart Will Go On'

. Even if you hated the Titanic movie, you'll probably still love the song.
Ice Hockey – It's simply one of the most entertaining sports on earth. That's because of its violent play style and spirited fans. Ice hockey as we know it was first played in Canada.
Poutine – Sorry you guys down south, Poutine is Canadian. This delectable French fry dish is thought to come from Quebec. The name 'Poutine' comes from the Quebec slang term for a 'mess'.
Basketball – Basketball was invented by a Canadian. In 1891, James Naismith founded the sport whilst teaching in Massachusetts.
Jim Carrey – Comedic actor Jim Carrey is Canadian.
There are many reasons for everyone to #ThankCanada. As Canada Day lands on July 1st there is no better time than now. Show Canada some love and get tweeting #ThanksCanada