Last Updated on January 25, 2022
With time, your online business is declining, and old website design can be one of the non-skippable reasons behind it. The change in technology and advancement in the Website Designing trends demand complete revamp of your website.
Yet, many businesses continue using the old and stale design that experience a decline in user footfall as well as low conversion.
Not any single reason contributes to the reason for the complete website re-design. Instead, multiple reasons require equal attention and conclude in the form of new web design for your online portfolio.
So, below are the 11 Solid reasons you should consider and think of a new website layout for your business as well as your customers/visitors.
Not Mobile Friendly:Google has now officially announced to prefer the mobile version of your website over the desktop version. So, to rule the Digital market and sustain your organic rankings, it's almost compulsory to build a mobile-friendly website that can work seamlessly on every smartphone, tablet, or other smart devices. Whether you prefer opting for a fluid design or a responsive design, the motto is to showcase your website on every single device, regardless of the screen size.
Poor Navigation:Once a user lands on any website, navigation at Header/Footer helps them to surf the website hassle-free. However, if your website doesn't have proper navigation for the users, it's a hard time for your users, and you need to overcome it through new website design. Website heatmap is a better option to diagnose the prominent website area that acquires maximum clicks and where your website lacks. Based on your analysis, you can create a new design to serve the best navigation.
Slow Speed:Website speed has today become a vital component of a good website. Whether you are running a static website or an eCommerce website, the speed always matters alongside other factors. Digital Marketing experts prefer your FCP must load within the first 3 seconds. Better your website speed, higher search engine, and the users will love it. Above all, a fast website also deserves appreciation in the search results, which directly impacts your organic leads/visits. Google Lighthouse, PageSpeed Insights, GTMetrix are some of the renowned online tools to test your website speed and possible parameters that can be attended to boost your website speed.
No CTA Specific Landing Pages:For conversion, Call-To-Action is essential for conversion, but if your website doesn't have landing pages with proper CTA buttons, it's crucial to integrate them on your pages and start earning conversions. For WordPress, you can use Elementor or Visual Builder to design your landing page and add CTA buttons according to your user-behavior. For other CMS, you can code custom landing pages to ensure no users bounce back without making a lead/conversion for your business.
No Rich Media:Gone are the days when only content-dominating pages can work for your website. Today, the scenario has completely changed. To make the webpage appealing, the inclusion of rich media (Animation, Graphics, Videos, etc.) is a must. The use of rich media must match your presentation. Above all, the whole landing page must be designed in a story-telling format to boost their decision-making better.
Use of Outdated Technologies: Do you know HTML and CSS aren't sufficient to build an amazing website? To maintain speed and appealing design, you require other languages, including JavaScript, Angular JS, React, BootStrap, etc. to add fluid effect and smooth design to your website. So, if your website is still running on the old technology, it's highly recommended to migrate your entire website onto new technology and deliver a 100% revamp of its frontend.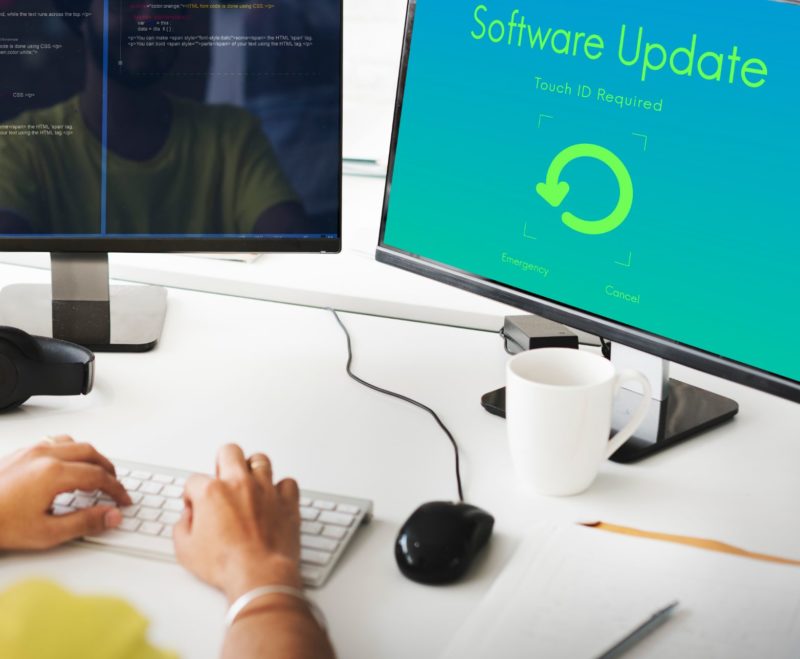 Neglecting the Ongoing Web Design Trends:The website designing trends changes with time. Darm mode is the real-time example of an ongoing trend that is in demand, and most of the big brands have already implemented it on their website; WhatsApp, Google, etc. are some of them. So, to retain in the challenging race, you also need to adopt the trends and serve what's in high demand. Make sure you are connected with the designing changes in the market and deliver the same to your customers to retain them for long and maintain a high conversion rate.
Website is Made for Search Engine: Today, Google robots can easily evaluate whether your website is solely built for a Search engine or the Users.
Neglecting UI/UX:UI/UX is a non-skippable part of your website. An online website is built to bestow your services/information to the users/readers. Yet, if you aren't capable of delivering your information, the UI/UX needs keen attention and amendments accordingly. Prior to UI/UX implementation, ensure you have acknowledged the data-analytics and evaluated your user's mindset. This will help you find the right design that can deliver the top-notch user-experience added with a flawless design.
Zero Connection between Website & Social Platforms:Alongside your website, social platforms too require a connection, building your brand altogether. Still, many businesses skip adding their social platforms on their website and continue maintaining a standalone website. This also creates another problem of many fake social channels that impersonate your brand and cause harm to your business. For Online Reputation Management, your website must ensure the social platforms are well connected and maintained alongside your website.
Outdated Content:Your content must be changed with time. If you are running the same content for years, it's not going to deliver any conversion at all. Prefer understanding your user-needs and build the content that can bind the users/readers. Using stale and outdated content will drain your website to the last page of Google, which you won't wish in whatsoever condition. So, are you still running an old website that doesn't have a high conversion rate as well as low clicks?
Match the points mentioned above and ensure your website is 100% ready to serve the customers what they need, without skipping the Google SEO guidelines and online Web Designing trends.