According to Statista, there were about 4.57 billion active internet users worldwide, as of April 20, 2020. Naturally, that should come as good news for businesses with e-commerce websites.
With such a huge number of active internet users (and projections suggesting a steady increase moving into the future), e-commerce stores have a wider audience on whom to target their products.
However, the ever-growing number of active internet users also means that the internet can often become sluggish. But as a proactive businessperson, that's an experience you never want to suffer.
Having a slow internet speed is as good (or as bad) as having a slow website load speed – both account for high bounce rates. Which makes it paramount to continually test and track the speed of your internet.
We've collected some of the best internet speed testing tools that you might consider investing in today.
1. Online Speedtest by Ookla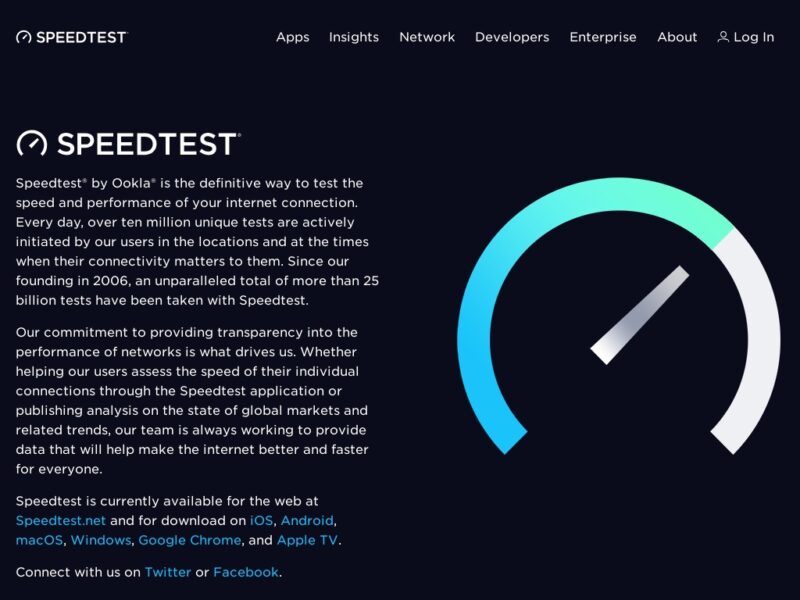 Link: https://www.speedtest.net/
Speedtest by Ookla is one of the most popular and efficient internet speed test apps out there, enjoying the trust of more than 10 million users worldwide. The app works incredibly fast, allowing you to check the speed of your internet in a matter of seconds.
With Speedtest, you can test both the download and upload speeds in Mbps. It even allows you to check the speed of your server and internet service provider. And the fact that this app isn't an internet service provider itself eliminates the possibilities of conflict of interest. Which means that its internet speed test results are accurate and unbiased.
To use Speedtest, you'll need to create an account. The app is compatible with Windows, macOS, Android, iOS, Apple TV, and Google Chrome. And yes Ookla's Speedtest is completely free to use.
2. NetSpot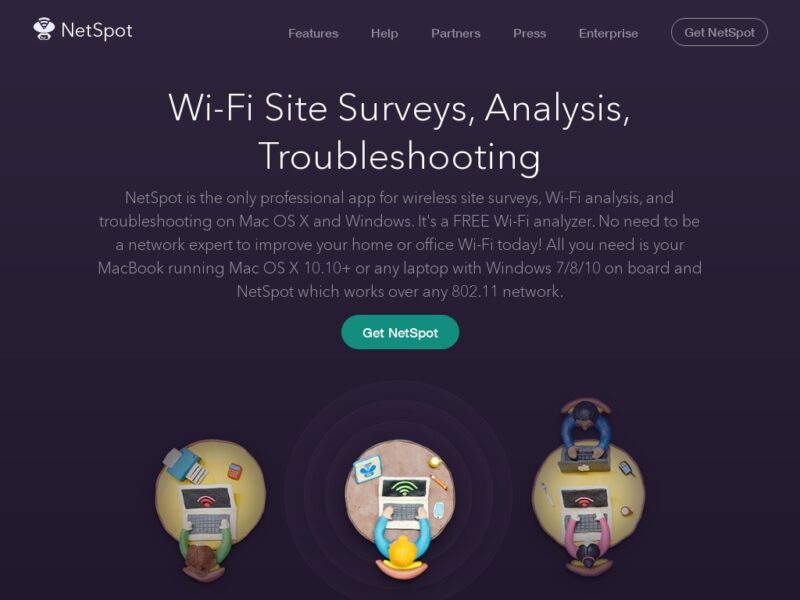 Link: https://www.netspotapp.com/
NetSpot doesn't just test the speed of your internet. It also analyzes your network area coverage, as well as network feasibility and network security. By analyzing your wireless radio frequency trends, you can determine the ideal set up for your wireless networks.
NetSpot enables you to check the range of your Wi-Fi, while also allowing you to determine your "dead" zones. After which it suggests the best place to place your router or equipment for maximum coverage.
Using the software, you can collect critical information regarding your network to help optimize the performance of your wireless network solutions. What's more – users can even troubleshoot network connectivity issues with NetSpot.
However, there's a sophisticated user interface to contend with.
3. Speedof.me
Link: https://speedof.me/
Speedof.me doesn't immediately strike you as an internet speed test service, but it delivers just as efficiently as other apps on our list. The tool displays its test results in a chart over time.
That way, you can check the speed as well as the consistency of your connection. If you're looking for an internet speed testing service that you can rely on while streaming a service or playing an online computer game, this is definitely the tool to go for.
The service is compatible with numerous devices, without necessarily needing to download and install an app. Another noteworthy feature of the tool is the utilization of HTML5, making its speed test results accurate and reliable.
However, there are a few notable cons. First, the results are a bit difficult to see and interpret, especially when using the desktop versions. It also features limited servers compared to other tools on our list, and there are no provisions for keeping records.
4. TestMy.net
Link: https://testmy.net/
TestMy.net is another internet speed testing service that runs on HTML5 to deliver reliable and accurate results. It's also independent, meaning that the internet speed test data you get are totally unbiased.
If you're looking for an internet speed test program that offers comparable results, look no further than TestMy.net. The tool provides speed test data that compare to the speed of your internet service provider as well as that of most ISPs within your city. You can use those results to improve the areas of inadequacy in your internet connection.
TestMy.net also lets users create an account where they can save their records and refer to whenever required. With these records, it's easy to detect the various times of day when your internet connection is weakest, or check whether any of your previously-applied adjustments have worked.
On the cons side, TestMy.net provides speed test results that are a bit difficult to understand.
5. Verizon Speed Test
Link: https://www.verizon.com/speedtest/
It's impossible to discuss internet speed testing services without mentioning Verizon Speed Test. Verizon Speed Test is developed by the largest ISP in the US – Verizon Wireless – and is offered to clients free of charge. Though it's a product by an ISP, you can vouch for the credibility and impartiality of speed test results by Verizon Speed Test.
The fact that the software is availed by Verizon Wireless means that users of this ISP can enjoy responsive and reliable support in the event they face challenges with the speed test service. Other things to love about Verizon Speed Test include its intuitive and beginner-friendly dashboard, as well as links to various online resources.
However, the service comes with a large ad space for promoting Verizon services. The service is also mostly available for US-based clients. And though Verizon Wireless promises reliability and impartiality of internet speed test results, there are still risks of bias, especially if you're using the company as your ISP.
6. Google Fiber Speed Test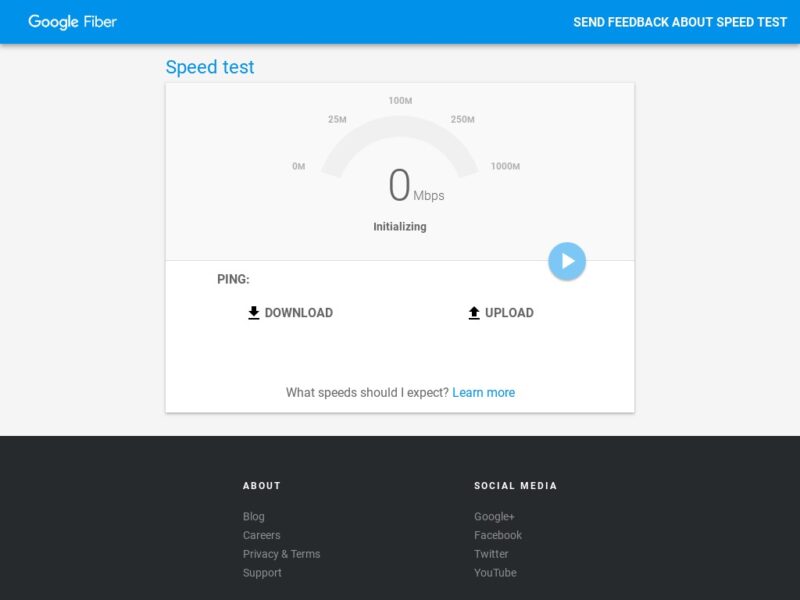 Link: http://speedtest.googlefiber.net/
Google Fiber is famous for being one of the first providers of fiber optics services around the world. And the Google Fiber Speed Test was designed to help test the speed of Google Fiber users. However, the app is just as reliable for testing any internet speed, including that of wireless connections.
One of the best things about this app is its clean dashboard which is both navigable and free from invasive ads. Google Fiber Speed Test also ranks among the internet speed test services that are super-easy to use.
To get started, you only need to click the play button. After that, the tool will immediately display all your test speed results in a speedometer that's located at the center of the screen.
And besides using Google Fiber Speed Test to test your internet speed, the tool can also perform a ping test. The only potential deal-breaker is that the test speed results by Google Fiber Speed Test may not be so independent.
Final Word
Internet speeds tend to fluctuate, and there's not much you can do about it. But it's reassuring to know that there are plenty of services you can use to test the speed of your internet connection and address the causes of sluggishness.
The services we've reviewed here score fairly high across various parameters, including ease of use, affordability, and accuracy of speed test results.
REFERENCE LINKS
1. https://www.statista.com/statistics/617136/digital-population-worldwide/
2. https://www.google.com/search?client=firefox-b-d&q=top+10+reasons+for+bounce+rate