Last Updated on October 4, 2021
When you think of smartphone or handheld device, Apple gadgets will most certainly pop into your mind. This is unsurprising since the tech giant's flagship devices are the definition of smart technology. But, Apple gadgets have their fair share of drawbacks, one of which is iTunes.
Apple's mobile device management app is a pain in the neck, particularly if you want to import to a PC or non-Apple devices. If you have problems using iTunes, you don't have to make do with it. Instead, find an alternative. The best one in the market today is brought to you by WinX.
WinX MediaTrans is the leading iPhone iPad software used to transfer multimedia files from Apple gadgets to PC and Android devices without the DRM limitation from iTunes. Thanks to WinX MediaTrans, you don't need iTunes, iCloud or even a WiFi connection to import and export all-too-important files to a different device.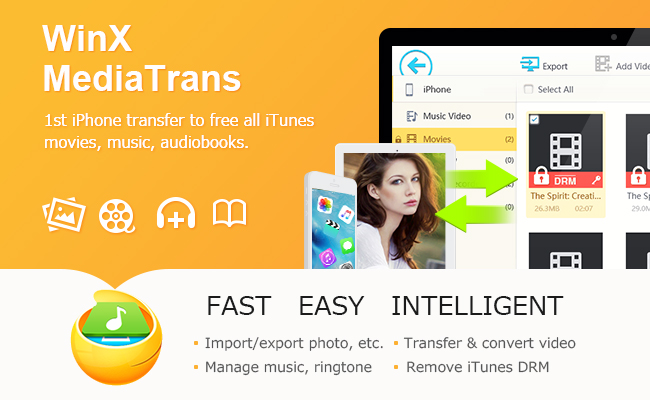 WinX MediaTransfer is Everything You Need
Most Apple users opt to use WinX MediaTransfer over iTunes for several reasons.
Key Features:
1. Decrypt DRM multimedia files (movies, music and audiobooks) purchased from iTunes.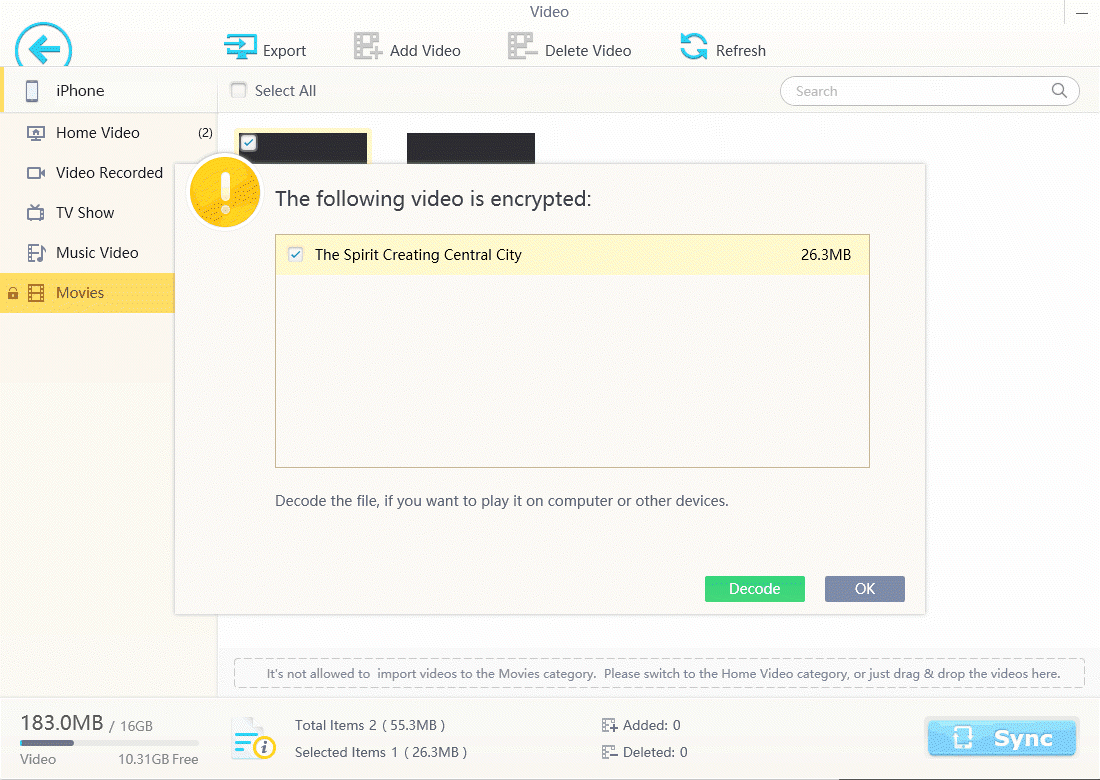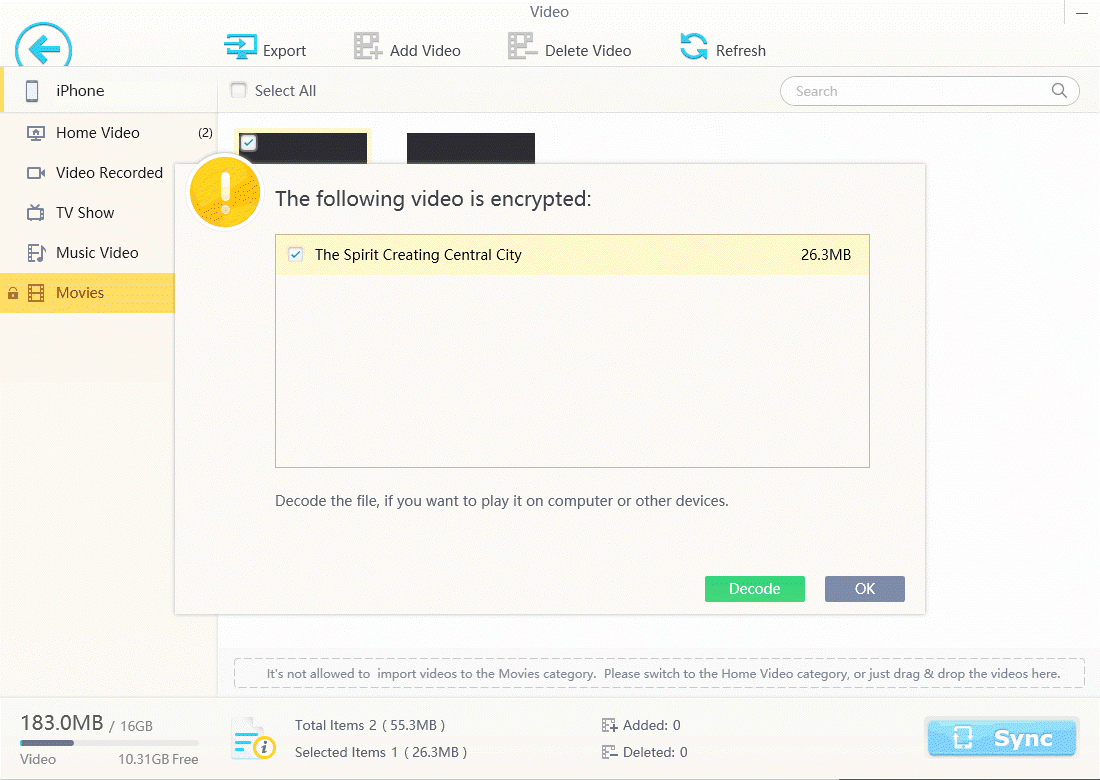 This is the software's newest feature and one that will make iTunes buyers happy. Due to Apple's FairPlay DRM, movies, music and audiobooks bought or rented on iTunes are only playable on authorized devices. This pretty much means you can only watch or listen to them on your Apple gadgets. This is a problem for people who want to access their purchased files on their PC, Samsung or Sony devices.
With WinX MediaTransfer, you'll be able to enjoy movies, music and audiobooks with whatever device you have in hand. Without losing the quality of the product, WinX MediaTrans can turn DRM-protected M4V movies into DRM-free MP4 movies. Here's how to do it:
Step 1: Install and open WinX MediaTransfer on your PC. Make sure your device is connected to your computer via a USB cable.
Note: Wait for the "Prevent iPods, iPads, iPhones from syncing automatically" pop-up. Tick the box to avoid data loss.
Step 2: Check the "Video" module in the homepage's UI.
Step 3: Move to the "Movies" category once the pop-up screen appears. It's in the left column.
Step 4: Check the file list window and look for the DRM-protected iTunes movie you want to decrypt. Tick the movie, and then click the "Export"
Step 5: Hit the "Decode" button when a dialog appears on the screen.
Wait for the software to decrypt the movie. Once it's done, you can check the DRM-free movie its destination folder.
WinX MediaTrans Official Giveaway: Remove iTunes DRM and convert your iPhone Video music to PC, Samsung, Sony devices.
Pretty much the same steps are used to decrypt DRM-protected music and audio files. WinX MediaTrans decodes encrypted songs and audiobooks so you can easily export them to your PC without protection schemes when the files are played later. This makes it easy to playback songs and audio files on non-Apple devices. You can also use the decrypted songs as background music for a video project without trouble.
2. Transfer photos from your Camera Roll or Photos library to your PC.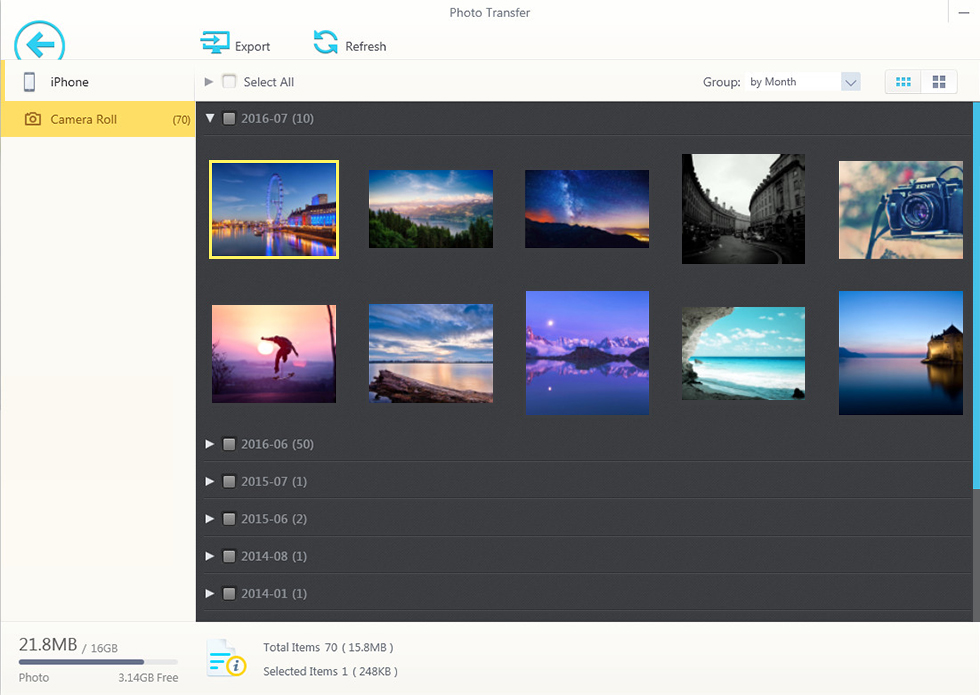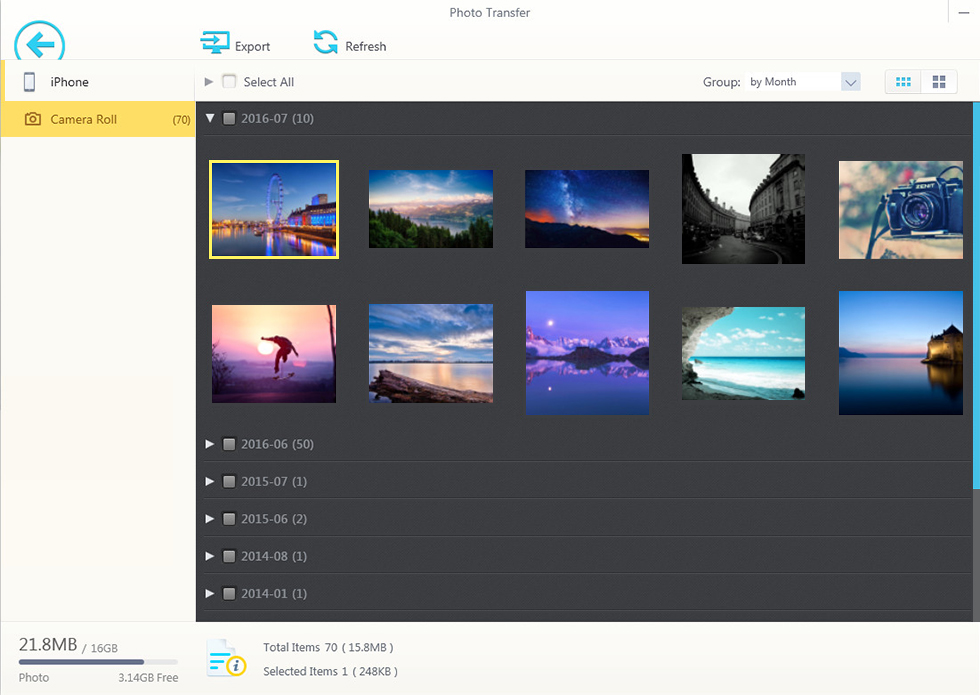 WinX MediaTrans photo transfer feature is simple and straightforward. It's a one-way step to avoid the tinkering or tweaking you see from other mobile management software. This is a good thing, especially for the non-techies, as you'll have zero chance of corrupting your photo library.
WinX MediaTrans can transfer a hundred 4K photos in eight seconds. You can export them by day, month or year. Again, you can move all or selected photos without iTunes restrictions. To do so:
Step 1: Open WinX MediaTrans on your PC. Make sure your device is connected to your computer via a USB cable.
Step 2: Locate the Camera Roll and wait for the photos to roll out.
Step 3: Select the photos you want to transfer.
Step 4: Hit "Export." The transferred files are saved in a destination folder you're able to change anytime.
3. Import and export videos fast and easy.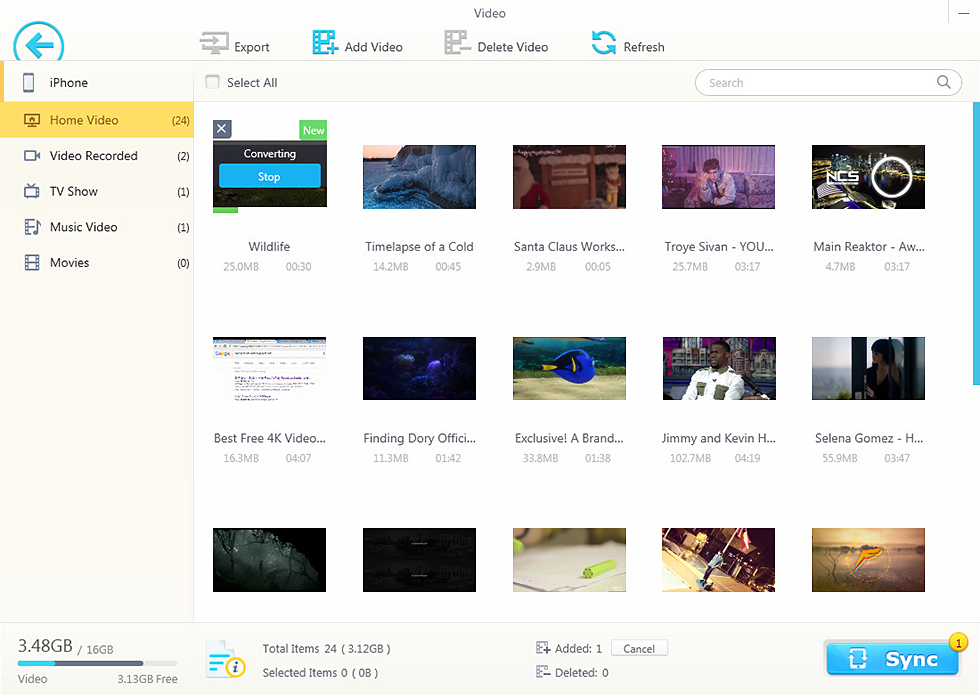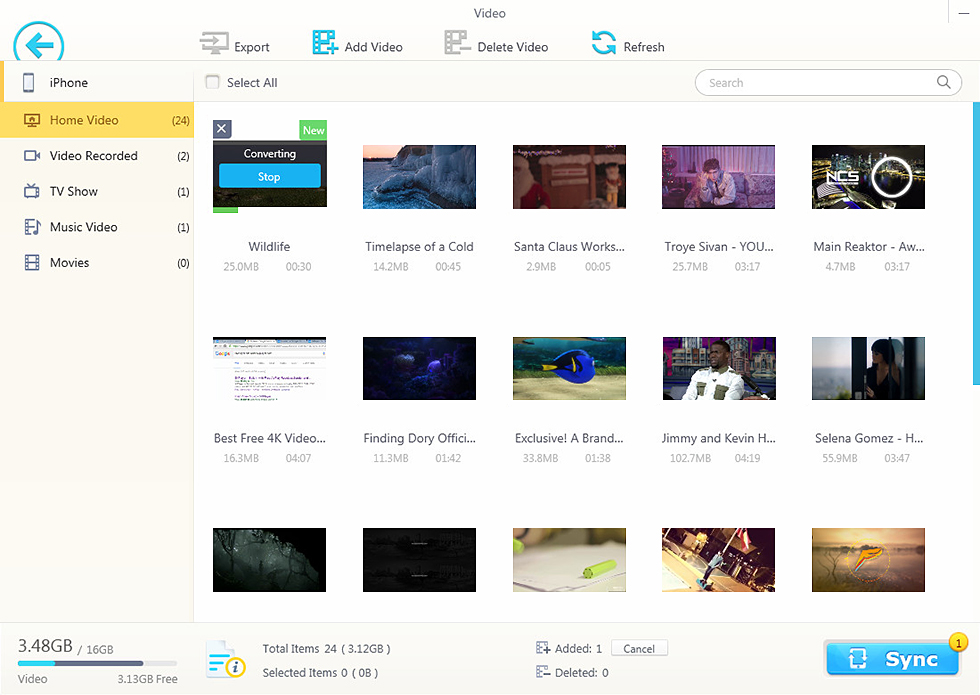 WinX's claim-to-fame is its video conversion software, WinX DVD Ripper. As such, it's not surprising that WinX MediaTrans boosts similar video functionalities as the brand's signature product. With the mobile management software, you can import and export video files in batches. WinX MediaTrans can reduce the size of a video without losing its original quality. It also has an auto-rotate function. As aforementioned, the software can decode movies purchased from iTunes for hassle-free playback on non-Apple devices.
WinX MediaTrans converts nearly all types of audiovisual file to iOS-compatible video so you can watch access the file on your iPhone or iPad. To do this:
Step 1: One WinX MediaTrans on your PC. Make sure your device is connected to your computer via a USB cable.
Step 2: Select "Add Video."
Step 3: Browse your file and choose the video you want to convert.
Step 4: Click "Convert" and then wait for the software to do its work.
4. Provide a smart music management system.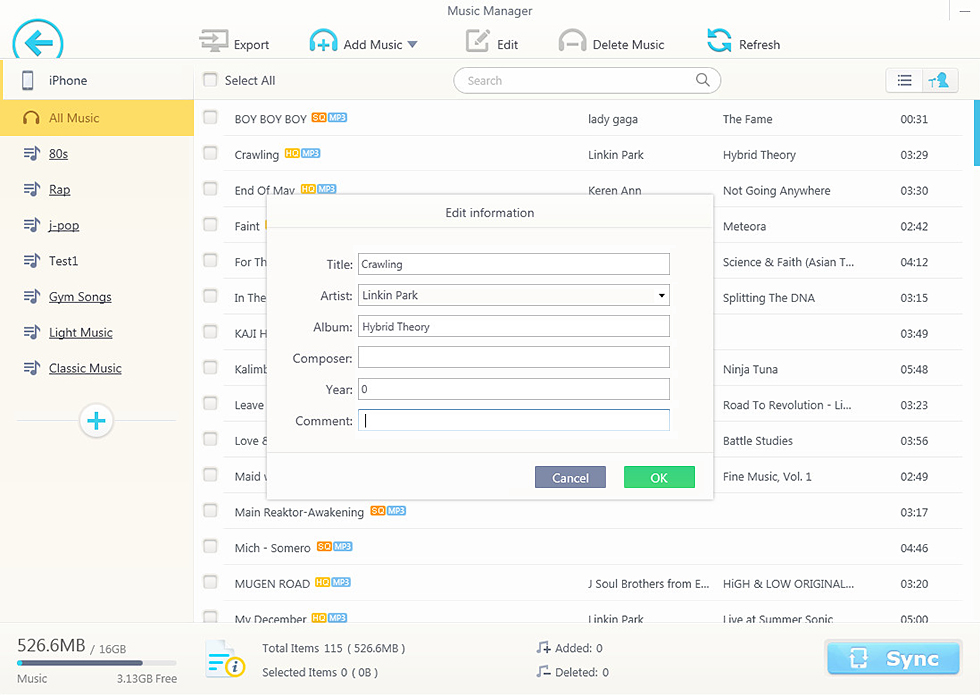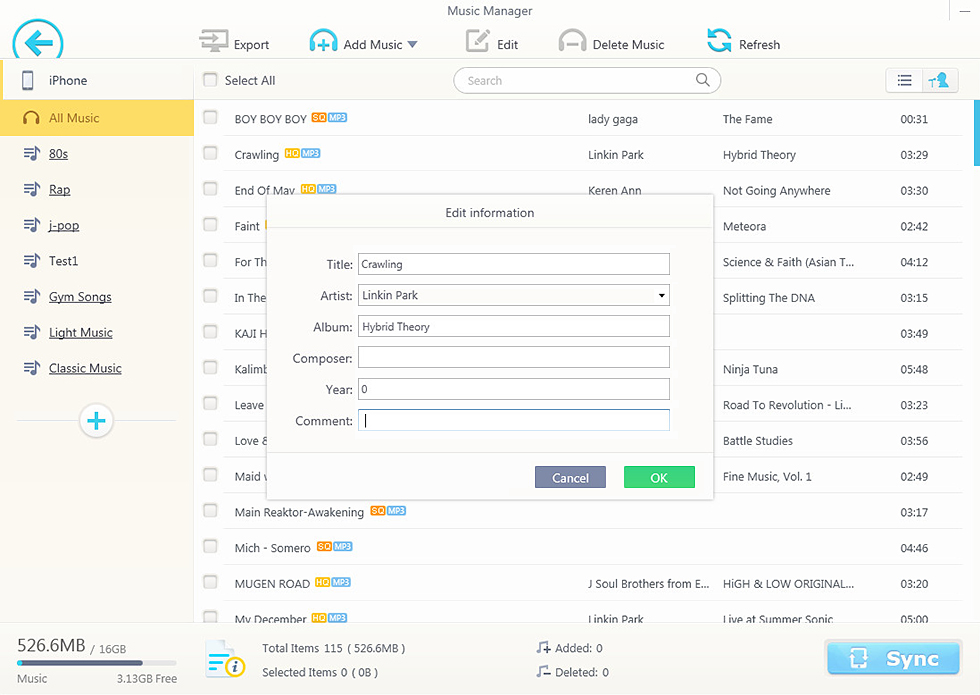 WinX MediaTrans' music transfer is one-of-a-kind and among the best in the market today. This is where the brand flexes its muscle as you can easily copy music to and from your Apple device. You're given several options to organize your music folders. You can edit, delete, create and rebuild your playlists. You can effortlessly convert any music file to either MP3 or ACC format. And like the DRM-protected videos, WinX MediaTrans can decrypt and remove the protection so you can play your music in different devices or platforms.
It's easy to import music to your iOS device since WinX MediaTrans supports practically all types of music format. You sync the files the same way you do on iTunes. The songs will show up in the Music app on your Apple device. To export music off your iPhone, iPod or iPad, simply:
Step 1: Open WinX MediaTrans on your PC. Make sure your device is connected to your computer via a USB cable.
Step 2: Browse the music on your smartphone.
Step 3: Choose the ones you want to transfer.
Step 4: Click "Export."
WinX MediaTrans also has a Music Manager that lets you create ringtones.
Additional Features
5. Act like an iBook manager.
Unlike the headache-inducing PDF and ePUB file transfer via iTunes, WinX MediaTrans makes everything effortless. The software's iBook management lets you transfer ePUB books, PDF files and audiobooks (MP3) to and from your phone or tablet. You can also convert ePUB files to PDF, TXT, HLMT formats for easy export. WinX MediaTrans can remove the DRM protection from the audio books rented or bought from iTunes, thus you do not need any other iBooks converter any more.
6. Turn your Apple device into a USB.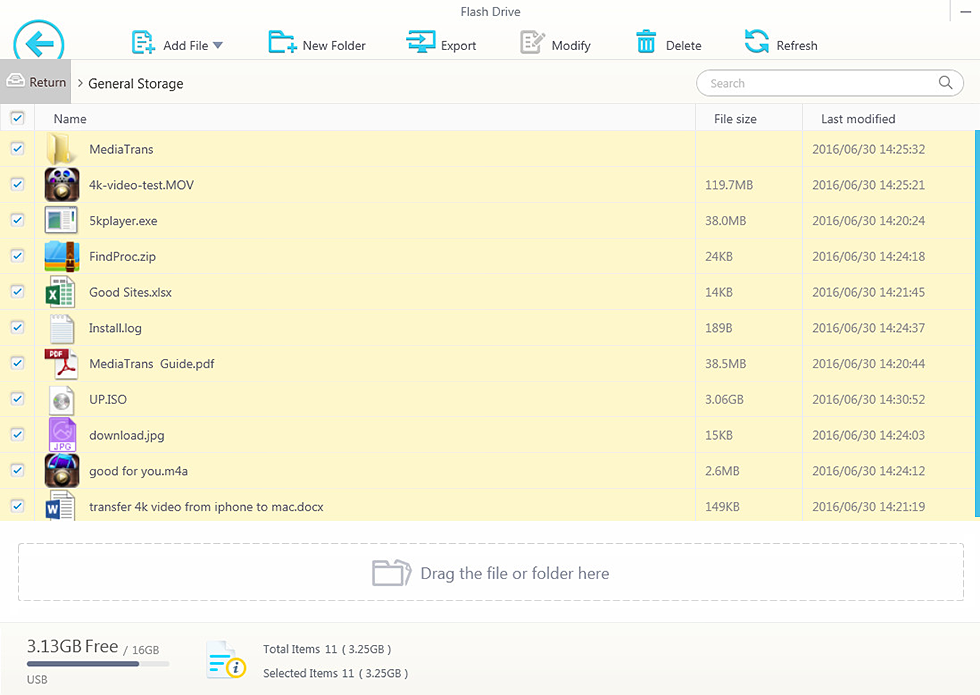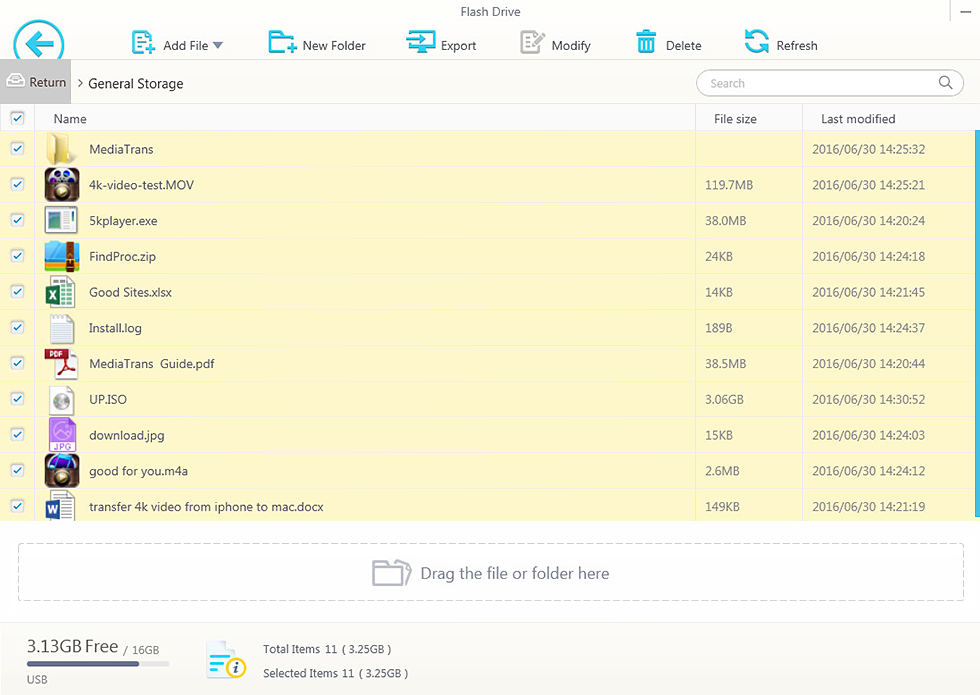 WinX MediaTrans provides a flash drive feature that lets you turn your iPhone, iPod or iPad into an internal storage that can store any file.
WinX MediaTrans is a product of Digiarty, a leading brand in personal and home-use multimedia app based on two of the most prominent OS today: Windows and iOS. Its list of products includes a DVD ripper, a video converter, an online video downloader, a mobile management software, a video audio streaming app, a media player, among others. For more information about Digiarty, click here.